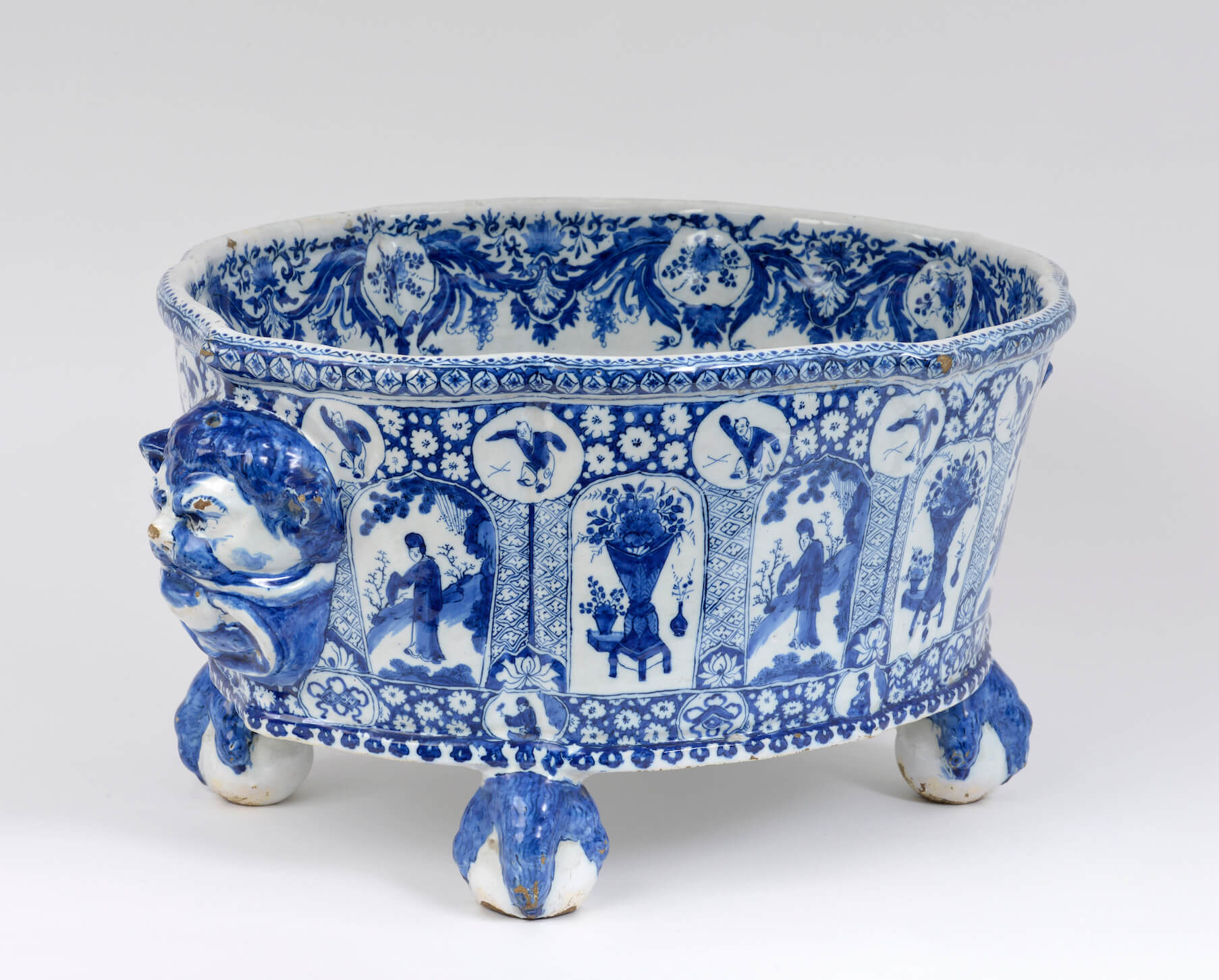 De Grieksche A (The Greek A) Factory
De Grieksche A (The Greek A) factory was founded in 1658. It was located on the site of a former brewery in the center of Delft, on the east side of the Geer (today Lange Geer) around the Rotterdamsche Poort. The succession of owners have each contributed to the prestige of the factory, making it one of the most successful Delftware factories of the Golden Age.[1]  De Grieksche A made significant contributions to the Delftware industry in style and innovation, but perhaps the greatest legacy is the connection to the Dutch Royal Court.
In 1658 Wouter van Eenhoorn began pottery production next door in the former brewery known as 'De Griex A' on the Geer near De Metaale Pot (The Metal Pot) factory, creating what was to become a dynastic business and the most successful of all the early Delft factories. Although it is not certain whether Wouter used a mark on his products, he lost no time in establishing his factory's reputation for superb craftsmanship, even referring to his wares as 'porcelain.' It was for just such fine quality oriental imitations that De Grieksche A factory received a commission in 1667 from the city of Delft to make several 'porcelain' pieces for the wife of the Swedish ambassador 'extraordinaris' in Holland.[2]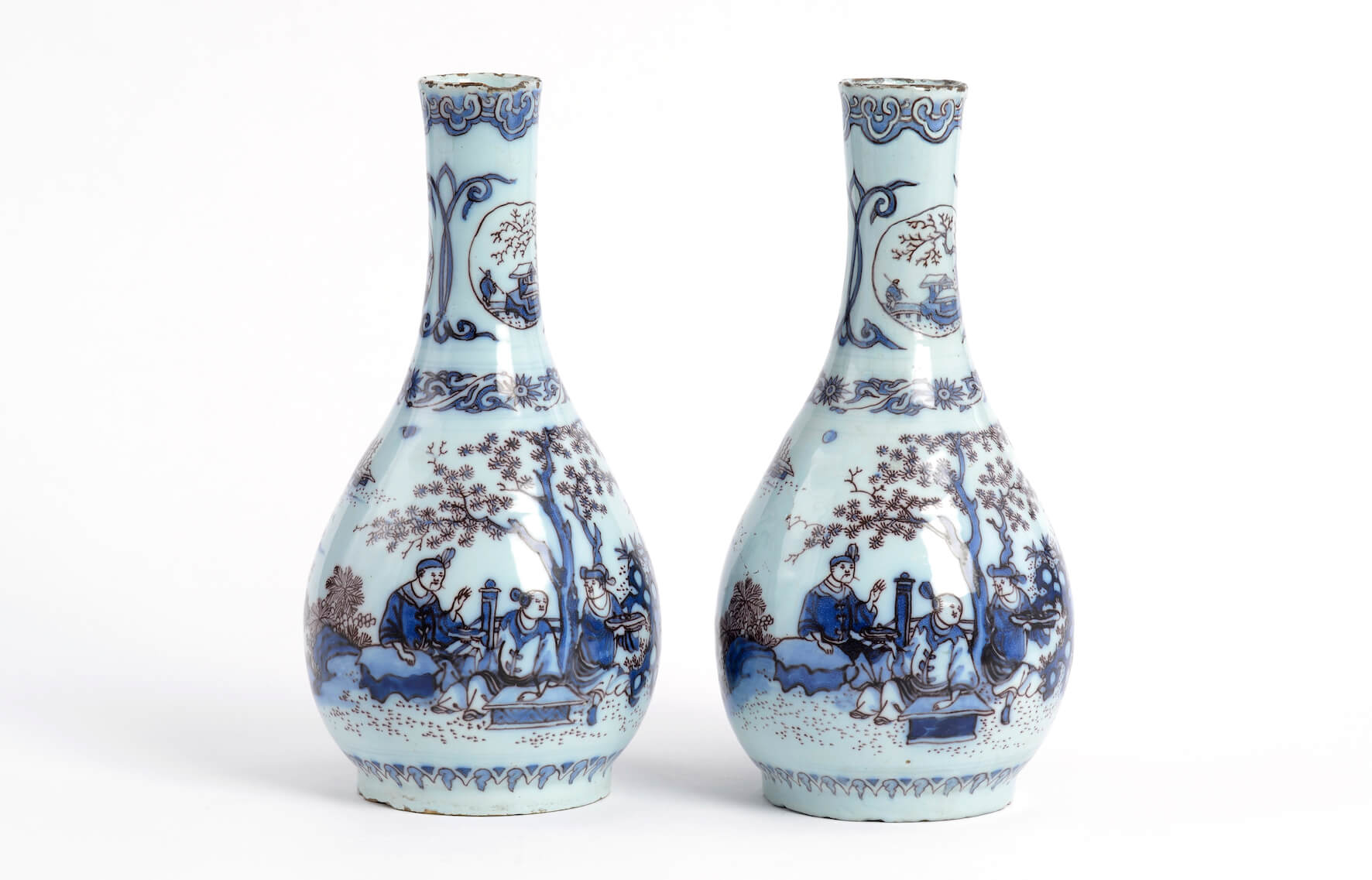 The factory's early and continuing success was in large part the result of Wouter van Eenhoorn's international contacts, which extended from Amsterdam to London, Hamburg and Bordeaux. By the end of the 1650s, he had already transacted business in France through the merchant brothers Claude and François Révérend, who ten years later were in arrears to De Grieksche A, causing Wouter to enlist the help of his brother-in-law Willem Cleffius of De Metaale Pot in an attempt to effect payment. In 1674 Wouter installed his son Samuel, who had just been admitted to the Guild of Saint Luke, as his shopkeeper, in charge of the foreign orders, and the records indicate that within a year De Grieksche A had established a contact in Rouen, the bustling center of France's faience industry.[3] 
Shortly before his death in 1678, Wouter gave De Grieksche A to Samuel as a wedding present. The inventory lists of Wouter's estate made in 1679 hint at his financial success: among his 47 paintings were still lifes, seascapes and two portraits of Wouter and his wife Christine Lambrechtsdr. Cruijck, the older sister of the wife of Willem Cleffius of De Metaale Pot; in the dining area the chimneypiece was ornamented with seven large Delft chargers, and there were twelve walnut chairs around the long table. Wouter's estate also included his co-ownership of De Drie Posteleyne Astonne factory, but his heirs chose not take their shares of this business, deciding instead to turn it over to Wouter's partner, Gerrit Pietersz. Kam.[4] 
Samuel van Eenhoorn's ownership corresponds to the beginning of the 'Delftware Golden Age'. He ran De Grieksche A factory by himself for seven prosperous years, during which he is known to have enjoyed the patronage of the House of Orange, as evidenced by archaeological excavations at Het Loo Palace in Apeldoorn, which have unearthed garden ornaments and flower vases, the so-called tulipieres marked SVE.[5]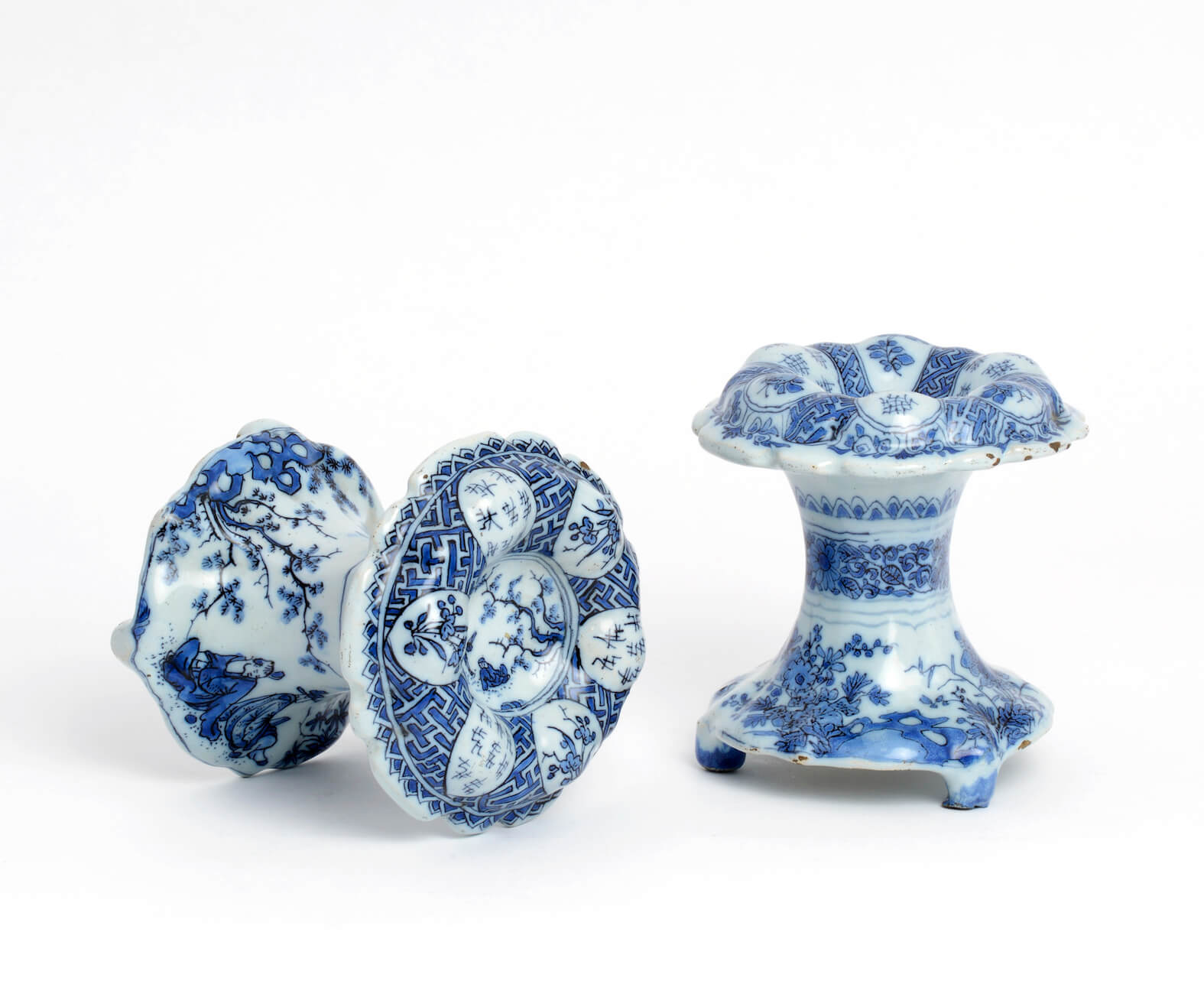 Technologically, he improved and refined the wares of the factory, and to the limited palette of cobalt-blue in various shades he introduced manganese-purple, which initially was used effectively to outline and define the decoration. He also supplied an important voice for the Delft master potters and shop-owners as a member of the three-man delegation (with Lambertus Cleffius of De Metaale Pot and Quirijn Aldersz. Kleijnoven [or van Cleijnhoven] of De Porceleyne Fles [The Porcelain Bottle] factory) dispatched to England in 1684 to protest and effect a rescission of the 1672 embargo on the importation of Dutch Delftware, which England had placed in order to support her own striving Delftware industry. Although the embargo was never lifted officially, it was ignored for the major royal and noble commissions, so was rendered largely ineffective, and the trade with England continued and prospered.[6] 
Upon the death of Samuel van Eenhoorn in 1685, his widow Cecilia Houwaert inherited the business and ran it for a bit more than a year before selling the factory and its accoutrements to her brother-in-law Adrianus Kocx (who had married Samuel's sister Judith) – a sale for which the arbiter was Lambertus Cleffius, her husband's first cousin and the owner of De Metaale Pot. Kocx, the master potter and merchant, who was admitted to the Guild of Saint Luke as a shopkeeper in 1687, must have considered Lambertus Cleffius more of a cousin and friend than a rival, because together they negotiated to enlarge their French market by putting under contract two Parisian agents who were permitted to sell only the products of De Grieksche A and De Metaale Pot with the proviso that the Parisians had the first choice of the merchandise, and Kocx and Cleffius could not deal with any other merchants within 30 miles (approximatively 50 km.) of Paris.[7]  By 1693 this arrangement had been dissolved, but both factories continued to thrive, De Grieksche A enjoying the patronage of the most important clientele, including the King-Stadholder William III of Orange and Queen Mary II, to whom vases and other ornamental wares decorated with the royal cipher were delivered, many of them intended for use at the royal residence of Hampton Court Palace in Richmond-upon-Thames.[8]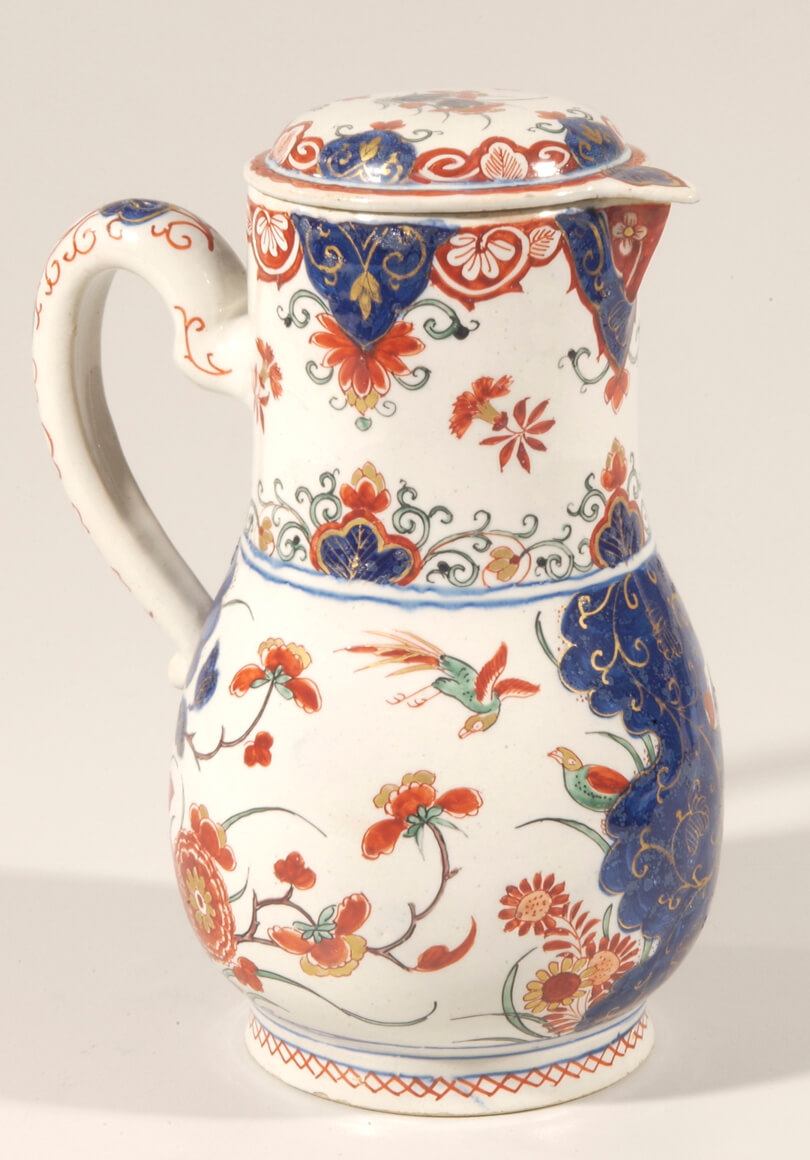 In 1701, just prior to his death that year, Adrianus Kocx gave a festive dinner for the entire staff of De Grieksche A to celebrate his transfer of the factory to his son Pieter Adriaensz. Kocx. Only two years later in 1703 Pieter died and his widow Johanna van der Heul took over the business, paying homage to her husband by continuing to use his mark PAK on her highest quality products.[9]  A qualified potter and a
thoroughly competent manager, who surrounded herself with talented employees, by 1713 Johanna had in her employ four 'gold painters' whose contracts gave her the exclusive rights to their work as long as she owned the factory.[10]  It is with the most important, if eccentric, of these 'gold painters,' Ariaa(e)n [or Ary] van Rijsselberg(h), that the mark AR is generally associated.
De Grieksche A is one of the rare examples of a factory that persisted in its fame and popularity throughout the Golden Age of Dutch Delftware. For more than sixty years, the factory was managed by members of the same family. In 1722, Johanna van der Heul sold the factory to Jacob van der Kool, who was also the owner of the successful Het Oude Moriaanshooft, which he sold when he acquired De Grieksche A.[11]  Coming from a family of potters, he was very familiar with the Delftware milieu. His grandfather Jacobus Willemsz. and older brother had run De Drie Flessies (The Three Bottles) factory.[12]  When he died in 1733, his wife Cornelia van Willigen overtook the factory and continued to use her husband's mark.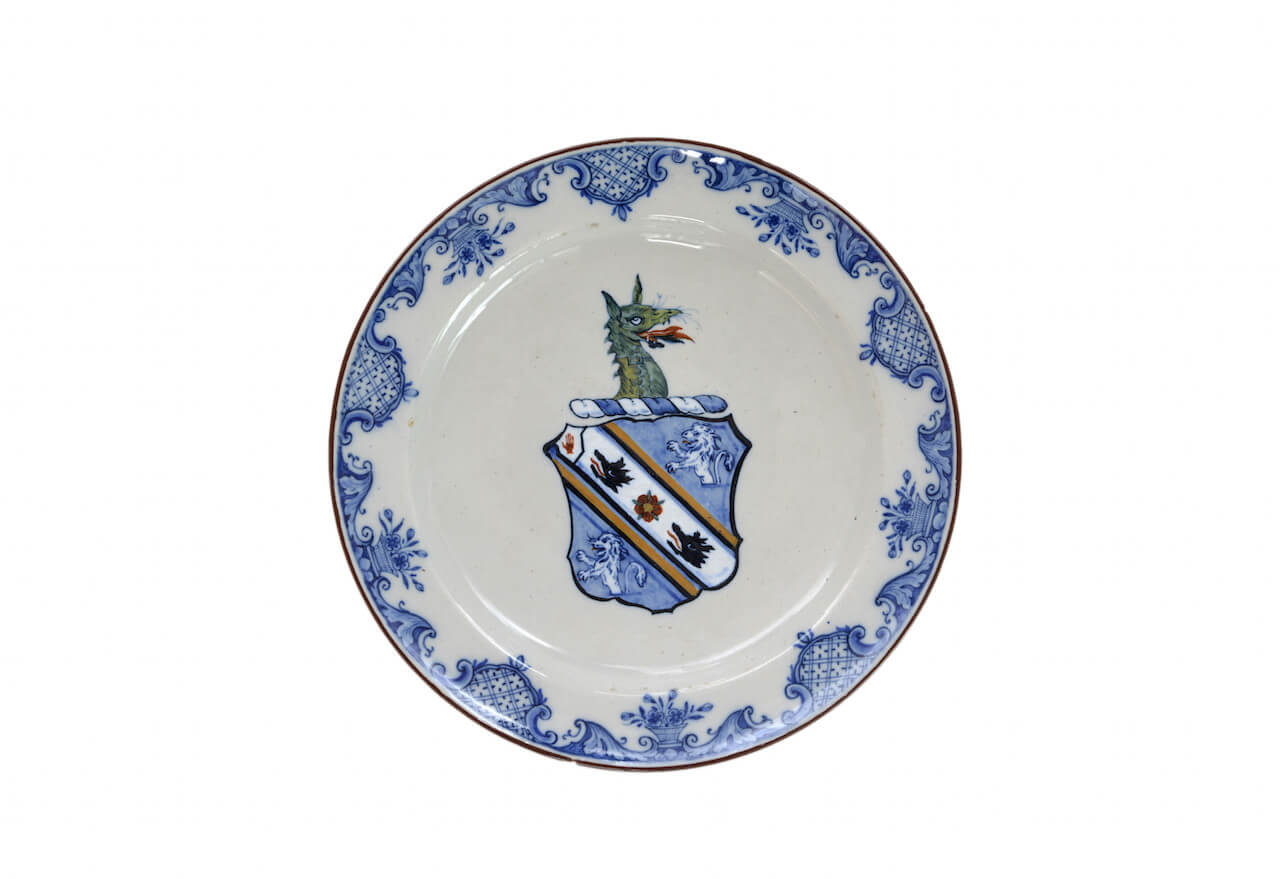 With Cornelia van Willigen at the helm, the factory enjoyed international popularity, with merchants coming from Hamburg, Cologne and Paris.[13]  Van Willigen died in 1757, and the inventory that was made shortly after shows that she was extremely wealthy. It also illustrated the breadth of her production; the inventory lists 'hundreds, even thousands of single pieces of decorative faience like east Indian plates, animal figurines: roosters, cows and horses, and household objects such as 2133 dozen matching tea sets, back of clothes brushes, oil and vinegar cruets, strawberry dishes and saucers, 120 cuspidors, etc.'[14] 
De Grieksche A was bought by Jacob van der Kool and Cornelia Willigen's son-in-law, Jan Theunis Dextra (also called Dextra De Jonge) in 1758. Objects bearing his mark are very rare. In the 1764 city council marks book, Dextra declared that his mark was only used for his best pieces (achter mijn beste goederen).[15]  For some other goods, the letter D was applied. This strategy suggests that Dextra used different commercial tactics in selling his goods.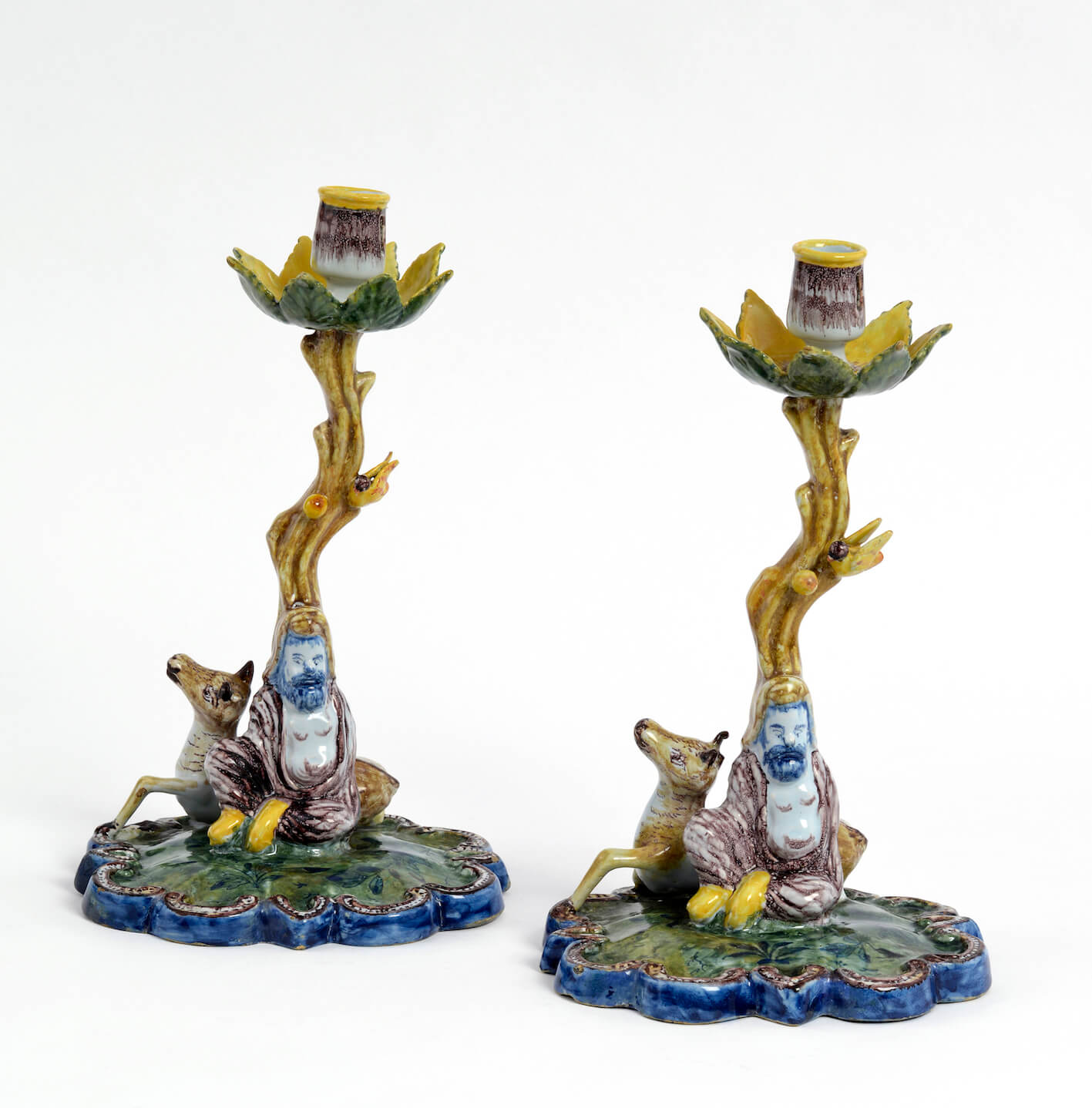 Although Dextra was a very talented potter and savvy businessman, he owned the factory only a short time. When he purchased De Grieksche A, he already harbored doubts about the future of the Delftware industry. In a document dated December 16, 1757 he explained that despite a widespread domestic and foreign network and a large stock, selling a Delftware factory was becoming increasingly difficult.[16]  In 1764, he renounced his ownership and sold the company. He continued however to work as a foreman for the factory.[17]  De Grieksche A was then purchased by Jacobus Adriaansz. Halder, whose style was characterized by the popular rococo designs of the era. Four years later, the factory came into the hands of the Van den Briel family. Jan van den Briel married Petronella van der Laan who inherited the factory upon his death in 1783. In 1786 an anonymous shopkeeper was registered. The shopkeeper may have been a man named Pieter Jansz. van Marksveld because that same year, Pieter and Petronella were married. They are believed to have managed De Grieksche A together until she died in 1794 and her daughter Elisabeth van den Briel and Pieter Jansz. van Marksveld obtained the factory by joint inheritance.[18]  In 1796 Pieter then gained full ownership and in the same year became master within the Guild of Saint Luke.
After Pieter's ownership, De Grieksche A factory changed hands a couple of times until it closed in the beginning of the nineteenth century.
Do you want to find our more? View our online exhibition on De Grieksche A.
[1]  W. Hoekstra-Klein, Geschiedenis van de Delftse plateelbakkerijen: "De Grieksche A", 1657-1818, Delft, 2003, p. 181.
[2]  H. Havard, La Céramique Hollandaise, Histoire des Faïences de Delft, Haarlem, Rotterdam, Arnhem, Utrecht, etc. et des porcelaines de Weesp, Loosdrecht, Amsterdam et la Haye, Volumes I and II, Amsterdam 1909, p. 31.
[3] M.S. van Aken-Fehmers, L.A. Schledorn, A.-G. Hesselink,T.M. Eliëns, Delfts aardewerk. Geschiedenis van een nationaal product, Volume I, Zwolle (Gemeentemuseum, Den Haag) 1999, pp. 66-67.
[4] Van Aken-Fehmers 1999 (note 3), pp. 66-67.
[5] Van Aken-Fehmers 1999 (note 3), p. 67.
[6] Van Aken-Fehmers 1999 (note 3), p. 68.
[7] Van Aken-Fehmers 1999 (note 3), p. 68.
[8] C.H. de Jonge, Delft Ceramics, New York 1970, p. 44.
[9] Van Aken-Fehmers 1999 (note 3), p. 69.
[10] C.H. de Jonge, Oud-Nederlandsche Majolica en Delftsch Aardewerk, Een ontwikkelingsgeschiedenis van omstreeks 1550-1800, Amsterdam 1947, p. 303.
[11] J.D. van Dam, Delffse Porceleyne, Dutch Delftware 1620-1850, Zwolle, (Rijksmuseum Amsterdam) 2004, p. 135.
[12] Jacob's mark, composed of the letters AIK is to not be confused with the one of Adrianus Kocx.
[13] Van Aken-Fehmers 1999 (note 3), p. 70.
[14] De Jonge 1970 (note 8), p. 137.
[15] J. Helbig, Faïences Hollandaises, XVIIe- XVIIIe-début XIXe s., Volumes I and II, Musées Royaux d'Art et d'Histoire, Brussels (no date), p. 41.
[16] De Jonge 1970 (note 8), p. 137.
[17] M.S. van Aken-Fehmers, L.A. Schledorn, T.M. Eliëns, Delfts aardewerk. Geschiedenis van een nationaal product, Volume II, Zwolle (Gemeentemuseum, Den Haag) 2001, p. 70.
[18] Van Aken-Fehmers 1999 (note 3), p. 71.