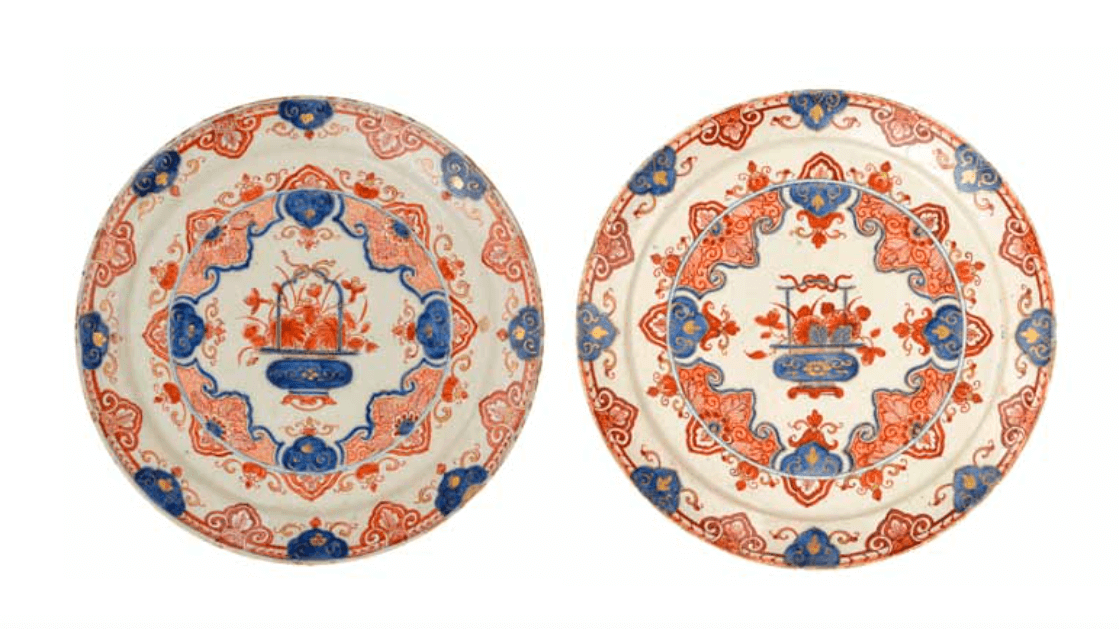 Pieter Adriaensz. Kocx & Johanna van der Heul
On January 24, 1701, the Kocx family celebrated a momentous occasion. The day marked the transfer of ownership of the prosperous factory De Grieksche A (The Greek A) from Adrianus Kocx to his son, Pieter Adriaensz. Kocx. A festive dinner attended by the entire staff was organized to celebrate the event.[1] Pieter van Hurk, who later became an employee, composed a song for the occasion, which now acts as a record of the cheerful event. Pieter Adriaensz. Kocx, who was trained at his father's company, continued to produce objects in the same delicate style as his father.
Unfortunately, the happiness was short-lived. Pieter Adriaensz Kocx passed away only two years after he inherited the factory. The funeral was held at the Nieuwe Kerk (New Church) in Delft, a fact that demonstrates his high social status. After his death, his widow Johanna van der Heul took ownership of the factory. An ordinance from 1652 authorized widows to take ownership of their deceased spouse's pottery without taking the requisite test of the Guild of Saint Luke.[2]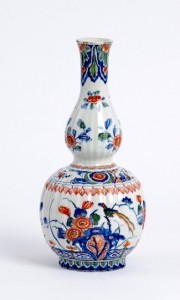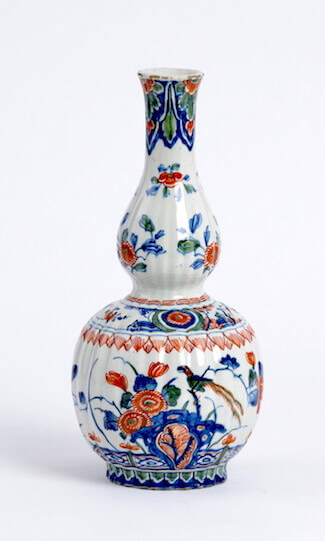 Despite the remarkable achievements of many female artists and designers, many women are unfairly forgotten in the history of art. Johanna van der Heul was one such figure whose talents have been overlooked. However, she made a definite mark on the development of Delftware. Johanna van der Heul was a qualified plateelbakker (potter), and she had a particular skill in rendering animal figures. Her pieces are marked with her initials. She also continued using her husband's mark after his death, as evidenced by a dish from 1713 and marked PAK for Pieter Adriaensz Kocx.[3] Her works are among the most beautiful, varied and abundant of their time, advancing the reputation of the PAK mark. During this period, De Grieksche A factory also decorated their wares with the grand feu colors. This beautiful reeded double gourd shaped vase painted with a cashmere palette was created by De Grieksche A factory around 1710. The cashmere pattern was inspired by the Chinese famille verte porcelain that was imported at the end of the 17th century by the Dutch East India Company. Because of the difficulty of their execution, the reeded cashmere pieces are extremely rare.
Remarkably, Johanna van der Heul continued to experiment with various styles and techniques begun by her predecessors. Prior to the transfer of the factory to his son, Adrianus Kocx successfully experimented with polychrome objects using a mixed-fire technique. This technique was first introduced by Jannetge van Straten, the owner of Het Moriaenshooft (The Moor's Head) factory from 1671 to 1786. In this process, the decoration was first applied to the object and then fired at a high temperature. Then, gold and red colors were applied during a third firing at a low temperature, resulting in exceptionally refined objects that were intended for high class consumers.[4]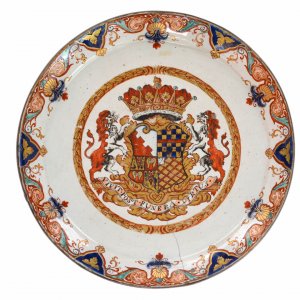 When Johanna van der Heul took control of the company, she improved upon the petit feu colors with the creation of Imari decorated objects. This new type of decoration originally came from Japan during the third quarter of the seventeenth century. After dynastic change in China during the middle of the seventeenth century, the importation of Chinese porcelain dramatically decreased. Europeans looked for alternate suppliers and began to import the precious Japanese porcelain. This new type of porcelain is characterized by the utilization of three main colors: cobalt blue, iron-red and gold.[5]  Witnessing the success of this novelty, some of the Delft potters saw its arrival in the Netherlands as a business opportunity and adapted their production to the innovative new demands. What began as an imitation of the Imari pattern gradually evolved into a successful emulation.
De Grieksche A factory was one of the very first Delft producers of Imari patterns, and the technique quickly became a speciality of the prestigious factory. Johanna van der Heul seems to have oriented a large part of her production toward this particular pattern, with large services decorated in the style. The two polychrome and gilded PAK- plates, designed after a Japanese original, were probably created under Johanna van der Heul's leadership. In fact, the popular pattern also appears on a PAK-marked plate illustrated in Lunsingh Scheurleer 1984,[6] and a pair of salt cellars that belongs to the collection of the Gemeentemuseum in The Hague.[7]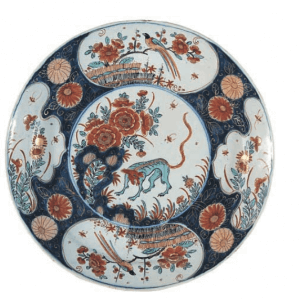 Although many objects that were produced during this period drew their inspiration from the East, several pieces were also decorated with European decors. One example is the beautiful polychrome and gilded armorial plate decorated with the coat of arms of Boyle, Earl of Burlington. It is probable that this was ordered by Richard Boyle, third Earl of Burlington, when he was in the Hague in 1714. In 1713, Johanna van der Heul hired four painters who were asked to 'exercise in particular the art of painting and firing in Delft porcelain with gold'.[8] The very talented Adriaan[e]n van Rijsselberg[h] was one of them. He used his own mark, which was composed of the letters AR. Exemplified by this beautiful Imari pair of plates, Van Rijsselberg[h] seems to have adopted a very unique style that is characterized by a freer touch. The decoration on these plates shows a long-tailed beast beside peonies growing behind a pierced rock.
According to a notarized statement, Johanna van der Heul had the exclusive right to the painters' work as long as she owned the factory. In 1722, Johanna van der Heul sold the pottery to Van der Kool. As he was no longer contractually bound, Adriaa[e]n van Rijsselberg[h] likely set up his own atelier.
Notes
[1]   M.S. van Aken-Fehmers, Delfts aardewerk. Geschiedenis van een nationaal product, Volume I, Zwolle/Den Haag (Gemeentemuseum) 1999, p. 69.
[2]  Van Aken-Fehmers 1999 (note 1), p. 201.
[3]  J.D. van Dam, Delffse Porceleyne, Dutch Delftware 1620-1850, Zwolle/Amsterdam (Rijksmuseum), 2004, p. 130.
[4]  Van Dam 2004 (note 3) p. 130.
[5]  C.H. de Jonge, Delft Ceramics, New York 1970, p. 109.
[6]  D.F. Lunsingh Scheurleer, Delft, Niederländische Fayence, München, 1984, p. 301, no. 324.
[7]  C.H. de Jonge, Delfts Aardewerk, Rotterdam/'s- Gravenhage 1965, pl XVI.
[8]  De Jonge 1970 (note 5), p. 109.