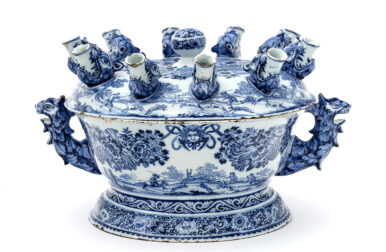 December 1, 2023
Dutch seaborne trade and the spread of Delft faience in the Baltic region (Fig. 1) Tulipière, Delft, circa 1690, marked AK for Adrianus Kocx, owner of 'De Grieksche A'…
17th & 18th Century Delftware, Unique by Definition
HISTORY
Delftware has been a national symbol of Holland for almost 400 years. Initiated by the demand for the waning importation of Asian porcelain from the 1640s, Delftware quickly became an iconic national product and one of the greatest Dutch achievements.
PRODUCTION
From the 1680s the Delftware industry has constantly innovated with new shapes, decorations and functions. Their products were coveted by European nobility and royalty for their quality and diversity. The city of Delft rapidly became an inspiration to many European and even Asian potters.
COMPANY
Since 1881, over five generations of the Aronson family have brought to market the highest quality Delftware. We confidently ensure that private collectors and museum and corporate curators will discover fully researched authentic Delftware at Aronson Antiquairs in Amsterdam.

"New collectors have a unique opportunity in the decorative arts to survey an accessible field, find an entry point they're comfortable with, immerse themselves in research and exploration, and embark on a very enjoyable collecting journey." — Robert Aronson in an interview for TEFAF Online
As Dutch Delftware played a pivotal role in the development of European ceramics in the seventeenth and eighteenth centuries, it is represented in many museums worldwide. The robust faience center of Delft was the result of two important currents of the time: the Italian production of majolica and the Chinese and Japanese wares that were imported by the Dutch East India Company (VOC). Through the influence of Queen Mary, the taste for painted Delftware spread rapidly through a wealthy European elite. Read more about the Delftware collections in museums in this section.
With the images, 3D renderings and descriptions of many of our Delftware objects on our collection page you will find explanatory videos. In these short videos Robert Aronson and Céline Ariaans tell more about shapes, decorations, uses, etc. If you find that a subject is under-represented, please let us know.