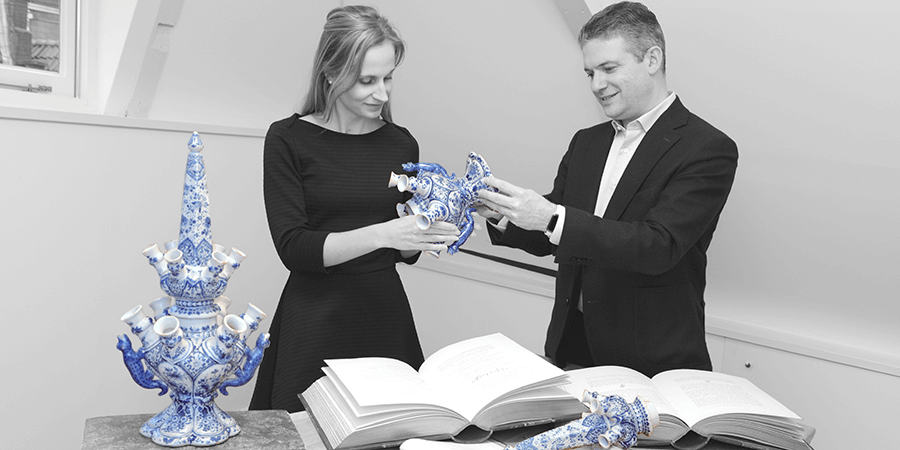 Delftware has been a national symbol of Holland for almost 400 years. Initiated by the demand for the waning importation of Oriental porcelain from the 1640s, Delftware quickly became an iconic national product and one of the greatest Dutch achievements.
From the 1680s the Delftware industry has constantly innovated with new shapes, decorations and functions. Their products were coveted by European nobility and royalty for their quality and diversity. The city of Delft rapidly became an inspiration to many European and even Oriental potters.
Since 1881, over five generations of the Aronson family have brought to market the highest quality Delftware. We confidently ensure that private collectors and museum and corporate curators will discover fully researched authentic Delftware at Aronson Antiquairs in Amsterdam.
Discover a lot more about our company and Delftware through this website, browse by
Our virtual exhibition 'A Delftware Banquet' focusses on Delftware as table decoration in the late 17th and 18th centuries. It takes you past five varied tables with beautiful blue and white and polychrome Delftware objects and shows the development of the Dutch dining culture and the associated Delftware objects.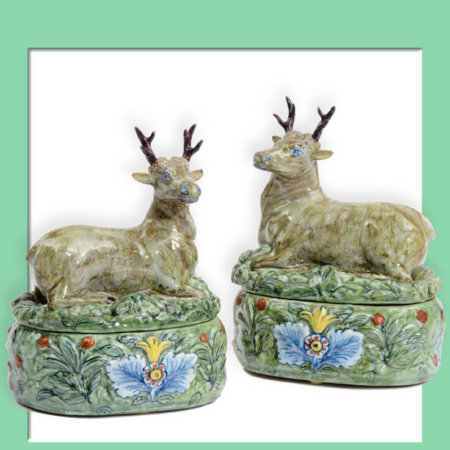 Polychrome Oval Butter Tubs and Recumbent Stag Covers
Delft, circa 1770
Heights: 15.5 cm. (6.1 in.)
Now available in our webshop: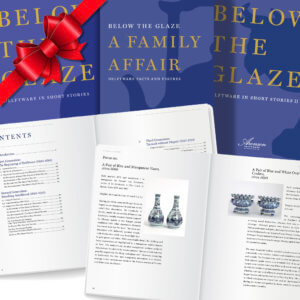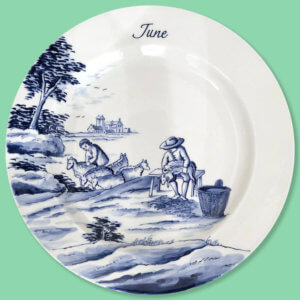 Series or Single Hand Painted Month Plates
Seen at TEFAF Maastricht 2020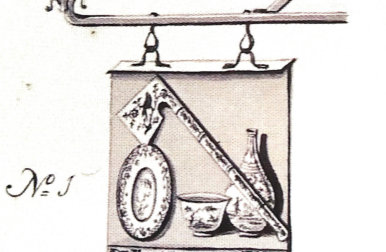 De Porceleyne Byl (The Porcelain Axe) factory was founded in 1657, and was almost entirely owned by a single person or couple for its entire…
As Dutch Delftware played a pivotal role in the development of European ceramics in the seventeenth and eighteenth centuries, it is represented in many museums worldwide. The robust faience center of Delft was the result of two important currents of the time: the Italian production of majolica and the Chinese and Japanese wares that were imported by the Dutch East India Company (VOC). Through the influence of Queen Mary, the taste for painted Delftware spread rapidly through a wealthy European elite. Read more about the Delftware collections in museums in this section.
With the images, 3D renderings and descriptions of many of our Delftware objects on our collection page you will find explanatory videos. In these short videos Robert Aronson and Céline Ariaans tell more about shapes, decorations, uses, etc. If you find that a subject is under-represented, please let us know.
Museum Quality Delftware
Over the past decades several generations of the Aronson family have been able to procure the rarest and often unique Delftware objects. These objects still are of museum quality, even though some now reside in private collections, besides those in the international public domain. The combined force of these objects becomes apparent when they are placed side by side. This virtual exhibition of the finest objects measures up to the greatest international collections.
Dutch Delftware
Because of its remarkable diversity of shapes, the delicacy of the decoration and the gaiety of its colors, Dutch Delftware became the source of inspiration for many ceramic centers throughout Europe, which endeavored to work in the Delft style (history).
Since 1881 and over five generations Aronson Antiquairs has shared the passion for Dutch Delftware with private collectors and museum and corporate curators around the world. The Aronson family members have strived to gain and maintain the confidence of its clientele to collect the finest Delftware available.
Discover the Delftware World
On this website dedicated to antique Delftware and everyone influenced by it, we share the latest news, information that is either nice-to-know or if you are a loyal follower even need-to-know. Also you will be able to find information on museums internationally that display Delftware objects or publications writing about the subject. We invite you to visit the website and see our world from a different angle.