Welcome to our collection page
Further down you may decide how to approach and search for objects in our varied collection of 17th and 18th century Dutch Delftware. You may also simply browse and discover our collection at random by clicking the browse button below. Note that only part of our collection is presented on our website and we urge you to contact us if you are looking for a specific objects. We might actually have it or know where it is hidden.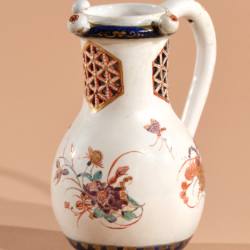 Petit Feu Polychrome and Gilded Puzzle Jug
Delft, circa 1730
Through the centuries puzzle jugs have appeared in Italian, German, French and English ceramics […]. Although models from other countries are very uncommon, Dutch puzzle jugs are particularly rare. Dutch Delft examples can be found dating from the 1650s onward through the 18th century […]
(read more)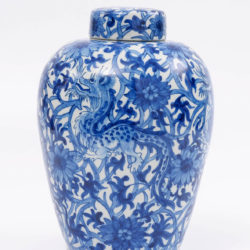 Blue and White 'Dragon' Pattern Ovoid Jar and Cover
Delft, circa 1710
Unidentified IW mark in blue, probably for Theodorus (called Dirck) Witsenburgh, the owner of De Witte Ster (The White Star) factory from 1690 until his death in 1700, and then used presumably by his family as owners until 1705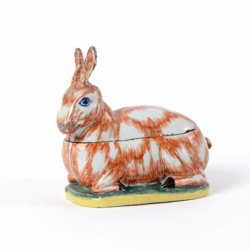 Polychrome Hare Tureen
Delft, circa 1765
Zoomorphic tableware evolved from sugar or wax figures and bird-shaped pastries that decorated the Renaissance table.