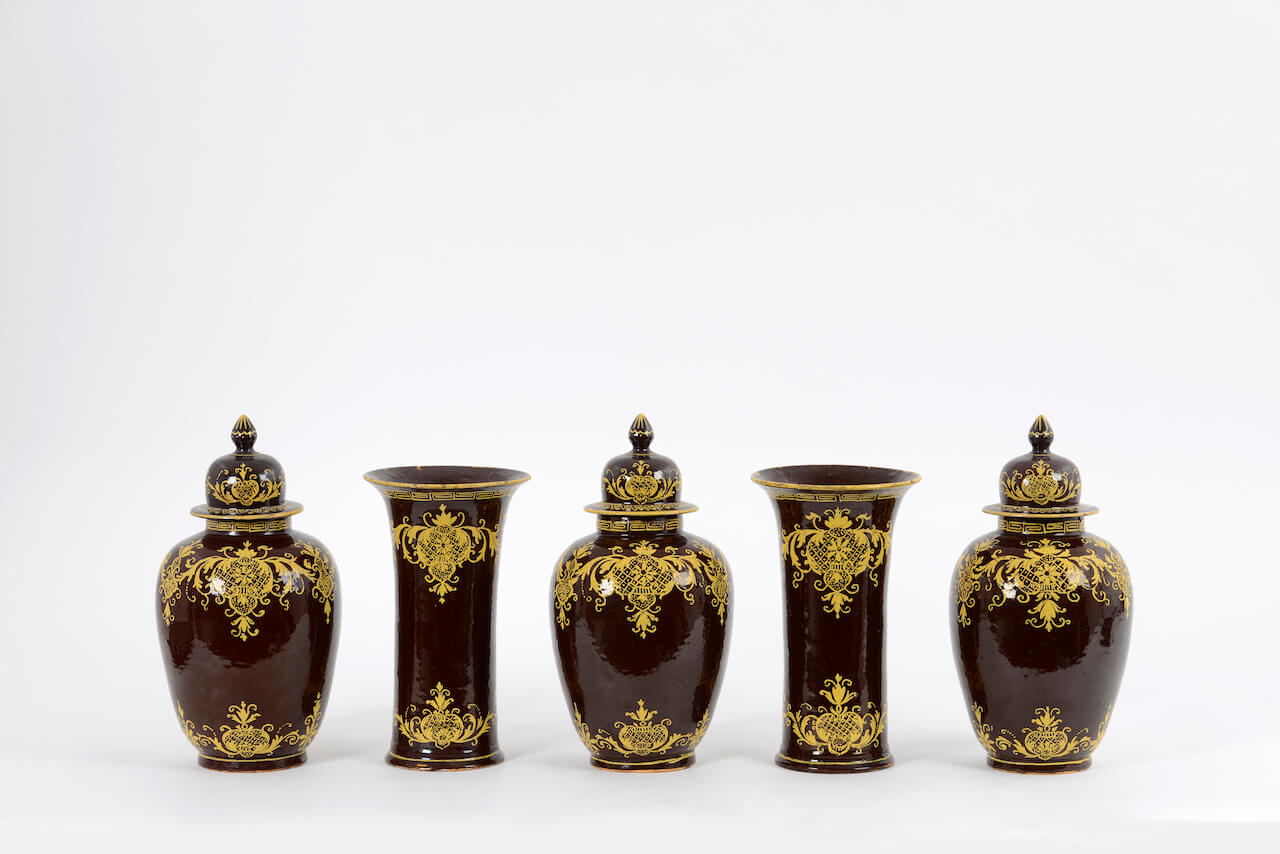 OBJECT
•D1920. Brown-Glazed Garniture
Delft, circa 1715
Marked CK in yellow, probably for Cornelis van der Kloot, a master painter at De Metaale Pot (The Metal Pot) factory from 1697
Comprising three covered ovoid vases and a pair of beaker vases, each with a brown ground finely decorated in yellow with scrollwork and trelliswork cartouches beneath a Greek key band around the rim, motives, the domed covers similarly decorated beneath a teardrop-shaped knop.
Heights: 31 to 24 cm. (12.2 and 9.4 in.)
Provenance:
The Fuld Collection, Scheveningen, until 1920; The Jacob Lierens Collection, Amsterdam, until 1949; Private collection, Lille (France), until 2002; Aronson Antiquairs, Amsterdam, 2003; Dutch Private Collection
Literature: Described and illustrated in Frederik Muller & Cie, Amsterdam, 18-24 October 1949; Het Financieele Dagblad, March 15, 2003
Note:
Brown-ground Delft is even rarer than 'Black Delft', of which only about 65 pieces are known. The largest assemblage of 'Brown Delft' is in the Evenepoël Collection at the Musées royaux d'Art et d'Histoire, Brussels, which in contrast to its extraordinary holdings of 27 pieces of 'Black Delft', nevertheless, has only 16 pieces of 'Brown Delft'. The CK mark has been discussed throughout the years by various scholars; Havard 1909, vol. II, pp. 114-115 attributed it to Cornelis Aelbregtsz. (de) Keyzer (1668-1680), while De Jonge 1947, p. 222 mentions De Keyzer as working for De Twee Scheepjes (The Two Little Ships) factory, but attributes the CK mark to Cornelis Koppens, the owner of De Metaale Pot (The Metal Pot) factory from 1724 to 1761 (ibid., p. 219). It seems most likely, however, that this brown-ground garniture can be attributed to Cornelis van der Kloot, a master painter, who, according to De Jonge 1969, p. 94, transferred in 1697 from De Dissel (The Pole) factory to De Metaale Pot, then owned by Lambertus van Eenhoorn. It is no coincidence that by employing the most highly skilled artisans, De Metaale Pot was the most successful factory producing Delftware at that time, exceeding even its significant competitors: De Drie Postelyene Astonne (The Three Porcelain Ash-Barrels), De Paauw (The Peacock) and De Grieksche A (The Greek A) factories. The high quality of the present garniture, together with the fact that Cornelis van der Kloot worked among the most talented specialists at the turn of the seventeenth to the eighteenth century, leads to the reasonable conclusion that he was the maker of these rare vases.
Similar examples: A 'Black Delft' five-piece garniture, comparable in style and size to the present garniture, and also marked for De Metaale Pot, in the Musées royaux d'Art et d'Histoire, Brussels (inv. nos. Ev. 248 a and b), is illustrated in Lahaussois 2008, p. 139, g. 8. A similar black beaker vase and baluster-shaped vase and cover, marked CK are illustrated in Dumortier 1990, no. 25 (inv. no. Ev. 270); a comparable brown-ground baluster-shaped vase with a CK mark and chinoiserie decoration is illustrated in Mariën-Dugardin 1971, no. 48 (inv. no. Ev 271), and another brown-ground vase with chinoiserie decoration was illustrated in Aronson 2017, pp. 52-53, no. 24.