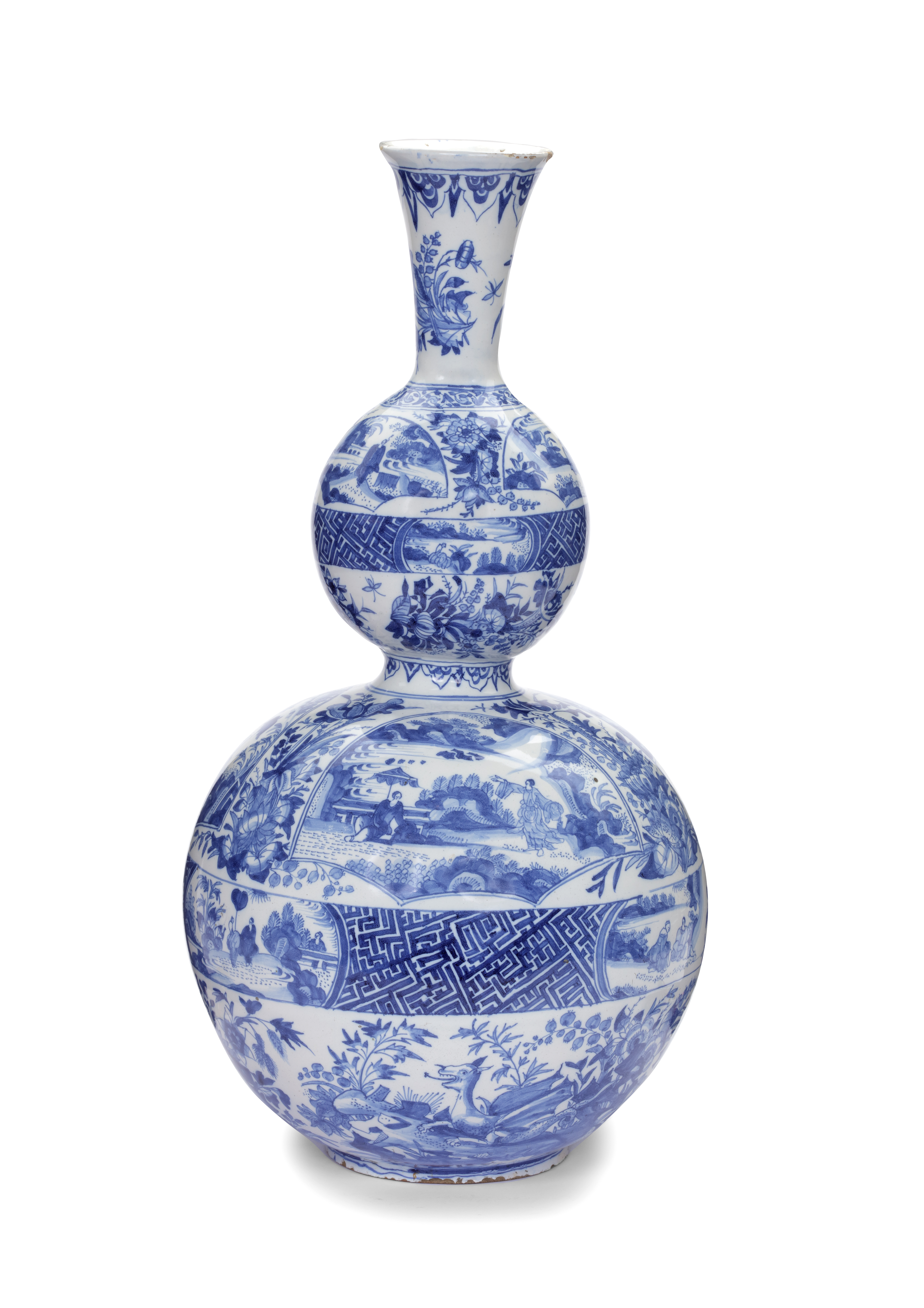 [popup_trigger id="13756″ tag="span"]

[/popup_trigger]
OBJECT
D2202. Blue and White Double-Gourd-Shaped Vase
Delft, circa 1670
The trumpet-shaped neck painted with a border of alternating ruyi-head and icicle devices above insects flitting between two floral clusters, each with a perched bird, the two spherical sections below bisected by a swastika-diaper border interrupted by three panels of Chinese figures in a landscape, the upper section of each sphere with three fan-shaped panels of Chinese figures at various pursuits in a landscape separated by floral clusters, the lower half of the upper sphere with further floral clusters and insects above a narrower ruyi-head and dart border around the waist, and the lower half of the larger sphere with three vignettes of a fabulous animal, either a winged dragon, a seated monkey holding a fruit or an exotic bird perched on a rock, in a garden setting.
DIMENSIONS
Height: 51 cm. (20.1 in.)
PROVENANCE
Aronson Antiquairs, Amsterdam, 2005;
German Private Collection
LITERATURE
Catalogue of the European Fine Art Fair (TEFAF), Maastricht, 2005, p. 160;
Aronson, Dutch Delftware, 2005, p. 5, no. 2
NOTE
The decoration on this vase is probably inspired by a Chinese porcelain example. The Delft painter relied on the Chinese traditional wares to place in the panels. The transitional wares were decorated on the entire area with a continuous scene that often consisted of landscapes with animals or figures either conversing or in a moment of spirited action. The Delftware painters adapted the scenery on transitional wares for their own decorations. Figural subjects were placed on a terrace or in a landscape of rock work and pine trees.
This vase can be attributed to a group of faience that is decorated with chinoiserie scenes of figures seated in a landscape of rock work and trees and was manufactured between 1660 and 1680. During the period between about 1920 and 1990, objects of this type of decoration were attributed to the relatively small faience manufactory in Frankfurt-am-Main. Now, however, on the basis of art, archaeology and other supporting evidence, we can re-attribute such pieces confidently to Delft.