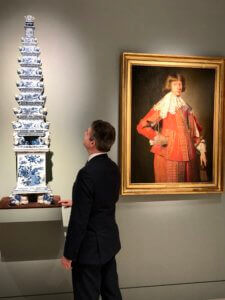 Delftware is a type of ceramic that was produced in the Dutch city of Delft from the 17th to the 19th centuries. It is initially known for its blue and white color scheme, which was originally inspired by Chinese porcelain. This inspired the known that it is generally known by 'Delft Blue.' Delftware, as we call the original ceramics product, was made in a variety of forms, including vases, plates, tiles, and figurines. The value of Delftware depends on its age, condition, rarity, and the reputation of the maker. Pieces that are older, in good condition, and made by well-known or highly regarded Delftware manufacturers are generally more valuable. The rarity of a piece can also affect its value, as pieces that are more difficult to find or were made in small quantities are often more valuable. The demand for Delftware can also affect its value, as pieces that are more popular or in high demand may be worth more. What makes Delftware such an interesting collecting field is that some examples can be worth 'only' a few hundred dollars, while rare objects  can be worth thousands of dollars or especially iconic pieces as large stacked flower vases, many times more.
Aronson Antiquairs of Amsterdam, specialists in the field, can certainly help you evaluate your object or entire collection. Contact us by e-mail (link below) or by telephone.
Please contact (link) us, should you have any further questions.
VALUABLE Delftware OBJECTS sold to museums