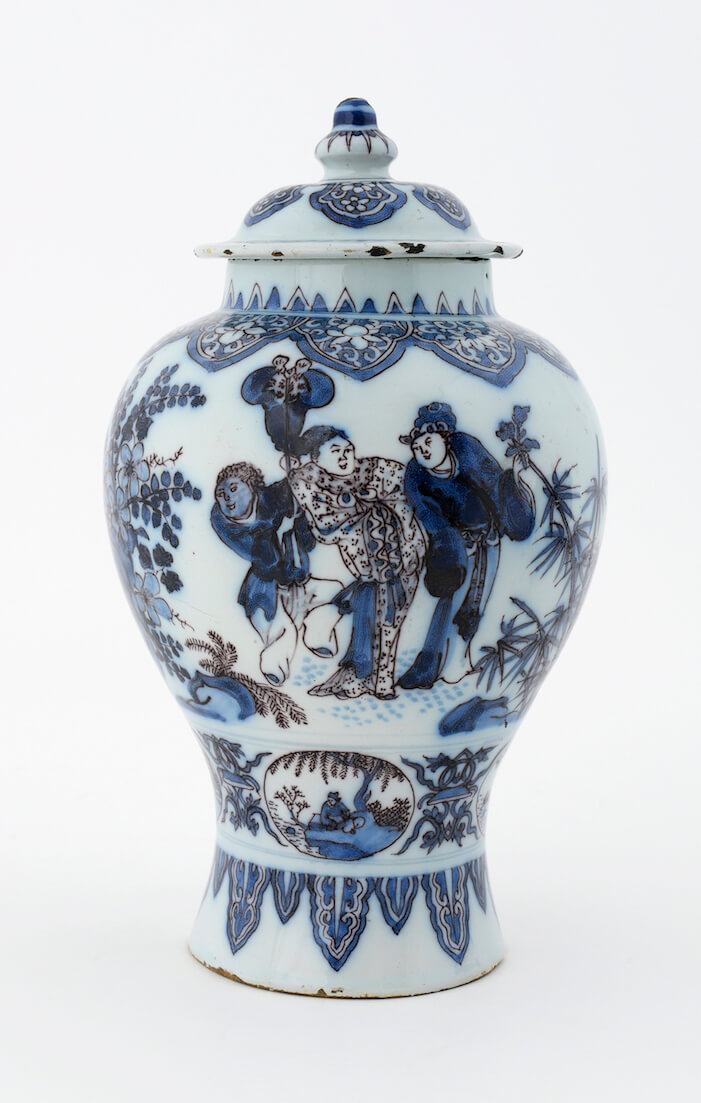 In 1678 Samuel van Eenhoorn inherited from his father one of the most famous and prestigious Delftware factories that history records, De Grieksche A (The Greek A). The family adventure started in 1658 when Wouter van Eenhoorn – Samuel's father – bought what originally was a beer brewery. This particularly seasoned businessman already owned several Delftware-related businesses, including De Drie Posteleyne Astonne (The Three Porcelain Ash Barrels) factory that was also located on the Lange Geer in Delft, just next to his new acquisition. The renown business stayed within the family from its creation until 1722.[1]
He and his son Samuel specialized in creating delicate blue and white faience in the style of the porcelain made in China during the Kangxi period (1662-1722) and the transitional style  (1620-1644). The chinoiserie decorations and the design of the objects were of such a fine quality that they were even referred to as "porcelain". Thanks to its superb craftsmanship and Wouter's management skills, De Grieksche A acquired very rapidly an unexampled notoriety, to such an extend that in 1667, the factory received a commission from the city of Delft to make several "porcelain pieces" for the wife of the Swedish ambassador in Holland.[2] Wouter van Eenhoorn, who had a perfect understanding of the market, rapidly realized that adopting an international vision could significantly expand his business. In 1674, his son Samuel who had just been admitted to the Guild of Saint Luke, became a shareholder of the company and was appointed as a shopkeeper. One of his responsibilities was to develop the international orders. Within a year, he already had established contact in Rouen, the bustling center of France's faience industry and at the end of his ownership, his clientele had extended from Amsterdam to London, Hamburg and London.
A few years later, in 1678, Samuel van Eenhoorn married to Cecilia Houwaert and received the factory from his father as a wedding gift.[3] Shortly after, Wouter passed away. The inventory of his estate, made in 1679, records the excellent financial health of the company: 47 paintings are mentioned, including still-lifes, seascapes and two portraits of Wouter and his wife Christina Lambrechtsdr. Cruyck, but also seven large Delft chargers that were ornamenting the chimneypiece in the dining room, and twelve walnut chairs that were placed around the long table.[4]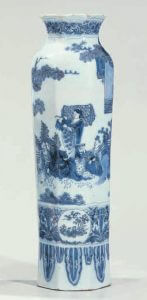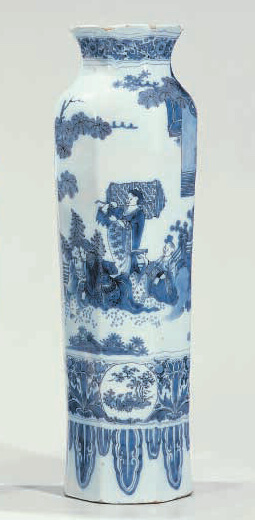 Samuel van Eenhoorn stayed in control of the company during seven prosperous years and continued to develop greatly his production. Without any surprise, his ownership corresponds to the beginning of the 'Delftware Golden Age'. In his Delffse Porceleyne, Van Dam qualifies the period between 1680 and 1720 as an 'artistic and technical zenith' for the Delftware production.[5] In his analysis, the Delftware specialist demonstrates that all predispositions to this success were reunited. Not only the flourishing economy was stimulating a growing demand, but also this period is characterised by the propagation of an exceptional creativity initiated by a few exceptionally talented craftsmen.
In fact, according to Fourest, this very prolific period coincides with the emergence of true styles amongst the greatest Delft masters.[6] The work of Samuel van Eenhoorn indisputably reveals a particularly distinguishable aesthetics. Under his ownership, the factory created objects inspired from the Chinese motifs belonging to the Kangxi period combined with decorative elements borrowed from the far east. The painted motifs seem to have been delicately placed on the glaze, which shades subtly vary from light blue to grey-green and white. In the most remarkable objects, the clothing and facial expressions are highlighted by a blue, black or violet outline known as 'trek'. This blue and manganese octagonal rouleau vase, marked SVE for Samuel van Eenhoorn, perfectly exemplifies the stylistic characteristics of the master. The painting of the vase represents a group of Oriental figures, consisting of a dignitary and his banner-bearing attendant approaching three men seated beneath a pine tree. Every element is enhanced by a meticulously painted manganese outline. This kind of monochrome in blue and manganese decoration offers stylistic analogies with the earthenware made in the French centers of Nevers and Saint Jean du desert.[7]
At this time, the Netherlands was an important economic power, which had led to the  development of a substantial well-to-do class that could afford many kind of luxuries. Those wealthy citizens would display their taste and financial standing by buying expensive decorative and functional items like Delftware. Rare are the objects used in the daily life that have stood the test of time. This perfectly executed blue and white 'rijsttafel' dish marked for Samuel van Eenhoorn from circa 1680 is a wonderful example. When assembled as a set of eight, it was intended to serve different kind of sweetmeats, condiments or spices. According to Stodel these dishes "may have been modeled on the small dishes of fanciful and ingenious shapes, which were employed in Japan for the tea ceremony and which reached Europe around 1670".[8] This object was probably used on special occasions in order to impress the guests at the table. Other luxurious pieces were purely ornamental, such as this very fine blue and manganese baluster form vase also marked for Samuel van Eenhoorn. The decoration displays on one side two Chinese figures accompanied by their servant carrying a fan in a chinoiserie landscape, and on the reverse two men seated before a pavilion. The delicate use of manganese outlines gives a very particular charm to the scene.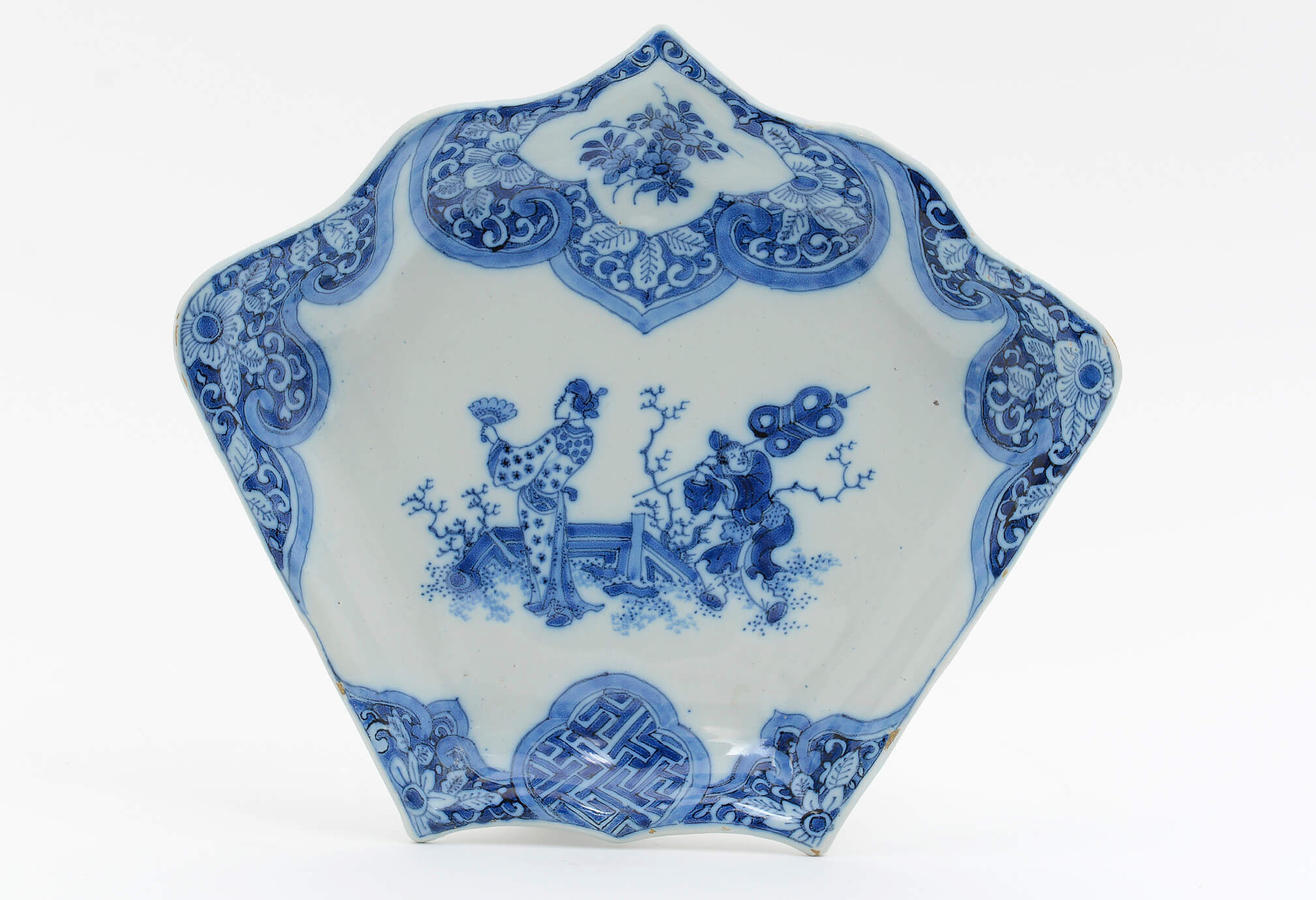 The top end of the market consisted of royal and aristocratic customers in the Netherlands and abroad who would directly order pieces that were especially created for them. Between 1977 and 1984, archeological researches have been conducted in the gardens of the Het Loo Palace in Apeldoorn. This former medieval hunting lodge and its surrounding were selected by King William III and Queen Mary II to become a magnificent place of residence for the summer. The excavation has led, amongst others, to the discovery of fragments of exceptional objects marked SVE, like garden ornaments and tulip vases. The royal couple was passionate about Delftware and Mary certainly played an important role in its conception and development. In one of his poems, Jan d'Outrein (1662 – 1722) suggests that it is highly possible that some of the most remarkable pieces were made after the Queen's specifications. She also probably contributed to spread the taste abroad for these finely decorated objects.[9]  This discovery has uncovered the fact that Mary certainly contacted Samuel van Eenhoorn shortly after she moved to the Netherlands. After Samuel's death, De Grieksche A factory, which reputation was then no more longer needed to be established, stayed under the patronage of the House of Orange during many years.
It can be said that Samuel van Eenhoorn was seen in his field as an important figurehead whose voice was determinant. We know for example that at the end of his ownership in 1684, he was appointed as one of the spoke persons of a three men delegation sent to England in order to protest against the 1672' embargo on import of Dutch potteries.[10] After his death in 1685, his widow ran the factory during one year and sold it to her brother-in-law Adrianus Kocx who strived to maintain the company excellent reputation by creating high quality Delftware.
Notes
[1] M.S. Van Aken-Fehmers a.o.Delfts aardewerk. Geschiedenis van een nationaal product, Volume I, Zwolle/Den Haag (Gemeentemuseum), 1999, p. 64.
[2]  M.S. van Aken-Fehmers 1999 (note 1), p. 67.
[3] H. Havard, Histoire de la Faïence de Delft, 1909, p. 132.
[4] M.S. van Aken-Fehmers 1999 (note 1), p. 67.
[5] J.D. van Dam, Delffse Porceleyne, Dutch Delftware 1620-1850, Zwolle/Amsterdam (Rijksmuseum) 2004, p. 61.
[6] H.P. Fourest, Delftware, London 1980, p. 21.
[7] C. Lahaussois, Faïences de Delft, Musée National de Céramique, Sèvres, 1998, p. 82.
[8] Salomon Stodel Antiquités, The Splendour of the Dutch Interior 1600-1800, London 2000, p. 57, no. 42.
[9] A.M.L.E. Erkelens, 'Delffs Porceleijn' van koningin Mary II: Ceramiek op Het Loo uit de tijd van Willem III en Mary II. Queen Mary's Delft porcelain': Ceramics at Het Loo from the time of William and Mary, Zwolle 1996, p. 28-29.
[10] Van Aken-Fehmers 1999 (note 1), p. 67-68.