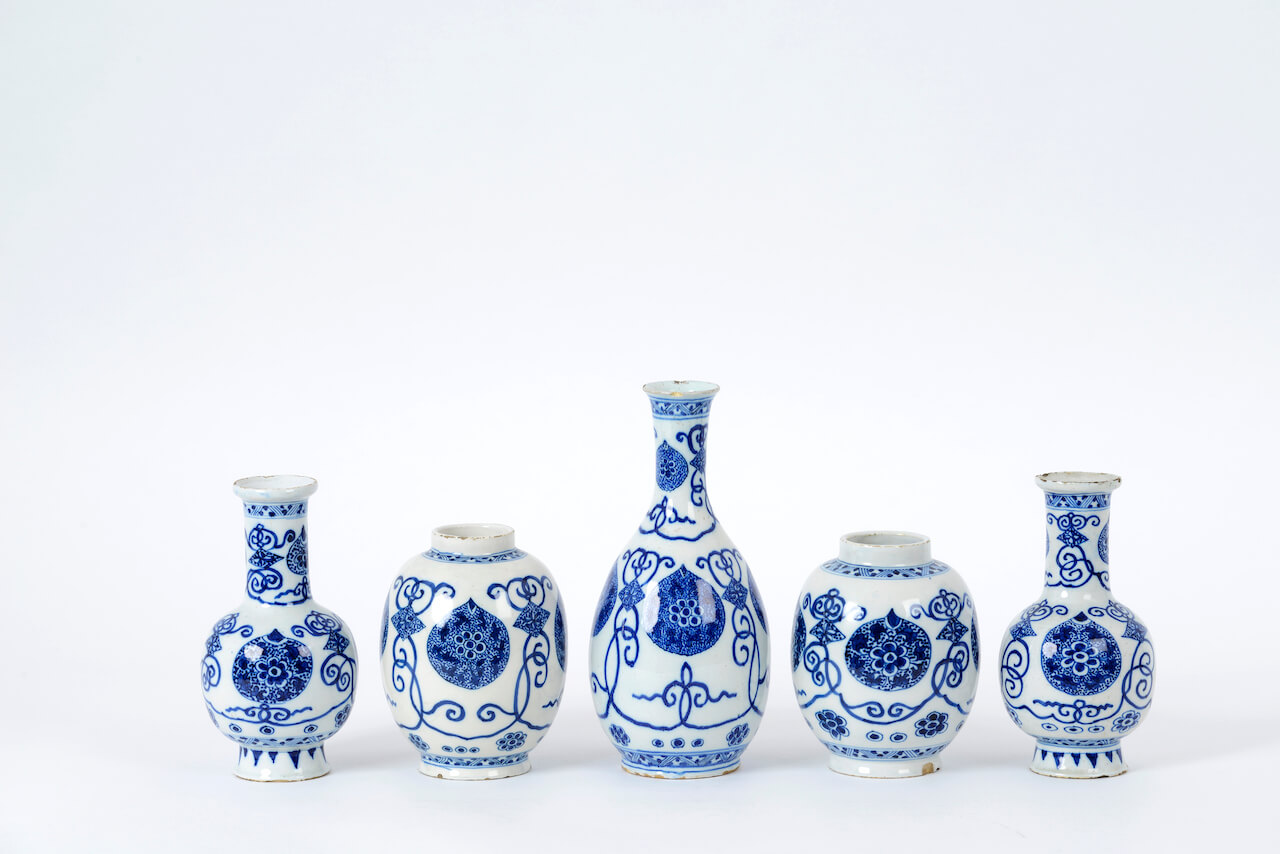 De Drie Posteleyne Astonne Factory
One of the earliest factories to be established on the Geer in Delft, variously known as De 3 Astonne, De 3 Vergulde Astonnekes or De 3 Posteleyne Astonne (The Three [Gilded or Porcelain] Ash-Barrels), was founded in 1655 by Jeronimus Pietersz. van Kessel, who died only five years later. Van Kessel's widow ran the factory from 1660 until 1667, when she sold it. By 1673 Gerrit Pietersz. Kam (b. 1652), who was admitted to the Guild of Saint Luke in 1667, had become the factory's co-owner with Wouter van Eenhoorn, who also owned De Grieksche A factory.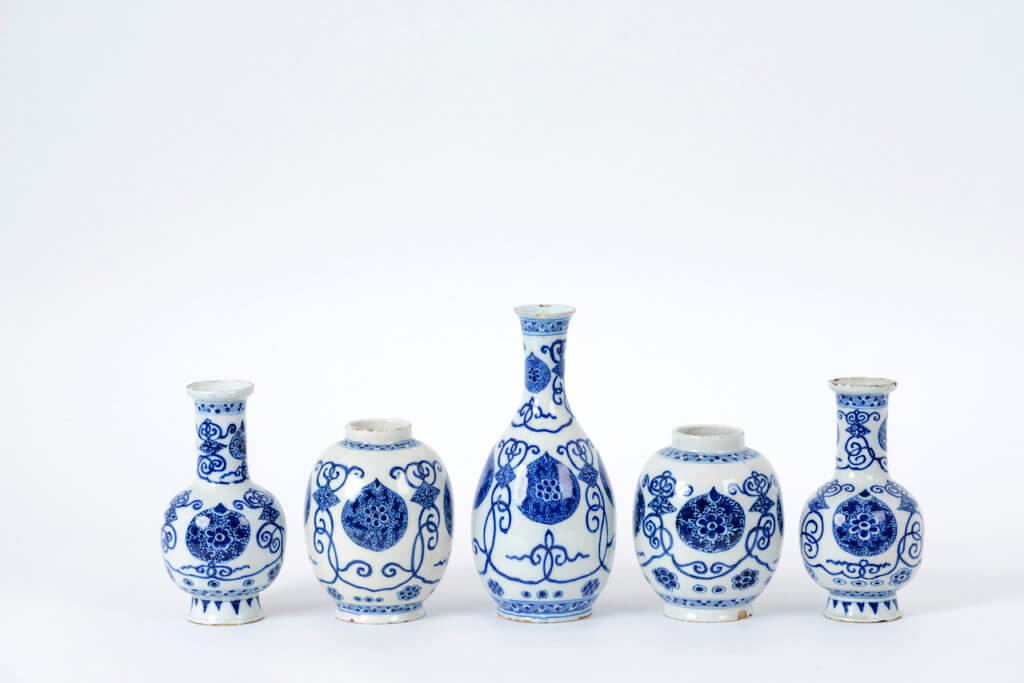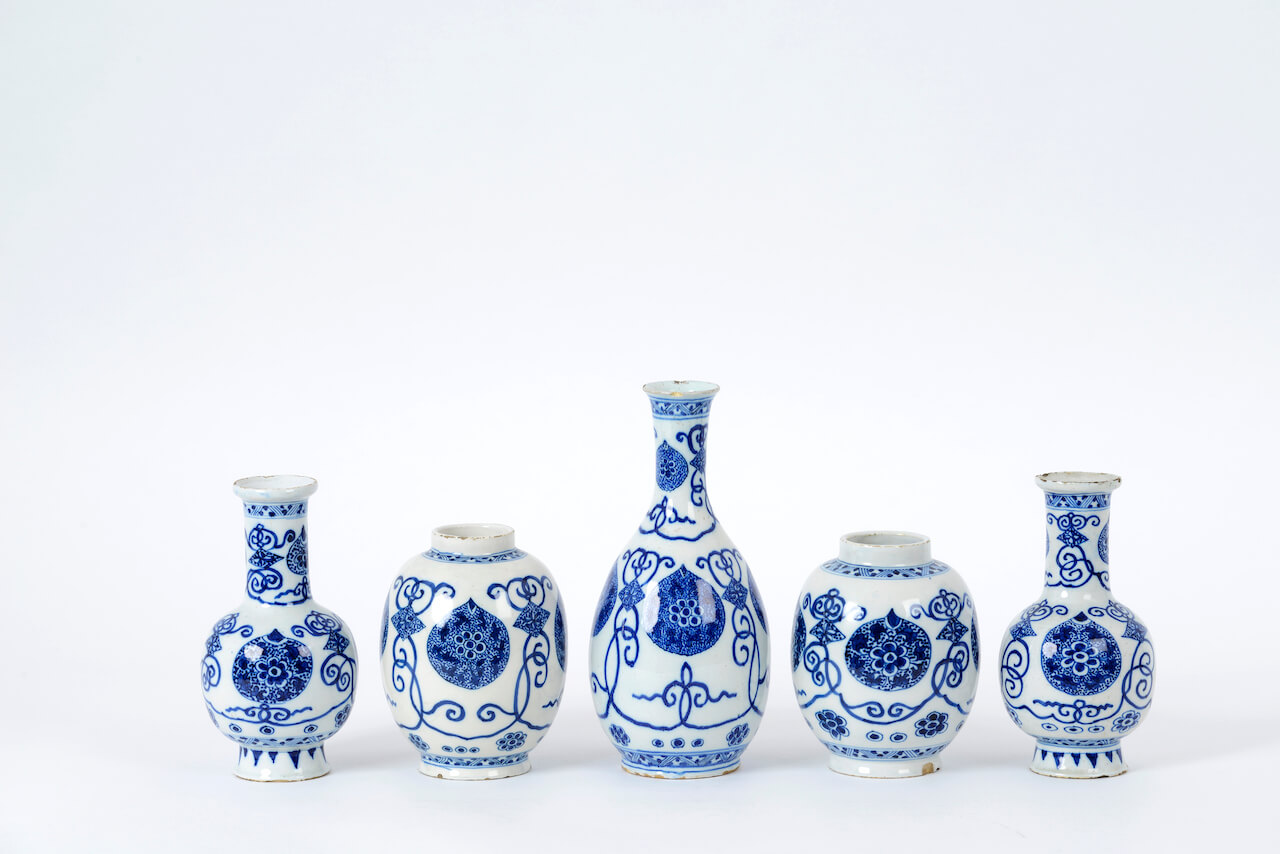 After the death of Van Eenhoorn in 1678, his heirs decided to let Kam assume full control of De Drie Posteleyne Astonne, which he operated alone from 1679 until 1700, when he transferred the factory to his eldest son Pieter Gerritsz. Kam. The following year, in 1701, Gerrit Pietersz. Kam and his youngest son David became co-owners of De Paauw (The Peacock) factory. Both father and son have excelled in creating, amongst other, exceptionally beautiful garnitures. For example, this small blue and white garniture was made under the ownership of the father Gerrit Pietersz. Kam. The present garniture is inspired by both Chinese and Eastern wares. Buddhist nimbus motifs are alternated by a scroll and ribbon motif that shows similarities with the long floral plant motifs that are often seen on Eastern wares.
Both Gerrit and Pieter Kam died in 1705. Pieter's widow Maria van der Kloot-Kam took over De Drie Posteleyne Astonne factory and ran it herself through at least 1716, still using her husband's mark PK.[1] 
In 1722 De Drie Posteleyne Astonne was purchased by Zacharias Dextra. Dextra managed the factory for the majority of its existence, and applied the mark Z:DEX to his objects.[2]  A jeweler by trade, Dextra brought with him a wealth of creativity and an eye for design. The new colors and styles of decoration that Dextra introduced during his ownership led the factory to be profitable during a recession.
Dextra introduced an unusual tone of blue and a range of petit feu enamel colors to his objects. The initial source of inspiration for the elaborate petit feu enamel painting came from Asian porcelain, but Dextra was also inspired by the European-style decoration on Meissen and Sèvres porcelain from the mid-eighteenth century. This very delicate circular tureen and cover shows Dextra's style and mastership of the petit feu technique.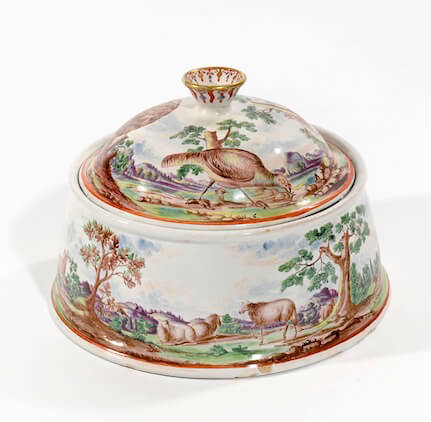 The objects produced at De Drie Posteleyne Astonne factory were also often shaped and decorated with naturalistic flowers, romantic scenes, harbor views but also chinoiserie as we can see on the blue and white tureen. The depicted scene represents three figures fishing for crayfish. The vibrant and unusual colors and the thinness of pottery resulted in high quality objects with a likeness to porcelain.
Dextra must have considered the petit feu and gilded objects among his greatest achievements, because after he attempted to sell the factory in 1757, he kept all the fine enamel wares in his personal property. Included in this group were the objects painted with enamel colors, such as gold, pink and light green. The purchase price of the factory did however include the tools, raw materials and fired and unfired earthenware.[3] 
After having been the property of Zacharias Dextra for more than thirty years, Hendrik van Hoorn and his wife Catharina Slingervoet bought De Drie Posteleyne Astonne (The Three Porcelain Ash Barrels) factory in 1759. Johannes van Hoorn acted on behalf of his son Hendrik in the deed of sale. To help the young Van Hoorn establish himself, Dextra continued to run the company's technical operations for the next few years. Van Hoorn revealed himself as a businessman with a keen sense of the times. Although Van Hoorn was fully engaged with his own factory, he also owned an inn, the paint mill De Paauw and one-ninth of shares in De Roos factory since 1777.[4]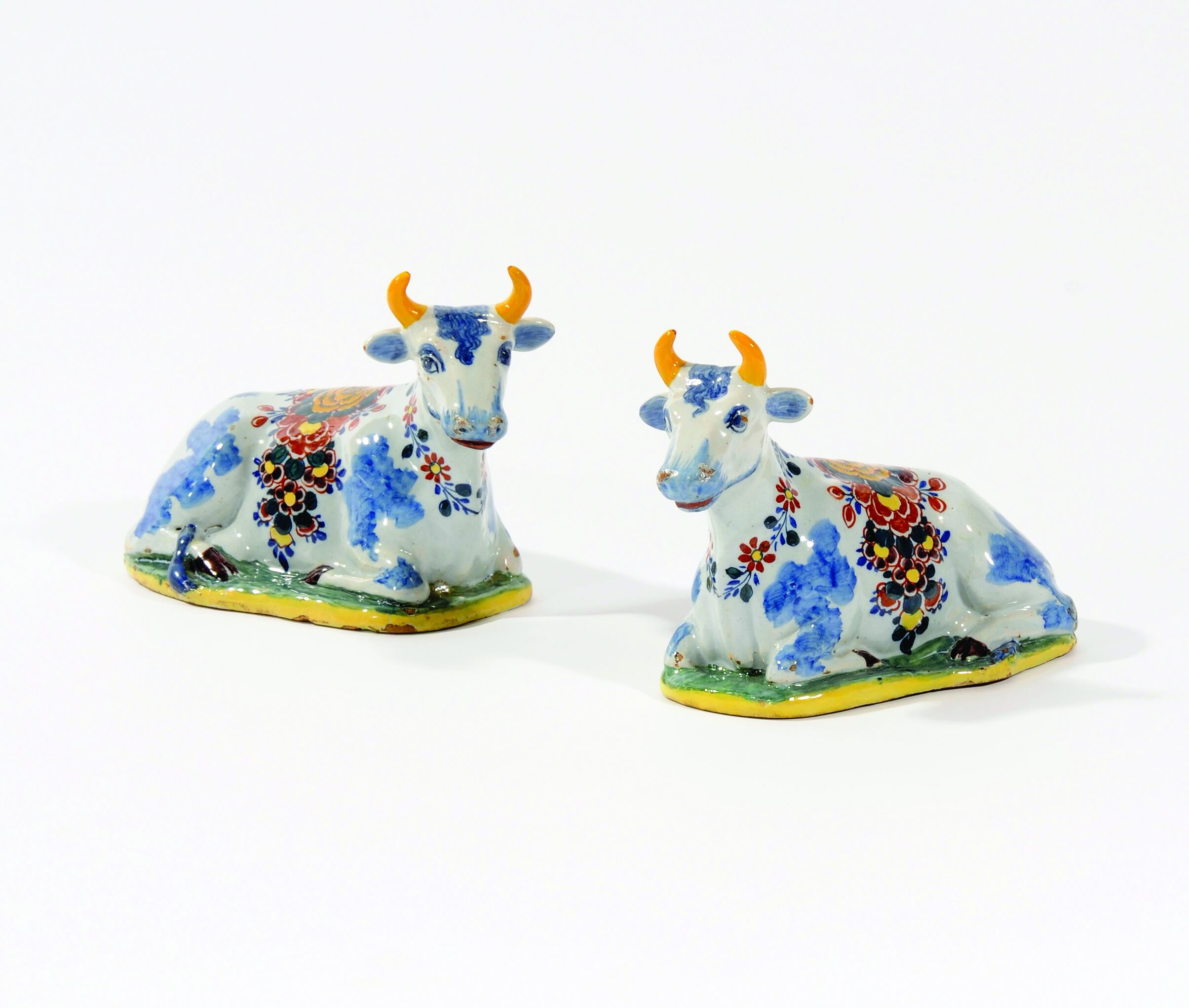 His mark, registered in 1764 by order of the Delft city council, consists of his initials HVH and the name of the factory: 3 astonne.[5]  Objects bearing his mark are usually of excellent quality of execution. Under his ownership, the factory produced blue and white and polychrome objects for everyday use, figurines, tureens (many in the shape of melons), animal figures such as this pair of recumbent cows. Van Hoorn's important role in the Delftware community is underscored by his involvement in a 1778 agreement with other potters and shopkeepers. Together, the group signed a price list that aimed to counteract mutual competition during a troubling time for the pottery industry.[6] 
Notes
[1]  M.S. van Aken-Fehmers, L.A. Schledorn, T.M. Eliëns, Delfts aardewerk. Geschiedenis van een nationaal product, Volume II, Zwolle/Den Haag (Gemeentemuseum) 2001, pp. 207-210.
[2]  Van Aken-Fehmers 2001 (note 1), p. 207.
[3] Van Aken-Fehmers 2001 (note 1), p. 209.
[4] Van Aken-Fehmers 2001 (note 1), pp. 209-210.
[5] Van Aken-Fehmers 2001 (note 1), pp. 209-210.
[6] Van Aken-Fehmers 2001 (note 1), pp. 209-210.