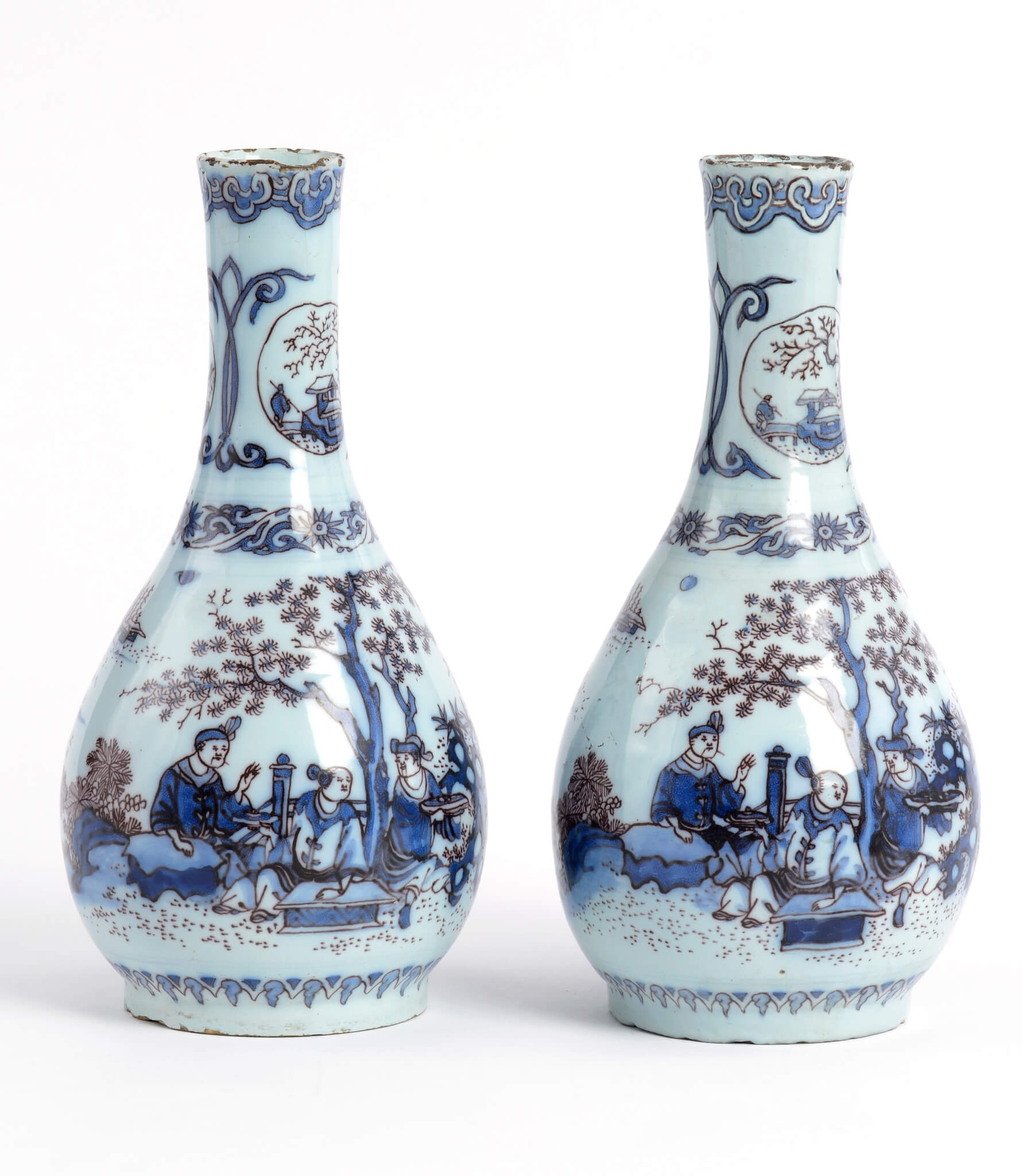 OBJECT
D1712. Pair of Blue and Manganese Vases
Delft, circa 1680
Both marked SVE and numbered 7 in manganese for Samuel van Eenhoorn, owner of De Grieksche A (The Greek A) factory from 1678 until 1685
Each painted in blue and manganese around the elongated teardrop-shaped body with a continuous scene depicting three figures conversing, two of them holding a vessel, seated in front of a garden fence and pine trees, on the reverse a Chinese dignitary standing next to his attendant bearing a large fan amidst shrubbery and rocks, the lower body encircled by a border of leaf tips, the slightly flaring cylindrical neck with floral-patterned ruyi lappets repeated around the rim, above floral and foliate scroll border beneath two oval landscape panels separated by foliate-scroll motifs.
Heights: 28.3 and 28.5 cm. (11 9/64 and 11 7/32 in.)
Provenance:
The Joseph M. Morpurgo Collection, Amsterdam
Note:
During the 1670's, some Delftware factories began to use manganese in addition to the cobalt blue decoration. De Grieksche A factory, under the ownership of Samuel Van Eenhoorn, notably created objects inspired by Chinese motifs of the Kangxi period combined with other decorative elements borrowed from the Far East. The vases are decorated with delicately painted motifs, with shades that subtly vary from light blue to grey-green and white. With remarkable detail, the clothing and facial expressions are highlighted by a manganese outline known as 'trek'. The meticulously painted manganese outlines perfectly demonstrate the skill of the master painter. As can be read in J. Ressing-Wolfert and J.D. van Dam, 'Vroege petit-feu decoraties in Delft', in: Vormen uit Vuur, 2002, p. 32. the use of this trek was possibly inspired by the Ming underglaze red. However, according to Lahaussois, 1998, p. 82, the blue and manganese decoration is a stylistic analogy to the earthenware made in the French centers of Nevers and Saint-Jean-du-Désert.