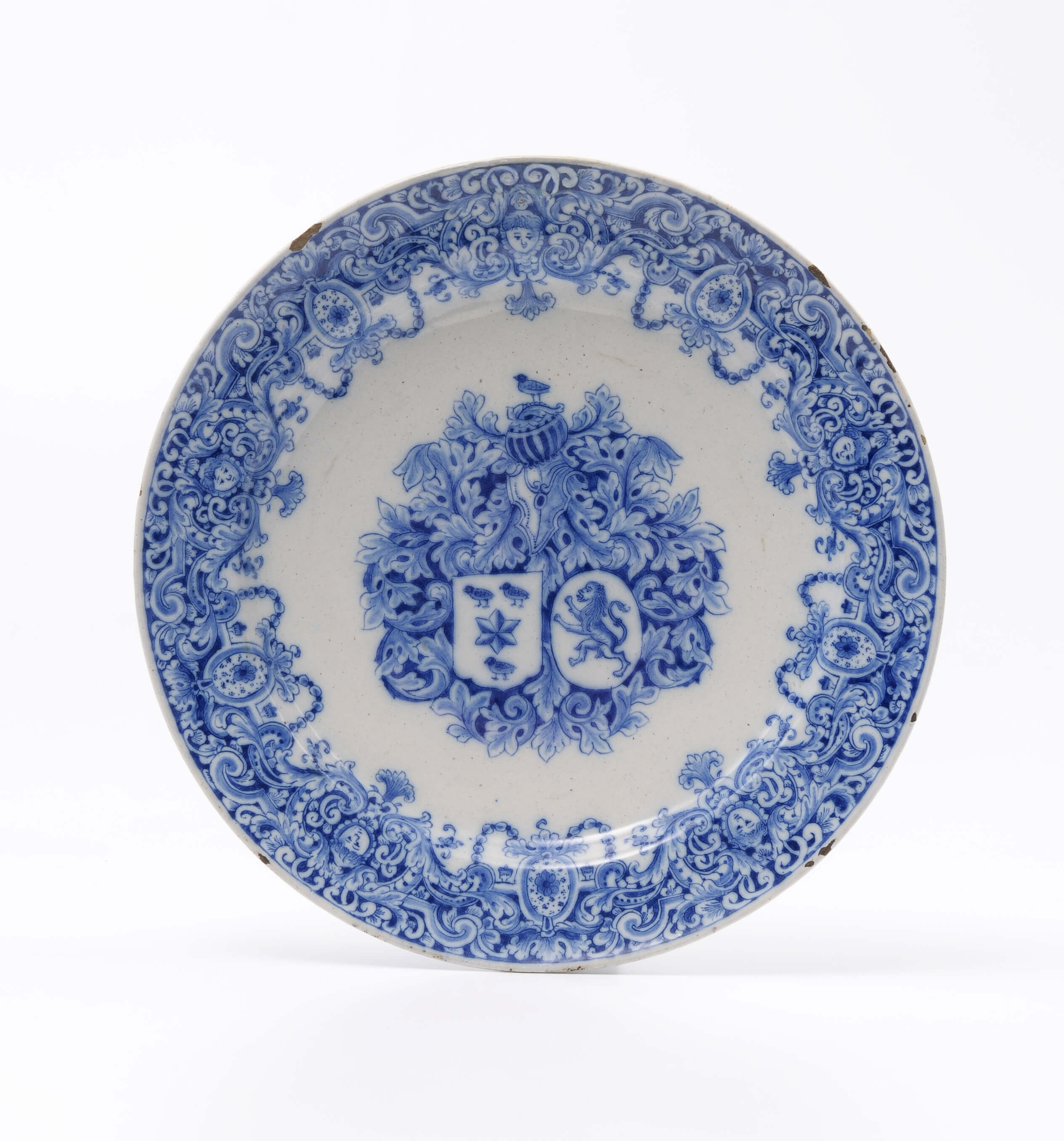 De Witte Ster Factory During the Eighteenth Century
At the beginning of the eighteenth century, De Witte Ster (The White Star) was owned by Henricus Cleffius and Dirck Witsenburgh. During this period, objects of a remarkable quality were produced. However, the company encountered financial troubles. In order to pay back its creditors, the factory was sold in 1705 to Dammas Hoffdijck and Jacobus de Lange.[1] A few years before, in 1694, Dammas Hoffdijck and Jacobus de Lange had already formed a partnership and purchased De Roos (The Rose) factory. As a result of this collaboration, the production of De Roos and De Witte Ster factory during this period present many similarities. For example, the blue and white objects produced during this period were often decorated with similar religious subject matter. Before joining the pottery industry, Hoffdijck worked at the VOC (Dutch East India Company) as a low rank chaplain, known as a ziekentrooster. De Lange was previously the director of a greinhal, a hall in which camlet, a cloth woven from goat's hair is produced or sold. In 1711 Jacobus de Lange bought the shares of his partner and registered as the master of the factory. After his death in 1716, the factory came to the hands of his wife Francina van Eijck.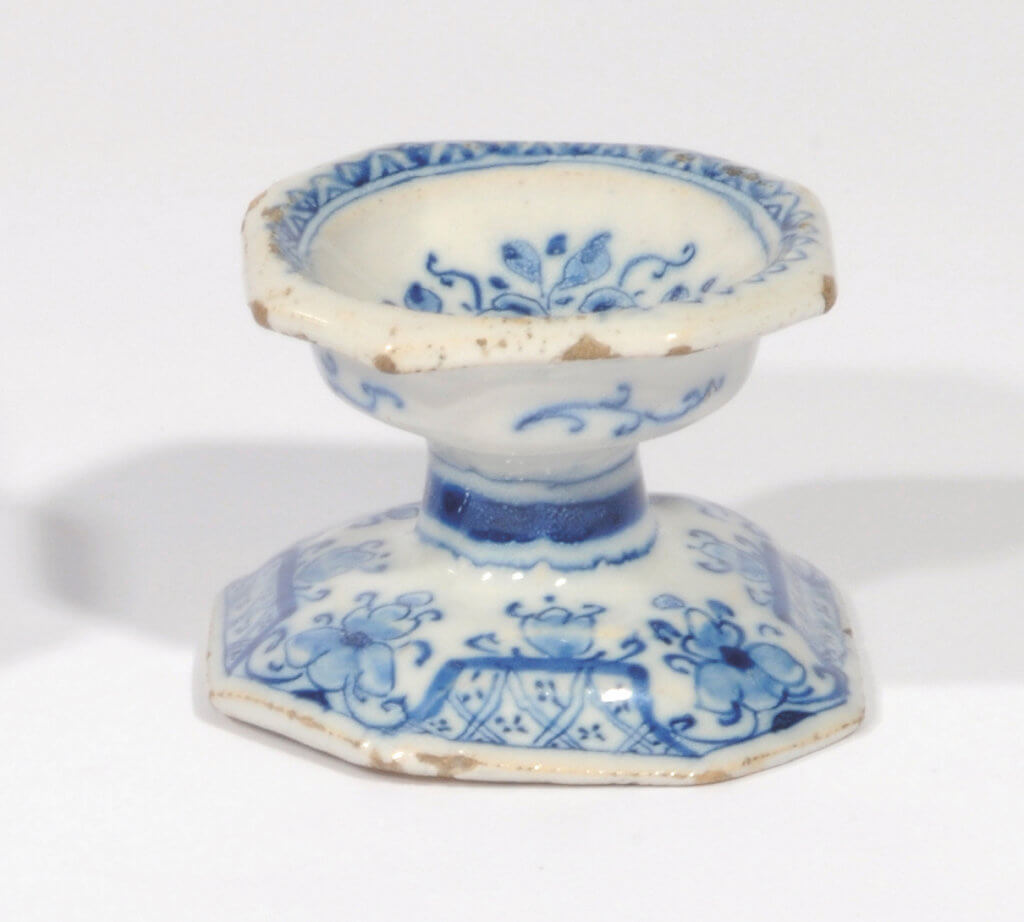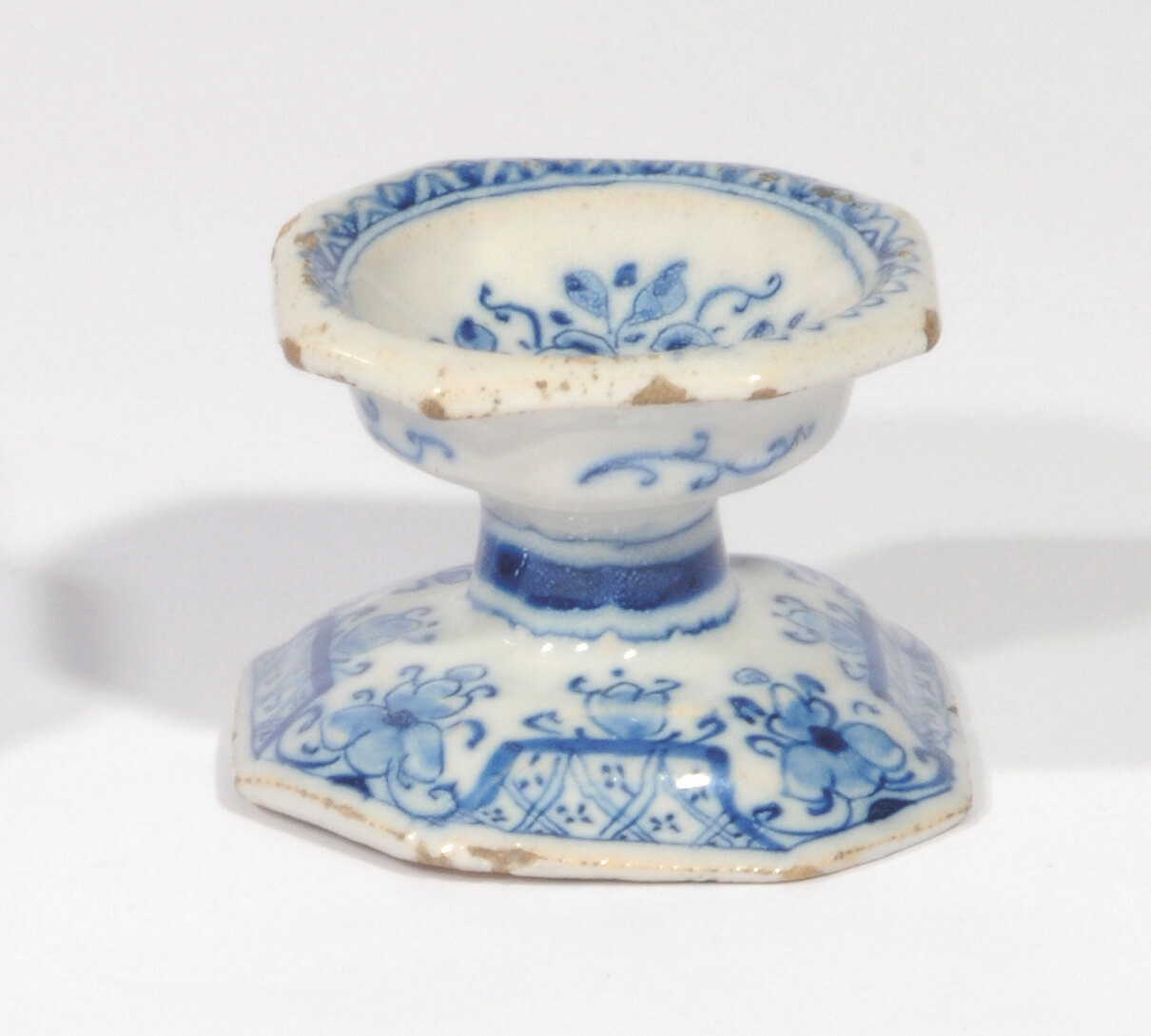 In 1723 their heirs Jannetje Adriaansdr. van Eijck and her husband Cornelis Specx inherited the factory, which they managed during a few months only since in 1724 it was sold to Cornelis Brouwer. Later Cornelis Specx appeared to have managed a shop in which porcelain from China and Japan was sold but also exceptional Delftware pieces such as 'pyramids'. Cornelis was a cousin of Francina van Eijck. He was originally a surgeon for the Dutch East India company, and changed his career in 1715 when he bought De Porceleyne Schotel (The Porcelain Dish) factory. When the opportunity to buy De Witte Ster factory presented itself, Cornelis seized it and immediately sold his former factory.[2] Some of the objects made during his ownership are decorated with decoration in relief; the factory is known to have worked with carvers. The only other factory known to have employed the same decorative technique is De Metaale Pot (The Metal Pot).[3] This lovely blue and white salt cellar is marked * CB in blue for him. This salt was taken from a silver model. A pair of later eighteenth-century silver salts by Rudolp Sondag, Rotterdam, 1773, is illustrated in N.I. Schadee, Zilverschatten, drie eeuwen Rotterdams zilver (Silver Treasures, three centuries of Rotterdam silver), Rotterdam, 1991, p. 107, no. 157.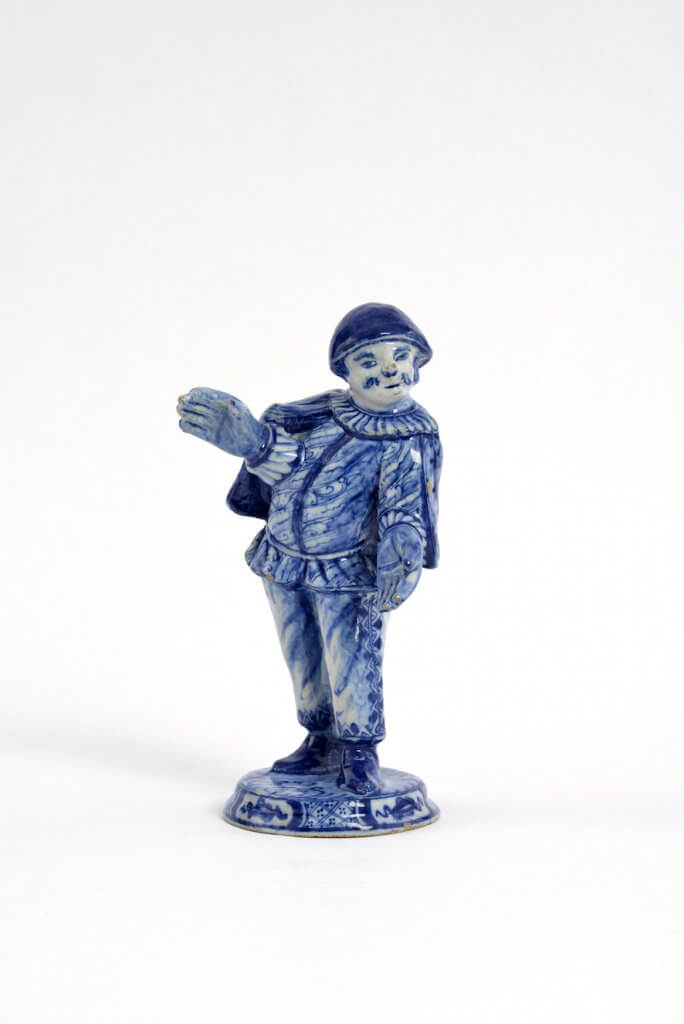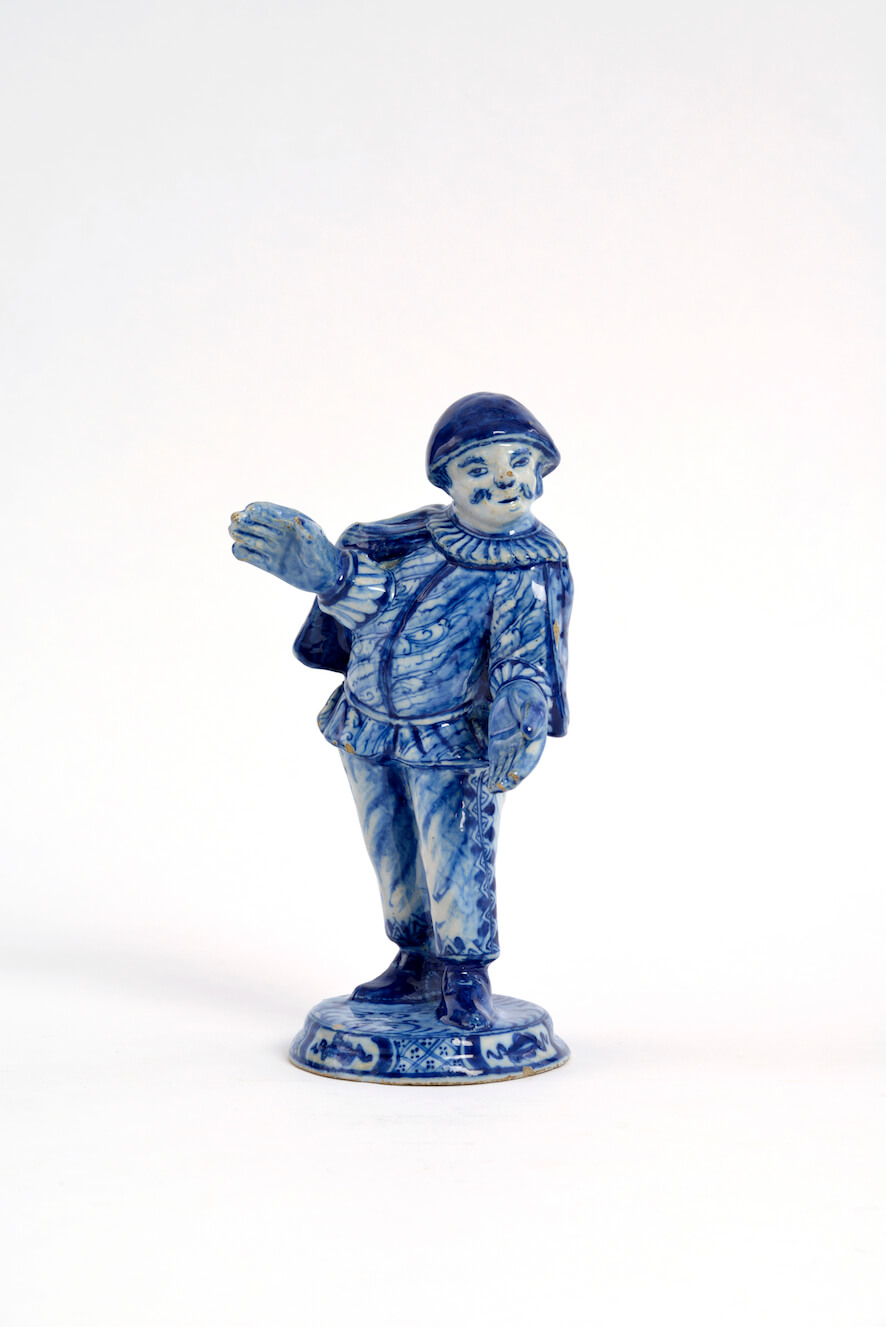 Some beautiful objects from around 1750 are marked with a star accompanied by the letters J:B. They have been attributed to Justus van den Berg, who was recorded as a potter at De Witte Ster during this time. This is the case of this blue and white Commedia dell'Arte figure. The costume worn by the blue and white figure identifies him as a character in the Italian Commedia dell'Arte, although his specific identity is unknown. For centuries the Commedia dell'Arte has been a source of inspiration for painters, printmakers and porcelain manufacturers throughout Europe. The subject has appeared in almost every medium of the fine and decorative arts. In response to the rising popularity of the Commedia dell'Arte in Italy, France, Germany and the Netherlands in the first half of the eighteenth century, Delft potters produced plates and figures using the theatre as its subject.
Another beautiful object marked with the letters J:B is this blue and white armorial plate from circa 1750. It is painted in the center with two coats of arms within elaborate foliate mantling beneath a helmet and bird crest. The rim is decorated with an elaborate border of five masks alternating with dotted and blossom-centered. Two plates from this service are in the collection of the Musée National de Céramique, Sèvres. Lahaussois illustrates the reverse of each, and comments that the arms have not been identified, but that the opulent rinceaux relate to the engraved compositions of the goldsmith Michel Le Blon (1587-1656), and the masks and garlands of pearls are reminiscent of the ornamentation of Daniel Marot (1663-1752), who was the favored designer of William III (1650-1702) and Mary II (1662-94).[4]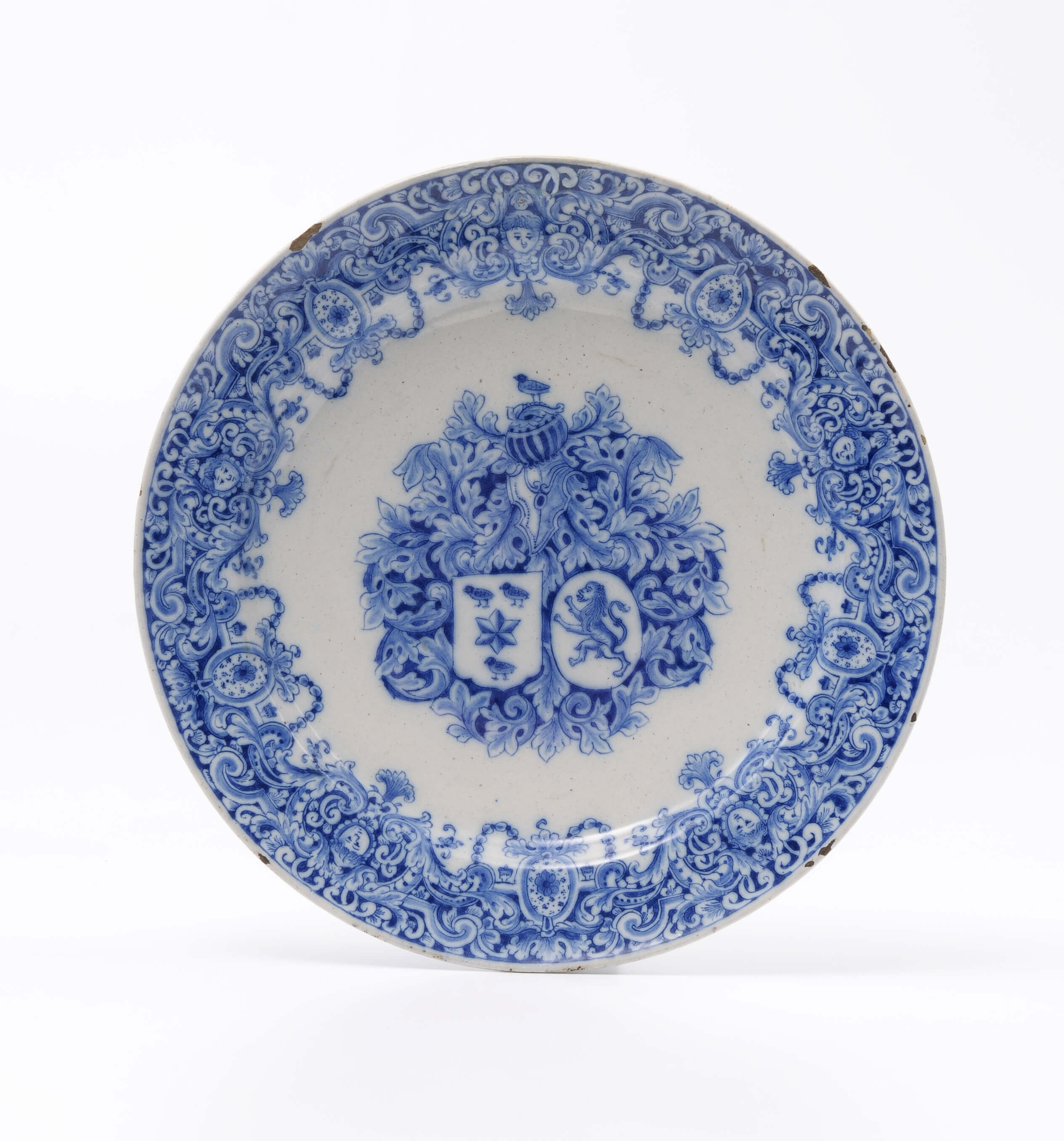 Another factory owner that should be mentioned is Albertus Kiell. He purchased the factory from the Van den Berg family in 1762. During this period the factory displayed great artistry and skill. Not to be confused with Adrianus Kocx, his mark is composed of his combined initials accompanied by a star. As Helbig mentions, the star sign was attributed to De Witte Ster factory.[5] In fact, although the registration took place in 1764, the star has already been used as the pottery mark before 1700. Kiell specialized in the very fashionable trompe l'oeil figures. Destined for the table, these naturalistic tureens and serving dishes were a functional aspect of Dutch dining culture. Tureens in the form of fish were particularly popular in the Netherlands. The Musées Royaux d'Art et d'Histoire in Brussels has a very elaborate Delftware polychrome tureen modeled as cabbage surmounted by a pike. This exceptional piece is marked on the underside A:K*. Very elegant butter tubs designed as goats are also known to have been produced under his ownership. These objects are a testimony to the skill and the great sense of naturalism of the Delft potters in the second half of the eighteenth century.
Notes
[1]  W. Hoekstra-Klein, Geschiedenis van de Delftse Plateelbakkerijen, De Witte Starre 1660-1803, deel 14, 2007, p. 81.
[2]  M.S. Van Aken-Fehmers, Delfts aardewerk. Geschiedenis van een nationaal product, Volume II, Zwolle/Den Haag (Gemeentemuseum) 2001, p. 92.
[3] J.D. van Dam, Delffse Porceleyne, Dutch Delftware 1620-1850, Zwolle/Amsterdam (Rijksmuseum), 2004, p. 145.
[4] C. Lahaussois, Faïences de Delft, Musée national de Céramique Sèvres 1998, pp. 113 and 114, nos. 67-69.
[5] J. Helbig, Faïences Hollandaises, XVIIe- XVIIIe-début XIXe s., Volumes I and II, Musées Royaux d'Art et d'Histoire, Brussels (no date), p. 235.