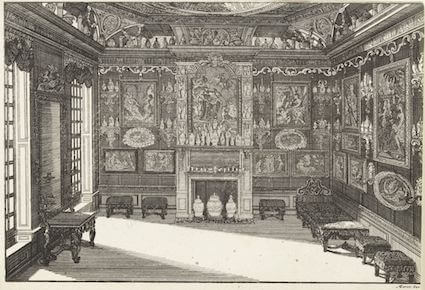 The Decorative Designs of Daniel Marot
The French architect, designer and engraver Daniel Marot (1661-1752) was born into a family of artists and craftsmen. His grandfather, Girard Marot, was a cabinetmaker and his father, Jean Marot was named architect of King Louis XIV. Jean Marot (1619-1679) is well known today for his contribution to seventeenth-century French architecture. In 1686, Daniel Marot assisted his father with the publication of the Grand Marot, a series of 185 prints that undoubtedly served as an important educational tool for the young designer.[1] Daniel Marot spent the first years of his career in France working with the most prominent figures in interior and garden design, and architecture. Some of his early influences include the engravings of Jean le Pautre, a French designer and engraver who worked at the Gobelin manufactory, and André-Charles Boulle, the famous cabinetmaker to Louis XIV, for who he designed amongst others bracket clocks. By 1680, Marot had become one of the leading designers of his time. [2]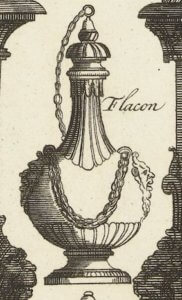 In 1685, his career took an international turn, when he was ordered to emigrate to the Netherlands because of his Huguenot religion. Daniel Marot and his family were members of the French Reformed communion. The edict of Nantes, signed by Henri IV on the 13th of April 1598, granted a large measure of religious liberty to the Protestant population of France and imposed peace in France after many years of civil war. In 1685, Louis XIV ceded to political pressure and revoked the edict of tolerance and replaced it with the Edict of Fontainebleau. Under this new law, Catholicism was the only tolerated religion in France. Repression and violence against the Protestants forced many Huguenots to flee to the Netherlands and England. Among them were extremely talented designers, artist and craftsmen who brought their style to their adopted countries.
In Holland, Marot was commissioned to design apartments at Slot Zeist for the cousin of William III of Orange and a former ambassador of France. He was then hired by the stadholder who entrusted him with the design of the Palace Het Loo interiors.[3] For the palace interior, Marot drew strong inspiration from the designs of Jean Bérain, one of Louis XIV's official designers at the Manufacture des Gobelins. Bérain's style is characterized by the use of delicate arabesques and whimsical grotesques that originally derived from the Renaissance. Using light floral patterns, Bérain famously combined foliage with human and animal forms that prefigured the rococo movement. The genius of Marot lies in his ability to adapt the French style for the Dutch interior, using a unique and luxurious baroque expression.[4]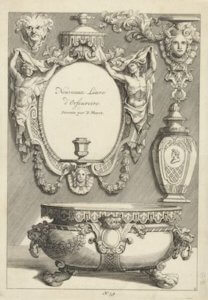 In 1689, James I, King of England left the throne to Mary and her royal consort, and the couple moved to England. As the favored designer, Marot was asked to follow them. Marot is believed to have lived in England from 1694 to 1696, where he was in charge of adorning the interiors, conceiving new furniture and redesigning the gardens of the Hampton Court Palace. He also likely had a role in the interior design of adjacent mansions and palaces.[5] Because of his wide-ranging influence, Marot is often described as an originator of the English style. According to Walter A. Dyer, "he typified the swing of British taste away from provincialism and toward greater luxury and ornateness."[6]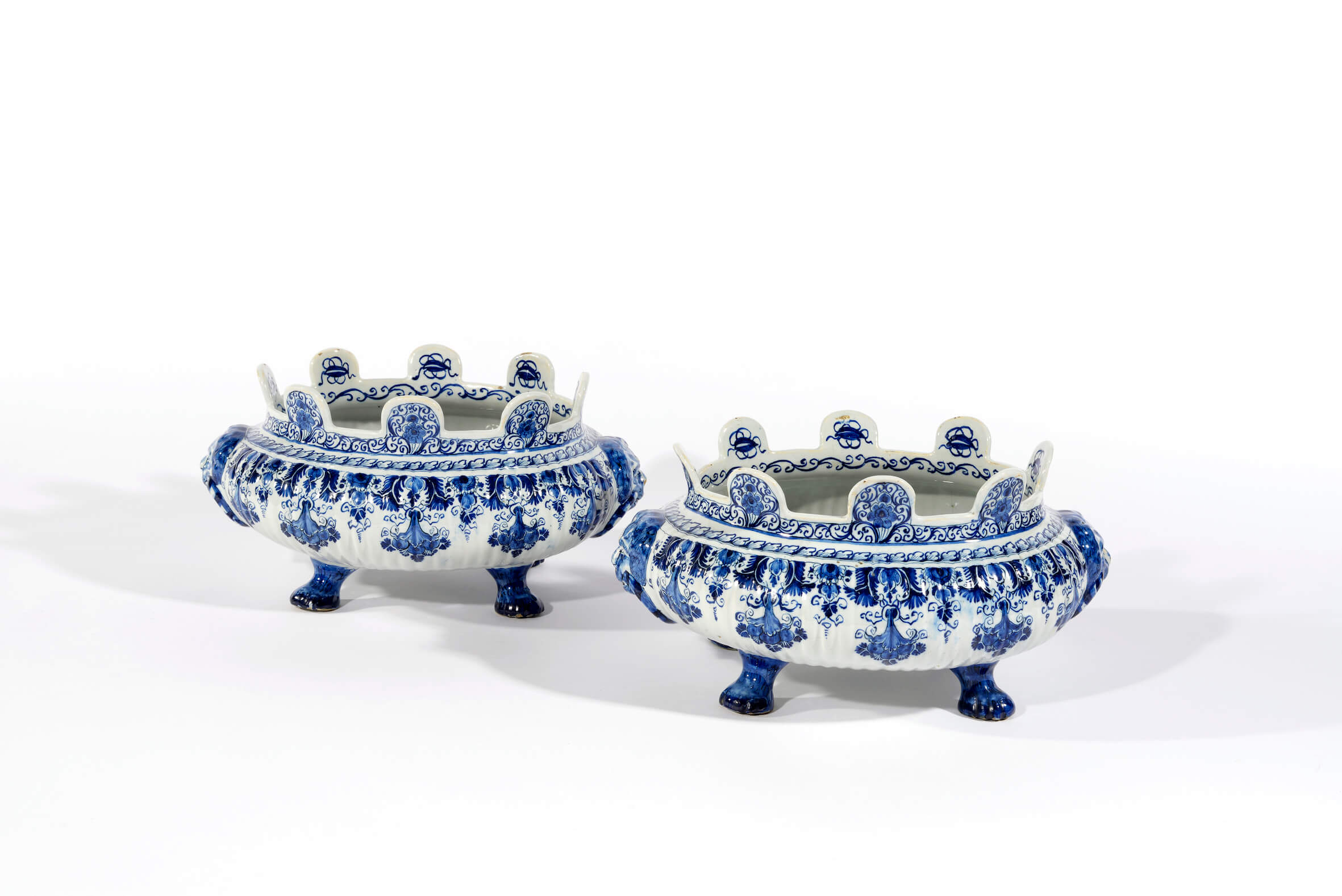 Undeniably, many of the most exceptional Delftware pieces bear Marot's characteristic style. The Delftware with the most similarity to Marot were commissioned by the Royal court and its circle to one of the most prestigious Delftware factories, De Grieksche A (The Greek A). We do not know if Marot and Adrianus Kocx, the owner of De Grieksche A factory, worked in collaboration but it is highly probable that Marot created some of the designs for De Grieksche A factory. Unfortunately, there are few remaining objects that can be positively attributed to Marot, and his work is best known through the publication of his engravings. In 1892, a number of his plates were brought together by Ersny Wasmuth in Das ornamentwerk des Daniel Marot. This extraordinary published work has allowed art historians to chart the influence of Marot and attribute several objects, drawings and interior schemes to the famous designer. For example, the two grotesque masks molded in relief on the blue and white pilgrim bottle marked for Adrianus Kocx, show the impact of Marot's designs on the objects produced by the factory.
The shape of the pair of oval monteiths marked CK for Cornelis Koppens, owner of De Metaale Pot (The Metal Pot) factory from 1724 to 1757 bears many similarities to Marot's designs. Like the engraving, the handles are formed as a lion mask clasping a ring in its mouth, and the bottom of the object is affixed with four paw feet. Marot certainly drew his inspiration from the silver models that were produced during Louis XIV's reign.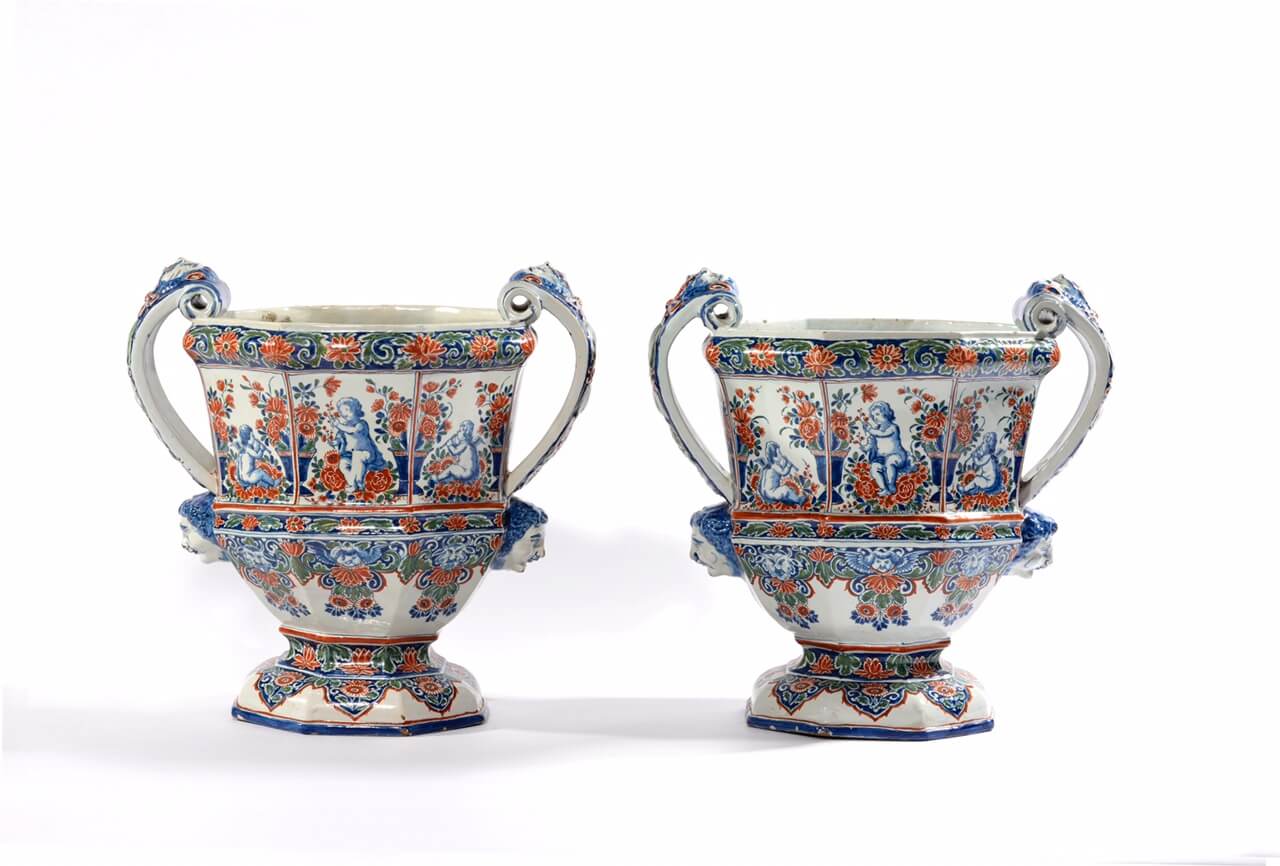 Also, many painted decorations of Delftware derive from the work of Marot. This pair of cashmere garden pots are reminiscent of Marot's luxuriant baroque style in the cartouches filled with foliate motifs, the garlands of flowers and the regular structure of the motifs, as well as their shape.[7] These two garden urns were made during the ownership of Pieter Adriaensz. Kocx, the owner of De Grieksche A factory from 1701 to 1703, or his widow Johanna van der Heul, the owner of the factory from 1703 to 1722. Interestingly, this model was also produced by his father and predecessor Adrianus Kocx. Also, shards excavated at Het Loo include fragments of vases similar in shape. It is thus highly possible that these type of jardinieres were designed by Marot himself and that the same molds were used after Adrianus Kocx and Marot's deaths.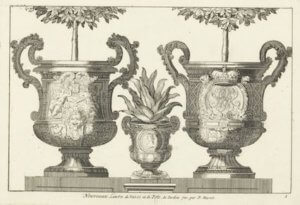 Marot's prints are also a remarkable source of information concerning the way Delftware objects were displayed. The prints encouraged the display and use of Delftware throughout the home, and especially in public rooms, beyond the conventional display cabinets and private rooms.[8] Marot also designed cabinets where porcelain and Delftware would sometimes rival in beauty. An essential decorative element of his designs was the display of garnitures. As seen in his engravings, large sets of vases would have been placed in the chimney during the summer months, while smaller ones would have been displayed on top of cabinets, above a door or on a mantel piece.
After William II's death, Marot returned to the Netherlands, where he lived until he died in 1752. Even after his death, Delft potters continued to produce objects in Marot's style. His work remains one of the most comprehensive and wide-ranging bodies of design that was produced by a European designer of his age.
[1]  W.A. Dyer, "Creators of English Style: II. Daniel Marot" in Arts & Decoration (1910-1918), vol. 6, no. 6, 1916, p. 281.
[2]  Dyer 1916 (Note 1), pp. 281.
[3] J. Banham, Encyclopedia of Interior Design, p. 448
[4] Banham (note 4), p. 448
[5] Bowett, Adam. "The Engraving of Daniel Marot" in Furniture History, vol. 43, 2007, pp. 86
[6] Dyer 1916 (Note 1), pp. 280
[7] A.M.L.E. Erkelens, 'Delffs porceleijn' van koningin Mary II. Ceramiek op Het Loo uit de tijd van Willem III en Mary II. Queen Mary's 'Delft porcelain'. Ceramics at Het Loo from the time of William and Mary, Zwolle 1996, p. 96.
[8] Christine A. Jones, Shapely Bodies: The Image of Porcelain in Eighteenth-Century France, 2013, University of Delaware, p.143