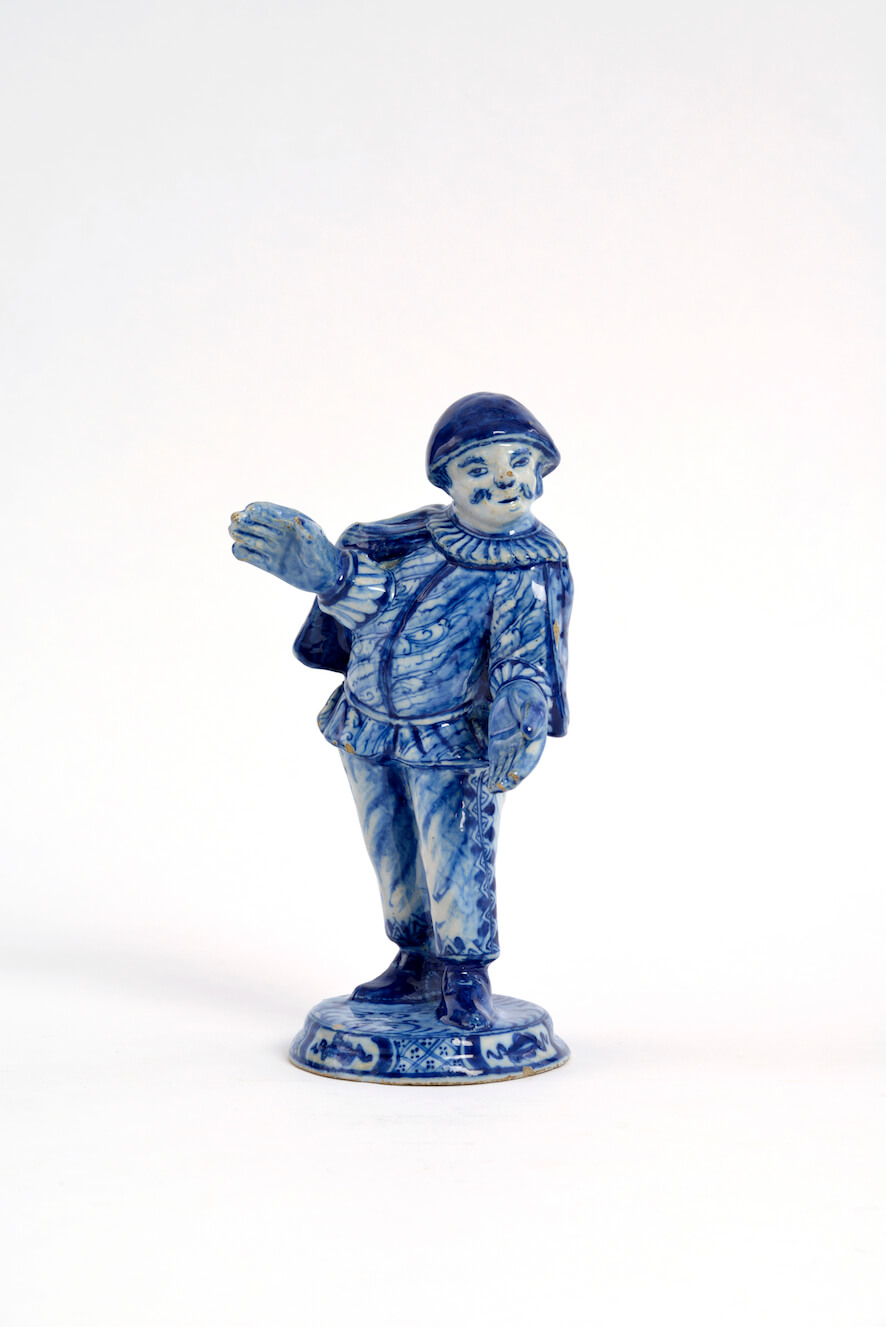 [popup_trigger id="13756″ tag="span"]

[/popup_trigger]
OBJECT
•D1751. Blue and White Commedia Dell'Arte Figure
Delft, circa 1750
Marked with an asterisk and JB in blue for Justus de Berg, recorded as a potter at De Witte Ster (The White Star) factory
Modeled as a figure from the Commedia dell' Arte with exaggerated large hands, wearing a voluminous beret and patterned costume with a ruffled collar and cuffs and concealed at the back under a cape, standing on the circular base decorated with scrolls, the sides with trellis work reserved with panels of scrolls.
Height: 18.7 cm. (7.4 in.)
Provenance: Belgian Private Collection
Note:
For centuries the Commedia dell' Arte (Italian Comedy) has been a source of inspiration for painters, printmakers and porcelain manufacturers throughout Europe. The subject has appeared in almost every medium of the fine and decorative arts. The Commedia dell' Arte began in Italy in the sixteenth century, possibly as a reaction to the political and economics crisis of that century. The genre was a form of comedic theater, with masked actors performing improvised scenes. Recognizable by their mask and costume, characters included the typical jester and merchant, as well as the more obscure figures of Colombine, a female servant, and the brave Capitano. The Italian performers traveled throughout Europe, and many characters' names changed according to the region. The visiting troupes had a considerable influence on the local theatre traditions, as well as the fine and decorative arts. In response to the rising popularity of the Commedia dell' Arte in Italy, France, Germany and the Netherlands in the first half of the eighteenth century, Delft potters produced plates and figures using the theatre as its subject.