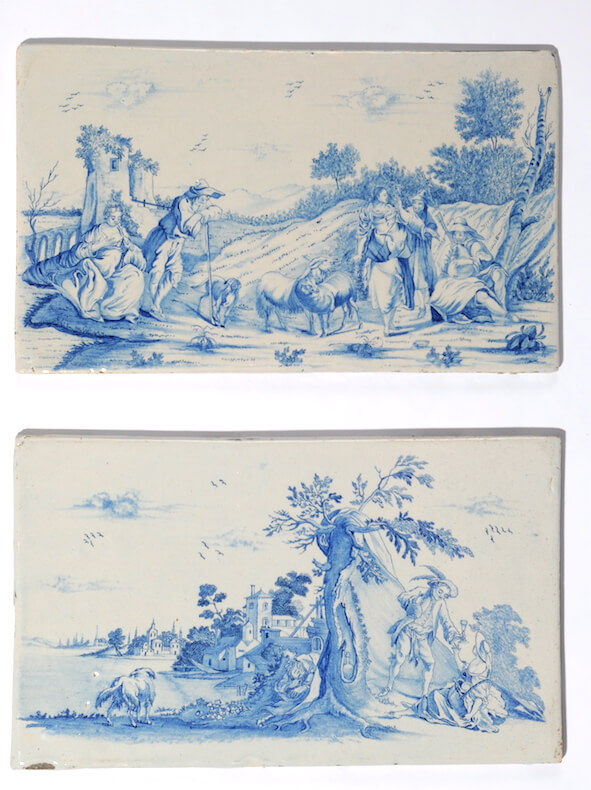 OBJECT
D8210. Pair of Blue and White Plaques
Delft, circa 1770
One painted after Nilson with a 'Peeping Tom' crouching behind a tented tree and spying on a gallant wearing a feathered hat, holding a bottle and a glass of wine, which he offers to his sweetheart seated on the ground with a picnic basket over her arm, another bottle hidden in the hollow of the tree, to the left a dog gazes across an estuary to Italianate buildings beyond; the other painted after Berchem with a lady seated before a classical ruin and nursing her baby beside a peasant leaning on his staff and gazing beyond the hound at his feet and two sheep toward a barefoot maiden holding a distaff and standing beside another peasant man pointing to a bagpiper seated beside a tree trunk in a hilly wooded landscape; the reverse of each glazed.
Size: 18.4 x 30.5 cm. (7 1/4 x 12 in.)
Provenance: The Collection of Archibald Stirling of Keir, Scotland
Note: The graphic source of the first plaque is a print by Johann Esaias Nilson (1721-1788), dated to circa 1760-65. Prints by this Augsburg engraver frequently inspired the decoration on eighteenth-century German porcelain. The second plaque comprises elements taken from prints by Johannes Visscher (1633-after 1692) after drawings by Nicolaes Berchem (1621/22-1683). The nursing mother to the left is taken from the print of 'Midday', flanking 'A Shepherd Leaning on his Staff', and to the right the bagpiper is taken from 'Shepherd Playing the Bagpipe and Girl Milking Sheep'. The standing lady with a distaff is also a Berchem subject who appears, for example, on the print, 'Spinster and Shepherdess with Flock' by the Frenchman Pierre Aveline (circa 1656-1722), engraved and etched after a Berchem painting.