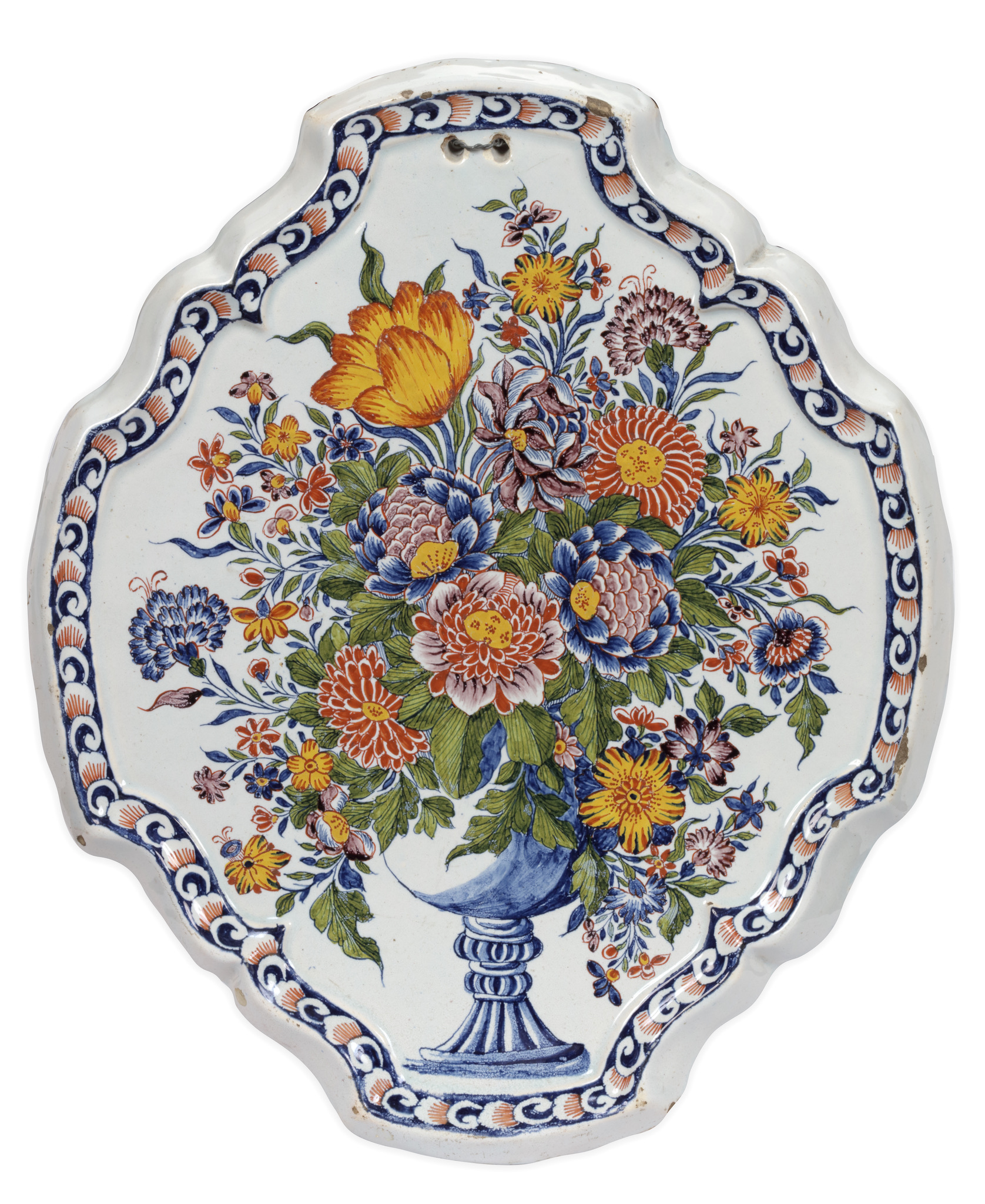 OBJECT
D2342. Polychrome Floral Plaque
Delft, circa 1765
Painted in iron-red, yellow, manganese, blue and green with a lush bouquet of tulips, carnations and other flowers and foliage in a blue and white vase, the self-molded frame with a blue ground reserved with a band of iron-red delineated ruyi-head devices and c-scrolls, the top pierced with two holes for suspension; the reverse glazed.
DIMENSIONS
Height: 39 cm. (15.4 in.)
PROVENANCE
Dutch Private Collection
NOTE
The representations on plaques are varied, and often reflect contemporary concerns and tastes. Many motifs depicted on Delftware are inspired by canvas paintings or prints, which were sometimes made after original paintings. The print could be used as a pouncing stencil in order to reproduce the motifs. Since the study of botany and natural sciences was a growing interest in the Netherlands during the seventeenth and eighteenth centuries, it is no surprise that the Delft painters often chose this beloved decoration for their objects.
Flower vases, or so-called flower pots, have a long pictorial tradition in the Netherlands. During the seventeenth century, still life paintings of flowers and fruit 'blossomed.' The most famous Dutch floral still life painters include Jan Brueghel the Elder (1568- 1625), Roelant Savery (1576-1639), Ambrosius Bosschaert the Elder (1573-1621) and his sons, Bartholomeus Assesteyn (1607-ca.1667), Balthasar van der Ast (1593/94-1657), Willem van Aelst (1627- ca. 1683), Jan Davidsz. de Heem (1606-1683/84), Simon Pietersz Verelst (1644-1721) and Rachel Ruysch (1664-1750). Engravers turned the lush bouquets of these renowned artists into prints, which were then available to other artists and artisans to be reproduced in other mediums. The Delft painters worked often from prints of both unknown and well- known artists, often portraying their subjects with precision and imagination.
SIMILAR EXAMPLES
A slightly differently shaped plaque with an extravagant arrangement of flowers in a vase is illustrated in Aronson 2014, p. 101, no. 50, a similar one is in the Rijksmuseum, Amsterdam (inv. no. BK- NM-12400-117). Another plaque with a bouquet of flowers in a vase is in the Evenepoel Collection (no. 136) at the Musées Royaux d'Art et d'Histoire, Brussels, illustrated in Helbug II, p. 48, fig. 32; and in Marien-Dugardin 1971, no. 141. 2014, p. 100, no. 50.