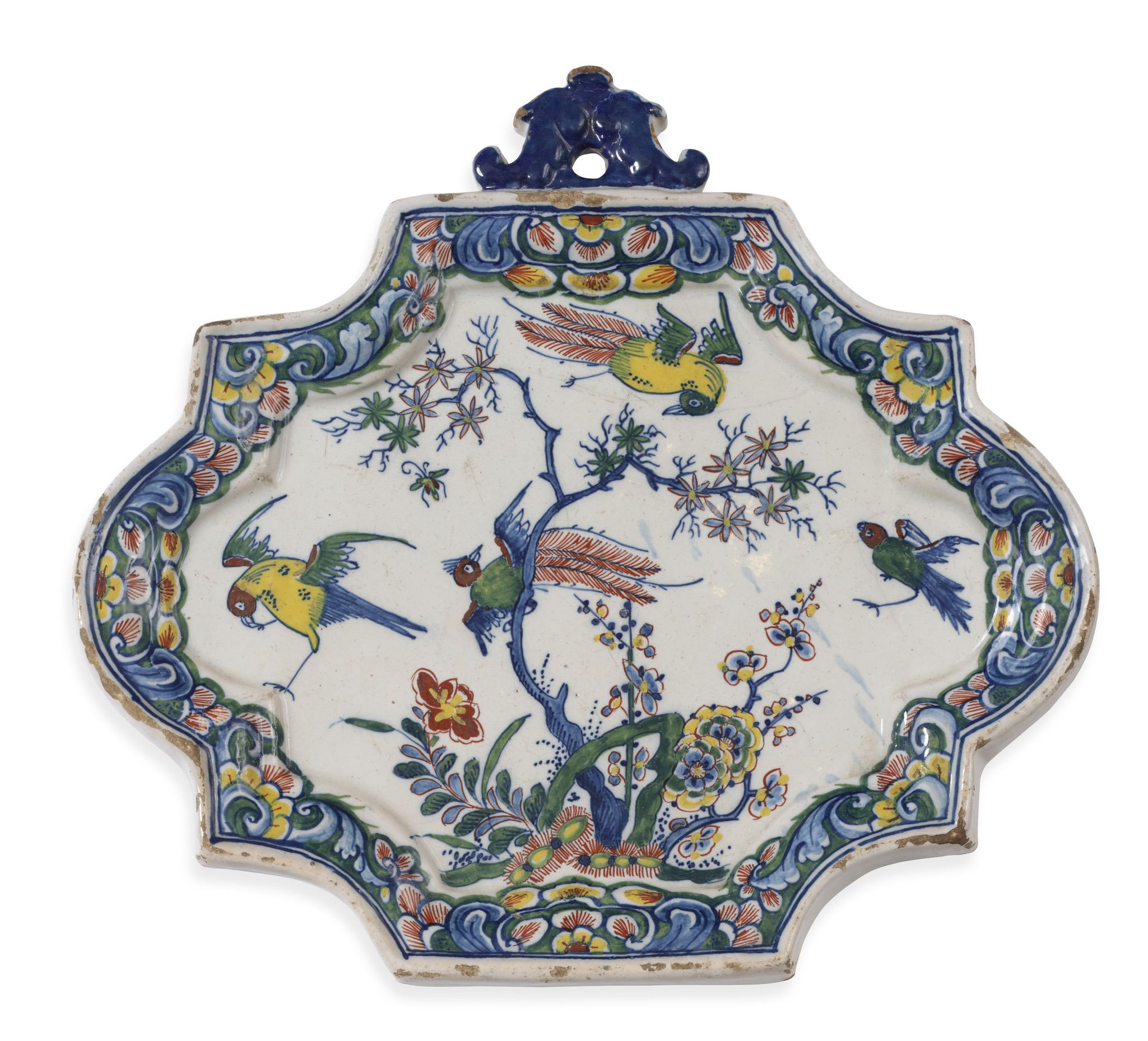 OBJECT
D2332. Polychrome Plaque
Delft, circa 1735
Painted in blue, green, iron-red and yellow with three exotic birds in flight and one perched on a flowering branch, the self-molded frame with a green-ground border decorated with blossoms and foliate scrolls within blue lines and at the top with a pair of leaf scrolls flanking the suspension hole.
DIMENSIONS
Width: 24.8 cm (9.8 in.)
PROVENANCE
Collection Etienne Delaunoy Amsterdam, according to the original collector's label;
Dutch Private Collection, Amsterdam and hence by family descent
PROVENANCE+
The complete provenance of this entry has been registered by notarial deed with independent and secure registration agency Provenance+ Amsterdam.
NOTE
"Porcelain paintings," as they were referred to in household inventories, were intended to be admired as if they were paintings on panel, canvas or copper. The representations on the plaques are varied, and often reflect contemporary concerns and tastes.
These chinoiserie motifs and the baroque design of the plaque are in complete accordance with the taste of the day. By the mid and late eighteenth century, Delft chinoiserie plaques were the absolute fashion, and they became as exuberant in their coloration as in their exotic themes. In fact, whereas the early flat, rectangular plaques were made of slabs of clay, by the eighteenth century, plaques with shaped borders in relief, representing the baroque and rococo stylistic idiom, began to be made in plaster molds. The shapes became more stylish, varied and creative.
SIMILAR EXAMPLES
A pair of plaques of this model painted in a similar color palette but with a different scene with birds is illustrated in Aronson 2013, pp. 60-61, no. 33. Another pair of plaques of the same model is illustrated in Aronson 2003, p. 25, no. 23.