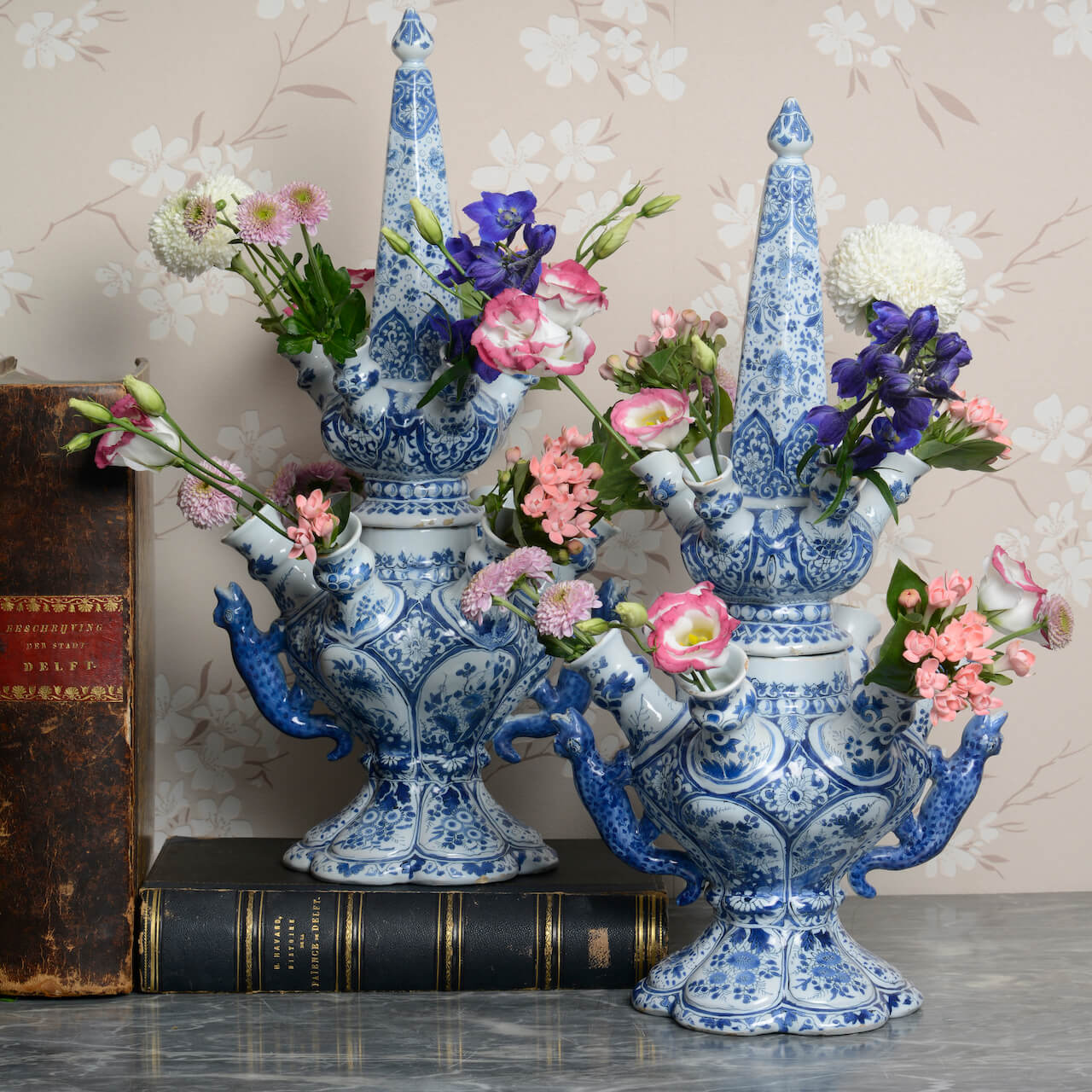 Dutch Delftware thrived in the late seventeenth century under the patronage of Queen Mary II, who was passionate about Chinese blue and white porcelain and its local counterpart. The Delft factories also responded to the Queen's love of gardens, and they developed the technical skills and virtuosity in the production of all sorts of 'vases with spouts' to display flowers.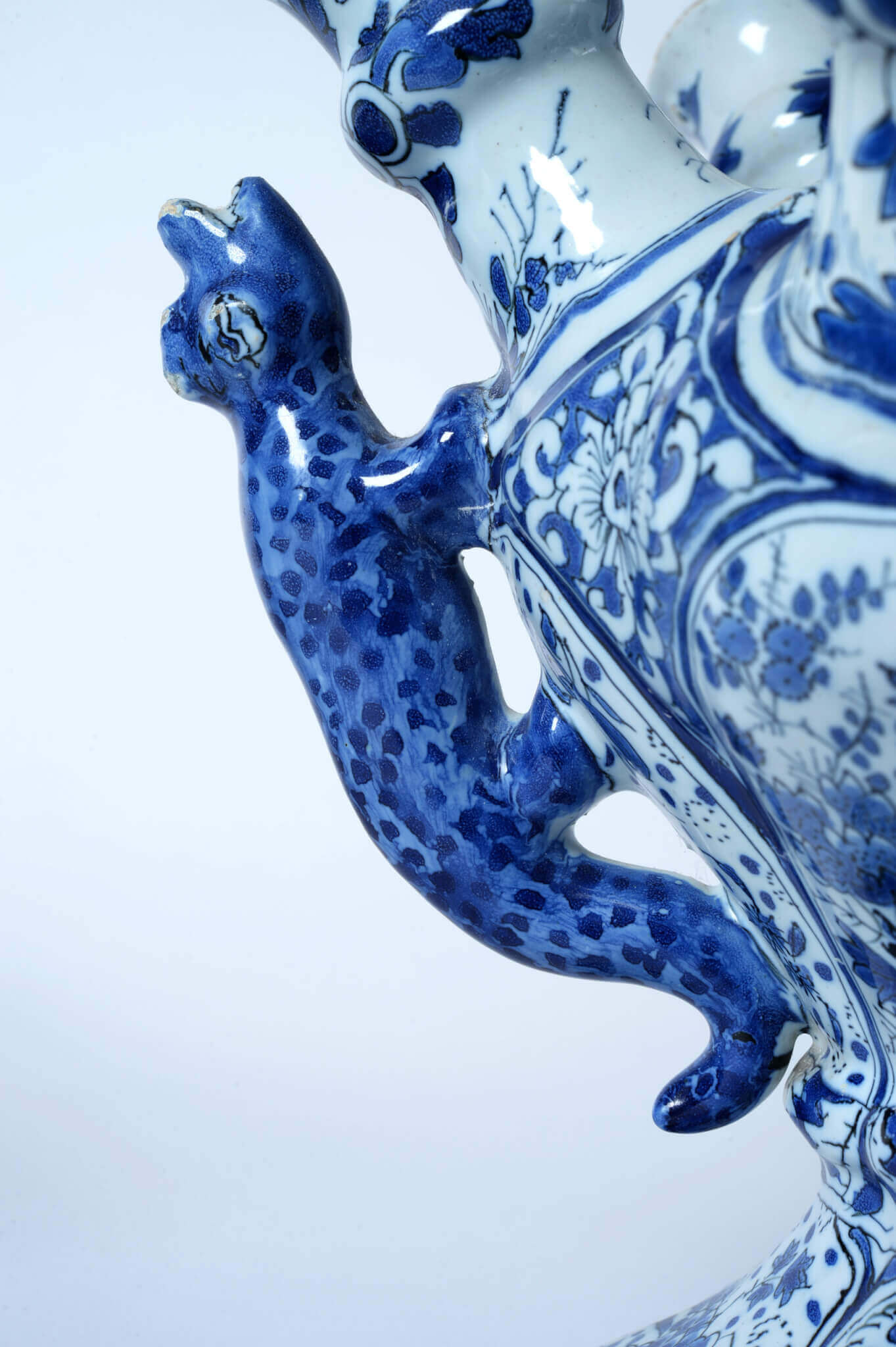 Despite the supposition that 'tulip vases' were intended to specifically hold the precious and popular tulips, they actually were filled with all varieties of cut flowers, displaying the exuberant floral taste in the seventeenth and eighteenth centuries. This floral fervor was one of the two passions of Queen Mary II – the other being her collection of Chinese blue and white porcelain. Mary's 'chinamania', as it came to be called by the English journalist and novelist, Daniel Defoe (c. 1660-1731), was the subject of his 1692 criticism of her overabundance of Chinese porcelain at her London residence, Kensington Palace (supposedly 7,800 pieces). But this obsession did not go unnoticed by the Delft factories, who, with their production of vessels in the Chinese taste, encouraged Mary's patronage along with that of the nobility and aristocracy in England and on the Continent, which in turn enabled them to develop their technical skills and virtuosity in the production of all manner of 'vases with spouts' to display the panoply of flowers that so delighted the Queen and her circle.
In their constant search for innovation and for expansion of their range, the Delft potters began to develop new forms of vases around 1680. The most common types were table vases in the form of tureens and baskets, or stacks of round basins. Delftware factories also produced vases shaped as fans, triumphal arches and figurines. More extravagant however were the tiered vases that were often shaped as an obelisk. These so-called 'flower pyramids', or polygonal tiered vases, were called 'flowerpots with pipes' in the seventeenth century, of which this pair of blue and white flower vases is a beautiful example.1
The vases are each formed as a hexafoil baluster form vase painted in a chinoiserie style with panels of oriental birds and flowers and its sides are affixed with spotted blue dragon handles. Marked for Adrianus Kocx, the owner of De Grieksche A (The Greek A) factory from 1687 to 1701, they were created in one of the most successful Delftware factories of the Golden Age. De Grieksche A made significant contributions to the Delftware industry in style and innovation, but perhaps the greatest legacy is the connection to the Dutch Royal Court. For the decoration of the Royal residences Queen Mary commissioned many objects from De Grieksche A factory.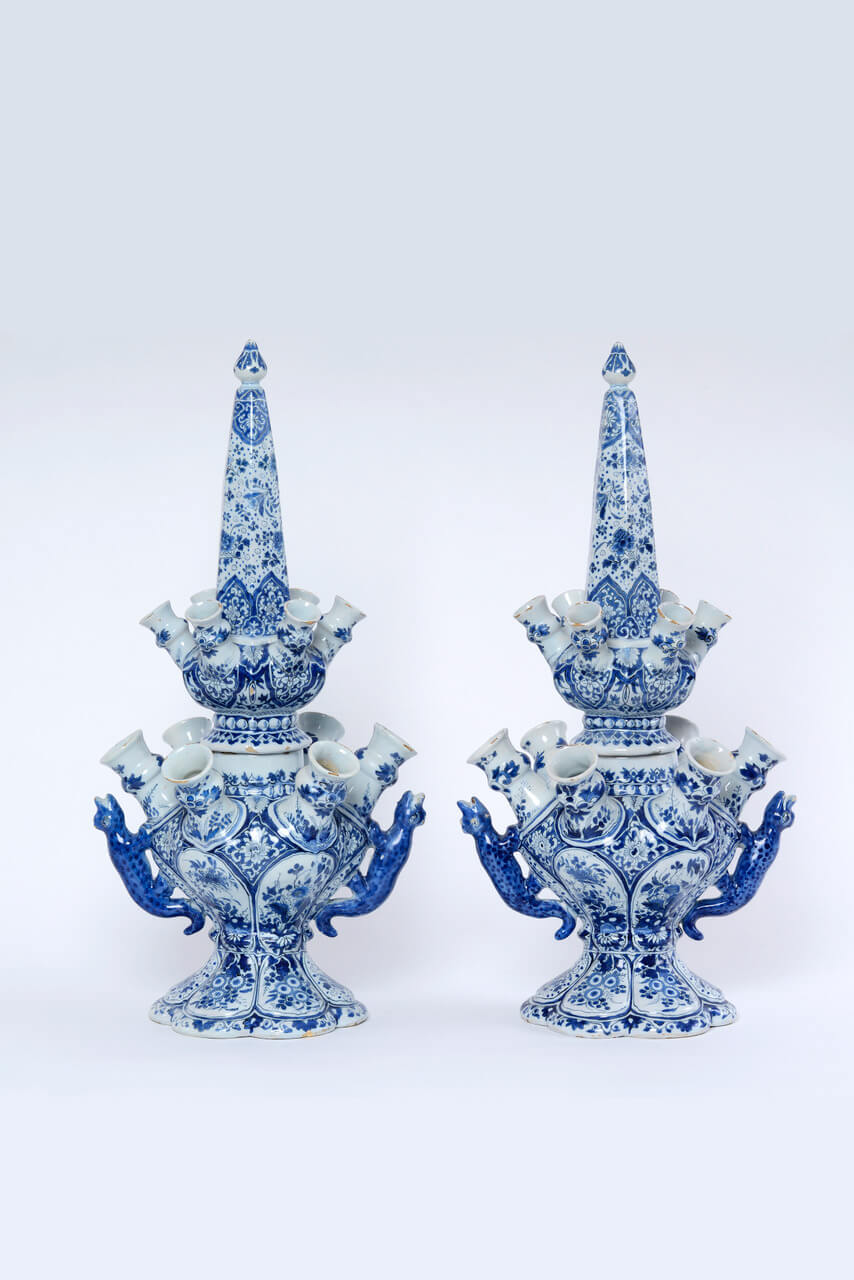 In the seventeenth century it was customary to display pieces of porcelain in pyramidal arrangements in or on top of art cabinets, on wall brackets or on mantels of palace rooms. These étagères for porcelain, or so-called 'pyramids', created an impression of great wealth and sophistication.2 The pyramid or obelisk was symbolic of power.3 Often used by European courts, the pyramid represented the fame and glory of a monarch. The design of a pyramidal vase could have also been inspired by Louis XIV (1638-1715), whose inventory included four pairs of pyramids described as 'à bouquets et tulipes, à bouquets et roses, à tulipes au dessus et au dessus à tulipes'. This description could either signify that the bouquets of tulips and roses were part of the surface decoration of the objects, or that they were three-dimensional. Surface decoration involving tulips and roses might suggest that the royal pyramids were specifically intended to hold those flowers.4 Another possible design source for this unique form can be found in the tapering architecture of Chinese pagodas.
The stacked construction of the flower pyramids was a technical solution; it would have been impossible for the potters to make and fire such tall earthenware vases in one piece without the risk of their collapse in the kiln. Unfortunately, a well-formed model did not guarantee a perfect pyramid, and the potters had to ensure that the parts fit well both before and after the firing. Sometimes, parts of the vases collapsed or broke during the firing process, a disaster that is evident on some pedestals of which the sides are slightly slumped.
In all probability, molds were used in the manufacture of the vases with spouts. For angular and ribbed objects, and for handles and spouts the modelers used plaster molds, in which the clay was pressed. The resulting casts were secured individually to the object with slip, a thin, watery clay. Since distortions or irregularities could develop during the firing process, parts were numbered to avoid problems when stacking. Unpredictable shrinkage during the process of cooling in the kiln accounted for small differences in size.5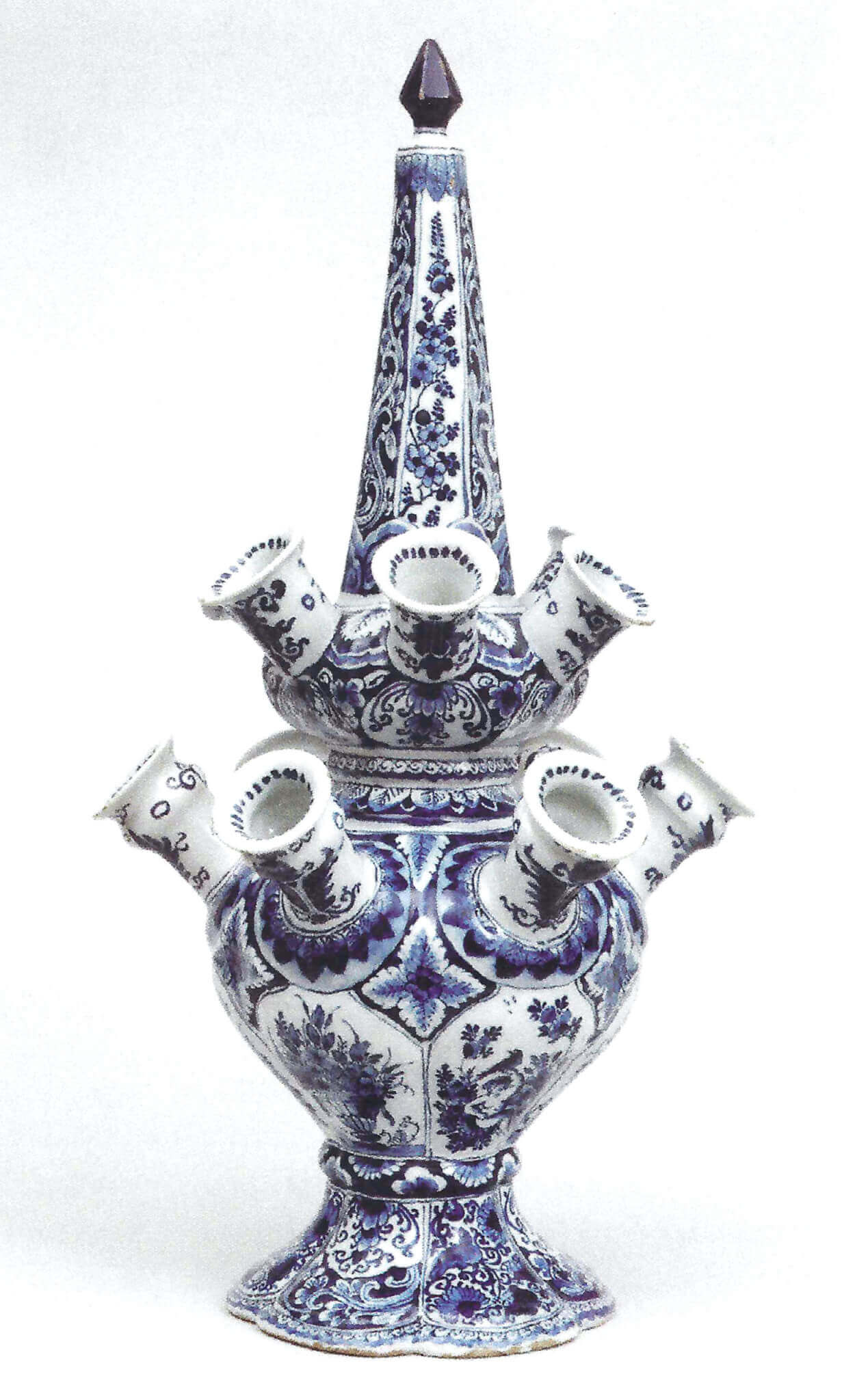 Although vases with spouts have been produced in numerous forms and sizes, and different molds were used to construct the flower vases, there are no identical vases to the present pair. A single unmarked flower vase rather similar in model and size, but with different decoration and beast-form handles is illustrated in Aronson 2011, pp. 44-45, no. 26. An almost identical example in a private Dutch collection was sold at Christie's Amsterdam, 26 June 2007, lot 40. Further a single flower vase that is rather similar in model is a blue and white vase marked for Lambertus van Eenhoorn, the owner of De Metaale Pot (The Metal Pot) factory from 1691 to 1721, in the collection of the Oranienbaum Palace (inv. no. II-1436).6 The vase, which stands 46 cm. (18.1 in.) tall and can be dated around 1695, has an identical shape, but is lacking the salamander or dragon handles. This would suggest that molds were occasionally exchanged between factories, and in this instance between friendly brothers-in-law, when important commissions required certain elaborate forms. The exchanging of molds between De Metaale Pot and De Grieksche A factory can also be seen in the case of bowl-shaped flower vases. Although this type of flower vase was mostly produced under Adrianus Kocx at De Grieksche A factory, there is one example of an identically shaped vase marked for Lambertus van Eenhoorn. The handles in the shape of salamanders on the present pair of flower vases, which were separately formed in a plaster mold, was a decoration that is often seen on flower vases made under Adrianus Kocx.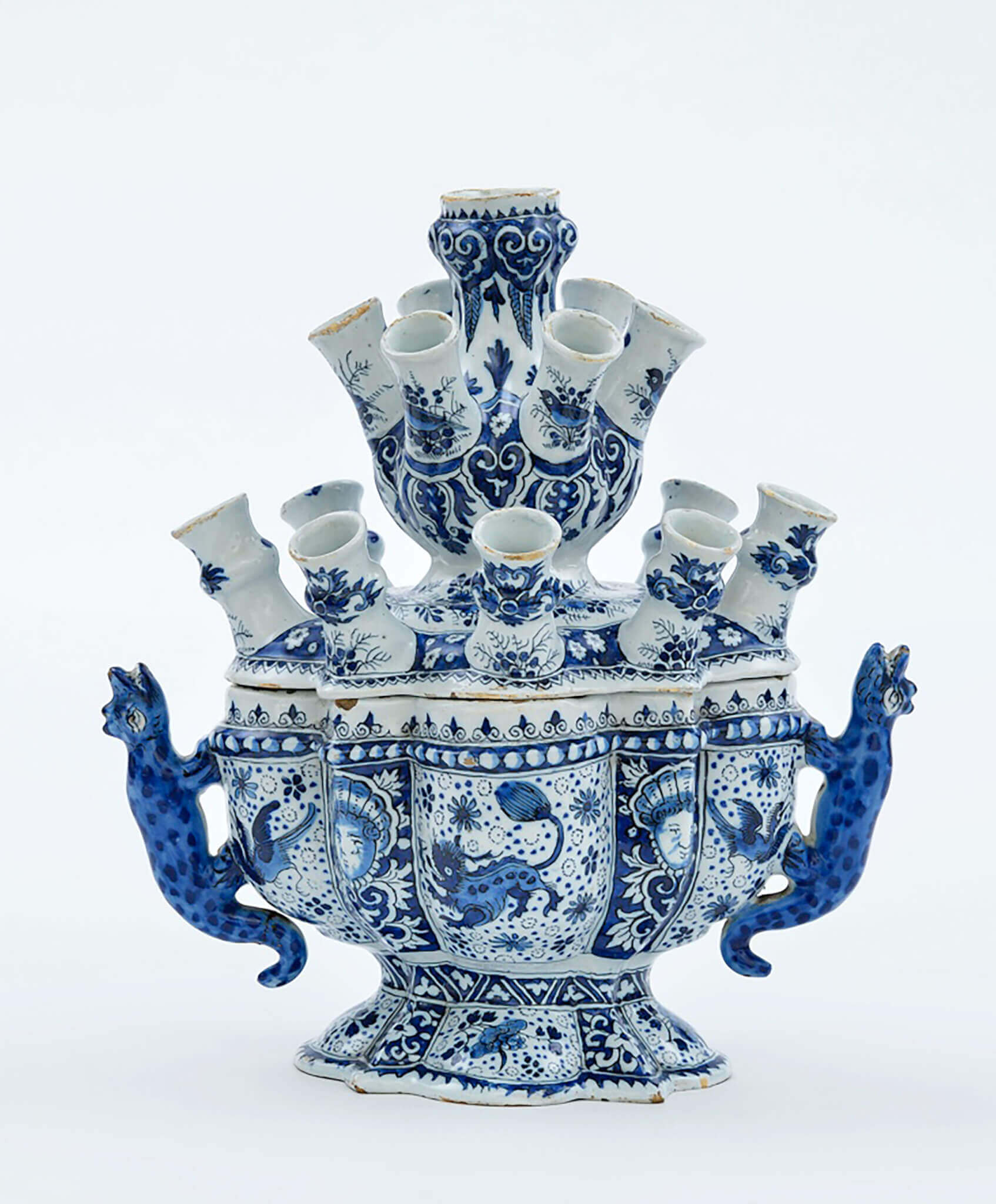 Flower vases enjoyed a brief heyday from 1688 to 1710. Their disappearance was partly caused by the decline of the Delft industry in the face of greater competition from Meissen factories and other European potters. Perhaps more significantly, flower vases disappeared after the deaths of their royal patrons and the end of the baroque styles so closely associated with them.7 In the eyes of the Dutch public, the pyramid was no longer an acceptable and practical shape.8 Moreover, their decline is related to the changing ideas of the relationship between art and nature, which manifests itself in garden art. The monumental vases were viewed with disdain because many people felt that they imposed excessively strict restraints on nature.9
Being vulnerable in use and even more so in maintenance, many of the monumental flowers vases have presumably been lost over time. Of the surviving examples, not one contains all of its original spouts or segments intact.10 The most fragile of parts are the spouts, which were often first to chip and break. Then, one segment after another would become damaged until the vast majority of the vases were probably reduced to an almost unrecognizable form and discarded as useless. Perhaps some vases were too beautiful to throw away, and it remains our hope that those cherished pieces will someday be found preserved in an attic or basement.
Visit our online exhibition on De Grieksche A (The Greek A)
Notes
1 F. Scholten, Delft 'Tulip Vases', Amsterdam (Rijksmuseum Amsterdam) 2013, p. 14
2  Idem, p. 52
3  M.S. van Aken-Fehmers, Delfts aardewerk, Geschiedenis van een nationaal product, Vazen met tuiten, 300 jaar pronkstukken. Dutch Delftware History of a National Product, Vases with Spouts, Three Centuries of Splendour, Volume IV, Zwolle/ The Hague (Gemeentemuseum) 2007, p. 20
4  Ibid.
5  R.E. Brouwer, Bloempotten met Tuyten, Delftse Tulpenvazen 1680- 1720, Delft (Gemeentemusea Delft) 1992, p. 9
6  Illustrated in Van Aken-Fehmers 2007, p. 160
7 H.-P. Fourest, Delftware, London 1980, p. 69
8 Van Aken-Fehmers 2007, p. 45
9 A.M.L.E. Erkelens, 'Delffs porceleijn' van koningin Mary II. Ceramiek op Het Loo uit de tijd van Willem III en Mary II. Queen Mary's 'Delft porcelain'. Ceramics at Het Loo from the time of William and Mary, Zwolle 1996, p. 53
10 J.D. van Dam, 'Twee Vorstelijke Bloempiramides', in Rijksmuseum Jaarverslag 2004, Zwolle/Amsterdam (Rijksmuseum Amsterdam) 2005, p. 59