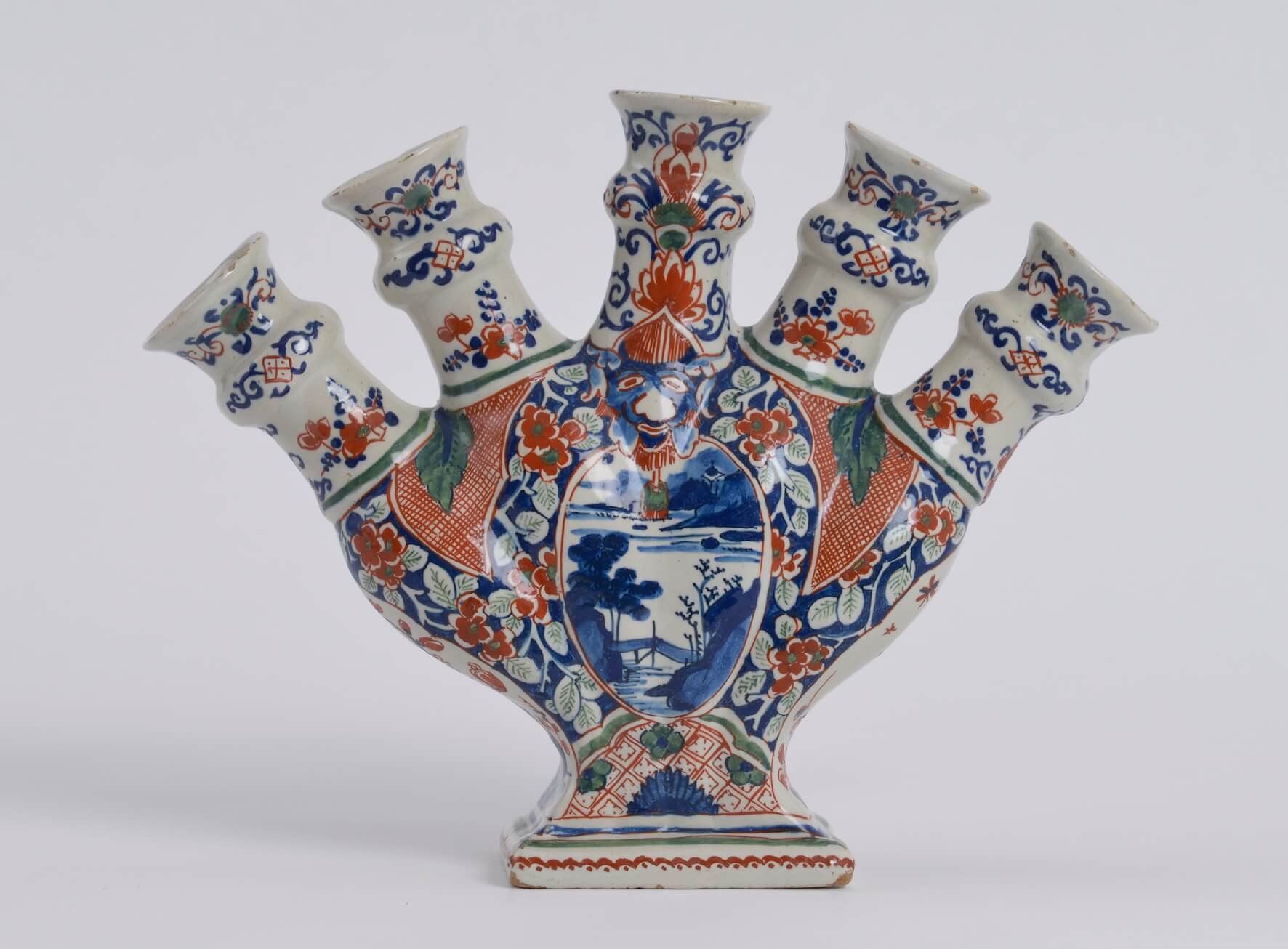 Like many Dutch Delftware factories, De Metaale Pot (The Metal Pot) factory originated as a brewery. In 1639, administrators of the Dutch East India Company (VOC) bought the building that was located on the Lange Geer, and used the space to house one of their chambers. About thirty years later, Lambertus Cleffius, who also owned Het Fortuyn (The Fortune) factory, acquired the property and converted the house, yard, sheds, and storehouse into a Delftware pottery. Native from Amsterdam, Cleffius was admitted as a master plateelbakker (potter) by the Guild of Saint Luke in June 1667.[1] Lambertus Cleffius built his notoriety by creating fine pieces with an azure glaze.[2] He died in January 1691, and on April 6th 1691, his company was publicly sold by his children's guardians to Lambertus van Eenhoorn for the price of 9,500 guilders.[3] The factory included a residence, work sheds, store rooms, timber sheds, lofts, and yards.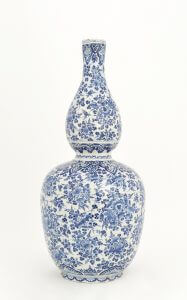 Lambertus van Eenhoorn was the son of Wouter van Eenhoorn, and brother of Samuel van Eenhoorn, two famous successive owners of De Grieksche A factory. His career as a Delft potter would seem like a natural progression given his family connection, however he chose to forgo his destiny at first. With a strong and independent character, Lambertus traveled to Ireland and Scotland, and to the West Indies in 1677 to perform his military service. While his trips satisfied his wanderlust nature, they began to cause financial strain on his family, a fact supported by several documents. In 1679, his father, Wouter van Eenhoorn, attested in a notarial deed that he was financially supporting his son, and that the money he gave him would be deducted from his inheritance. As another result of these financial excesses, Lambertus was – after the death of his father – only given the right to the usufruct from his inheritance. When Lambertus returned from his travels, he enrolled as a medical student at the University of Leiden. However, his desire for travel took precedence over his studies. After having traveled to faraway places such as Leipzig, Vienna, and Smyrna, he returned to the Netherlands and reapplied to the medical school in 1687. Once again, his interest in medicine was short-lived, because in records from 1689, Lambertus was referred to as a 'jegenswoordigh porceleynbacker' (nowadays a maker of porcelain).[4] In 1691, Lambertus purchased De Metaale Pot factory after the death of its owner, Lambertus Cleffius. Adrianus Kocx, his brother-in-law and owner of De Grieksche A factory from 1686 to 1701, used his influence and acted as a guarantor for the transaction. As a consequence, Lambertus van Eenhoorn was authorized by the states of Holland and West-Friesland to withdraw part of his inheritance to complete the purchase. After the purchase of the factory, Lambertus van Eenhoorn began to comfortably settle into his new life as a potter, leaving his desire to travel in the past. He quickly became one of the most important Delftware potters of his time, adapting his production to the public's taste and maintaining the integrity of his factory's reputation. Through his influence, Lambertus van Eenhoorn gave De Metaale Pot factory its enduring notoriety for beautiful and innovative designs.
De Metaale Pot factory continually innovated their eclectic production to create complex shapes and decorations. At the time of Lambertus van Eenhoorn's ownership, the craze for blue and white Wanli (1572-1620) and Kangxi (1662-1722) period porcelain was at its height. The very delicate blue and white Chinese wares were imported by the Dutch East India company in large quantities in the Netherlands. Numerous pieces designed by De Metaale Pot factory under Lambertus' ownership drew inspiration directly from the blue and white Chinese porcelain.[5] The decorations on these wares often consisted of varied floral and landscape motifs, and occasionally included figural subjects.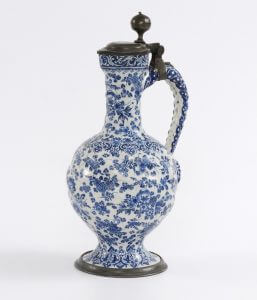 From around 1680, China and Japan began to export porcelain objects that were decorated with overglaze enamels. In the nineteenth century, historians and collectors named and classified these pieces into different groups: kakiemon, imari, famille verte and famille noire. In response to the importation of the Chinese famille verte patterns the Delft potters improved the grand feu technique to be able to produce polychrome earthenware similar to the polychrome porcelain wares. As its name suggests, the decorated pieces were fired at a high temperature (around 1200°C). The colors that are able to withstand the high temperatures are produced by metallic oxides. The difficulty of this process is caused by their restraint number. The improvement of the grand feu technique allowed for a greater range of colors. At first, blue, manganese and yellow were the only colors that could be achieved. The green and the red were extremely difficult to realize, as they would often blacken after the firing.[6] Undeniably, De Metaale Pot under Lambertus van Eenhoorn played a pivotal role in the development of new colors and decorative schemes.
The technical improvements and the arrival of new design sources from the East also led to the development of the cashmere decorative patterns. Although it can not be said with certainty that Lambertus van Eenhoorn was its inventor, he was undoubtedly highly influential in its production and responsible for spreading the style. Lambertus van Eenhoorn also placed great value on the design of his Delftware objects. Many other factories were so focused on decoration that they often overlooked the creation of new shapes. Lambertus viewed this as a great opportunity for development. In 1691, he employed the Frenchman Guillaume Neuillet as a modeler. His work must have been exemplary, because his contract was renewed for ten years in 1693. Stated in an archival document, Neuillet's molds would become the property of Lambertus van Eenhoorn after his death. His surviving designs from this period attest to a high degree of sophistication.[7] Drawing upon his renowned craftsmen and employees, Lambertus van Eenhoorn made a permanent mark on the development of Delftware. After his death in 1721, his wife took charge of the factory, and in 1724 sold it to Cornelis Koppens.
[1]  W. Hoekstra-Klein, Geschiedenis van de Delftse Plateelbakkerij, De Metalen Pot 1670 – 1770/1775 : De Hollandsche Daelder 1696 – 1708/1721 : Plateeldraaierij Buitenwatersloot circa 1669 – 1717/1732 : Theepotbakkerij De Gecroonde Theepot 1689 – 1724, Vol. 10, Delft, 2010, p. 168.
[2]  H. Havard, La Céramique Hollandaise, Histoire des Faïences de Delft, Haarlem, Rotterdam, Arnhem, Utrecht, etc. et des porcelaines de Weesp, Loosdrecht, Amsterdam et la Haye, Volumes I and II, Amsterdam 1909, p. 111.
[3]  C.H. de Jonge, Delft Ceramics, New York 1970, p. 55.
[4] M.S. van Aken-Fehmers, a.o. Delfts aardewerk. Geschiedenis van een nationaal product, Volume I, Zwolle/Den Haag (Gemeentemuseum) 1999, p. 158.
[5] C. Lahaussois, Faïences de Delft, Musée National de Céramique, Sèvres 1998, p. 99.
[6] J. Boyazoglu, L. de Neuville, Les Faïences de Delft, Paris 1980, p. 50.
[7] A bust of Prince William III of Orange that was probably modeled by Guillaume Neuillet is in the collection of the Rijksmuseum, Amsterdam (inv. no. BK-NM-12400-93). The success of this portrait is mainly due to the design. J.D. van Dam, Delffse Porceleyne, Dutch Delftware 1620-1850, Zwolle/Amsterdam (Rijksmuseum), 2004, p. 97.