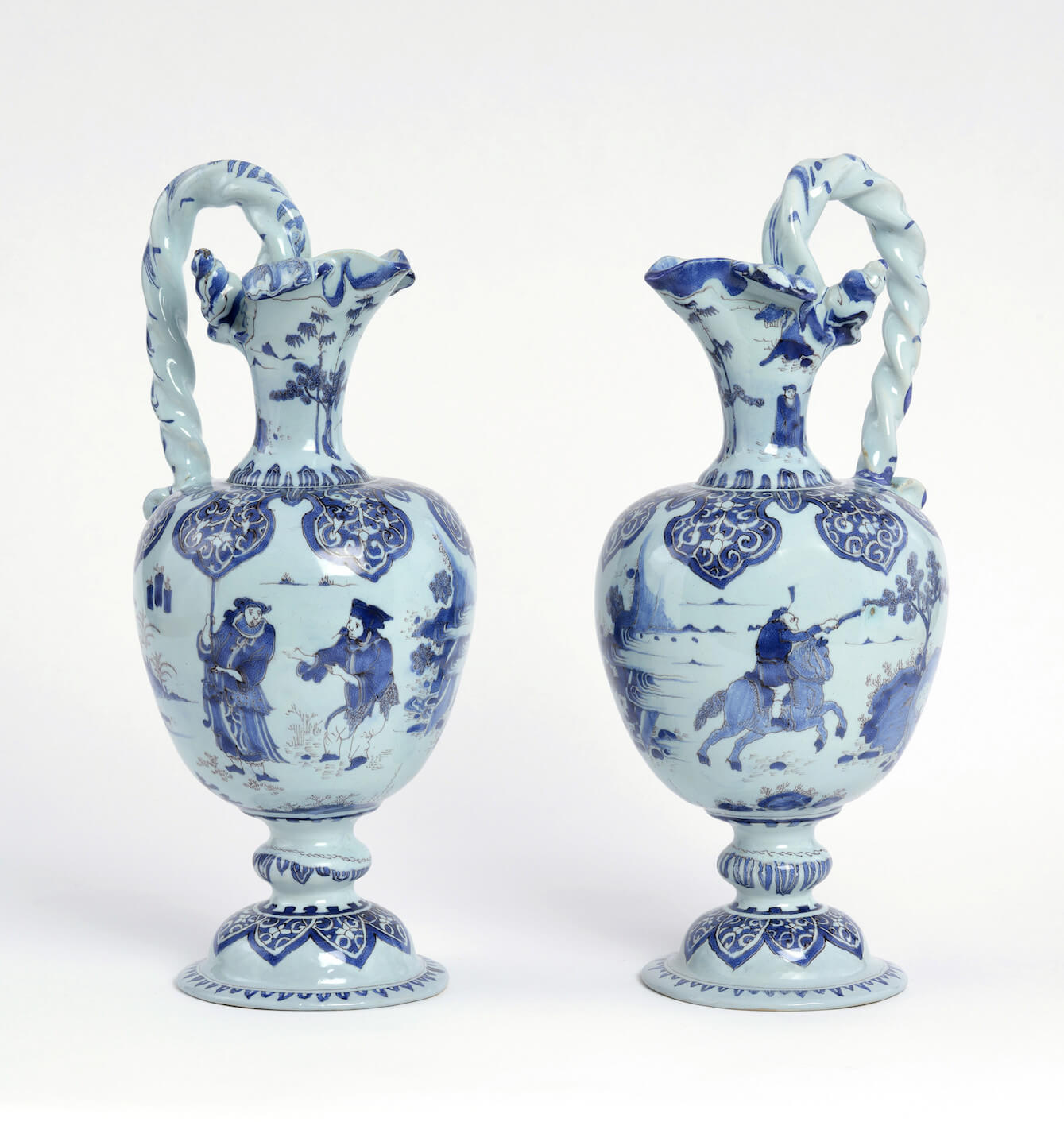 Willem & Lambertus Cleffius
The Delftware industry reached a pinnacle of success amongst European earthenware makers by the second half of the seventeenth century. Very rapidly, the number of factories producing Delftware dramatically increased. At first, the market was mostly dominated by families of craftsmen whose knowledge was built on generations of experience. However, the Delftware industry soon attracted wealthy foreign investors due to the lucrative nature of the business. The investment and business sense of individuals such as Willem Cleffius and his son greatly enhanced the Delftware industry.[1]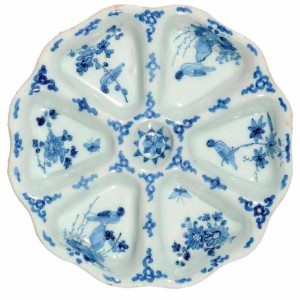 Willem Cleffius was originally from Cologne, and later moved to Amsterdam where he became a merchant. In 1632, he married Marguerite Lambrechtsdr. Cruyck, the daughter of Lambrecht Gisbrechtsz. Cruyck, owner of De Dissel factory. By marriage, he also became the brother-in-law of Wouter van Eenhoorn, the founder of De Grieksche A (The Greek A) factory. [2] This connection certainly made Willem Cleffius a well-informed investor into the Delftware industry. In 1662, Willem Cleffius became co-owner of De Paauw (The Peacock) factory, which marked his first step into the field of Delftware. At first, his role must have been strictly financial, as he inscribed himself at the Guild of Saint Luke as a plateelhouder (shop-owner) four years later. [3]On January 6, 1670, he purchased De Metaale Pot (The Metal Pot) factory from the directors of the Dutch East India Company, the maritime company that transformed the former brewery into their chamber. The factory was located on the Lange Geer and included a house, a courtyard, a warehouse and sheds.[4]
Lambertus Cleffius, the son of Willem, joined the company as soon as his father had acquired it. After his marriage in 1672, he became a shareholder of the company. Lambertus may have handled the day to day operations of the factory, while his father oversaw the business. Lambertus was registered as a plateelbakker (pottery master) at the Guild of Saint Luke since 1667. [5]According to Havard, the ceramic he created in order to obtain the title of master only took three days to complete. When his father died in 1679, he became the sole owner of the company.[6]  Like his father, he also had shares in other Delftware companies, such as De Witte Ster (The White Star) factory in 1687.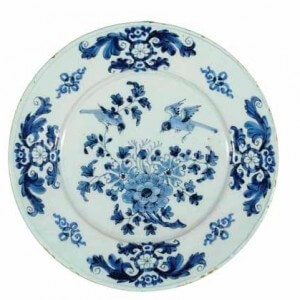 By acquiring these factories, the Cleffius' and their extended family had built a veritable empire and had considerable influence in the industry. Their strong alliance likely discouraged competition, thus furthering their control in the Delftware industry. In fact, the Cleffius family may have purchased supply jointly amongst their factories to lower their cost. Quickly, father and son developed an international clientele.[7] In the 1680s, the Cleffius' were commissioned to create a large dinner service for Wenzel Ferdinand, Prince Lobkowicz of Bilina (1656-1697). This set was probably inspired by the sumptuous silverware services designed for Louis XIV. However, as Van Dam states in Delffse Porceleyne, it would have been unlikely for a Delft potter to witness a full silver service in his hometown.[8] Thus, the master of the Lobkowicz commission may have been more creative than previously thought. Today, this Delftware service is the largest and earliest known example of its kind.
The magnificent pair of blue and white ewers, attributed to Lambertus Cleffius, shares many similarities with the ewers from the Lobkowicz service. The shape may have been derived from the Nevers faience models, ideas of which were borrowed from Italy. The Nevers prototypes for these ewers are referred to as aiguières religieuses, and are thought to have had an ecclesiastical use. The Delft ewers of this type, however, seem to have a decorative function. Some types may even have a royal connection; fragments of a ewer with a similar handle and top of the neck have been excavated in the garden of Palace Het Loo in Apeldoorn.
The delicate blue and white hexagonal sweetmeat dish could also have been part of a service. The form of the object is relatively uncommon; compartmented dishes are more often found with a larger central circular well surrounded by four fan-shaped wells.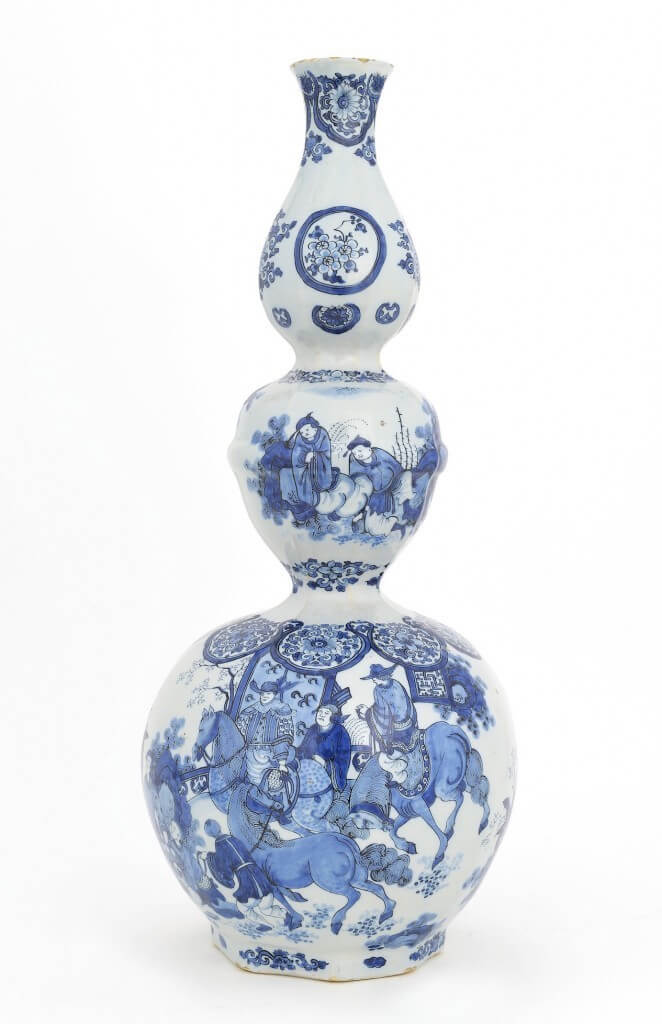 Lambertus Cleffius became such an unavoidable figure in the Delftware world that in 1684, he was asked to represent a delegation sent to England to negotiate the end of the embargo on Dutch ceramics. Since the third Anglo-Dutch war (1672-1674), the importation of Dutch pottery to the English territory was forbidden. [9]He also unconsciously revolutionized a change in the Delfware industry; the appearance of the maker's mark on the reverse of ceramic objects. In 1678, he advertised in the newspaper Haarlemsche Courant, that he was not only the inventor of the red stoneware teapots, [10]  but also he had discovered the secret of making oriental porcelain. [11] His proclamation surely offended Samuel van Eenhoorn and his employee Ary de Milde, who were also making such teapots. In response to the advertisement, the two potters requested a fifteen year exclusive deal to make red stoneware teapots to the States of Holland. Although the request was denied, the States of Holland implemented a system of marks in order to prevent counterfeiting. As a result, many Delft potters registered their marks, which became immensely useful for art historians and collectors. [12]The various Delft factories then began to form unique identities and styles that would distinguish their works from other makers.
The mark of Lambertus Cleffius is composed of his interlaced initials, L.C. Unlike his contemporaries, whose production is characterized by horror vacui, Lambertus Cleffius preferred spare decoration. This delicate pair of blue and white plates marked for Lambertus Cleffius illustrates this identifiable trait. Cleffius is also known for his use of a fine line known as a trek. The decoration can be found on the expression and clothes of his characters in many of his most beautiful pieces, such as this octagonal triple gourd shaped vase.
Lambertus Cleffius died in 1691. Despite his numerous accounts and unpaid bills, his estate inventory suggests that he was very wealthy and owned a significant collection of paintings, oriental porcelain and Delftware. De Metaale Pot was bought on April 6, 1691 for 9,500 guilders by his cousin, Lambertus van Eenhoorn.[13] 
Notes
[1]   J.D. Van Dam, Delffse Porceleyne, Dutch Delftware 1620-1850, Zwolle/Amsterdam (Rijksmuseum), 2004, p. 33.
[2]  M.S. Van Aken-Fehmers, L.A. Schledorn, A.- G. Hesselink, T.M. Eliëns, Delfts aardewerk. Geschiedenis van een nationaal product, Volume I, Zwolle/Den Haag (Gemeentemuseum) 1999, p. 155.
[3]  Ibidem.
[4]  Hoekstra-Klein, Geschiedenis van de Delftse plateelbakkerijen, 'De Metalen Pot' 1670-1770/1775, 'De Hollandsche Daelder' 1696-1708/1721, Plateeldraaierij 'Buitenwatersloot' circa 1669-1717/1732, Theepotbakkerij 'De Gecroonde Theepot' 1689-1724, Delft, 2010, p. 168.
[5]  Van Aken-Fehmers 1999 (note 2), p. 156.
[6]  H. Havard, Histoire de la faïence de Delft, Paris/ Amsterdam 1878, p. 111.
[7]  The estate inventory that was made after the death of Lambertus Cleffius showed he had unpaid invoices from Holland, France, Brussels and Hamburg.
[8]  Van Dam 2004 (note 1), p. 80.
[9]  C.H. de Jonge, Delft Ceramics, New York 1970, p. 54.
[10]  They were created with the intention to imitate the Chinese Yixing teapots.
[11]  The elusive "Arcanum," which, in fact, was not discovered in Europe until 1708 by the young alchemist, Johann Friedrich Böttger at Meissen near Dresden.
[12]  Havard 1878 (note 6), p. 219.
[13]  Van Aken-Fehmers 1999 (note 2), p. 157.