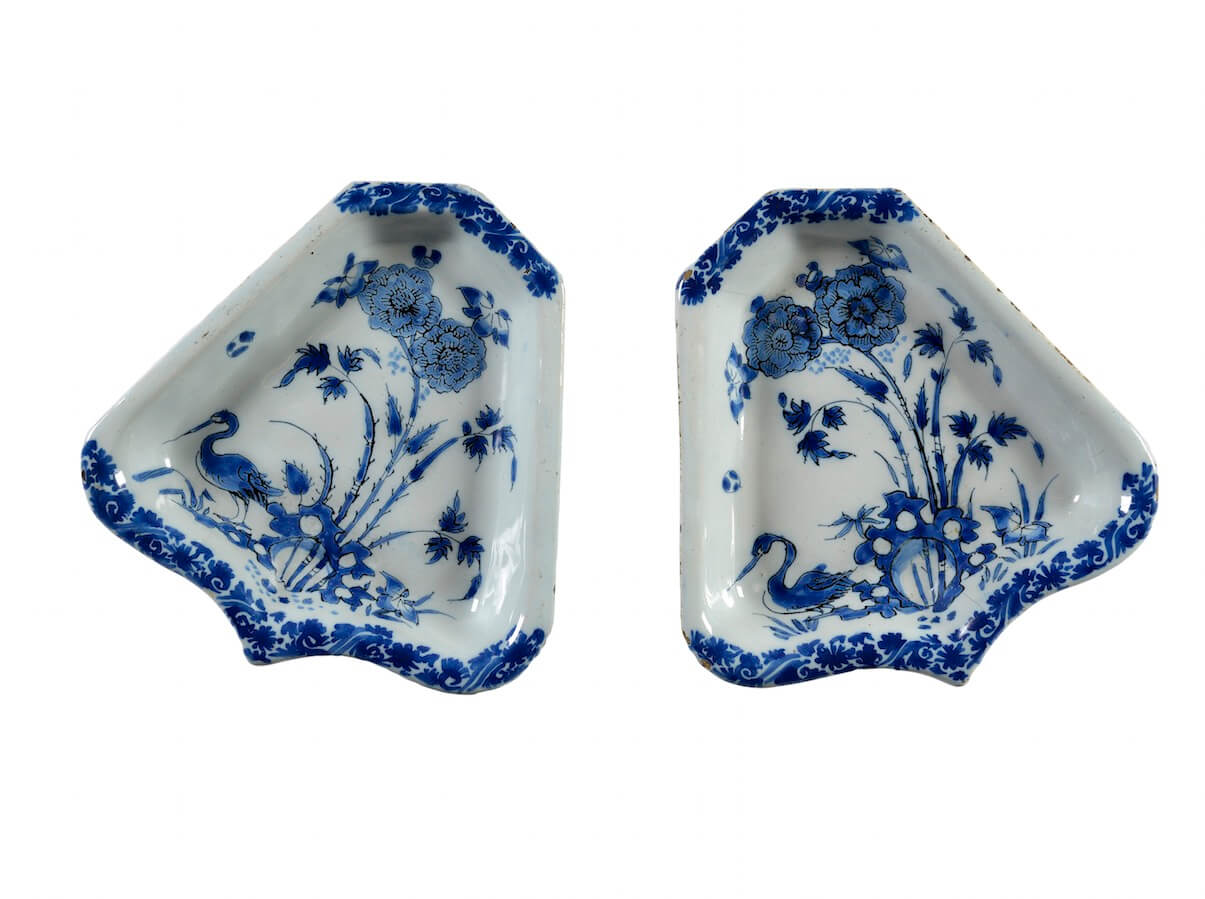 In the seventeenth and eighteenth century the potters in the city of Delft created magnificent sets of small plates, which were assembled surrounding a central star-shaped dish. In literature, these sets are often described as 'rijsttafel' sets. Rijsttafels, or literally 'rice tables', were created by the Dutch colonialists in Indonesia in the seventeenth century who found that the modest local portions of food did not satisfy their hunger. It generally consists in a set of several small Indonesian dishes served with a bowl of rice or noodles. The most famous rijsttafel was served at the Hotel des Indes in Batavia (Jakarta) and included not less than sixty different dishes. However, since Dutch people were still unfamiliar with Indonesian food in the seventeenth century, this denomination therefore probably is not correct.[1] Dishes of this characteristic shape have been found to be referred to in inventories as 'confituur-starren' ('preserve sets'). Probably they were used to serve sweetmeats and other delicacies such as dried fruit or summer fruit deserved in brandy.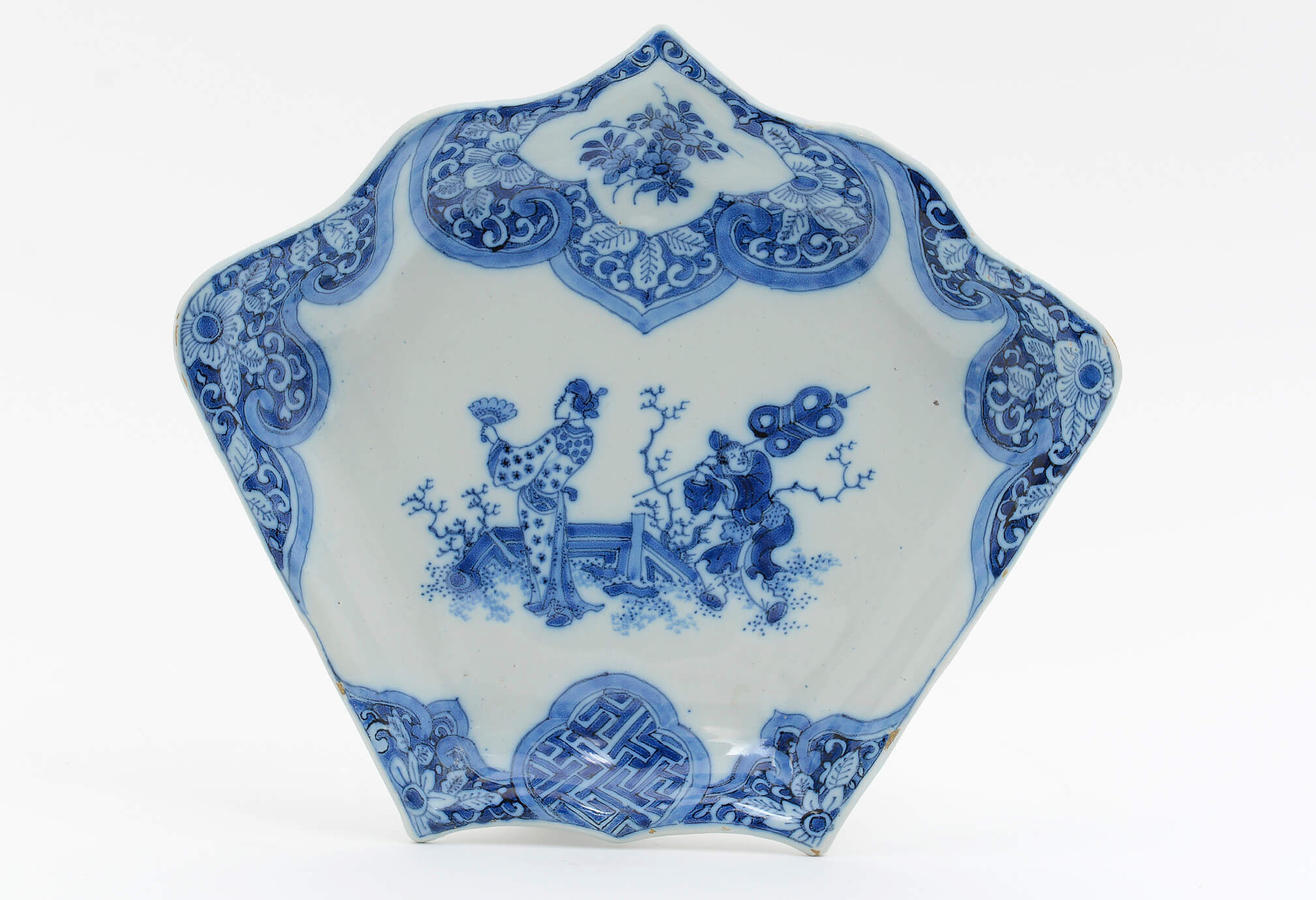 The dishes were usually used during tea time, when sweetmeats were served.[2] Tea and coffee first appeared in Holland in the last quarter of the seventeenth century. The precious tea leaves were imported from China by the Dutch East India company. At the time it could take up to two years for the Dutch trading ships to go and return. At the beginning, drinking tea was a luxurious pastime reserved to an elite. The Dutch East India Company (VOC), which preferred to focus on the importation of other products, such as gold, silk or porcelain, were transporting very small quantities of the precious leaves, which made it too expensive for the common people.[3] The practice of drinking tea became more and more fashionable amongst the well to do who expressed their desire to show their good taste by acquiring the necessary accoutrements. To answer the demand, magnificent tea services began to be produced by the Delftware factories. Various delicacies were served as an accompaniment.[4] The most beautiful services could thereby include very delicate sweetmeat dishes. For example, between 1671 and 1691, Wenzel Ferdinand Prince Lobkowicz of Bilnia in Bohemia, ordered a magnificent service set to Lambertus Cleffius, the owner of De Metaale Pot (The Metal Pot) factory. Amongst the 125 items that remain today is a complete matching blue and white sweetmeat set with the crowned cipher of the Lobkowicz family.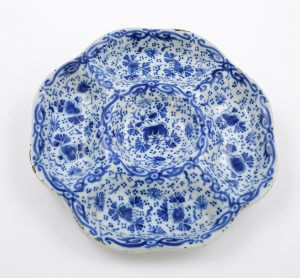 These two delicate blue and white fan-shaped sweetmeat dishes, made around circa 1690 and each marked in blue for De Paauw (The Peacock) factory can also be seen as the bearers of a new culture of consumption. Their decoration, with a crane standing beside a pierced rock beneath a tall flowering peony plant and leafy stems, is highly inspired by the Chinese porcelain wares. They were meant to be assembled in a set of eight surrounding a ninth star shaped dish. Delights such as sugared orange peels, sugar-coated nuts and seeds, sometimes even colored, pear and quince marmalade and preserved ginger, chestnuts and fennel were presented in these small delicate dishes. In the seventeenth century, the creation of such delicacies were facilitated thanks to the importation of large quantities of sugar from Brazil and Caribbean. Honey got progressively replaced by a more refine sweetener, which enhanced the creation of numerous desserts.[5]
It is suggested that such sets may have been modeled on the small dishes of fanciful and ingenious shapes, which were employed in Japan for the tea ceremony and which reached Europe around 1670.[6] In the third quarter of the seventeenth century, the VOC bought limited quantities of Japanese porcelain. As these imports could only satisfy a very small part of the demand, Delft potters seized this opportunity to produce objects, such as the sweetmeat dishes that were inspired from these delicate wares. In Japan, series of small irregular dishes that fit together were used for the Kaiseki (懐石), a meal preceding the tea ceremony.[7] They were intended to display fresh seasonal ingredients that were prepared in ways to enhance their flavor. This blue and white fan shaped dish marked in blue for Samuel van Eenhoorn, the owner of De Grieksche A (The Greek A) factory shows the contemporary fascination of the West for the East. It is painted in a chinoiserie style with a Chinese man bearing a banner and approaching a lady holding a fan, near a garden fence.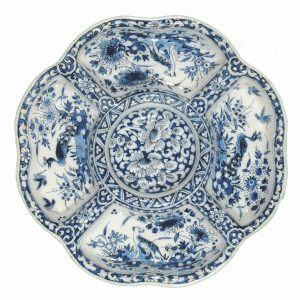 The Delft potters did not only produce these elaborate sets of nine pieces; there are also compartmented sweetmeat dishes known, such as this blue and white piece of octafoil shape. Made in the same time as the assembled sets, around 1690, this dish has a central circular well and four surrounding fan-shaped dishes, which are all painted with floral sprigs on a ground with four-dot clusters and multi-petaled blossoms. Although there are no chinoiserie imageries painted on this dish, the Delft potters also produced compartmented dishes with a more Asian feel. A wonderful example is the blue and white compartmented sweetmeat dish, which is marked AK for Adrianus Kocx, the owner of De Grieksche A (The Greek A) factory from 1686 to 1701. The piece is decorated in a style typical for Adrianus Kocx. The central circular well is painted with a blue ground reserved with two stylised peony blossoms amidst scrolling foliage encircled by a border of trefoils and zigzags on the upper edge. The four fan-shaped compartments are painted alternately with a peacock or a tiger amidst flowering shrubbery, all within ruyi-head, floral and foliate borders.
As popularity grew over the next century, importations of tea rose and consequently the prices fell. Rapidly, tea imports became one of the most profitable commodity traded. By the second half of the eighteenth century, tea drinking had spread to all social classes, to such an extend that it became an indispensable article to the daily life. At the end of the eighteenth century, almost every household owned a tea service. However, as they were probably very expensive to produce, the sweetmeat dishes would appear to have enjoyed an important but somewhat short-lived vogue in Dutch Delftware.
Notes
[1]  J.D. van Dam, Delffse Porceleyne, Dutch Delftware 1620-1850, Zwolle/Amsterdam (Rijksmuseum), 2004, p. 69.
[2]  J.D. van Dam, Delffse Porceleyne, Dutch Delftware 1620-1850, Zwolle/Amsterdam (Rijksmuseum), 2004, p. 69.
[3]  F. Hoffman, Steeped In Tradition: A Celebration of Tea, Natural Heritage, 1997, p. 6.
[4] K. Corrigan, Asia in Amsterdam: The Culture of Luxury in the Golden Age, Peabody Essex Museum, 2015, p. 128.
[5] J. Pijzel-Dommisse, Nederland dineert, vier eeuwen tafelcultuur, Gemeentemuseum Den Haag, 2015, p. 56.
[6] Salomon Stodel Antiquitiés, The Splendour of the Dutch Interior 1600-1800, London 2000, p. 57, no. 42.
[7] K. Corrigan, Asia in Amsterdam: The Culture of Luxury in the Golden Age, Peabody Essex Museum, 2015, p. 118.