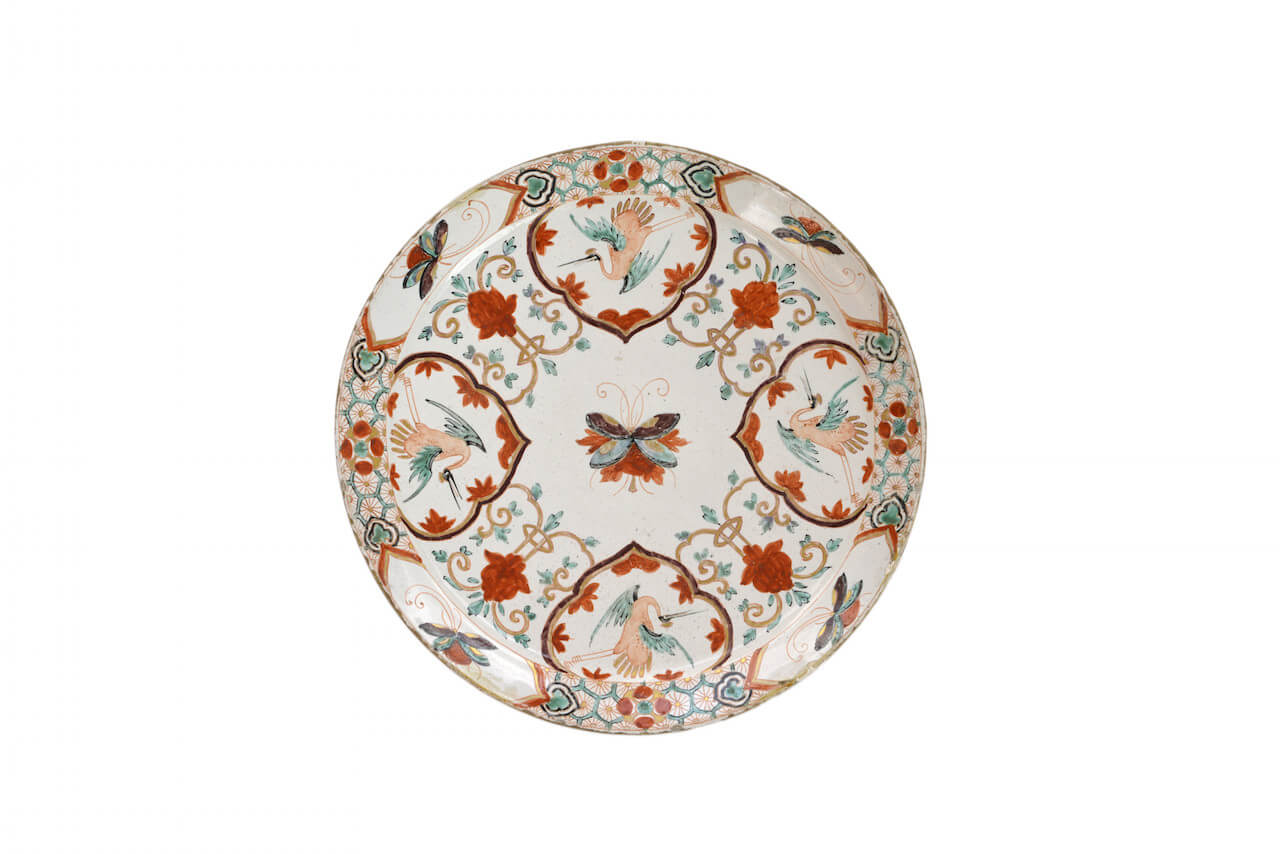 De Drie Porceleyne Flessies (The Three Porcelain Bottles) Factory
De Drie Porceleyne Flessies (The Three Porcelain Bottles) factory was established in 1661. Like many of the other Delftware factories, De Drie Porceleyne Flessies was recognizable by a sign on its facade, which was described as 'drije porceleijne flessen' (three porcelain bottles) in a deed of 1665.1 The sign was still visible a hundred years later. In 1764, the then owner, by order of the Delft city council, not only registered his factory mark, but also provided a watercolor rendering of the sign. The sign depicted three exotic double-gourd-shaped vases, probably to attract the attention of the passers-by.2
De Drie Porceleyne Flessies factory was established by Cornelis Jansz. Bijleweth. The following year, the factory, located on the Gasthuislaan, employed the promising painter Hendrick Janssen. Janssen was contracted for two years, in which he learned how to paint 'fijn goed' (fine goods). Bijleweth owned the factory for four short years; in 1665 his belongings with household effects were sold. No marked objects can be attributed to this initial phase in the factory's history. The inventory, however, shows that several different kinds of Delftware were produced, from chargers, cups, jugs and flowerpots to salt cellars, cream jars and shaving basins. Based on the early debt books of the factory, objects were sold to merchants within the Republic, in cities such as Amsterdam, Deventer, Haarlem or Zwolle. The factory also had international clients in London and Hamburg.3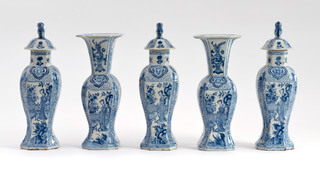 In 1675 Jacobus Willemsz. van der Kool and Adriaantje Jansdr. van der Sande, the wife of Jan Harmensz. van Dijssel, bought the  factory. Van der Kool and Adriaantje signed a partnership contract in 1678, but jointly managed the factory well before this date. In 1680, after Adriaantje's death, Van der Kool assumed her share of the pottery and became the sole owner.4
In 1702, Van der Kool passed away and factory ownership was granted to his son, Willem Jacobusz. van der Kool, who first registered at the factory the year prior. This marked a long production period under the ownership of Van der Kool and his wife Anna Maria Schrevelius. Willem died in 1716 and his wife inherited the factory in 1717. She controlled the day-to-day operations of the factory until 1745. During their long production period, the factory produced a wide range of objects, including blue and white to Imari and cashmere color palettes that decorated large garnitures, dishes, jugs, salt cellars, shaving basins and vases.5 The orient was a ripe source of inspiration, as seen in their production of the exotic gourd vases. This blue and white garniture, from circa 1720, also shows the influence of Chinese porcelain wares and the depiction of the orient. The garniture, which is marked IKW, probably for Willem Jacobusz van der Kool is comprised of three baluster-form vases and a pair of beaker vases, which are all of almost square shaped with indented corners. On the front they are painted with a boy and a 'Long Eliza' holding a fan, standing in a fenced garden and the reverse with a 'Long Eliza' standing in a fenced garden holding a fan and looking toward a jardiniere of peonies on a table.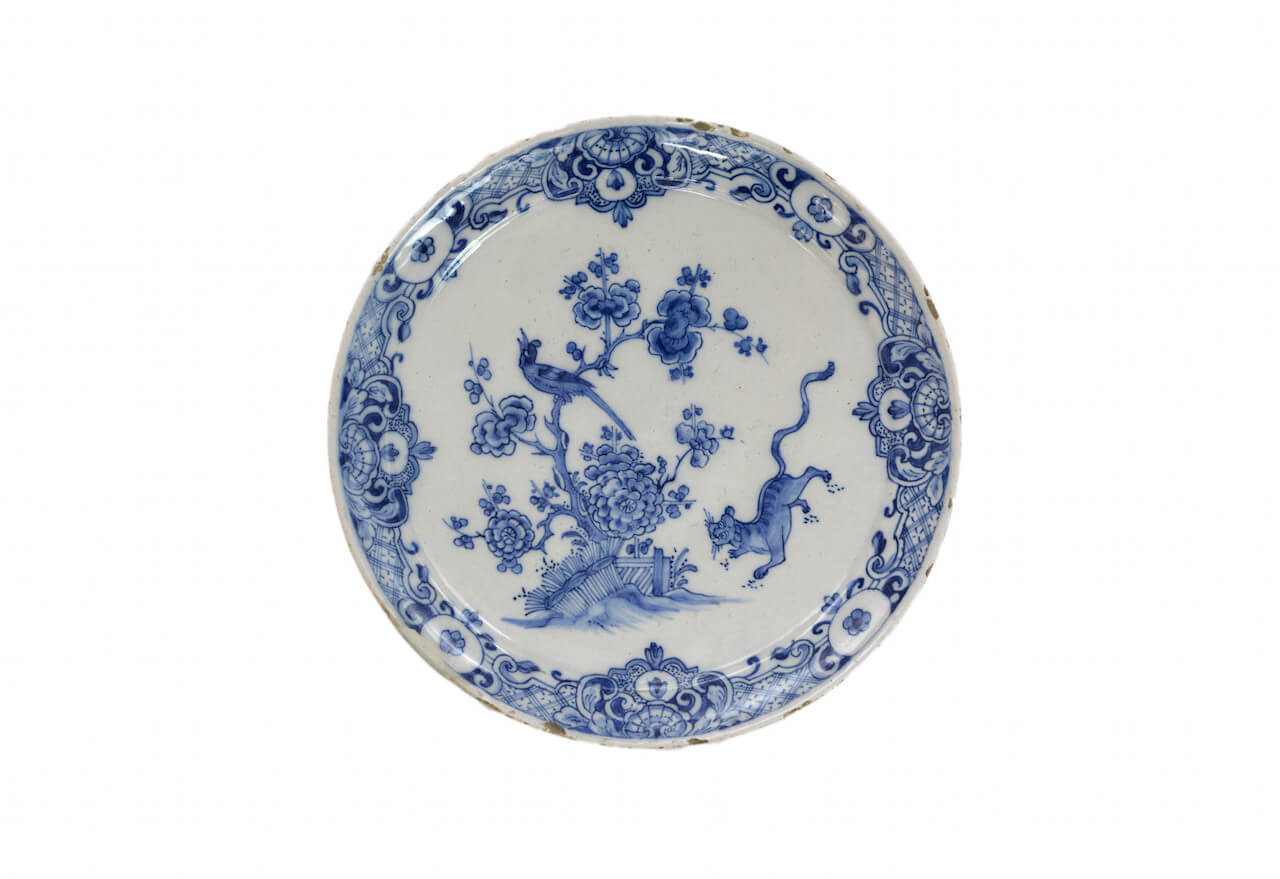 At the beginning of the eighteenth century, many objects are marked with the initial WK or IKW for Willem van der Kool, which continued after his death until 1745.6 A blue and white plate, from circa 1715 and marked IKW, also shows oriental influences. It is painted with a tiger stalking a singing bird perched on a flowering peony branch, above a banded hedge and a fence. The Western baroque style is seen in the rim decorated with shell devices and foliate scrolls.
While De Drie Porceleyne Flessies was not one of the larger Delft factories, Anna Maria Schrevelius was known to have had many international contacts. Further, the quality of her factory's products, particularly the  gold-decorated pieces, was sufficiently high to be entirely competitive with those of the larger and more famous De Grieksche A (The Greek A) factory, which from 1722 to 1758 was owned by her brother-in-law Jacob van der Kool. These plates from circa 1715 are an example of the polychrome and gilded objects that were produced at De Drie Porceleyne Flessies. One plate, which is marked WK in iron-red, is painted in a modified Kakiemon palette of iron-red, salmon, green and black and gold with an oriental pavilion behind a garden fence with flitting insects and a flowering tree peony. Another plate, also marked WK in iron-red, is painted in the center with a butterfly surrounded by four cranes in flight within ruyi-head lappets alternating with floral and foliate-scroll devices.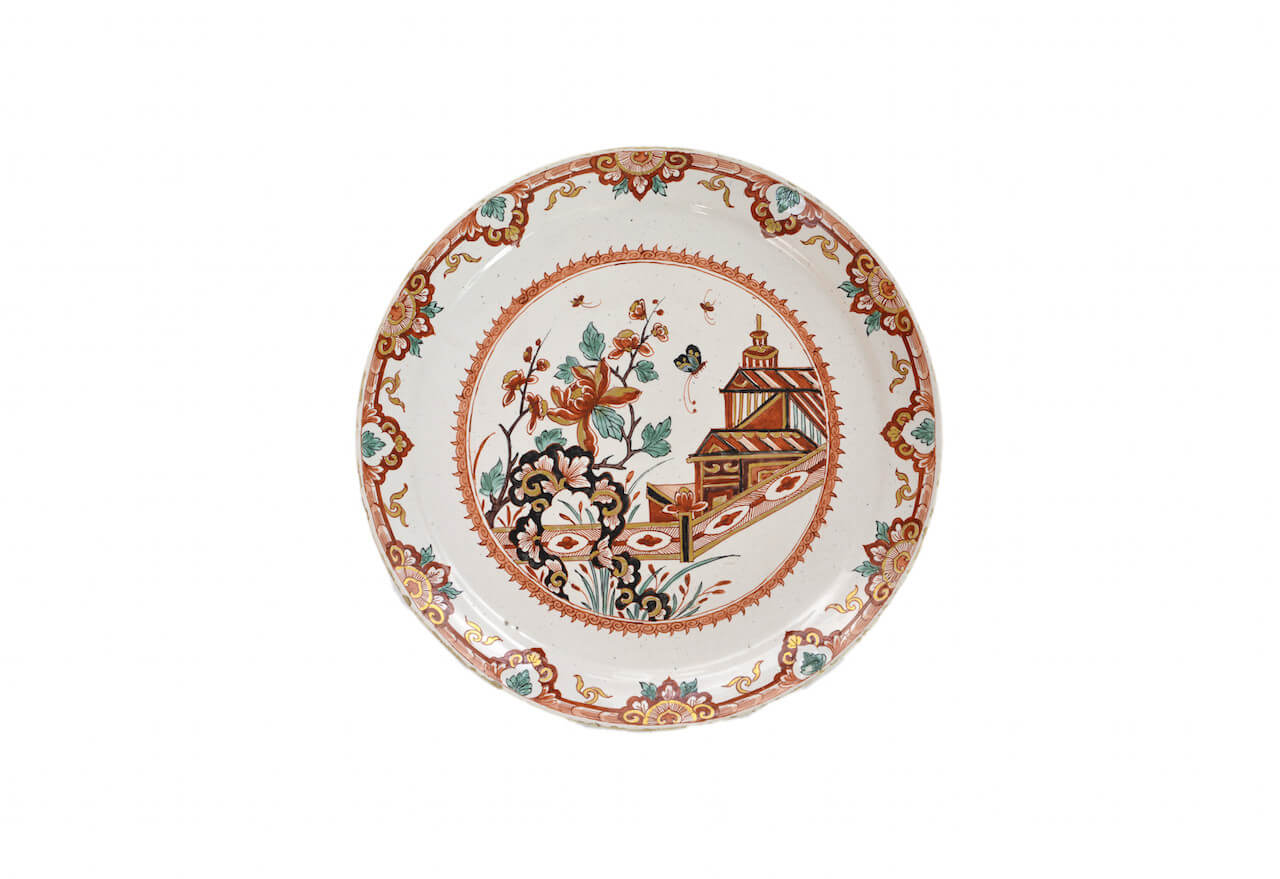 In 1761, the factory was bought by Justus Brouwer, who also was the owner of De Porceleyne Byl (The Porcelain Axe) factory. He bought it for his son Hugo Brouwer. Although a cooperation contract between father and son was not signed until 1767, Hugo controlled the factory since 1761. In 1764, Hugo registered his own HB mark, to which he added the watercolor of the sign with the three double-gourd shaped vases. The factory operated under Hugo Brouwer's management until 1777, when just like many other factories, De Drie Porceleyne Flessies closed its doors permanently.7
1 M.S. van Aken-Fehmers, L.A. Schledorn, T.M. Eliëns, Delfts aardewerk. Geschiedenis van een nationaal product, Volume II, Zwolle/Den Haag (Gemeentemuseum) 2001, p. 297
2 Van Aken-Fehmers 2001 (note 1), p. 297
3 Van Aken-Fehmers 2001 (note 1), p. 298
4 Van Aken-Fehmers 2001 (note 1), p. 77
5 Van Aken-Fehmers 2001 (note 1), p. 77
6 Van Aken-Fehmers 2001 (note 1), p. 297
7 Van Aken-Fehmers 2001 (note 1), p. 299