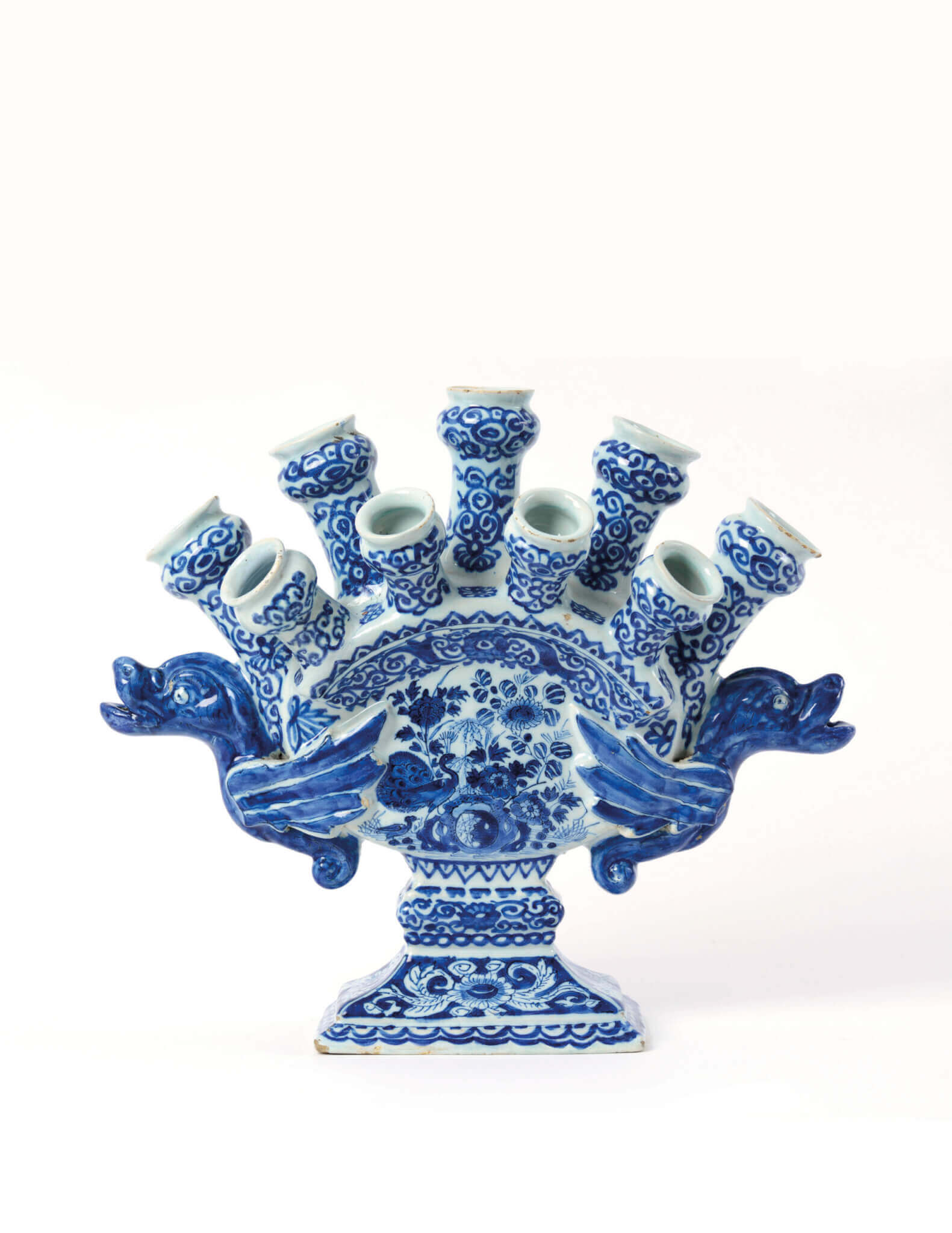 [popup_trigger id="13756″ tag="span"]

[/popup_trigger]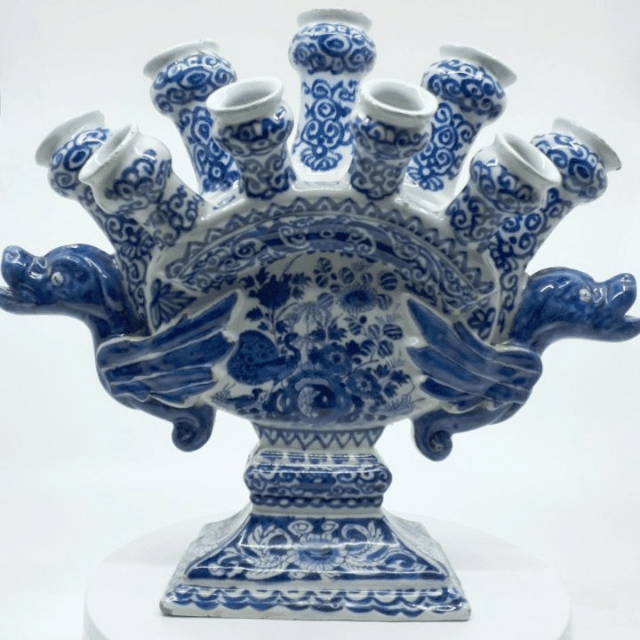 OBJECT
•D2006. Blue and White Flower Vase
Delft, circa 1710
Marked 1 2 LVE KG in blue for Lambertus van Eenhoorn, the owner of De Metaale Pot (The Metal Pot) factory from 1691 to 1721
The flattened oval body painted on the front with a peacock and a duck perched on a rock among stylized floral shrubbery, beneath an arched cornice with a flower and scrollwork border and surmounted by four knopped circular spouts each painted with scroll devices, behind them a row of five similar but taller circular spouts painted on the front with scroll devices and on the reverse with a blossom and scroll device, the reverse of the body painted with a flitting insect and a bird in flight above a bird perched on a branch amidst flowering shrubbery, the sides with open-mouthed flying bird handles forming two further spouts, the knopped ankle with a foliate scroll border, and the blue ground rectangular foot reserved on each side with a stylized blossom and leaf device.
Dimensions
Height: 29.2 cm. (11.5 in.)
Length: 34 cm. (13.4 in.)
Note
Flower vases with fanning rows of spouts were produced at the Delft potteries from the 1680s to about 1740. Initially, they were designed as simple quintel vases, which were topped by a single row of five spouts arranged in a fan. This form was elaborated and more rows of spouts were added. As can be seen on the present vase, a row of five spouts is modeled on the oval water reservoir, the second row with four spouts on the thickened edge of the front. The handles also evolved over time and were modeled as dragons or salamanders. Eventually, these exotic additions were replaced by a kind of flying bird as seen on the present piece. These striking handles were regularly applied on oval shaped flower vases produced at De Metaale Pot during the ownership of Lambertus van Eenhoorn. The decoration on this kind of vases is often executed in a European style, with putti or the goddess Flora, the present vase however is decorated in a Kraak-style with birds amidst flowering shrubs and stylized rock work.
Similar examples
A blue and white vase of similar shape and marked for  Lambertus van Eenhoorn at De Metaale Pot factory (1691- 1724), is illustrated in Van Aken-Fehmers 2007, p. 214, no. 7.09. A blue and white example with 'Flora' decoration, attributed to De Metaale Pot, is illustrated in Aronson 2009, pp. 19 (left) and 31, no. 14; and Aronson 2012, pp. 42 and 43, no. 26. Another similarly shaped and unmarked flower vase, also with the depiction of Flora, is illustrated in Aronson 2015, p. 29, no. 54. Another blue and white example with an unidentifiable numerical mark, but attributed to De Grieksche A (The Greek A) factory, was in the Dr. Günther Grethe Collection, Hamburg, illustrated in Aronson 2004, p. 74, no. 88.