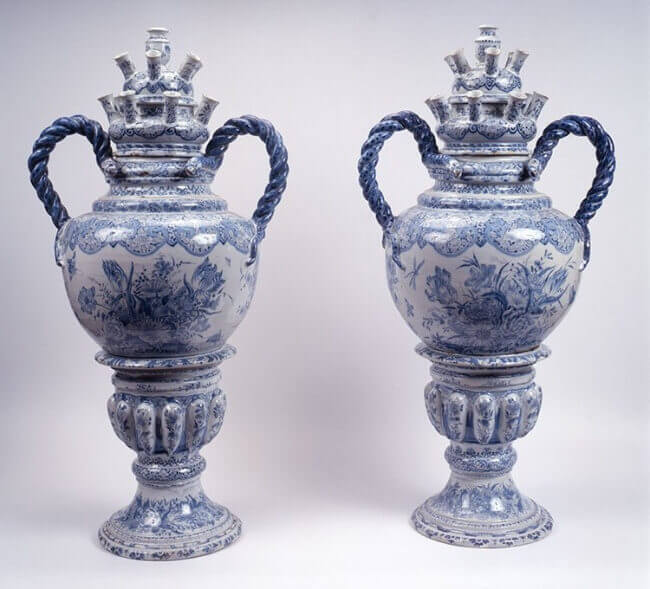 In 1583, Willem I of Orange (also known as Willem the Silent) took residence at the Convent of Saint Agatha in Delft during the Dutch revolt of Spain. Nearly a year later, he was killed there by a fervent Catholic, Balthasar Gerards, on July 10, 1584. Bullet holes at the bottom of the main stairs bear witness to this macabre episode. In 1887, the building was converted to the Museum Prinsenhof Delft to honor Willem the Silent's role in the creation of the Dutch Republic.
In 1908, the museum began acquiring an impressive number of Delftware, which totals nearly 3,300 objects today. The vast collection helps to illustrate the evolution of Delftware alongside Dutch history. During the 1960s, the museum acquired a magnificent set of flower holders from Aronson Antiquairs that were once in the collection of Queen Mary, wife of Stadholder William III. Made by De Grieksche A (The Greek A) factory between 1690 and 1700, the vases exemplify the Queen's passion for Delft blue. The inventories of the Paleis Het Loo residence in Apeldoorn enumerate the Queen's vases, garden urns and flower pyramids from this particular factory. Another very interesting feature makes our visit to the museum complete: the town archeological collection. For our greatest happiness, many finds from the excavation of a Delft pottery are exhibited.
It was our pleasure to work with the Museum Prinsenhof in the acquisition of a very important blue and white biblical rectangular plaque made in Delft in 1658. The plaque is further discussed and illustrated in our 2016 publication Sur la Table on pp. 12-13, ill. 3.