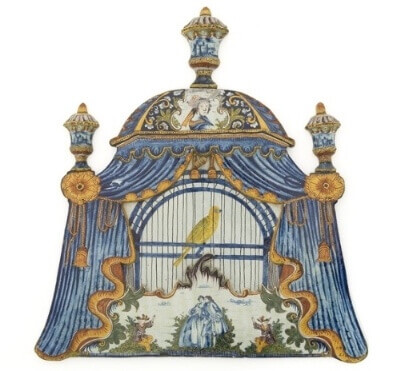 The trickery and amusement of Delftware is made clear in this polychrome birdcage plaque, one of three examples that are housed in the collection of the Musée des Arts Décoratifs (Museum of Decorative Arts), located in the Palais du Louvre's western wing in Paris, France. Birdcage plaques were typically part of the architectural scheme of a room, set within a wall amongst other tiles. The trompe l'oeil decoration was an intended effect to seamlessly blend into the interior, and perhaps match the room's decorative trimmings.
The style of this piece is rather strange; on the one hand the royal blue drapery and tasseled cords are hung in the manner of the early eighteenth-century. On the other hand, the decoration at the base of the cage reflects a much later, rococo style. A framed scene of French-style gallantry is flanked by a pair of two Chinamen. The taste for birdcages was widespread; the plaques were made in Delft as well as northern factories. Of all the birdcages made in Delft, this is one of the most elaborate in decoration and form. Quite often, the upper part was a simple dome, making the production and mounting much easier.
The Musée des Arts Décoratifs was originally founded in 1905 by members of the Union des Arts Décoratifs and contains furniture, interior design, tapestries, ceramics, and glassware from the Middle Ages to the present day. The museum has approximately 200 pieces of Delftware, comprising seventeenth century blue and white wares, but also objects with 'cashmire' palette, Imari style pieces, European style eighteenth century objects, and even some black Delftware.