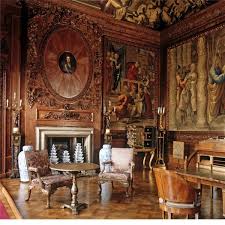 The Chatsworth House is a beautiful estate located in Bakewell in the United Kingdom, and has been the home of the Cavendish family for almost 500 years. Sir William Cavendish, an English nobleman, politician, and courtier, purchased the manor in 1549. With his wife, Bess of Hardwick, they began the construction of the house. Alterations were made until the end of the seventeenth century.  
William Cavendish, 4th Earl of Devonshire and later 1st Duke of Devonshire (1640–1707), renovated the house to include new family rooms and a magnificent suite of State Apartments that were intended for a Royal Visit from William and Mary. William Cavendish was a strong supporter of the 'Glorious Revolution' of 1688 and was also one of the 'Immortal Seven', a group of English noblemen who signed the invitation to William of Orange and his wife Mary to accept the throne in place of Mary's father, James II.
To show his loyalty toward the couple, Cavendish decorated the house with magnificent Delftware objects. As we know, Queen Mary had developed a passion for Delftware during her years in Holland and continued to ensure the patronage of Delft potters even after she moved to Hampton Court. The English nobility would proclaim their allegiance to the royal couple by adopting the same tastes. Consequently, a substantial number of flower vases were acquired by the 4th Earl of Devonshire.
Several of the exceptional Delft pieces acquired by Cavendish are still on view at Chatsworth today. One of the absolute highlights is a pair of pyramidal flower holders marked AK for Adrianus Kocx, the owner of De Grieksche A (The Greek A) factory from 1686 to 1701. The subject matter of the pyramids fits within the decorative scheme of the 1st Duke's palace, which reflects his Protestant faith and devotion to the court.