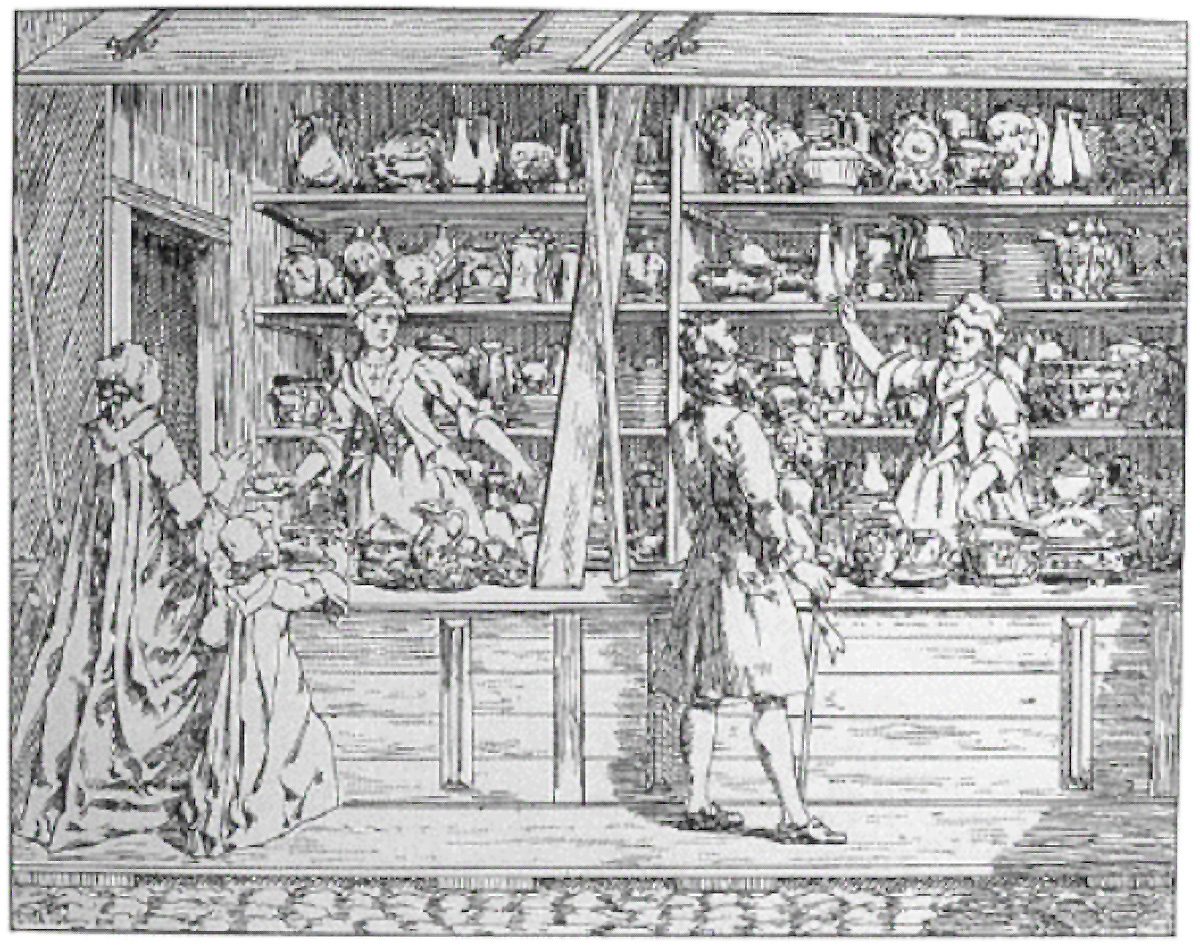 The leading Ladies of the Delft pottery industry in the seventeenth and eighteenth centuries
Based on sixteenth and seventeenth century travel reports, Dutch women were bossy, decisive, dominant, imperious, and exceptionally clean.(1) While these claims were likely exaggerated, they would have stemmed from the astonishment over the extensive freedom enjoyed by Dutch women compared their counterparts elsewhere. These travel reports reveal that Dutch women played a vital economic role in society compared to women in surrounding countries during both centuries. Research on female professional activity in the seventeenth and eighteenth centuries indicates that women's involvement in various commercial sectors significantly increased after 1650.(2) Unfortunately, there is limited information about the extent of female involvement in the actual production process of Delftware. However, existing historical data points to the notable contributions of several leading ladies. In this article, we shine a light on the role of women in the pottery industry in Delft during the seventeenth and eighteenth centuries.
Female Labor in the Northern Netherlands
In general, outside of governmental positions, women were prevalent in various professions in the Dutch Republic. They played significant roles in the industrial sector, retail trade, and entrepreneurship. In fact, the intense maritime trade of the seventeenth century is attributed to their prominent role.(3) Though men were predominantly involved in the flourishing Dutch maritime trade, their absence at home created professional opportunities for women. In this vacuum, women took on tasks that were typically the responsibility of men, ensuring the continued functioning of the home economy.
The professional landscape for women was not uniform across the Dutch Republic. Urban areas provided the greatest opportunities for women,(4) and these often depended on the local rules and regulations of the guilds.(5) Class was also a determining factor for a woman's professional prospects.  Women from lower classes focused on housekeeping and the production of textiles and other goods.  In contrast, women from middle- and upper-class backgrounds were active in retail trade, entrepreneurship, and even international trade. Marital status also played a role in the employment of women. Despite the theoretical existence of the 'Openbare Koopvrouw' (Public Merchant) status allowing married women to start a business in their own name, local guild regulations placed barriers on women's participation by excluding married women from membership and imposing high entrance fees. However, the strictness of guild regulations varied across cities and trades, with more liberal admission policies in areas with high demand and a commercialized sector.(6)
The Delft pottery industry experienced robust growth during the seventeenth century, driven by a significant demand for Delftware. In 1625, there were already eight workshops dedicated to producing Delft pottery, and this number surged to as many as 34 by the peak around 1700. The flourishing industry created substantial employment opportunities, potentially prompting the Saint Luke's guild, which oversaw various industries including the pottery industry, to open doors for women in this sector.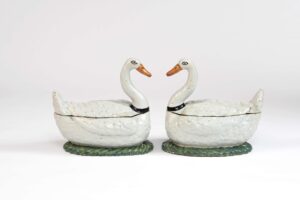 While men were officially registered as factory owners, their wives often served as co-owners and actively participated in the business. Living on the premises of the pottery was common, and most potteries had an in-home shop, often managed by the potter's wife. Initially, women became involved through partnerships with their husbands and later, if widowed, continued in the business individually. Typically, owners of pottery factories were required to pass the Saint Luke's Guilds test for master potter and pay the necessary fee for guild membership. There was an exception that allowed the appointment of a master potter as a 'Winkelhouder' (shopkeeper). The shopkeeper managed the company until the owner achieved the status of master potter. Widows of pottery owners, however, were exempt from this rule. An ordinance from 1652 empowered widows to take ownership of their deceased spouse's pottery business without undergoing the master's test. They were permitted to run the company even if they remarried, and their new husbands could participate in management without passing the master's test. Only upon the widow's death did the new husband become obligated to pass the test within six weeks if continuing the business.(7) The guilds' leniency protected their own assets; if a widow was able to run her own business, she could independently provide income and would not be dependent on support from the guild or poor relief.(8) 
A widow's decision to run the business was not solely based on free will. Research on female activity in the brewery industry suggests that, for most widows, the decision to continue the business was due to a lack of alternatives. In times of economic downturn, selling the company was often unprofitable, and besides, the widow could rely on an established clientele, knowledge, and network.(9) Similar dynamics likely applied to the pottery industry.
In addition to the friendly regulations regarding widow ownership, the relative high rate of widows in the Delft pottery industry can also be attributed to strong family connections between the operating companies, creating a solid and somewhat protected environment. Family members supported each other financially, provided advice, and offered support during conflicts.
While details about the business operations of female entrepreneurs remain scarce, a comprehensive understanding of their role within the Delft pottery industry can be gleaned from their official positions, the duration of their entrepreneurial endeavors, and from what other available sources can tell us. Research has found 56 women in the roles of active owners, co-owners, managers, and co-managers in the seventeenth-century pottery industry. Out of them, five held the title of 'winkelhoudster' (shopkeeper).(10) This designation signified their successful passage of the Saint Luke's Guild test for master potter.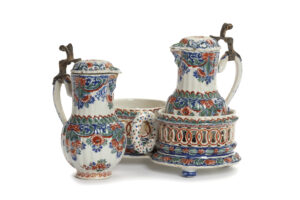 One woman who obtained this prestigious title was Barbara Rotteveel, wife of notary Simon Mesch. Rotteveel passed the masters test in 1671, marking the beginning of her 36-year ownership and management of 'De Drie Klokken' (The Three Bells) factory. Rotteveel was a widow when she took the test, and the factory was purchased on her behalf by her brother-in-law, Joris Mesch. The involvement of Mesch is unclear, although it may indicate her incapacity as a woman to conduct the transaction independently.(11)
Cornelia van Schoonhoven and her sisters, all described as 'plateelbaksters' (potters) and as 'winkelhoudsters', are further examples of independent female professionals in the Delft pottery industry. Cornelia, married to Aryen van der Meer, a 'platielschilder' (pottery painter), financially supported Cornelis Cornelisz van Houve in 1661, resulting in a partnership for 'De Porceleyne Clauw.' Initially, Cornelia was not directly involved in the business operations. Cornelis was expected to run the business, but he proved to be ineffective and unreliable. The mismanagement of the factory was reported by a former employee of the factory, Jan Otten Schaeck (or Schagen). He declared that the factory's shop was sometimes managed by a seemingly incompetent maid, Catharina Jansdr. Slachtoe. Her interference and the lack of leadership by Mr. van Houve led to a downward spiral, and Van Houve's partnership with Cornelia ended in 1668.(12) The business continued to thrive under her management until her death in 1670. Her sisters, Maria and Elisabeth, consecutively took over her role after her death and successfully managed the business for several decades.
Elisabeth Jansdr. Klinck played an important role as co-manager of 'De Drie Porceleyne Flessies' (The three Porcelain Bottles). She took on the role when her husband, Joost van den Bergh was in the East Indies. Her father, Jan Jansz Klinck and probably her brother-in-law, Jacobus de Bergh were also among the co-owners. Interestingly, it was Elisabeth who passed the master potters test, not the two men. She acted as shopkeeper of the factory from 1671, possibly until 1675.(13)
Several documents also show partnerships between non-spouses. Adriaantje Jansdr. van Sande, widow of Claas Jansz. van Straten, first independently managed 'De Lampetkan' from 1653. From 1655, she possibly partnered with her new husband Jan or Harmen Harmensz. van Dijssel. Notably, her stepdaughter, Geertge Jansz. van Dijssel, was engaged in the business as a pottery painter, one of the few recorded females in this profession. In 1661, Adriaantje sold the company to her son. Presumably, she wanted to stay connected with the pottery business, as she rented half of 'Het Moriaanshooft' (The Moors Head) factory from her sister in law, Maria van Kittensteijn in 1662. She ran the factory as co-manager with Jacob Wemmersz. Hoppesteijn for at least five years. She then joined forces with Jacobus Willemsz. van der Kool and jointly operated 'De Drie Porceleyne Flessies' (The Three Porcelain Bottles). Their collaboration was not without problems, but continued until Adriaantje's death in 1680.(14)
Maria van den Velde, widow of Johannes van der Wal, a pottery painter, obtained permission to establish a kiln in her home 'De Hollantse Daelder' in 1695.(15) In 1696 she started a collaboration with the experienced Lambertus van Eenhoorn. She focused on the business while he likely handled production. Their remarkable collaboration lasted for a number of years.
The eighteenth century and female involvement
There were several women who successfully managed Delft potteries during the eighteenth century as well.
'De Grieksche A' (The Greek A) was a stable breeding ground for female success. Several women managed the factory after the deaths of their husbands. Some were active managers, while others assumed ownership roles. One such successful businesswoman was Johanna van der Heul, the widow of Pieter Adriaensz. Kocx. She managed the company after the death of her husband in 1703 until she sold it in 1722. She is one of the most important female owners of a Delft pottery company. Van der Heul was a qualified pottery maker and was closely involved in the design and/or production of models. She had a special preference for animal figures, and there are known models that bear her initials, JVDH. However, she often used her late husband's brand, PAK, as proved by a 1713 dated PAK marked dish. Van der Heul successfully developed various techniques that were first initiated by her predecessors, such as polychrome decoration with the mixed-fire technique. This technique was first introduced by another female, Jannetge van Straten, the owner of Het Moriaenshooft (The Moor's Head) factory from 1671 to 1686. The art of gold painting was also further developed by Johanna. She hired four gold painters, among them the famous Adriaan van Rijsselbergh. Johanna, however, had the sole right to the work of the gold painters, as long as she owned the factory. In 1722, she sold the factory outside of the family to Jacobus van der Kool.(16)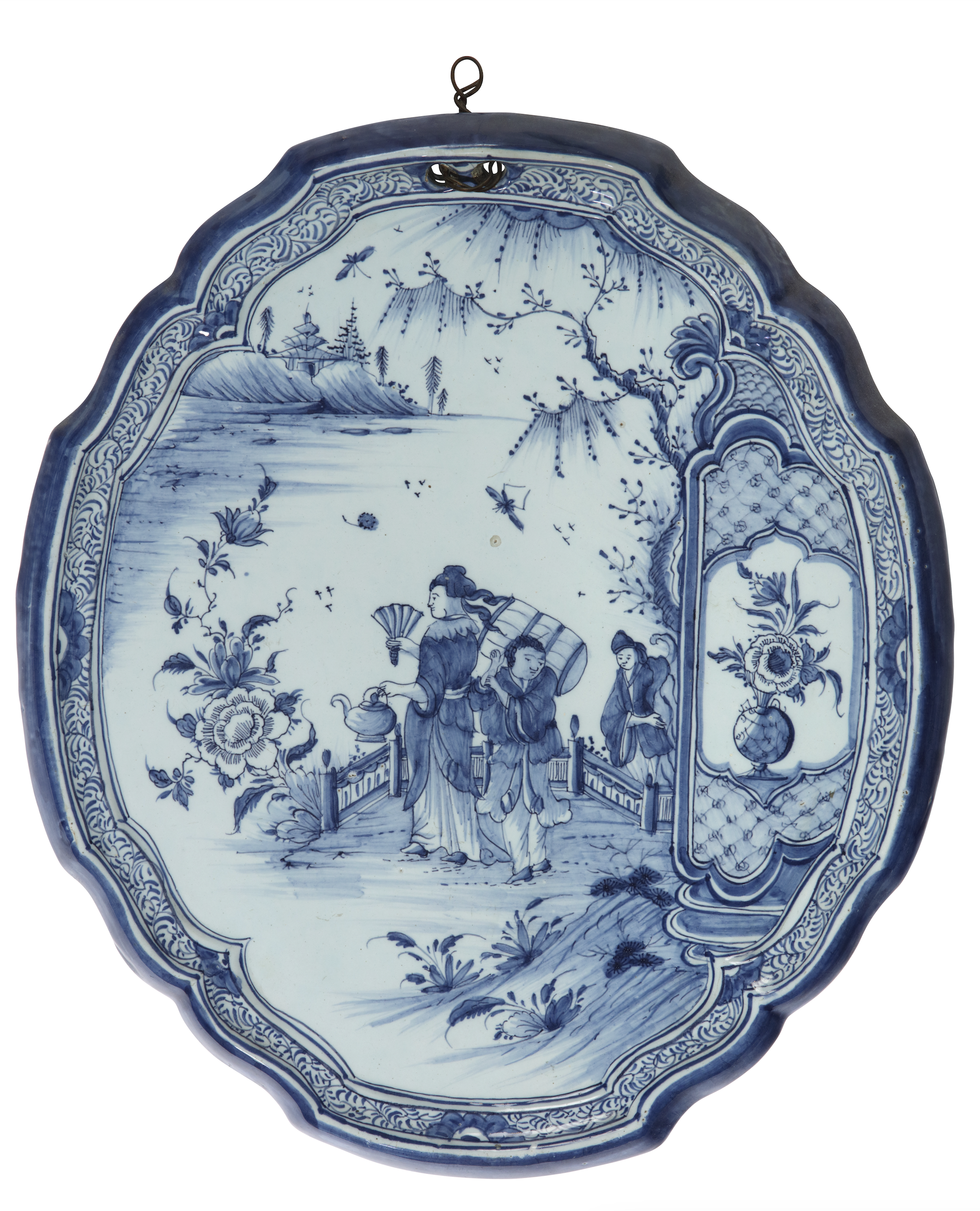 Van der Kool died in 1733 and the factory was then directed by his widow, Cornelia van Willigen. Several documents show her committed ownership. In the 24 years as managing director, she expanded the business internationally. She had trade relations with Hamburg, Cologne and Paris and she actively worked with other factory owners in order to keep the business healthy.(17) Van Willigen was known as a wealthy widow and she left thousands of objects, according to the inventory made at her death in 1757.(18) A remarkable detail is her possession of 203 chairs (against an average of 56 for the wealthy households).(19)
Although only a snapshot, the trademark registration of 1764 gives us insight into the male-female ratio and the legal capacity of women in the pottery making trade. Of the 23 registered marks, four were initiated by the female owners at that time. Namely, Geertruij Verstelle, owner and shopkeeper of 'Het Oude Moriaanshooft' (The Old Moors Head) factory, who marked with her own initials; GVS; Johanna van der Sande, widow of Jan van der Hagen of the 'Jonge Moriaanshooft' (the Young Moors Head) factory was one of the most productive of its time.
Despite the large output, the pieces were designed and executed with remarkable quality. The factory produced many types of objects, from decorative pieces to refined tablewares. Elisabeth Elling-van den Briel died in 1786, and the inventory created after her death reflects her wealth and status.(20) Her home was filled with all types of Delftware, including six large dishes and at least fourteen chocolate cups and jars that were stored near the fireplace in the dining room. Several cabinets displaying Delftware pieces were also listed in her inventory.(21) Finally Maria van der Hagen, as the widow of Gerardus Brouwer of the 'Lampetkan' who marked with Lampetkan.(22) With this registration, these women literally marked their place in history as entrepreneurs of the famous Delft pottery industry.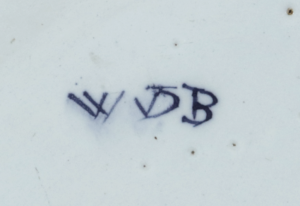 Summarily, women in both the seventeenth and eighteenth centuries, though often entering the pottery industry through their husbands, and with support of family members, demonstrated independent entrepreneurial spirits. These women, of which some having passed the Saint Luke's test, operated businesses showcasing innovative techniques, engaged in international trade, and participated on equal footing with their male counterparts. While their contributions in detail remain unknown in most cases, the available material gives us a clear picture of the importance of their role. The 'leading ladies' undeniably shaped a significant part of the development and fame of Delft pottery.
Notes
Main image: J. Kilian (1716-1744) A Delftware shop with female staff.
(1) A. Schmidt, 'Overleven na de dood. Weduwen in Leiden in de Gouden Eeuw', Prometheus, Amsterdam, 2001, p. 51
(2) Danielle vd Heuvel, 'Woman & Entrepreneurship. Female Traders in the Northern Netherlands ca 1580-1815′, Amsterdam University Press, 2008, p. 325
(3) A. Schmidt, 'Overleven na de dood'. p. 53
(4) Idem
(5) Guilds were professional associations that emerged as a phenomenon in the Middle Ages and existed until the eighteenth century. Guilds were intended to protect a specific profession, share knowledge and experience. They offered professional training and only accepted new members when a prospective member passed the master test and paid the necessary fee for membership.
(6) Danielle vd Heuvel, 'Woman & Entrepreneurship', p. 324
(7) Marion S.van Aken-Fehmers, Loet A. Schledorn, Titus Eliëns, 'Delfts Aardewerk. Geschiedenis van een Nationaal Product', Volume II, Zwolle, 2001, p. 58
(8) Marjolein van Dekken, 'Brouwen, branden en bedienen. Werkende vrouwen in de Nederlandse dranknijverheid 1500-1800′, 2009, p. 210
(9) Marjolein Dekken, p. 240
(10) Van Aken-Fehmers, Volume II, pp. 65-68
(11) Wik Hoekstra-Klein, 'De Drie Klokken. Geschiedenis van de Delftse Plateelbakkerijen', deel 4, Projectgroep Delfts Aardewerk, Stedelijk Museum Het Prinsenhof Delft, Delft, 2000 p. 26
(12) Wik Hoekstra-Klein, 'De Porceleyne Clauw. Geschiedenis van de Delftse Plateelbakkerijen', deel 2, Projectgroep Delfts Aardewerk, Stedelijk Museum Het Prinsenhof Delft, Delft, 1999, p. 23 
(13) Marion S. van Aken-Fehmers, Loet A. Schledorn, A.-G. Hesselink, T.M. Eliëns,  'Delfts Aardewerk. Geschiedenis van een Nationaal Product', Volume I, Zwolle/Den Haag, 1999 p. 77
(14) Van Aken-Fehmers, Volume II, p. 77, 82, 83 and Hoekstra-Klein, deel 11, De Porceleyne Lampetkan, p. 24
(15) Van Aken-Fehmers, Volume I, pp. 47-48 and Hoekstra-Klein, Wik, 'De Metalen Pot' 1670-1770/1775, 'De Hollandsche Daelder' 1696-1721, Plateeldraaierij 'Buitenwaterstloot' circa 1669-1717/1732, Theepotbakkerij 'De gecroonde Theepot 1689-1724' deel 17, Geschiedenis van de Delftse Plateelbakkerijen deel 17, Projectgroep Delfts Aardewerk, Stedelijk Museum Het Prinsenhof Delft, Delft, 2010, p. 117
(16) Aronson Antiquairs, 'Pieter Adriaenusz. Kocx en Johanna van der Heul', (https://www.aronson.com/pieter-adriaensz-kocx-johanna-heul/)
(17) Van Aken-Fehmers, Volume I, p. 70
(18) Van Aken-Fehmers, Volume I, pp. 151-153
(19) Kees van der Wiel, 'Kijkje Binnenshuis bij arm en rijk in 18e-eeuws Delft' https://www.achterdegevelsvandelft.nl/achtergrondverhalen/thera%20wijsenbeek-olthuis/Kijkje-binnenshuis.html
(20) Wik Hoekstra-Klein, 'Het Fortuyn 1661-1784', Geschiedenis van de Delftse Plateelbakkerijen deel 7, Projectgroep Delfts Aardewerk, Stedelijk Museum Het Prinsenhof Delft, Delft, 2002, p. 117
(21) Van Aken-Fehmers, Volume I, p. 266
(22) Van Aken-Fehmers, Volume I, pp. 290-296
Bibliography
Aronson Antiquairs, Pieter Adriaensz. Kocx & Johanna van der Heul, (https://www.aronson.com/pieter-adriaensz-kocx-johanna-heul/)
Aken-Fehmers van, Marion.S. & Loet A. Schledorn, A.-G. Hesselink, T.M. Eliëns,  'Delfts Aardewerk. Geschiedenis van een Nationaal Product', Volume I, Zwolle/Den Haag, 1999
Aken-Fehmers van, Marion.S. & Loet A. Schledorn, T.M. Eliëns, 'Delfts Aardewerk. Geschiedenis van een Nationaal Product', Volume II, Zwolle/Den Haag, 2001
Dekken, Marjolein van, 'Brouwen, Branden en Bedienen, productie en verkoop van drank door vrouwen in de Noordelijke Nederlanden, 1500-1800′, Uitgeveij Askant Amsterdam, 2010
Heuvel, Danielle van den, 'Woman & Entrepreneurship. Female Traders in the Northern Netherlands C 1580-1815′, 2Amsterdam University Press, 2008
Hoekstra-Klein, Wik, 'De Porceleyne Clauw. Geschiedenis van de Delftse Plateelbakkerijen deel 2′, Projectgroep Delfts Aardewerk, Stedelijk Museum Het Prinsenhof Delft, Delft, 1999
Hoekstra-Klein, Wik, 'De Drie Klokken. Geschiedenis van de Delftse Plateelbakkerijen deel 4′, Projectgroep Delfts Aardewerk, Stedelijk Museum Het Prinsenhof Delft, Delft, 2000
Hoekstra-Klein, Wik, 'Het Fortuyn 1661-1784, Geschiedenis van de Delftse Plateelbakkerijen deel 7', Projectgroep Delfts Aardewerk, Stedelijk Museum Het Prinsenhof Delft, Delft, 2002
Hoekstra-Klein, Wik, 'De Porceleyne Lampetkan' 1609-1811. Geschiedenis van de Delftse Plateelbakkerijen deel 11′, Projectgroep Delfts Aardewerk, Stedelijk Museum Het Prinsenhof Delft, Delft, 2005
Hoekstra-Klein, Wik, 'De Metalen Pot' 1670-1770/1775, 'De Hollandsche Daelder' 1696-1721, Plateeldraaierij 'Buitenwaterstloot' circa 1669-1717/1732, Theepotbakkerij 'De gecroonde Theepot 1689-1724. Geschiedenis van de Delftse Plateelbakkerijen deel 17′, Projectgroep Delfts Aardewerk, Stedelijk Museum Het Prinsenhof Delft, Delft, 2010
Schmidt, A, Overleven na de dood. Weduwen in Leiden in de Gouden Eeuw, Prometheus, Amsterdam, 2001
Wiel, Kees van der, 'Achter de gevels van Delft', (https://www.achterdegevelsvandelft.nl/achtergrondverhalen/thera%20wijsenbeek-olthuis/Kijkje-binnenshuis.html)