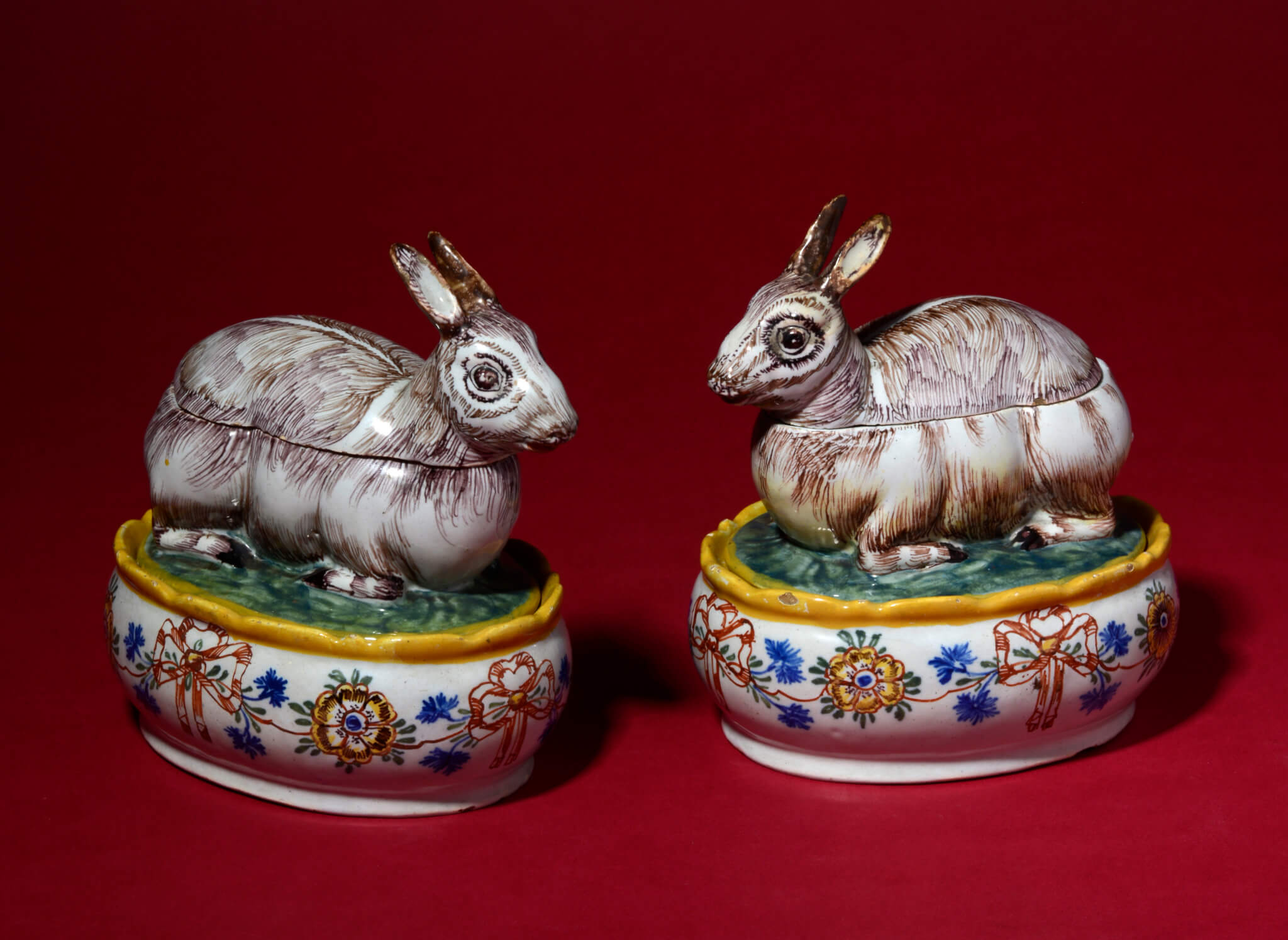 Delftware Tureens: a True Delight for the Eye
The dinner table, as with all aspects of the decorative arts, is subject to changing fashions. As the structure of meals has evolved over time, the table settings and decoration have followed suit to complement the variations in each tradition.
Beginning in the fifteenth century, a formal meal became increasingly divided into numerous courses. Typically, the meal began with a course of cold foods served from the buffet or sideboard. It was followed by hot dishes from the kitchen, such as roasts, pastries and soup. The meal ended with a course of preserved fruits and sweets, such as marzipan, and biscuits.[1]  This course would eventually become the modern notion of dessert.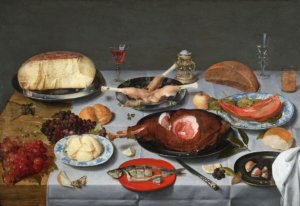 Although the meal became more structured as early as the fifteenth century, the organization and uniformity of table settings were slow to conform. Seventeenth-century depictions of families, guild members and other groups gathered around a meal illustrate the assortment of vessels made in a variety of materials. They included stoneware jugs, pewter or silver plates, wooden trenchers, earthenware bowls and glasses of many shapes. This illustration by Jacob van Hulsdonck (1582-1647) shows the multitude of tableware used for a meal. Utensils were sparse, except for wooden or metal spoons, carving knives and large two-tined forks of a size suitable only for serving. The food was placed in the center of the table for guests to serve themselves, often using their hands or a piece of bread. It was not until the end of the seventeenth century that smaller forks were introduced.[2]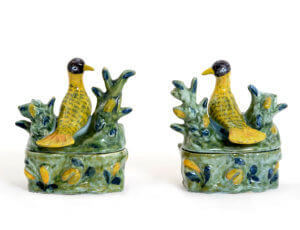 The French cultural influence spread throughout Europe in the second half of the seventeenth century, influencing language, literature, costume, fashion, architecture, gardening and manners. For the study of Delftware, the most significant influence came in the form of dining à la Française. The new style was less formal than the earlier Medieval fashion of dining, where the host or person of the highest rank was seated at the center of the room on a bias. Dining à la Française was a more democratic form of entertainment. Each guest had their own set of plates and cutlery, and the courses were served all at once and symmetrically placed on the table for guests to serve themselves.[3] 
The popular dining service endured into the nineteenth century, when it was replaced by dining à la Russe. This style, used today, is organized per course, and all guests are served the same dish simultaneously. The advantage to dining à la Russe was that meals were served and consumed hot, and no dishes were out of a guest's reach. Also, the space in the middle of the table that was previously crowded with serving dishes could be used for candelabras, flower arrangements and other decorative objects.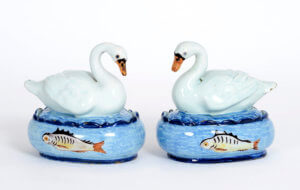 Despite its inconvenience, dining à la Française was considered a more intimate service because it facilitated conversation with other guests, and it better showcased the cook's skills.[4]  Recipes were drawn from the French master chefs. The immensely popular publication La maison réglée by Audiger from 1697 shows proper table arrangements, while Le cuisinier royal et bourgeois by François Massialot, inventor of the crème brûlée, meringues and the croquette, offers recipes with seasonal ingredients for complete menus.[5]  Dining à la Française required large services of matching pieces for different dishes, and the splendor and grandeur of the court of Louis XIV (1638-1715) set the standard for the royalty of Europe. When the silver services of Versailles were melted to fill the empty treasury after the many French wars in 1689, 1708 and 1759, a fitting substitute was found in earthenware.[6] 
The Delft potters were among the beneficiaries of this "new" Louis XIV late baroque taste around 1680. They were confronted with orders for services comprising the familiar forms of plates, dishes and bowls, as well as new forms in various sizes and of matching shapes. Objects ranged from large flasks and coolers, to smaller salt cellars, spice boxes, oil and vinegar sets, sugar and spice casters, butter tubs, candlesticks and other forms found previously only in silver, pewter and brass metals.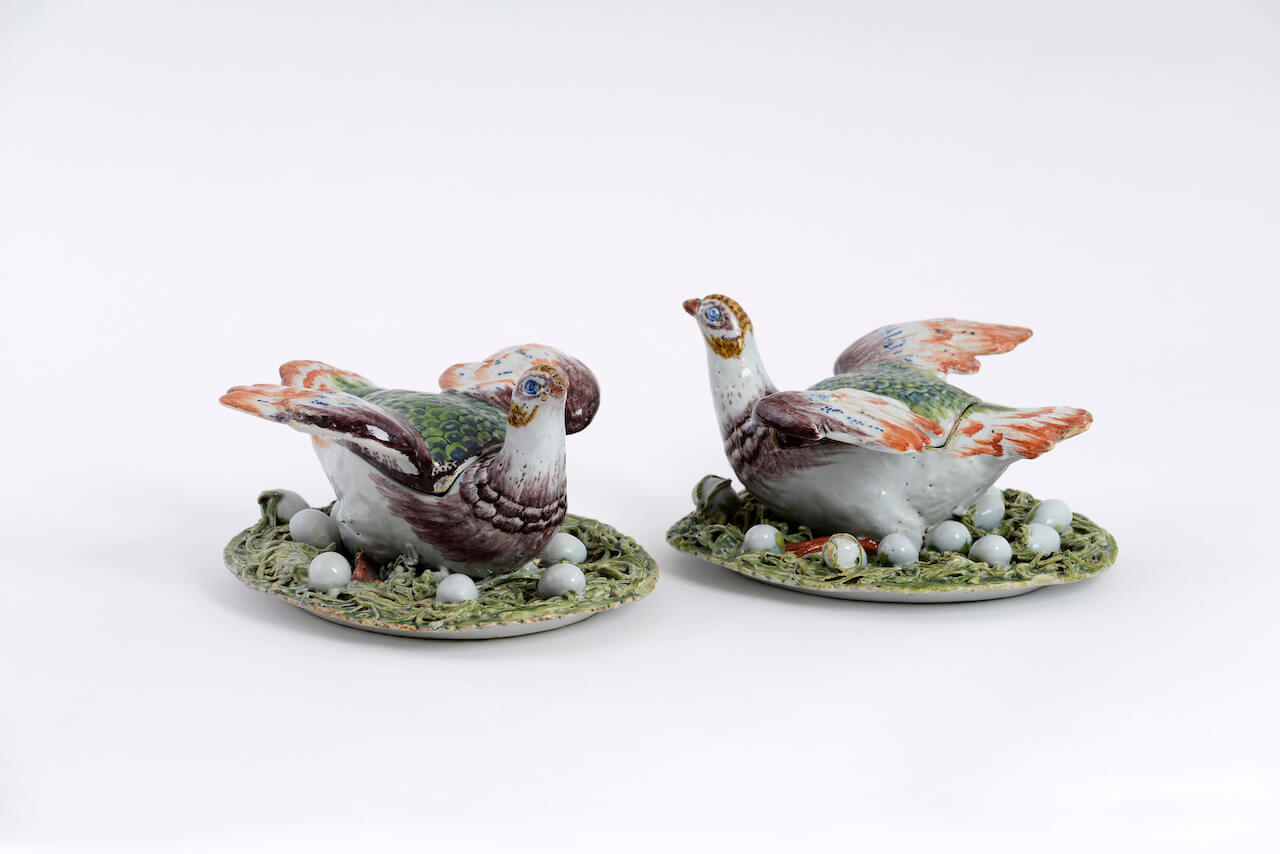 During the eighteenth century, especially after 1750, the butter tubs and tureens became a specialty of both the Delftware factories in the Netherlands and porcelain workshops in Germany. They were inspired by bird-shaped pastries, these savory pies were stuffed with meat, or poultry and were considered the highlight of a meal. Although there were simple recipes that could be made at home, pastry-cooks were hired to create the most splendid pies for special occasions. These pies were often made with large birds and were served with head, wings and upstanding tail. There were even pies which were modeled as a breeding bird, probably similar to this pair of Delft tureens with a hen amidst her eggs. Since poultry was a common game hunted in the Netherlands, it was often featured as the main ingredient of many meat recipes.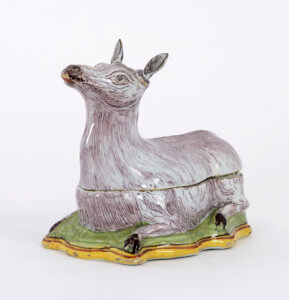 Deer, among the most common inhabitants of wooded areas throughout Europe, Western and Central Asia and North America, surely were the most popular game during the heyday of hunting, known as the Age of Absolutism. Hunting, as an important element of the officium nobile, the courtly ceremonial, was the passion and privilege of the nobility, and beyond its original function of providing alimentation, it served as entertainment as well as an indicator of status. In some examples, the tureens modeled as animals such as this hind tureen, may have been created as more permanent and palatable replacements for real-life examples and represented the trophy of a hunt.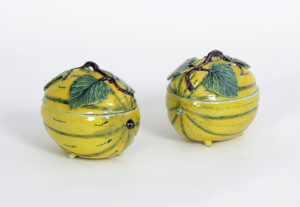 Ensembles were formed to complement special occasions; tureens shaped as boars heads, stags and deer, and smaller game as hares, ducks and plovers accompanied by figures of men on horseback and dogs simulated a hunt at the table. Tureens were also modeled as fruit and vegetables. Melons, for example were a greatly fancied fruit during the Baroque period, appearing frequently in seventeenth-century Dutch still life paintings. They also were savored as edible delicacies, appreciated not only for their intense aroma and supple flesh, but also for the medicinal properties attributed to them as a cure for fevers and an antidote for inflammations of the kidney, bladder and liver. Served as a dessert, the fruit was chopped into pieces and seasoned with sugar or salt and pepper. A special delicacy was a tart of melon-pieces covered in a pastry-crust and baked in butter. When presented in a matching faience tureen, such as these melon tureens, intended mainly for the dessert course at the end of a dinner, when fruits, creams and various pastries were served, the culinary pleasure could only have been enhanced by the visual delight of the 'trompe l'oeil' ceramic pun.
[1]  H. Coutts, The Art of Ceramics, European Ceramic Design 1500-1830, New York and London, 2001, pp. 32-34.
[2]  J.D. van Dam, Delffse Porceleyne, Dutch Delftware 1620-1850, Zwolle/Amsterdam (Rijksmuseum), 2004, p. 126.
[3] J. Pijzel-Dommisse a.o. Nederland dineert; vier eeuwen tafelcultuur. Zwolle 2015, pp. 138 -139.
[4] Pijzel-Domisse 2015 (note 3), pp. 24-28.
[5] Pijzel-Domisse 2015 (note 3), pp. 50-54.
[6] Coutts 2001 (note 1), p. 80.