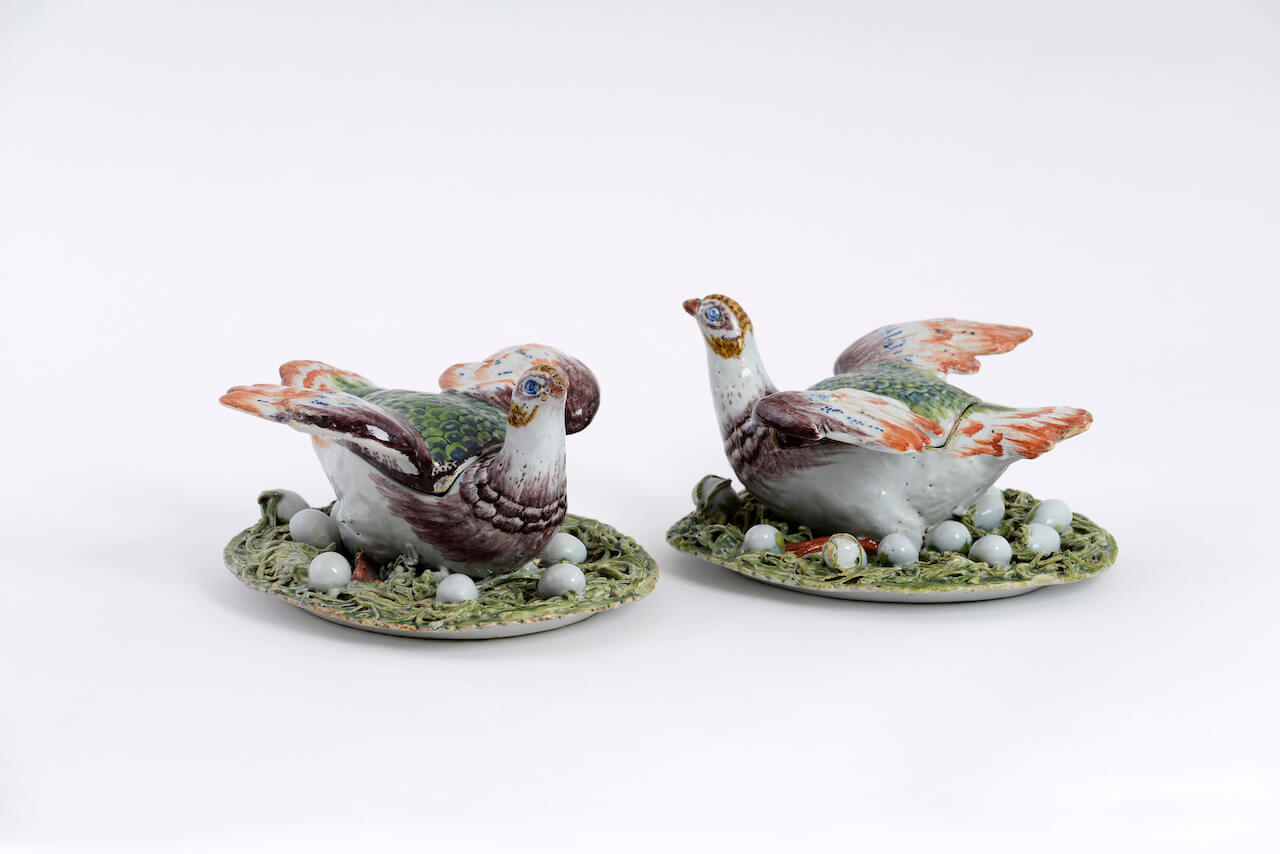 [popup_trigger id="13756″ tag="span"]

[/popup_trigger]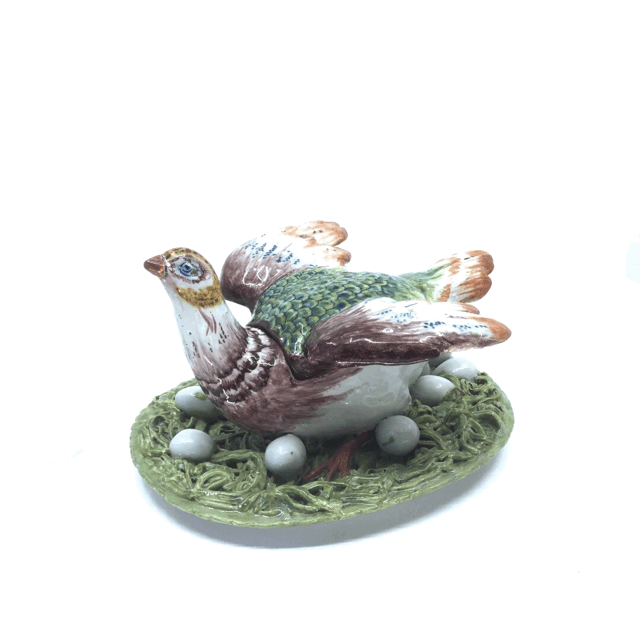 OBJECT
•D1944. Pair of Polychrome Hen Tureens and Covers
Delft, circa 1765
Marked A IH 12 106 for Jacobus Halder Adriaensz., the owner of De Grieksche A (The Greek A) factory from 1764 until 1768
Each modeled as a hen seated in a grassy oval nest, surrounded by her white eggs, her head raised and with her wings outstretched, her plumage finely delineated in manganese, shades of green, iron-red and blue.
Dimensions
Heights: 11.5 cm. (4.5 in.)
Provenance
Salomon Stodel Antiquités, Amsterdam, 1991; Dutch Private Collection
Literature
Described and illustrated in Lahaussois 2008, p. 184, ill. 13
Note
Zoomorphic tableware, like this pair of hen tureens, evolved from polychrome sugar or wax figures and bird-shaped pastries that decorated the Renaissance table. Especially the savory pie must have functioned as an inspiration for these tureens, which was the showpiece of the dinner table from the late medieval period and the seventeenth-century. Savory pies were stuffed with meat, fish, or poultry and were considered the highlight of a meal. Although there were simple recipes that could be made at home, pastry-cooks were hired to create the most splendid pies for special occasions. These pies were often made with large birds and were served with head, wings and upstanding tail. There were even pies which were modeled as a breeding bird, probably similar to this pair tureens with a hen amidst her eggs.
Poultry was a common game hunted in the Netherlands. It was often featured as the main ingredient of many meat recipes, especially rooster and capon. Swan, heron, partridge, pheasant, dove, duck and goose were also mentioned in recipes, as well as peacock and snipe. Perhaps the most impressive dish on the table was roast swan or peacock, the grand culmination of a feast. In some cases, especially in Germany and France, complete zoomorphic services were displayed on the table amongst other tableware and trompe l'ceil objects. This type of service was reserved for festive occasions, such as the beginning of the hunting season or other hunting-related parties.
Similar examples
Although there are several tureens known from the production period of Jacobus Halder, such as tureens modeled with deer, plovers and pikes, there are only two other similar single hen tureens. One similar tureen and cover, also marked for Jacobus Halder Adriaensz. at De Grieksche A factory, is in the Kunstmuseum, The Hague (inv. OC-D 255-1904), illustrated in Van Aken-Fehmers 1999, p. 144, ill. 51, and p. 87. Its companion piece was at Nijstad Antiquairs, Lochem, in 1952.