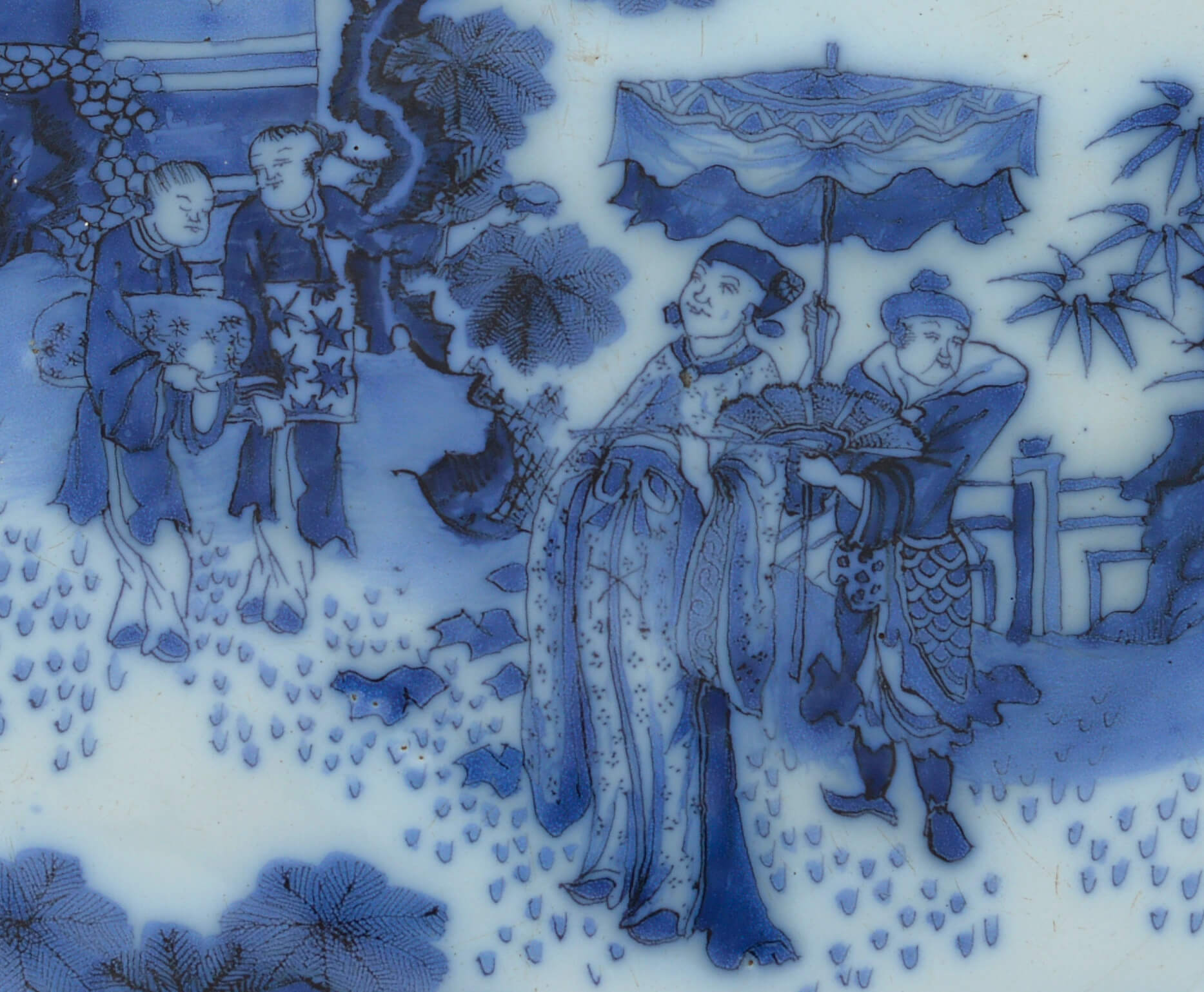 The Dutch East India Company (VOC) imported tens of millions of pieces of porcelain during the two centuries of its existence (1602-1799) and flooded the country with Chinese and Japanese tablewares. The Chinese porcelain introduced exotic imagery, such as depictions of dragons, temples and emperors. One can only imagine how enthralled the Dutch consumers must have been with the ceramics, textiles, furniture, and paintings that had traveled such distances to reach their homes. These objects brought new colors, textures and patterns to their interiors that were otherwise quite monochromatic. Western fashion also changed in response to the plethora of new goods. The parasol, or umbrella, was one such item that was previously unknown in the West and quickly became an indispensable accessory.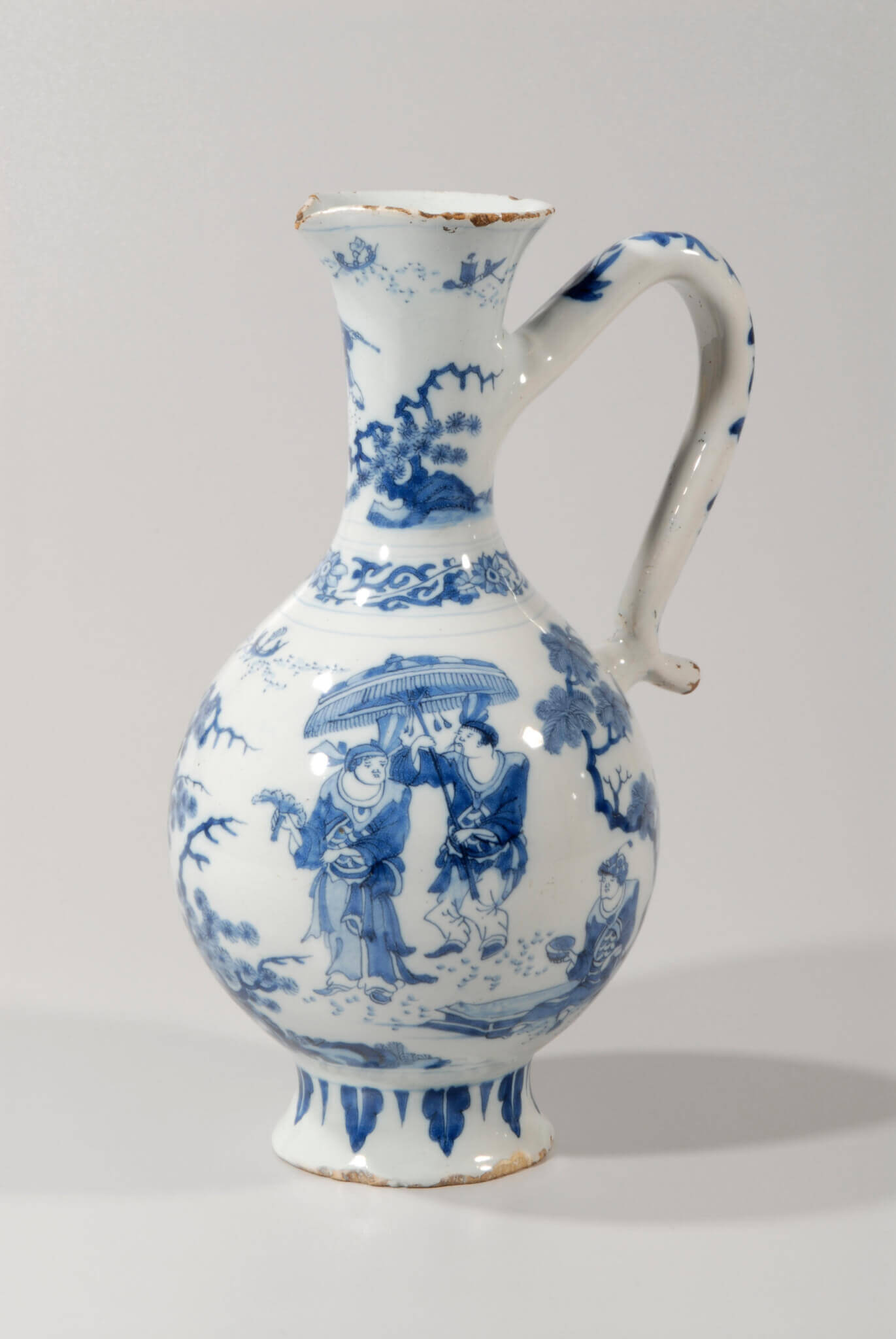 Parasols and umbrellas reached continental Europe through the opening of trade routes in Asia. They were also known in the West through their depiction on Chinese porcelain, which inspired chinoiserie style Delftware. This European style of decoration in which Chinese figures, landscapes, architecture and attributes are imitated, or evoked, originated in the seventeenth century and quickly became a dominant fashion throughout Europe, enduring the first half of the eighteenth century. The Delftware painter chose specific elements that he deemed most characteristic for the exotic Far East and combined it with other decoration as he wished. To seventeenth-century eyes, parasols and umbrellas must have been admired as exotic and luxurious objects because they are found on many Delftware decorations. For example, this blue and white ewer from circa 1680 is painted on the slightly ovoid body with a continuous Chinese landscape depicting a man holding a fan and walking beneath a parasol borne by his attendant.
The imported accessories swiftly became a principal element in the fashion and culture of European female nobility. After initial adoption in Italy and France, parasols later found their way to England where they became extremely popular among wealthy circles. Owning a parasol (often dozens of them, all matching specific outfit) signified their status and enabled them to maintain pale skin, then viewed as a symbol of wealth.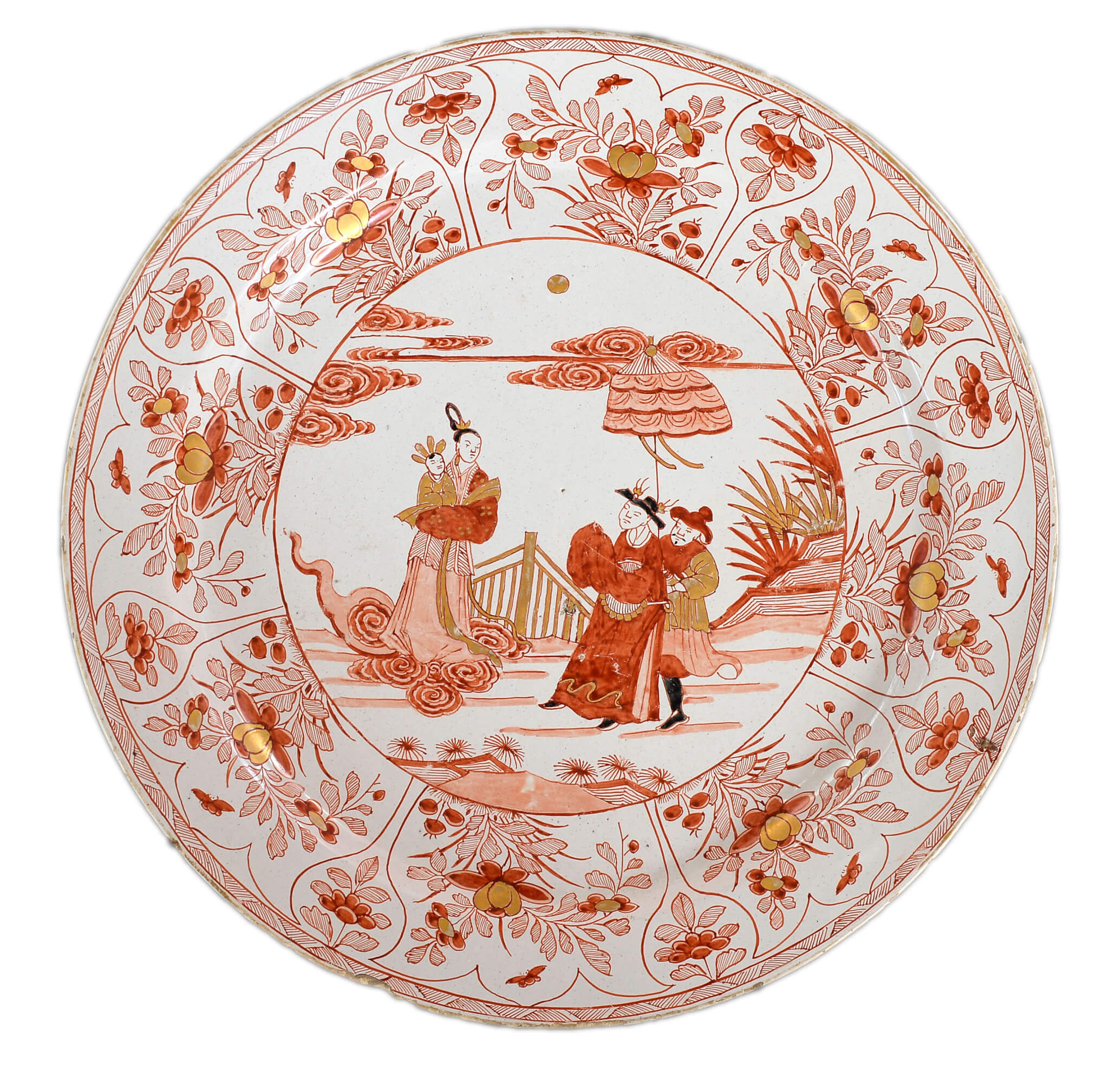 Up until the middle of the eighteenth century, the words umbrella and parasol were used interchangeably.1 The accessory dates back to over 3,000 years and often carried religious or mythological symbolism. In Egypt, China and India, the parasol was especially associated with high status. Many Asian countries have used the parasol in symbolic relation to their dignitaries. In China, umbrellas have been used to denote status from as early as the eleventh century B.C.E. At that time, frames were made of cane or sandalwood and the covers of leather or feathers, for wet and dry days.2 During the period of the Ming dynasty (1368-1644), ordinary people were not permitted to use umbrellas covered with cloth or silk; they had to use less prestigious items constructed from stout paper.3 On both porcelain and Delftware objects, emperors or dignitaries are accompanied by a servant carrying an umbrella. This polychrome and gilded large dish from circa 1710 shows an attendant standing behind a man holding an umbrella.
Although there is evidence of European use of umbrellas in Roman times and later as a ceremonial item associated with the pope, it is likely that trading activity in Asian colonies from the sixteenth century onward ultimately brought the umbrella to wider European attention. The umbrella started to appear elsewhere in Europe around this time. Because of their high cost and limited manufacture, parasols were almost exclusively used by nobility, royalty and clergy, symbolizing wealth and power. The French king, Louis XIII, is reported to have owned a collection of umbrellas.4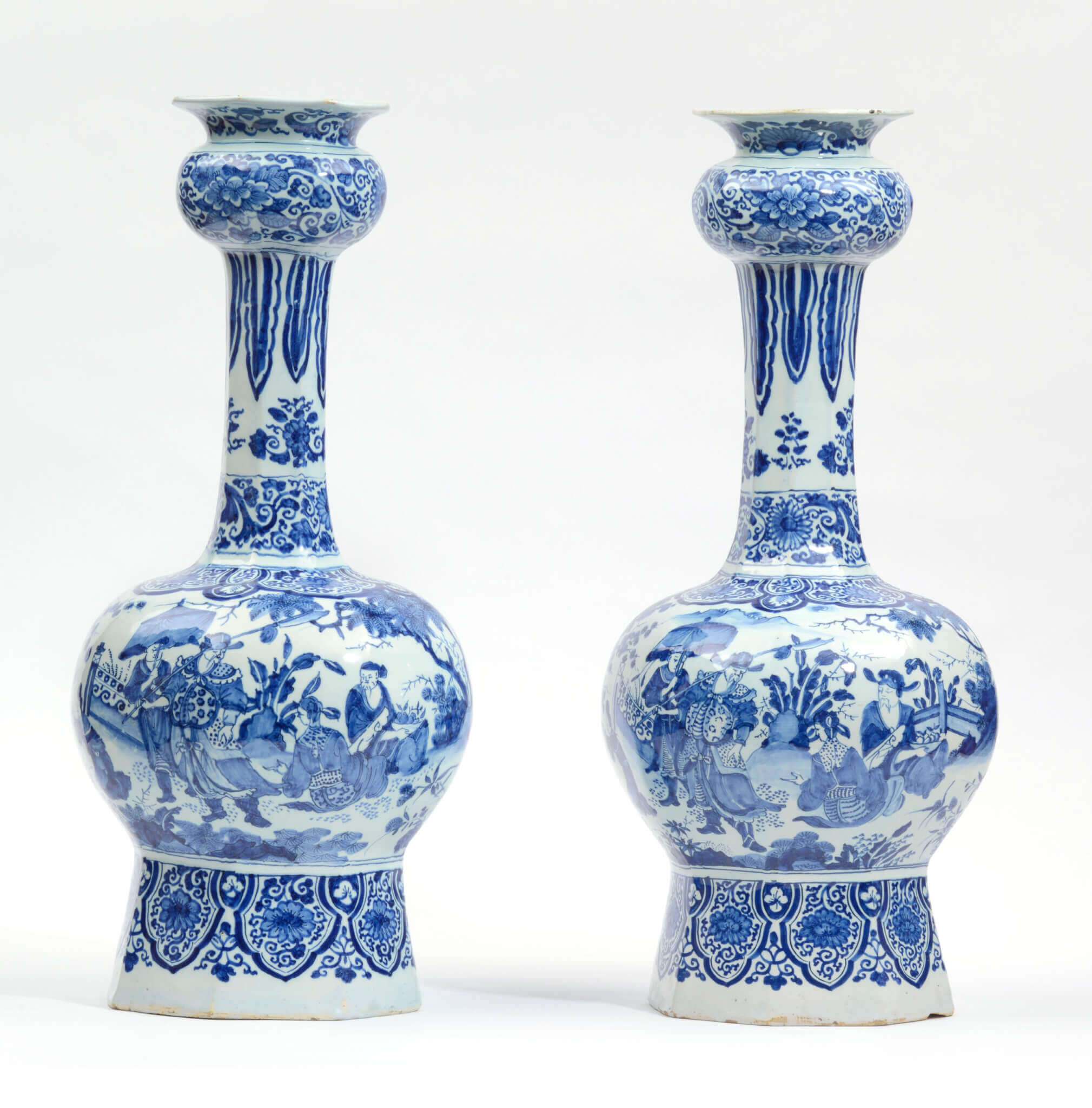 Exemplifying the chinoiserie style, this pair of large octagonal bottle vases from circa 1700 show a dignitary standing beneath a parasol held by his attendant. The Delftware painter probably referred to Chinese examples, but also relied on graphic sources for his decorative content. The decoration on this pair of bottle vases is taken directly from prints extracted from Olfert Dapper's travelogue Gedenkwaerdig bedryf der Nederlandsche Oost-Indische Maetschappye, op de kuste en in het Keizerrijk van Taising of Sina: behelzende het 2e gezandschap aen den Onder-Koning Singlamong … Vervolgt met een verhael van het voorgevallen des jaers 1663 en 1664 op de kuste van Sina … en het 3e gezandschap aan Konchy, Tartarsche Keizer van Sina en Oost Tartarye … beneffens een beschryving van geheel Sina, which was published in 1670. Born in 1636, Dapper was a Dutch physician and writer. Although he never left his native land, he devoted a large part of his life to ethnographic and geographic research. Gedenkwaerdig bedryf describes the expeditions of the Dutch admiral Balthasar Bort along the coast of Fujian and the embassy of Pieter van Hoorn to Beijing. In addition to these reports, Dapper also included a detailed description of Chinese culture and society, often based on Jesuit material. Moreover, his work was lavishly illustrated with prints on a wide variety of subjects, including plants, traditional headwear and Chinese weapons. It also depicted Buddhist gods, warriors and other figures, of whom several are depicted on this pair of vases. The main decoration on this pair of vases derives from an illustration of Buddha in Olfert Dapper's publication. The interpretation of Chinese figures in many print sources is often grotesque in appearance, as the artists adapted designs for the European public. Therefore, they can be seen as a form of chinoiserie, as Delftware painters used their own ideas and combined compilations of Chinese figures from various print sources for their Delftware objects. Therefore these vases can be seen as the ultimate form of chinoiserie.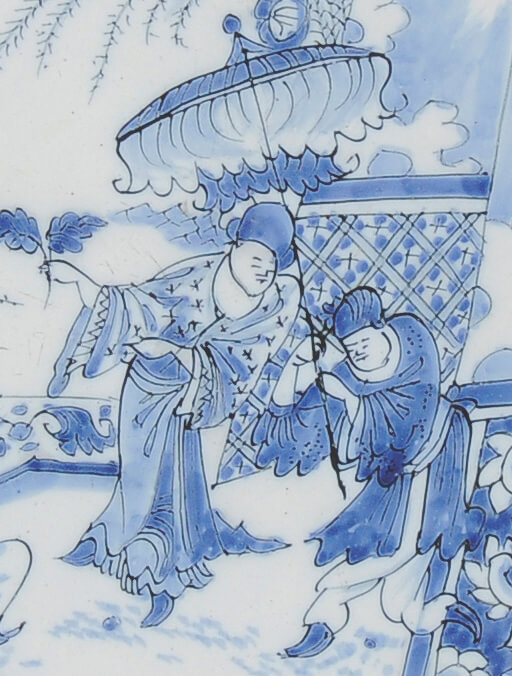 During the eighteenth and nineteenth centuries parasols remained an extremely popular fashion accessory and were seen as an absolute essential part of a lady's outfit. In the beginning of the twentieth century, waterproofed umbrellas gained greater popularity among the general population, and high-value parasols slowly became outdated and unfashionable.
Notes
1 The origins of the word "umbrella" lie in the Latin umbra, meaning shade, while "parasol" comes from the Latin sol, meaning sun. Jeremy Farrell, Umbrellas and Parasols, London, 1985
2 Brenda Stacey, The Ups and Downs of Umbrellas, Stroud, U.K. 1991
1991
3 T.S. Crawford, A History of the Umbrella, New York, 1970
4 Between 1619 and 1637 he enlarged his collection to include eleven sunshades made of taffeta and three umbrellas made of oiled cloth trimmed with gold and silver lace. Crawford 1970 (note 3)