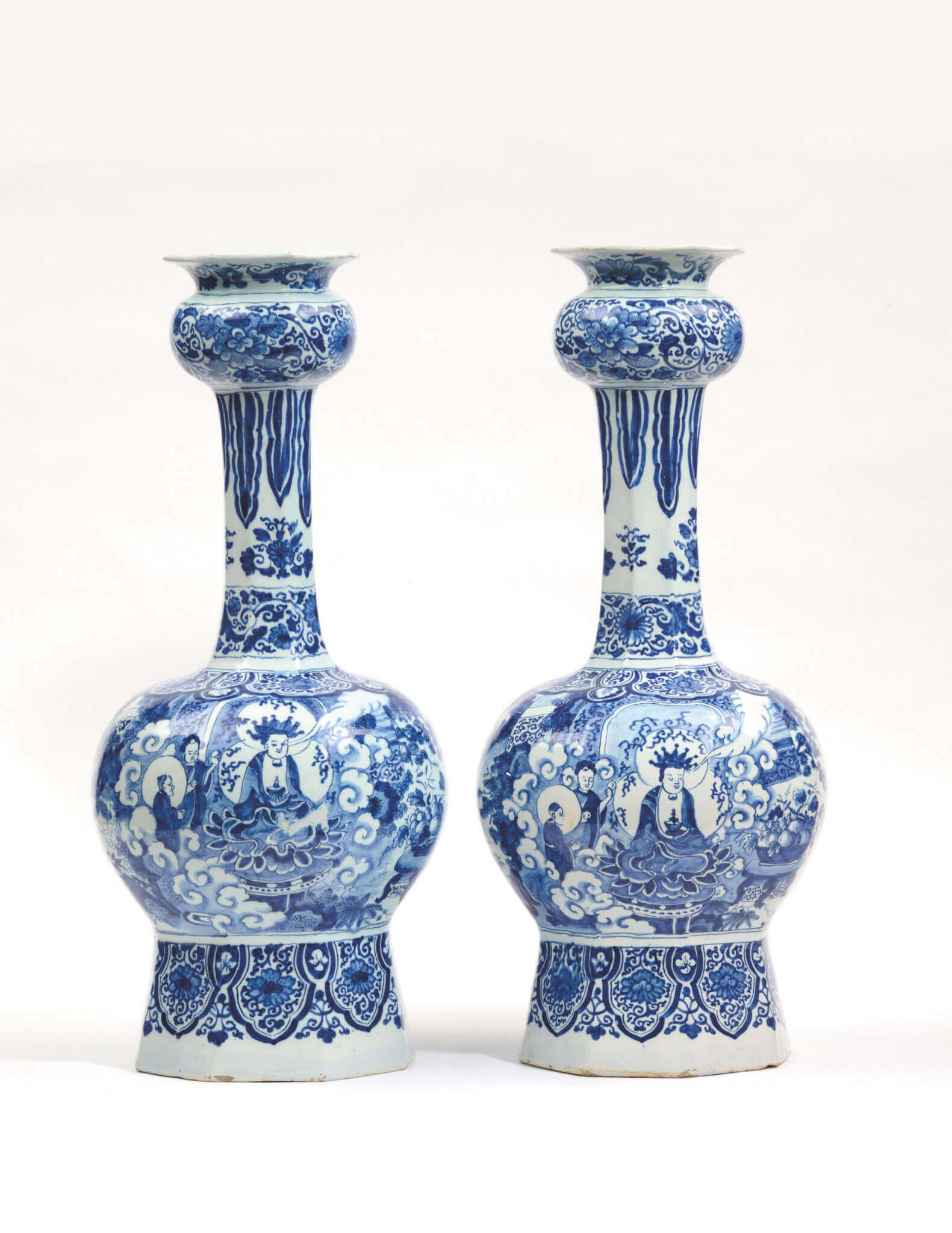 [popup_trigger id="13756″ tag="span"]

[/popup_trigger]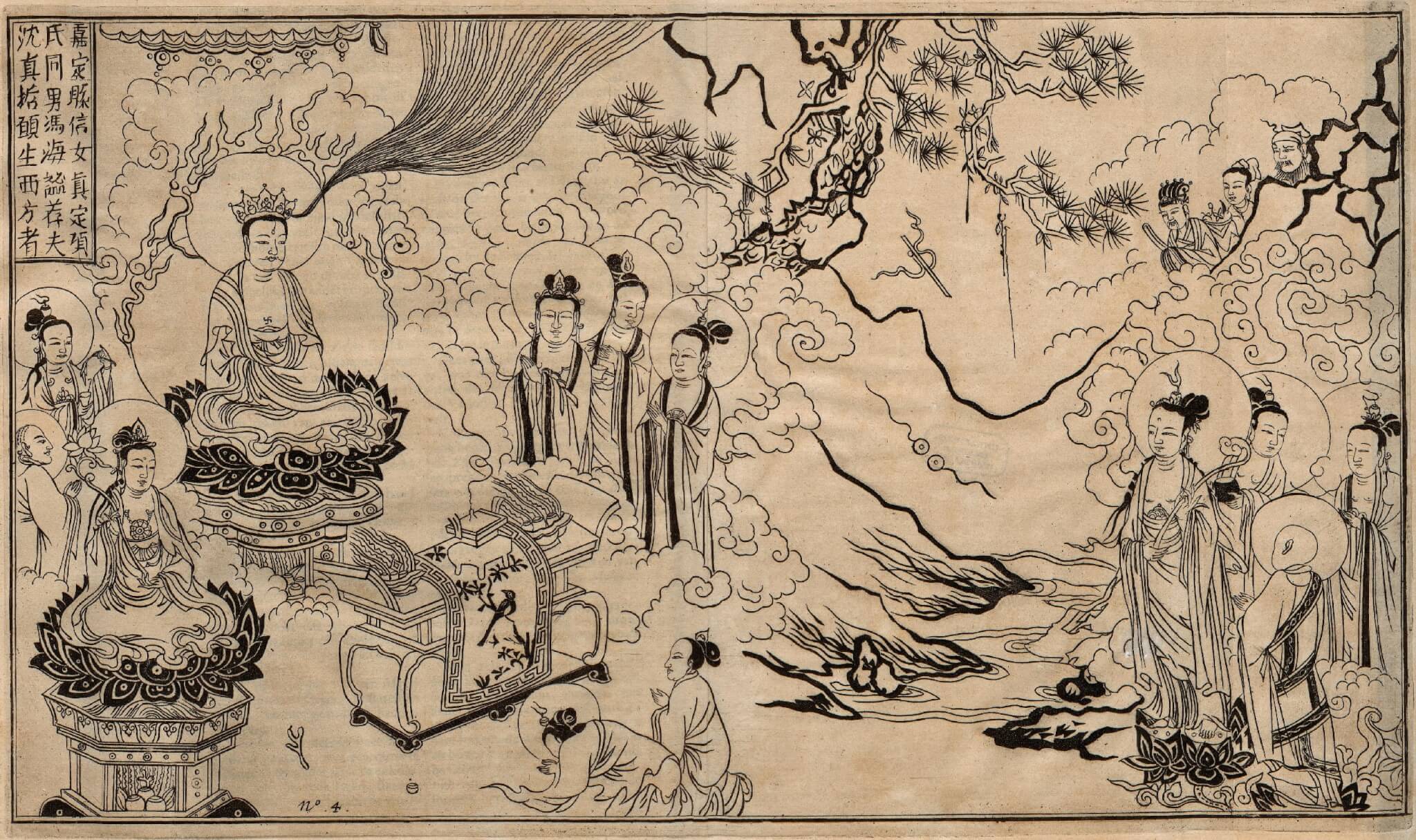 OBJECT
•D2008. Pair of Blue and White Large Octagonal Bottle Vases
Delft, circa 1700
Each with a baluster-form body painted with a continuous scene of a dignitary standing beneath a parasol held by his attendant and observing two figures seated in a garden, one of which is holding a scroll and the other holding a basket with fruits, on the other side of the fenced garden a man kneeling and offering before a table with a basket of fruits and a Buddha seated on a lotus flower on a platform wearing a crown and holding a bowl from which smoke rises, flanked on his left by two kneeling figures, the slightly flaring foot and shoulder with a border of lappets patterned with blossoms and scrolling foliage repeated as a ground pattern on the knop of the stiff-leaf-encircled tall neck beneath the flaring rim.
Dimensions
Heights: 53.5 cm. (21.1 in.)
Note
While Chinese porcelain was the most important source for the decoration on Delftware, graphic sources were also used for the decorative patterns and continuous scenes on transitional porcelain at the end of the seventeenth century. The decoration on this pair of bottle vases is taken directly from prints extracted from Olfert Dapper's travelogue Gedenkwaerdig bedryf der Nederlandsche Oost-Indische Maetschappye, op de kuste en in het Keizerrijk van Taising of Sina: behelzende het 2e gezandschap aen den Onder-Koning Singlamong … Vervolgt met een verhael van het voorgevallen des jaers 1663 en 1664 op de kuste van Sina … en het 3e  gezandschap aan Konchy, Tartarsche Keizer van Sina en Oost Tartarye … beneffens een beschryving van geheel Sina, which was published in 1670. Born in 1636, Dapper was a Dutch physician and writer. Although he never left his native land, he devoted a large part of his life to ethnographic and geographic research. Gedenkwaerdig bedryf describes the expeditions of the Dutch admiral Balthasar Bort along the coast of Fujian and the embassy of Pieter van Hoorn to Beijing.
In addition to these reports, Dapper also included a detailed description of Chinese culture and society, often based on Jesuit material. Moreover, his work was lavishly illustrated with prints on a wide variety of subjects, including plants, traditional headwear and Chinese weapons. It also depicted Buddhist gods, warriors and other figures, of whom several are depicted on this pair of vases. The main decoration on this pair of vases derives from an illustration of Buddha in Olfert Dapper's publication. The interpretation of Chinese figures in many print sources is often grotesque in appearance, as the artists adapted designs for the European public. Therefore, they can be seen as a form of chinoiserie, as Delftware painters used their own ideas and combined compilations of Chinese figures from various print sources for their Delftware objects. The octagonal shape of these large bottle vases was also a technical feat. Pieces of clay were cut from a round shaped vase with a thick wall to create the eight planes.
Similar examples
A pair of blue and white octagonal bottle vases with a comparable Buddha scene is illustrated in Aronson 2006, p. 18, no. 16. A large covered vase with a similar depiction of the Buddha from the same print source is in the collection of the Rijksmuseum, Amsterdam (inv. no. BK-NM-12400-445).