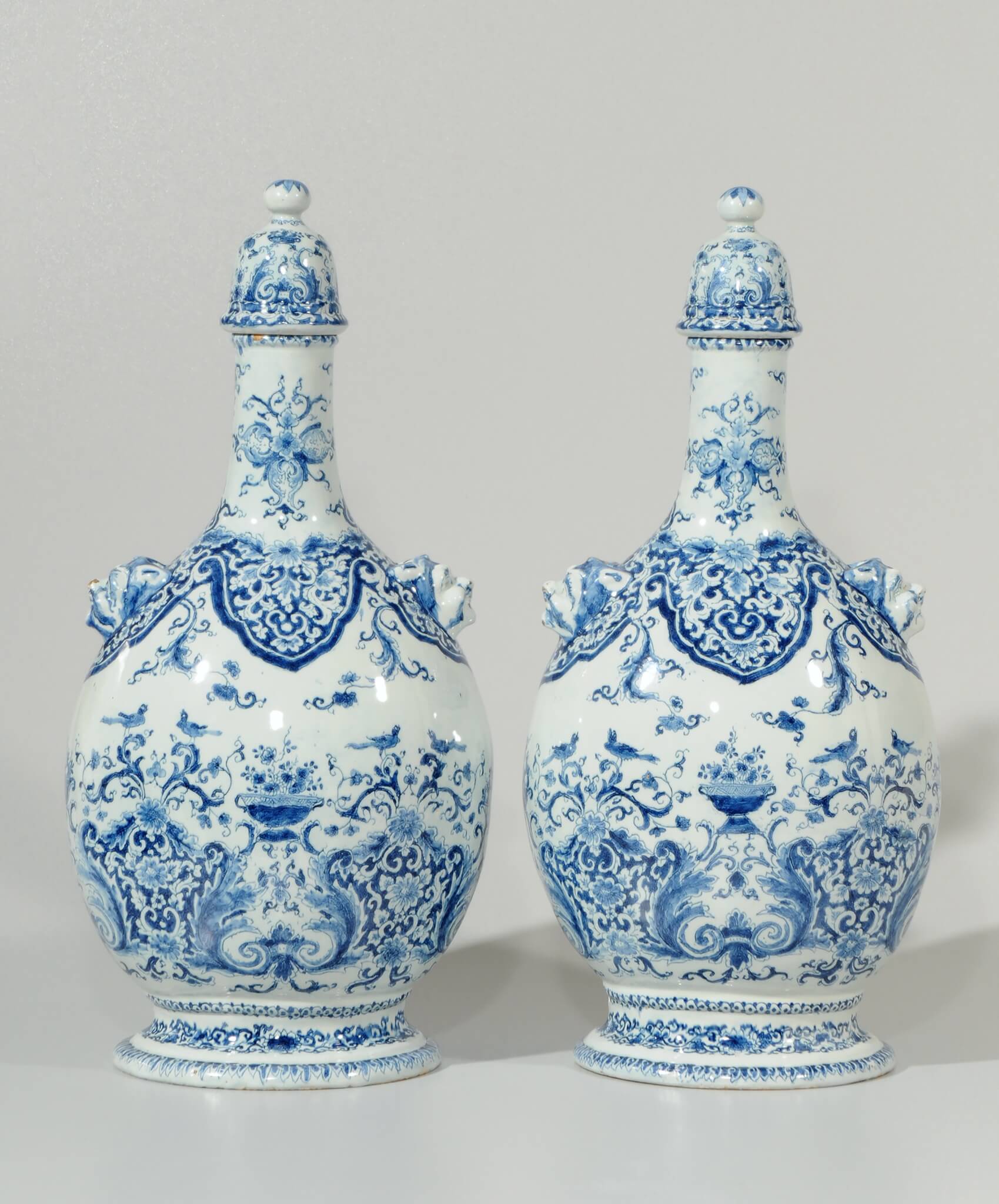 [popup_trigger id="13757″ tag="span"]

[/popup_trigger]
OBJECT
• D8811. Pair of Delftware Blue and White Large Pilgrim Bottles and Covers
Delft, circa 1680-85
All pieces marked 130 W in blue for Jacob Wemmersz. Hoppesteyn, who was the full owner of Het Moriaenshooft (The Moor's Head) factory from 1664 until 1671, succeeded by his widow Jannetge Claesdr. van Straten through 1686
Dimensions
Height: 44.7 cm. (17 9/16 in.)
Similar examples
A blue and white pilgrim bottle of similar shape and with grotesque-mask loop handles, is in the Musée National de Céramique in Sèvres, illustrated by Lahaussois, 1998, cat. no. 76, p. 118. Apparently indistincly marked, but certainly also with the numeral 130, this bottle with scrollwork borders and a pattern with chinoiserie objects indicates a Hoppesteyn style related to the current pair. The Kunstmuseum in The Hague also has a pilgrim bottle of similar shape and with similar chinoiserie and scrollwork decoration, numbered 125 7, illustrated by Van Aken-Fehmers, 1999, p. 181, ill. 1. Both of these two examples lack their covers.
An unmarked pilgrim bottle with stylized scrollwork, which is attributed in style to Hoppesteyn, although otherwise differing in model and decoration from the current pair, is illustrated by Lahaussois, 1998, p. 122, cat. no. 82. Of the same model are two pilgrim bottles marked for Adriaen Kocx at De Grieksche A, both with Hoppesteyn-style borders: one illustrated by Ressing-Wolfert, 1999, p. 25, ill. 9; and the other by Matusz, 1977, p. 21.
A blue and white chinoiserie example with mask handles and applied relief-molded leaves, attributed to Samuel van Eenhoorn at De Grieksche A, is illustrated by Van Dam, 2004, p. 85, ill. 42. A pair of similar shape, with the grotesque masks and applied leaves, was sold at De Roos in Amsterdam, March/April 1914, lot 156. That pair had extraordinary lantern-like covers and paneled decoration and was supposedly marked for Albertus Kiel at De Witte Starre (The White Star) Factory, but more likely the pair was the product of Adriaen Kocx at De Grieksche A, to whom the decoration also can be attributed. A further pilgrim bottle marked for Lambertus van Eenhoorn at De Metale Pot (The Metal Pot) Factory is illustrated by Van Aken-Fehmers, Vol. I, 1999, p. 181, cat. no. 64. This example, as well as the Rijksmuseum bottle, has a flat cover. The current pair with its original covers of an unknown shape, and both marked, is extremely rare.
The lambrequin motif is found also on items produced by De Grieksche A (The Greek A) Factory, both on pieces marked for Adriaen Kocx (1686-1701) and his son Pieter Adriaensz. Kocx (1701-1722), for example illustrated by Van Aken- Fehmers, Vol. I, 1999, pages 104, 105 and 110, cat. nos. 14, 15 and 19. Van Aken-Fehmers indicates on page 104 that the lambrequin motif was already used by the preceding owner, Samuel van Eenhoorn, whose production period from 1678 to 1686 is close to the present pilgrims bottles marked for Jacob Wemmersz. Hoppesteyn.