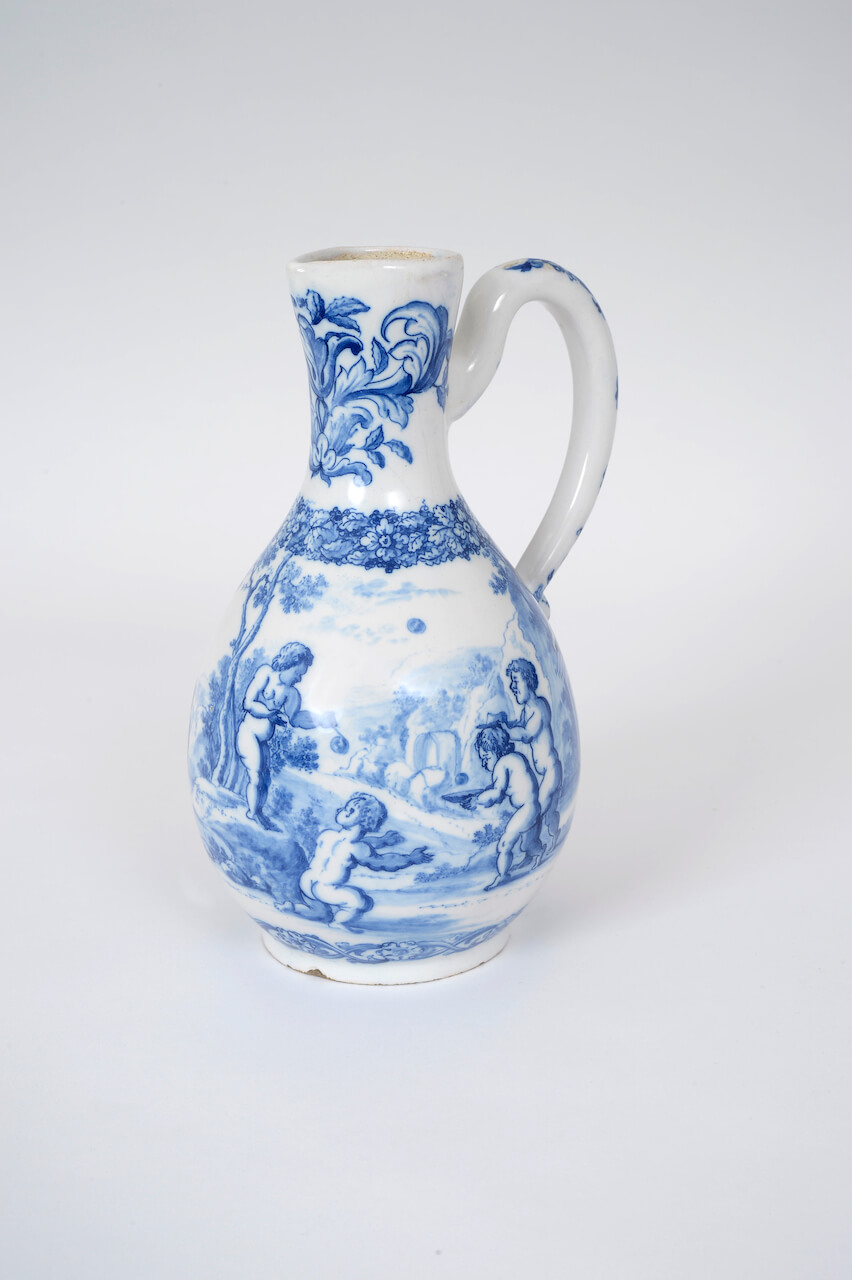 [popup_trigger id="13756″ tag="span"]

[/popup_trigger]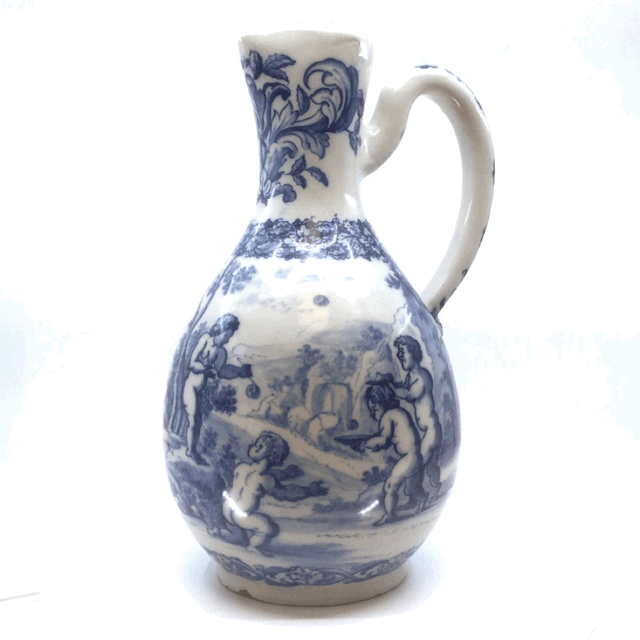 OBJECT
D2158. 'The Stella Ewer'
Delft, circa 1675
Marked IW in blue for Jacob Wemmersz. Hoppesteyn, the full owner of Het Moriaenshooft (The Moor's Head) factory from 1659 until 1671, and succeeded by his widow Jannetge Claesdr. van Straten through 1686
The teardrop-shaped body painted on one side with three putti watching and helping a fourth blowing bubbles near a classical column, and on the reverse with two putti watching two others playing a game of bowls, all in a continuous Italianate hilly landscape beneath a border of blossoms and fruiting grapevines, the front of the slightly flaring neck with a scrolling foliate device, and the loop handle with a lion's mask terminal and decorated with blossoms and foliate strapwork repeated as a border around the lower body.
Dimensions
Height: 23.1 cm. (9.1 in.)
Provenance
The collection of Dr. F.H. Fentener van Vlissingen (1882-1962), Utrecht, and thence by family descent through 2007;
Aronson Antiquairs, Amsterdam, 2008;
Dutch Private Collection
Literature
Described and illustrated in De Jonge 1947, p. 213, pl. 187; De Jonge 1970, p. 44, ill. 35; Aronson 2008, pp. 22-25, no. 12; TEFAF 2008, pp. 178-179
Note
The two scenes of children's games are painted after the engravings, La Fossette (See catalogue 2019) and Les Bouteilles de Savon (See catalogue 2019) by Jacques Stella (1596-1657) from Les Jeux et Plaisirs de l'Enfance, Paris 1657, pls. 14 and 8, respectively. Additionally, the putto standing to the left of the ball game is taken from the print, La Rangette, from the same source. According to the poem of La Fossette, the aim of the 'nine holes' ball game was to fill the center hole, but essentially it refers to the lottery of life at any age.
In the 1969 facsimile, Stanley Appelbaum remarks that the game also was played as a board game, and is known in a version with the ball or marble filling all of the holes in sequence.
This tender child, whose foremost goal
Is filling up the center hole
Uses his brains and skill and might;
But it may happen nonetheless
That purely from capricious spite
The ball will ruin his success
(Translation by Stanley Appelbaum in the 1969 New York facsimile)
The poem underneath the soap bubbles print is a metaphorical reference to the insignificant and evanescent troubles and worries of adults:
Here children scrap and suffer troubles
For nothing greater than soap bubbles
As though for guineas, pounds and pence.
And yet we see among adults
The same ado, the same results
For things of much less consequence.
The Stella prints are known to have been used also on flower holders. Two examples after La Rangette and La Balançoire are illustrated by Van Aken-Fehmers 2007, p. 23, ills. 9a-b, and pp. 170-171, ills. 1a-b, cat. no. 4.11, the latter marked for Adrianus Kocx at De Grieksche A (The Greek A) factory.