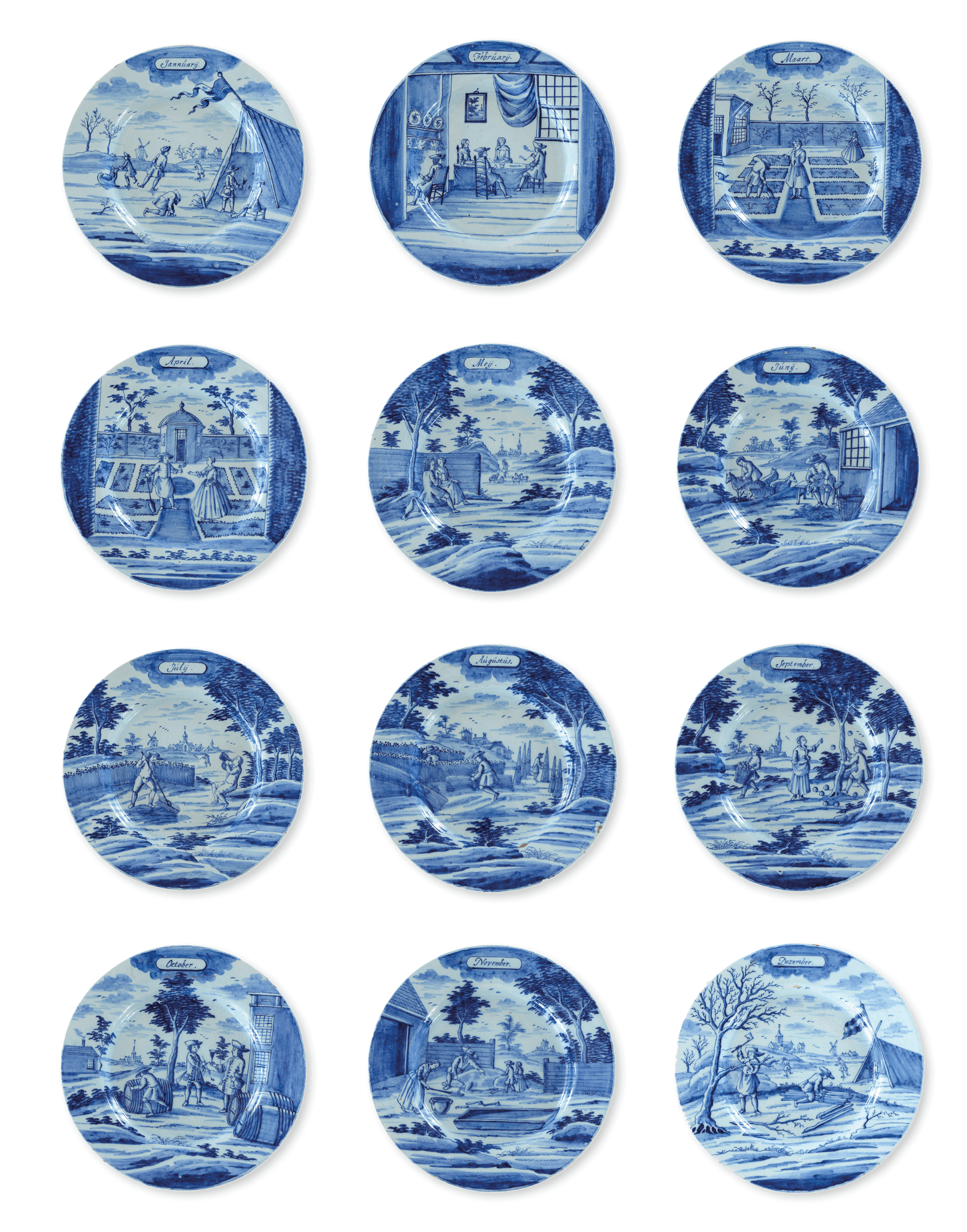 [popup_trigger id="13756″ tag="span"]

[/popup_trigger]
OBJECT
•D2062. Set of Twelve Blue and White 'Months' Plates
Delft, circa 1780
Marked on all but July with an axe in blue for De Porceleyne Byl (The Porcelain Axe) factory
Each painted across the interior with figures at various appropriate pursuits and reserved at the top of the rim with an oval panel inscribed with the name of a month:
Jannúarÿ depicting skaters on a canal and a gentleman seated in a tent and being served a goblet of wine;
Febrúarÿ depicting an interior with a gentleman warming his hands and feet at the fireplace and looking toward two couples seated at a table;
Maart depicting a man smoking and supervising a gardener while a woman strolls beyond;
April depicting a gardener supporting a spade and offering a posy to a lady;
Meÿ depicting a pair of sweethearts seated beneath a tree with a shepherd tending his flock in the distance;
Júnÿ depicting a man shearing a sheep near a youthful shepherd and his flock;
Júlÿ depicting a harvester raking hay while another drinks from a bottle;
Aúgústús depicting three men harvesting and bundling hay;
September depicting a woman pointing at the apples falling from a tree being shaken by a man while another man carries away a basket full of the fruit;
October depicting a man rolling a wine barrel near two gentlemen, one holding a bottle and offering the other a goblet of wine;
November depicting two children watching their father and mother bleed a pig;
Dezember depicting a man chopping branches off a tree while another bundles them before a man smoking in a tent near skaters.
Dimensions
Diameters: 25.3 to 25.7 cm. (10 to 10.1 in.)
Provenance
Aronson Antiquairs, Amsterdam;
Czech Private Republic
Similar examples
Another set of De Byl month plates in the Philadelphia Museum of Art (inv. nos. 1921-3-31-40, 89, 90) is illustrated in Schaap 2003, p. 51; and in the collection of the Los Angeles County Museum of Art (LACMA) from the William Randolph Hearst Collection (50.28.12.1 – 12). An early eighteenth century set, including more figures and with the signs of the zodiac instead of the names of the months, marked for De Witte Ster (The White Star) factory, in the Kunstmuseum, The Hague, is illustrated in Van Aken-Fehmers 2001, pp. 250-251, no. 69.