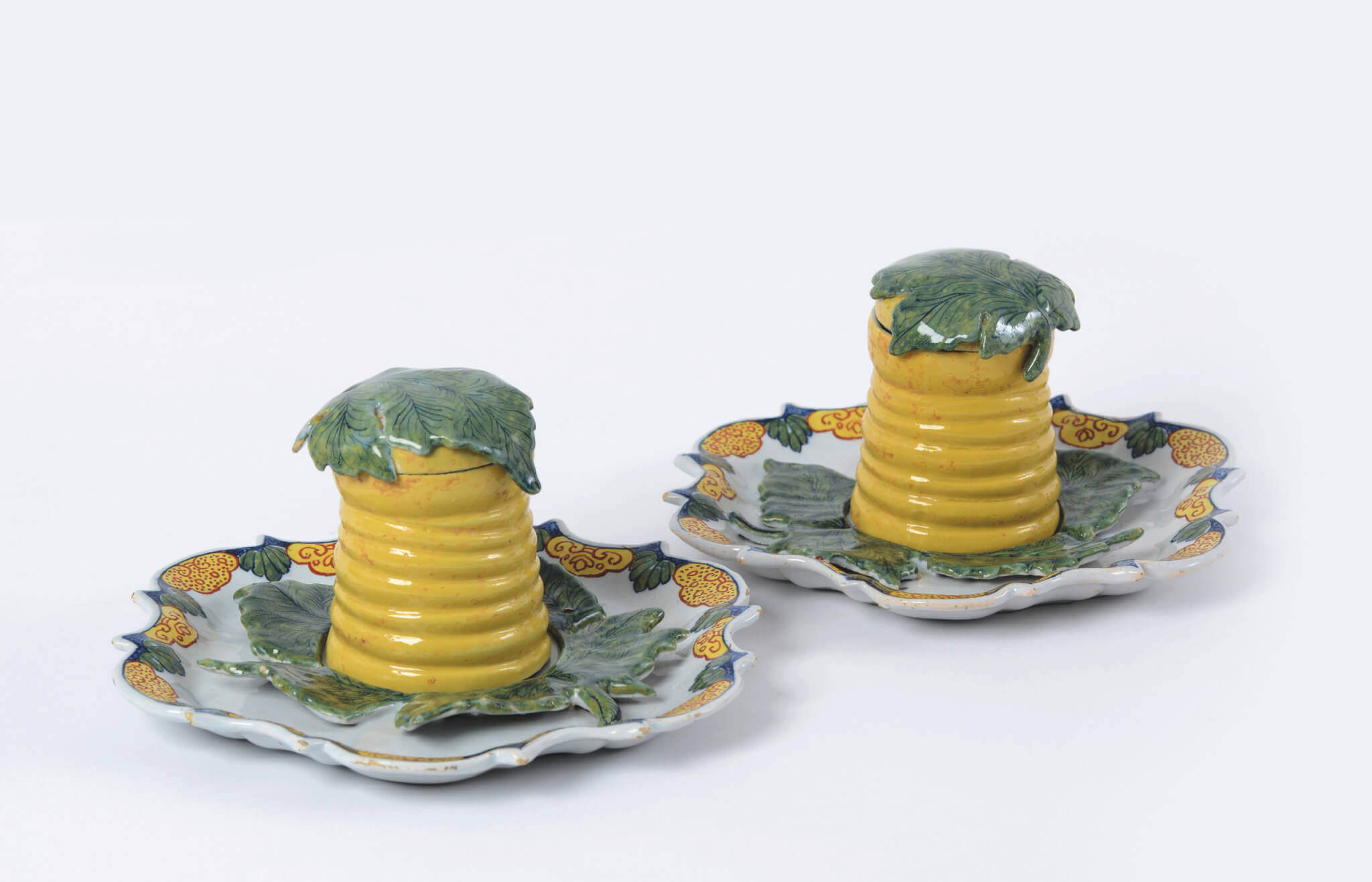 [popup_trigger id="13756″ tag="span"]

[/popup_trigger]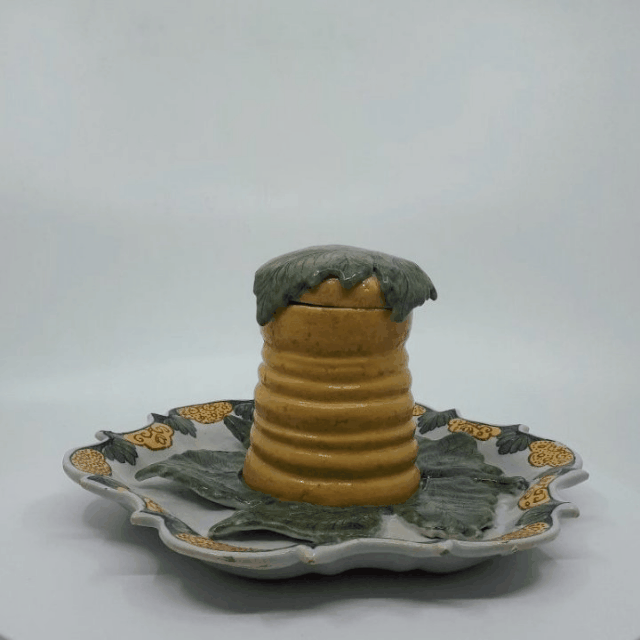 OBJECT
•D2039. Pair of Polychrome "Honey" Pots, Covers and Stands
Delft, circa 1760
Marked A/D/4 in blue for Jan Theunis Dextra, the owner of De Grieksche A (The Greek A) factory from 1758 to 1764
Each slightly tapering cylindrical pot formed as a horizontally-coiled beehive and the slightly domed cover overlaid with a blue-veined green leaf with a short green stem repeated in high relief on the stand, its center reserved with a shallow circular well painted with a yellow, iron-red and blue flower growing on a blue stem with blue-veined green leaves, the scalloped and barbed rim edge with a border of demi-ruyi-heads decorated with iron-red scrolls and dots alternating with green leaves below blue-dotted green panels.
Dimensions
Height of pots: 8.5 cm. (3.3 in.)
Diameter of stands: 17.5 cm. (6.9 in.)
Note
Although this model has historically been described as honey pots and indeed resemble beehives, based on the model it is plausible that these pots were actually intended for butter. This becomes evident when comparing the shape of the tubs to the four stacks of butter transported on the boat, which is illustrated and described on pp. 89-91, ill. 48.
Before the prevalence of sugar, honey was used as a sweetener. Honey is the oldest sweetener existent in the world since the evolution of man while the accurate date of origin of this sweetener remains unknown. Honey use and production has a long and varied history. Humans have eaten, and fixed their wounds with honey and traded with it since history has been recorded. Gradually in the sixteenth and seventeenth centuries, refined cane sugar replaced honey as sugar became increasingly affordable. Also, the taste of sugar is more neutral than honey, which was possibly too strong for some recipes or drinks such as tea or coffee. Moreover, honey sometimes contained a disagreeable amount of beeswax. And lastly, the solidity of the sugar also allowed for more elaborate confections, which were simply impossible to make with liquid honey or molasses. The fact that sugar was being used more and more on the table, also supports the assertion of another attribution of these elegant pots.
Similar examples
Two honey pots and covers of this rare model, but without their stands, are illustrated in Lavino 2002, p. 130 (left). Another pair of honey pots, marked for Jan Theunis Dextra, is illustrated in Aronson 2014, pp. 116-117, no. 58. A pineapple-shaped covered jam pot with a stand of the same shape as the present examples, is in the  Kunstmuseum, The Hague (inv. no. OC (D) 45-1920), illustrated in Van Aken-Fehmers 2001, p. 238, fi g. 1; and Van Aken-Fehmers 2012, p. 66, pl. 34 (center).