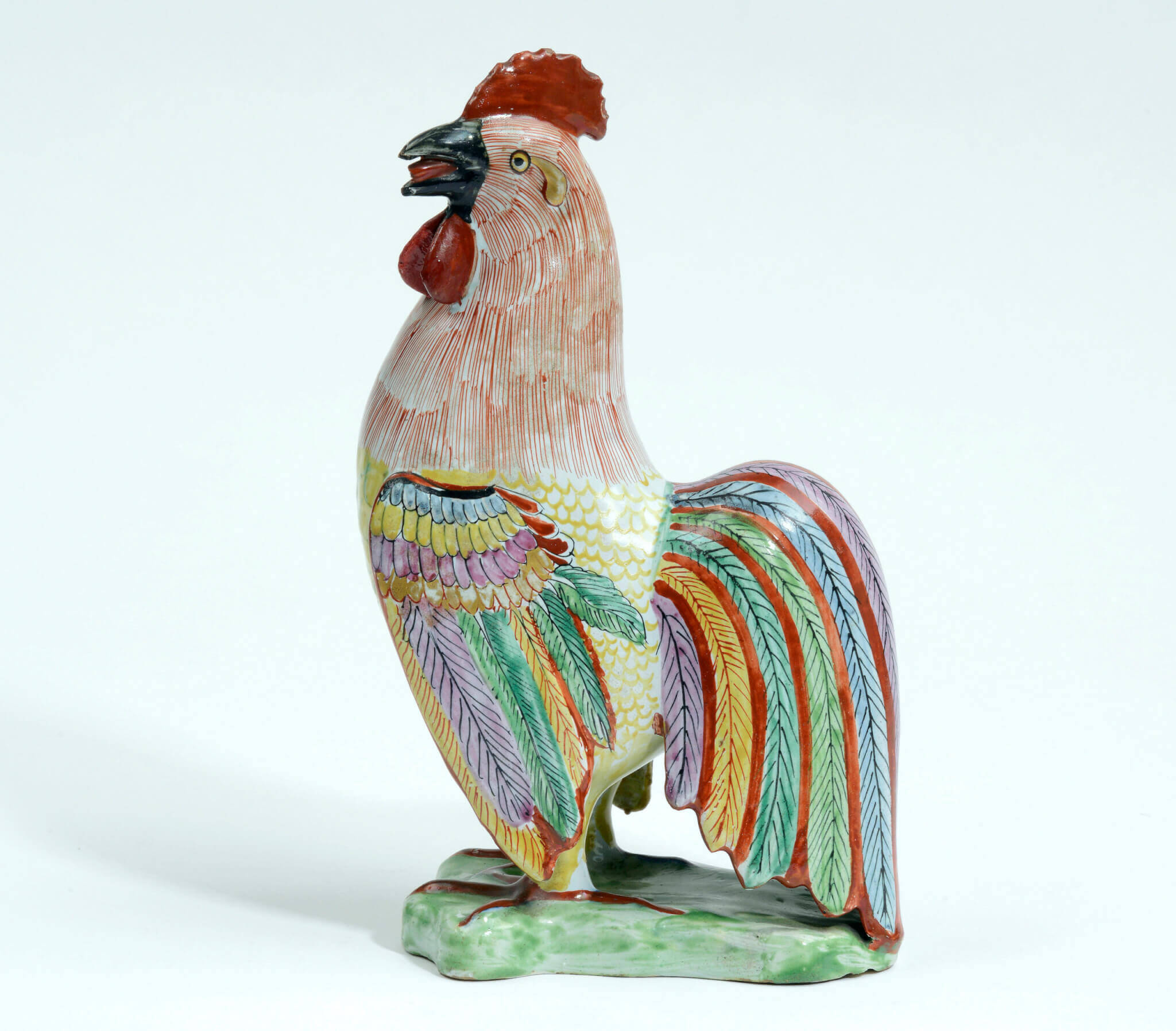 [popup_trigger id="13756″ tag="span"]

[/popup_trigger]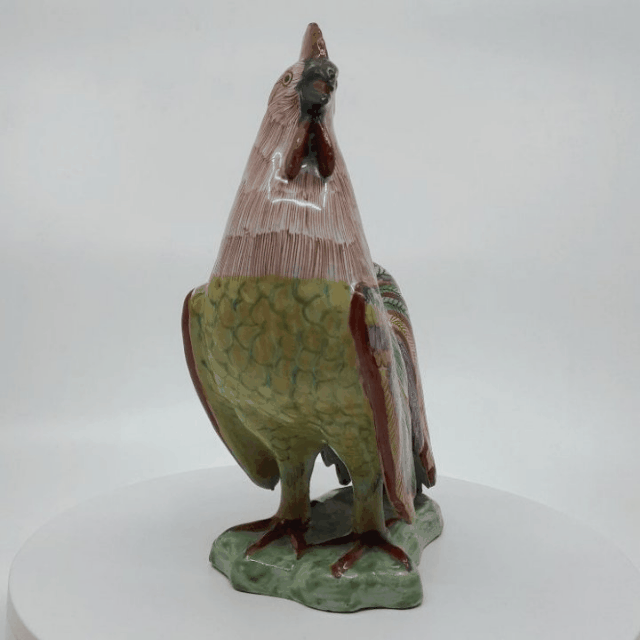 OBJECT
•D2025. Polychrome Petit Feu Figure of a Cockerel
Delft, circa 1740
With plumage finely delineated in famille-rose enamels and gilding, his black beak open as if to crow, modeled standing on a green conformingly-shaped low mound base.
Dimensions
Height: 21.5 cm. (8.5 in.)
Provenance
The Vanhyfte Collection, Belgium;
Aronson Antiquairs, Amsterdam, 2004;
The Van der Vorm Collection, The Netherlands
Note
Cockerels or roosters of this rare and robust model must have been taken from either a late seventeenth-century Japanese Arita porcelain original, an example of which is in the Burghley House Collection, Stamford, England, illustrated in the exhibition catalogue of The Burghley Porcelains (Japan Society, New York 1986), p. 223, no. 90, or equally likely, a Dehua blanc-de-Chine figure of circa 1700, an example of which, in the Groninger Museum, Groningen (inv. no. 1948-147) is illustrated by Jörg 1983, p. 93, no. 50, who on p. 185, no. 140, also illustrates a Delft polychrome counterpart of that same early date in the Kunstmuseum, The Hague (inv. no. OCD204-04).
The same cockerel is illustrated also by Fourest 1980, p. 161, pl. 159. Given the extensive trade by the Dutch East India Company (VOC) with both Japan and China at this time, it is possible that either model served as the prototype for the present cockerel. The decoration is most likely to have been inspired by the early Chinese famille-rose porcelains of the Yongzheng Period (1723- 35). To achieve this delicate palette on tin-glazed earthenware, the enamels and gilding had to be fired at a lower temperature in a 'muffle kiln,' and the technique is referred to as 'petit feu.'
Similar examples
This popular model must have been made at various Delft factories over a period of at least three decades, the earliest having been decorated in a grand feu palette of iron-red, green and blue, an example of which, in the Kunstmuseum,The Hague, is illustrated by Jörg, op. cit., p. 185, no. 144; and by Fourest 1980, p. 163, ill. 159. Another with the PAK monogram for Pieter Adriaensz. Kocx of De Grieksche A (The Greek A) factory (1701-22), in the Evenepoël Collection in the Musées Royaux d'Art et d'Histoire, Brussels, is illustrated by Helbig, vol. I, p. 122, fi g. 87; and by Mariën-Dugardin 1971, no. 56.
Two roosters with the LVE mark of Lambertus van Eenhoorn, the owner of De Metaale Pot (The Metal Pot) factory (1691-1721), are illustrated by De Jonge 1965, p. 154, ill. 84; and De Jonge 1970, p. 56, ill. 52. Others are illustrated in the Rijksmuseum, Amsterdam, Tentoonstelling van Oude Kunst 1936, opp. no. 643; and in Frederik Muller & Cie, Amsterdam, 1928, lot 164. Another comparable example is illustrated in Aronson 2007, pp. 32-33, no. 22 and 2015, pp. 62-63, no. 33.