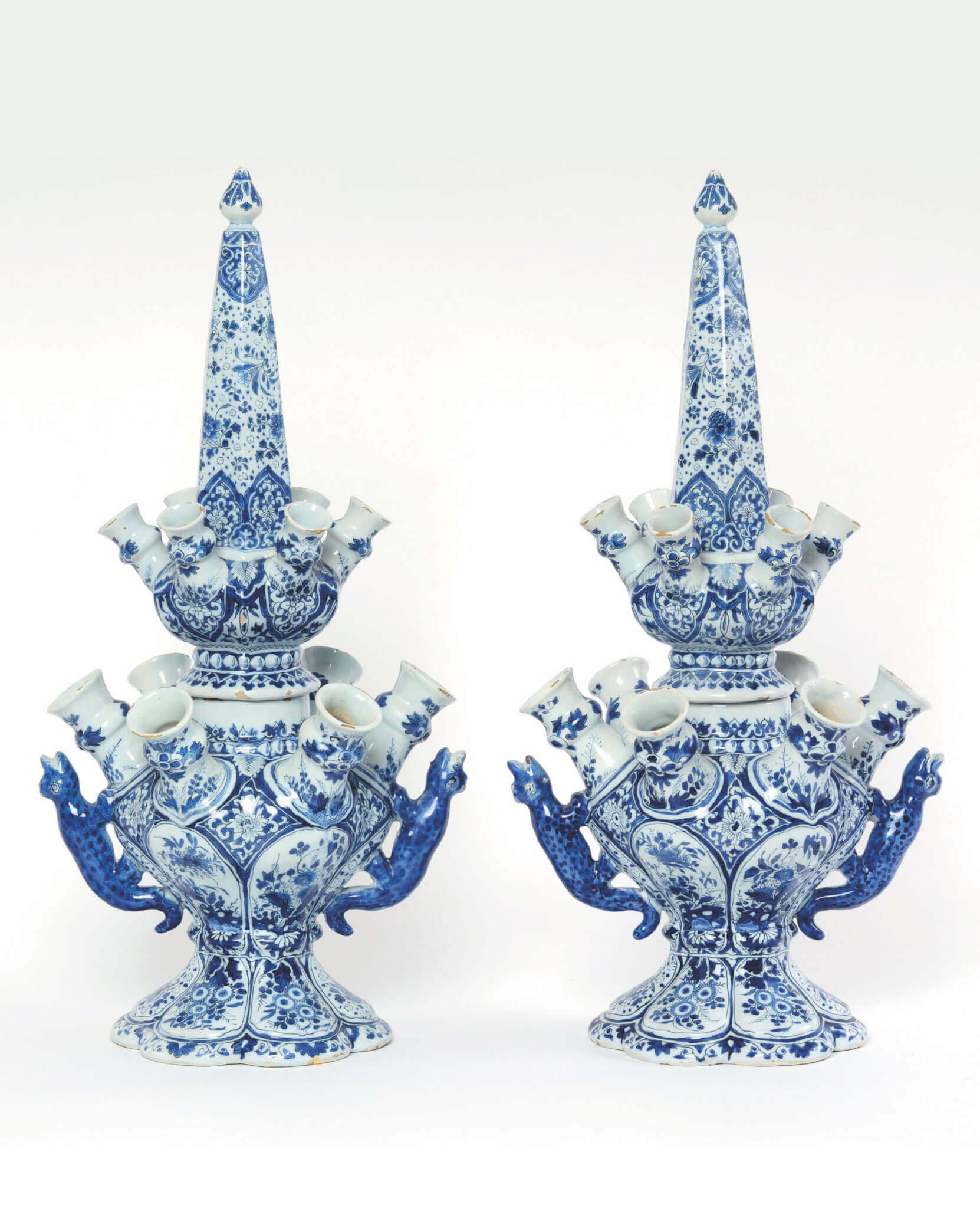 OBJECT
•D2005. Pair of Blue and White Flower Vases
Delft, circa 1695
Marked AK and on each piece a slashed O in blue for Adrianus Kocx, the owner of De Grieksche A (The Greek A) factory from 1687 to 1701
Each formed as a hexafoil baluster-form vase painted on the lobed body with panels of oriental birds and flowers above further floral panels on the molded foot, the sides affixed with spotted blue dragon handles and the shoulder issuing six knopped tubular spouts painted with flowers and alternating with diamondshaped blue-ground floral panels, the hexagonal covers formed as obelisks patterned with floral sprigs and dots between floral lappets beneath the teardrop finial and above and below the six knopped spouts, the waisted neck painted with a collar of 'pearls' echoing a similar collar around the neck of the vases.
Dimensions
Heights: 47 cm. (18.5 in.)
Provenance
Aronson Antiquairs, Amsterdam, 2004;
American Private Collection, 2019
Note
Dutch Delftware thrived in the late seventeenth century under the patronage of Queen Mary II, who was passionate about Chinese blue and white porcelain and its local counterpart. The Delft factories also responded to the Queen's love of gardens, and they developed the technical skills and virtuosity in the production of all sorts of 'vases with spouts' to display flowers.
On behalf of Queen Mary, Delftware factories created masterpieces to hold her prized flowers. Flower vases, like the present pair, were technical and visual showpieces. Inspired by Queen Mary, it also became fashionable in aristocratic circles to decorate their residences with vases full of flowers. For instance, large vases were used to decorate the fireplace in the summer, and smaller vases were placed on the table during a festive meal.
Although the vases in the seventeenth and eighteenth centuries were filled with all varieties of cut flowers, there has been much misunderstanding about this. In the mid-nineteenth century, when collectors and art historians rediscovered Delft earthenware, they must have thought that the vases were intended to be filled with hyacinth bulbs or flowers, as they came to be known as 'bouquetiers à Jacinthes'. Not long thereafter, however, a more familiar name came into fashion, which is still used today: 'tulip vase' or 'tulipière,' ascribed to these vases on the revised supposition that they were intended specifically to hold the precious and popular tulips.
The multi-tiered vases are magnificent to observe on their own, and only more spectacular when viewed with an abundance of colorful, patterned flowers, as they were intended to display.
Similar examples
Although vases with spouts have been produced in numerous forms and sizes, and different molds were used to construct the flower vases, there are no identical vases to the present pair. A single unmarked flower vase rather similar in model and size, but with different decoration and beast-form handles is illustrated in Aronson 2011, pp. 44-45, no. 26. An almost identical example in a private Dutch collection was sold at Christie's Amsterdam, 26 June 2007, lot 40.
Further a single flower vase that is rather similar in model is a blue and white vase marked for Lambertus van Eenhoorn, the owner of De Metaale Pot (The Metal Pot) factory from 1691 to 1721, in the collection of the Oranienbaum Palace (inv. no. II-1436). The vase, which stands 46 cm. (18.1 in.) tall and can be dated around 1695, has an identical shape, but is lacking the salamander or dragon handles. This would suggest that molds were occasionally exchanged between factories, and in this instance between friendly brothers-in-law, when important commissions required certain elaborate forms. The exchanging of molds between De Metaale Pot and De Grieksche A factory can also be seen in the case of bowl-shaped flower vases. Although this type of flower vase was mostly produced under Adrianus Kocx at De Grieksche A factory, there is one example of an identically shaped vase marked for Lambertus van Eenhoorn. The handles in the shape of salamanders on the present pair of flower vases, which were separately formed in a plaster mold, was a decoration that is often seen on flower vases made under Adrianus Kocx.