Kingston Lacy is an elegant seventeenth-century Italianate mansion and estate in Dorset, southern England. It was built for Sir Ralph Bankes, after the family's main seat, Corfe Castle was ruined during the Commonwealth. The mansion remained in the Bankes family for more than 300 years and its sumptuous interiors contain some of the oldest established gentry collection of paintings in Britain. The collection includes works by Rubens, Brueghel, Van Dyck, Titian and Tintoretto; and a large collection of Egyptian artefacts. Among the lavishly decorated interiors is the Spanish Room, with an early seventeenth-century Venetian ceiling and gilded leather hangings; neo-Caroline ceiling plasterwork; oak and cedar panelling; and a coved and painted eighteenth-century saloon ceiling.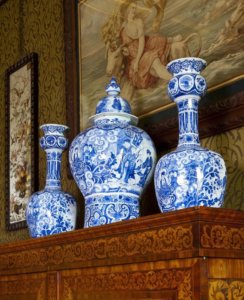 Kingston Lacy also houses a small collection of Dutch Delftware. These Delftware objects were probably purchased by Margaret Parker, with whom John Bankes married in 1691. She dedicated herself to the decoration of the house and made several purchases in the field of Delftware. The most outstanding objects that she assembled are a late seventeenth-century three-piece composed garniture and a pair of flower holders with fanning rows of spouts marked for Lambertus van Eenhoorn. Another interesting highlight is a late seventeenth-century flower vase with a fanning row of spouts with the bust of a gentleman that might be William III, located below a wreath on the front.
In the nineteenth century, Kingston Lacy was encased in stone and its interior refitted to provide a suitable setting for the collection of paintings and other works of art, such as Egyptian antiquities, acquired by William John Bankes (1786-1855). The house was bequeathed to the National Trust upon the death of Henry John Ralph Bankes in 1982.