The Château de Saumur in France (Maine-et-Loire département) houses a beautiful museum on its first floor, displaying more than 1500 pieces of ceramics. The collection mostly contains French faience from Nevers and Rouen, but also includes examples from all over the world. Many of these objects were given by the Count Lair in 1919. Charles Lair was a lawyer and chamberlain of the Pope, and was among the second generation of Delftware collectors.
The Delft collection is small, yet diverse, comprising approximately thirty pieces. It includes some blue and white chinoiserie and Imari palette Delftware, such as a beautiful glass cooler marked PAK for Pieter Adriaensz. Kocx, the owner of De Grieksche A (The Greek A) factory from 1701 to 1703, or his widow Johanna van der Heul from 1703 until 1722.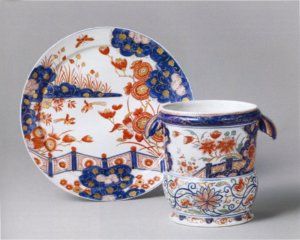 The collection also includes European subjects such as Dutch landscapes and biblical scenes. An elegant teapot from circa 1700, marked for De Witte Ster (The White Star) factory also deserves mention. The shape of the spout and the cover recalls the red stoneware Yixing teapots imported by the VOC in the seventeenth and eighteenth centuries.
For more information about the ceramic collection of the Château, please consult the catalogue written by C. Lahaussois and A. Faÿ-Hallé, Une collection d'exception, les céramiques du château-musée de Saumur, Saumur, 2017.