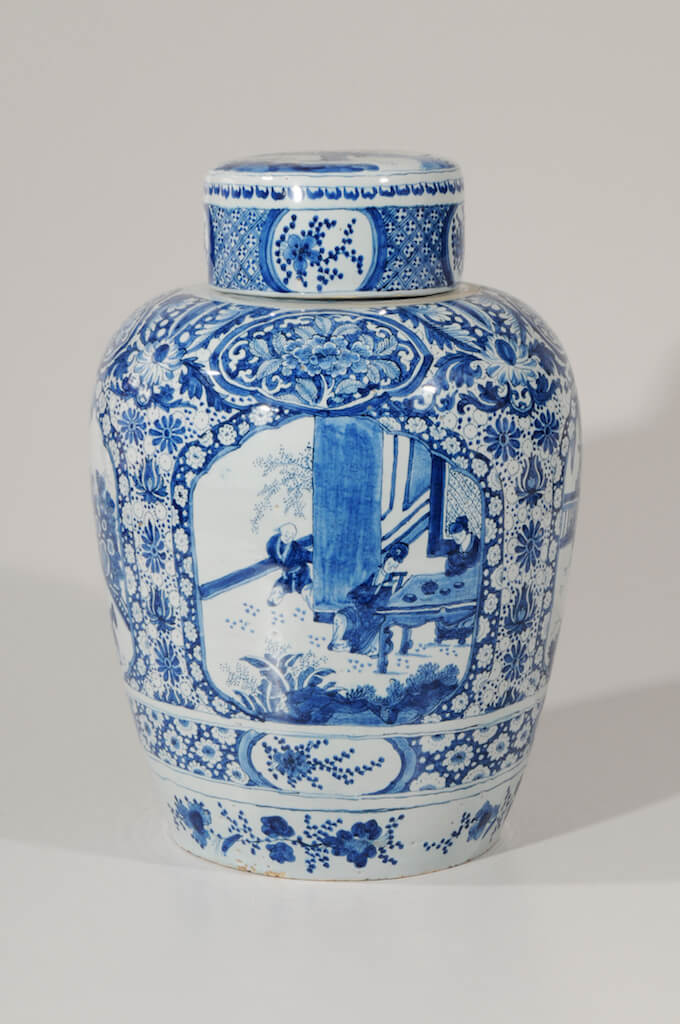 Located in the west side of Oude Delff street, De Witte Ster (The White Star) factory was formerly a brewery. In 1660, two brothers-in-law, Willem Cleffius and Gijsbrecht Lambrechtsz. Cruyck, combined their assets to purchase a portion of the brewery. The two men, one an Amsterdam merchant, the other a Delft potter, had the collective skills and experience to build a successful company. They soon acquired the entire brewery, a purchase that included two houses and a yard.
A document from of the same year indicates an agreement to transform the brewery into a pottery. In 1661, the two owners were joined in partnership by the siblings Nicolaes Woutersz. van der Leth and Cornelia Woutersdr. van der Leth. After the passing of his wife, Willem Cleffius married Cornelia Woutersdr. van der Leth, and in 1677 bought the shares owned by his brother-in-law. Until his death in December 1679, he and his wife were the sole owners of the factory. As noted in our article about Willem and Lambertus Cleffius, the Cruyck, the Cleffius and the Van der Leth families used their marital and business connections to exert considerable influence in both the Delftware industry and the larger economy of Delft between 1625 and 1700. A long succession of owners contributed to the pottery's reputation over time until its dissolution in 1803 by Cornelis van den Berg.[1]
The pottery earned early success, proven by the fact that it was equipped with two ovens by 1668.[2] Further, the objects that remain today attest to the factory's expertise in a range of earthenware, from functional, everyday objects to extraordinarily refined ornamental pieces.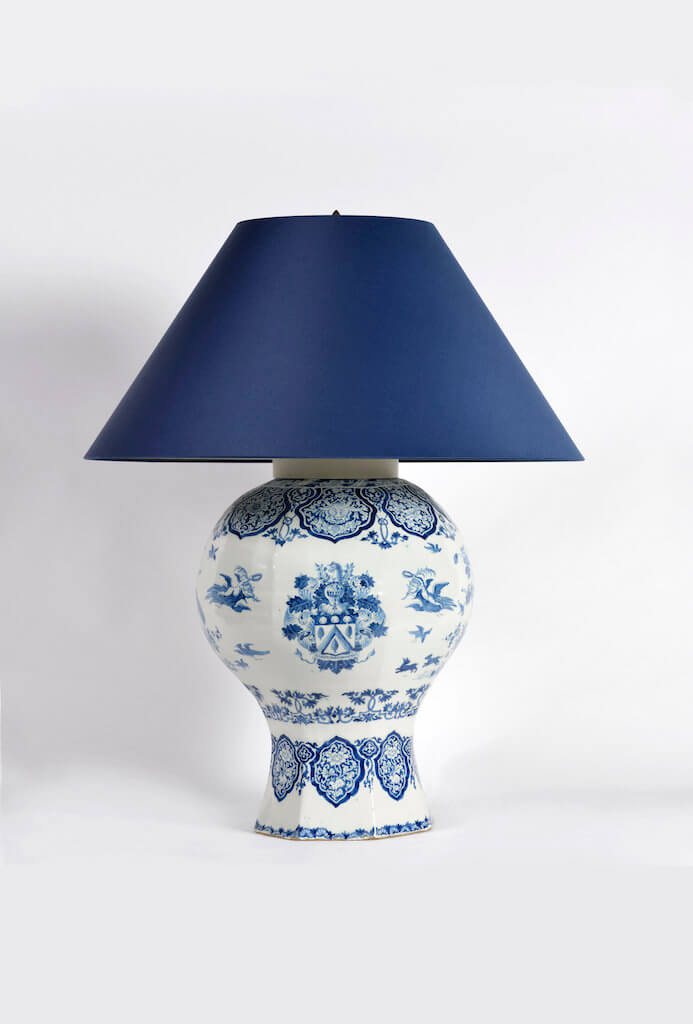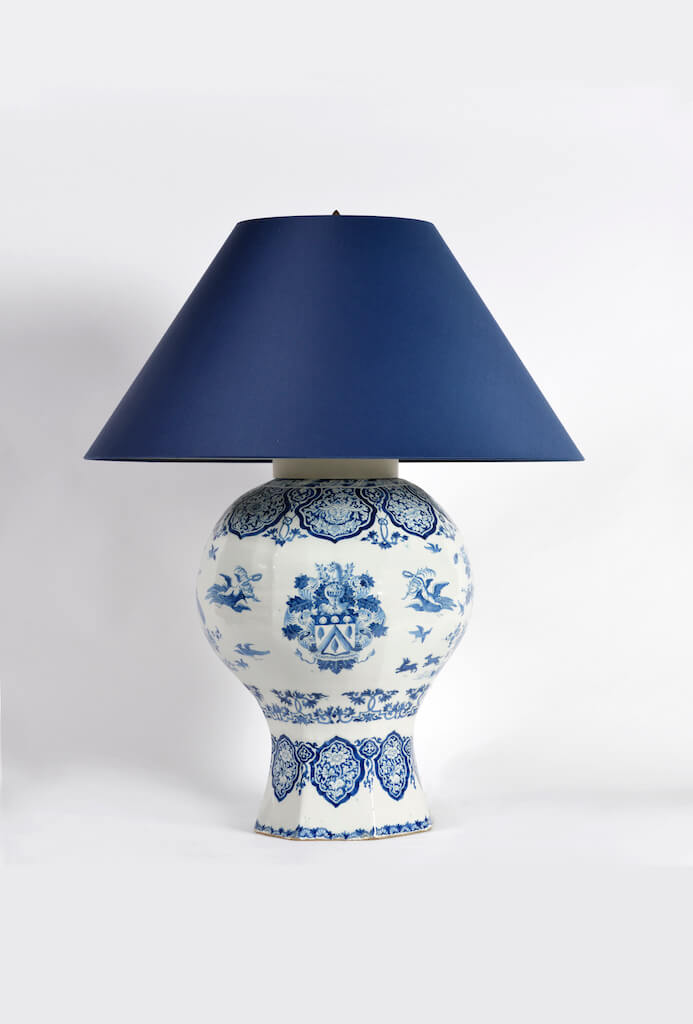 Some of the most beautifully executed objects that are signed with a star were produced under the ownership of Dirck Witsenburgh, a Delft potter who was originally from the city of Alphen. On April 27, 1691, he took an oath as a poorter, a status that allowed him to live within the city gates and have access to city rights.[3] With his first wife, Hillegonda Dirksdr Verbeecq, the couple bore four children. After the death of Hillegonda he married Sara Fest, with whom he bought a quarter of De Witte Ster factory in 1690. Outlined in the contract signed between the co-owners, he and his wife were responsible for production management and trading during a period of at least three years.[4] They had to oversee the acquisition of material, the sale of all the fired and finished earthenware and "porcelain" products, and with the utmost care, accuracy, diligence, and attention to details, manage the firm to the greatest benefit of the community. In return, they could live on the premise of De Witte Ster with the use of light, fire and beer without cost. Furthermore they received a stipend of "400 florins and a half hogshead of good french wine" in the first year.
In Witsenburgh's function as a partner in De Witte Ster from September 1690 onwards, he introduced his son Cornelis in 1696 as meester (master) of the factory, which by that time must have had a considerable number of employees. In the same year, Witsenburgh engaged Casper Gonnet as a factory assistant. Three years later, his son Cornelis became the foreman of De Witte Ster.
By the end of the seventeenth century, the factory marked its pieces with a star-shaped trademark, identifying the brand to its customers. At times, the star was accompanied by the initials of the potter. The objects made during Witsenburgh's ownership are often marked by the letters WB, followed by a star and sometimes a number.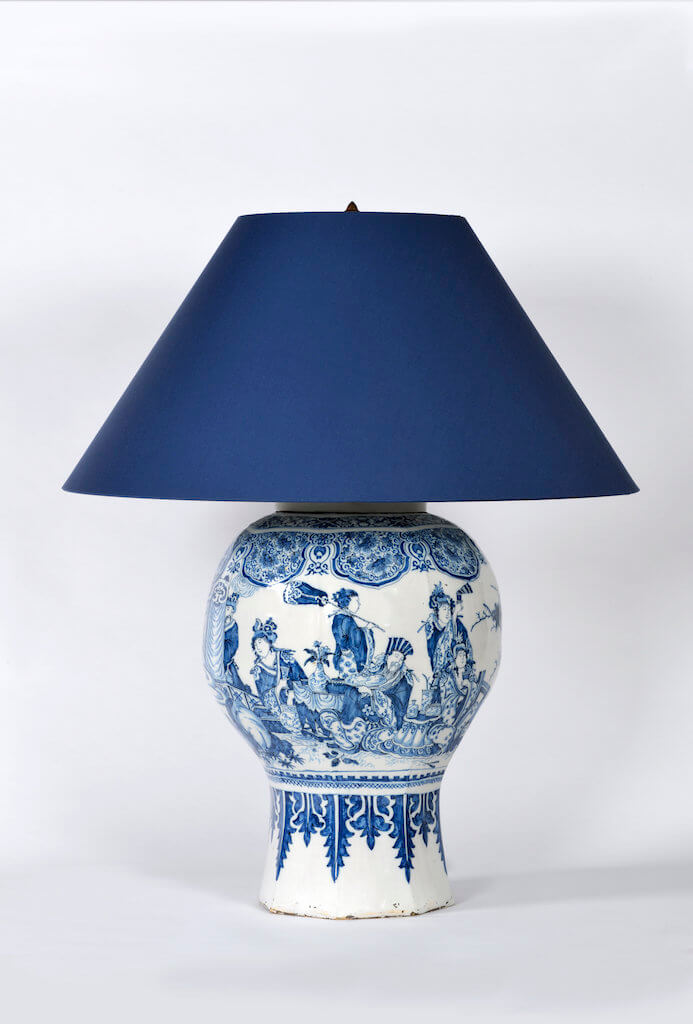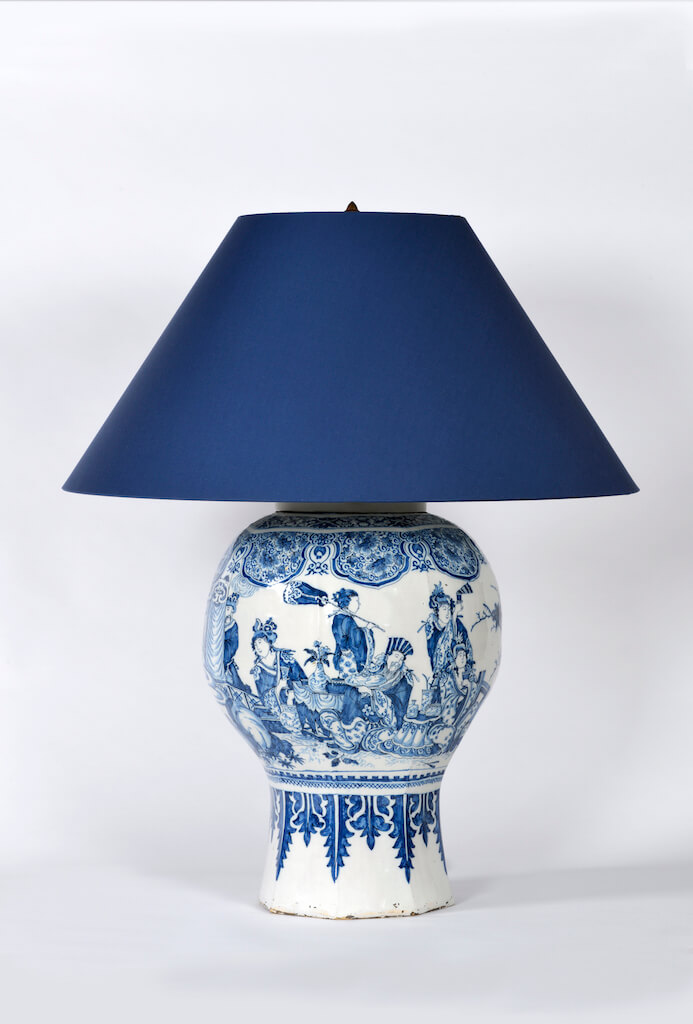 Although there are only a few known objects made under Witsenburgh's ownership, they are all of remarkable quality. Two vases marked for Witsenburgh, which are now converted into lamps, are in our collection. The first one is painted on the front with the coat of arms of the Creagh family of Ireland, surmounted by a helmet and a horse's head and flanked by mantling. The family motto is inscribed below the coat of arms: VIRTUTE ET NUMINE ('By virtue and providence'). The other side of the vase is painted with the monogram WM for William and Mary, indicating that this object was most likely a royal gift. A section on the side of a pedestal also marked for Dirck Witsenburgh and decorated with the same monograms WM within a laurel wreath and also displaying the coat of arms of the Creagh family was sold at Christie's in 2002.
It is not uncommon to find Delftware with the royal coat of arms in noble collections. For example, in 1695 King William made a royal progress through England, visiting fifteen noblemen in their residences. Among them was Robert Spencer (1641-1702), the 2nd Earl of Sunderland. In his house, Althorp in Northamptonshire, was a pair of flower vases with the William Rex monogram and a bust of William III, marked for Lambertus van Eenhoorn of De Metaale Pot (The Metal Pot) factory. This suggests that the King may have offered specially commissioned pieces or some of his wife's ceramics as gifts during this progression.
The second vase in our collection is painted with a group of Oriental figures and their attendants participating in a tea ceremony on one side, and an oriental man seated in front of his village on the other side. Like many of the objects made under Witsenburgh's management, the painter has magnified the central elements by skillfully manipulating different types of ornamentation. The abundance of motifs featuring leaves and ribbons are characteristic of the style he implemented. This piece is also marked with a star, however the accompanying letters are WP and their meaning is unknown. Despite these unknown initials, the vase can be attributed to Witsenburgh based on its similarity to a marked bottle vase marked for him and painted with two identical oriental characters.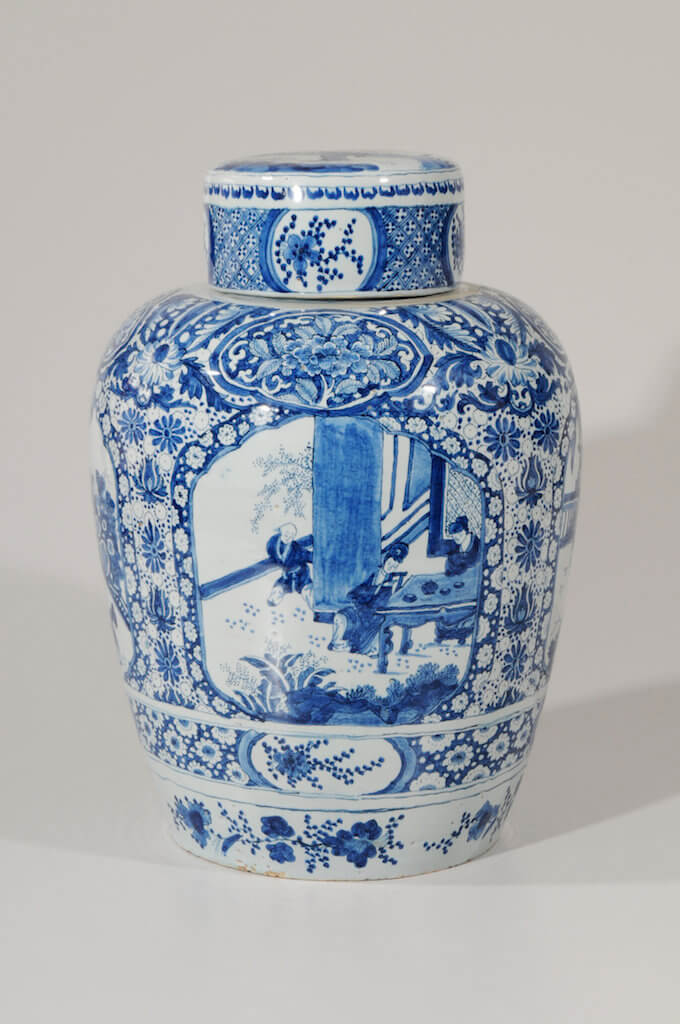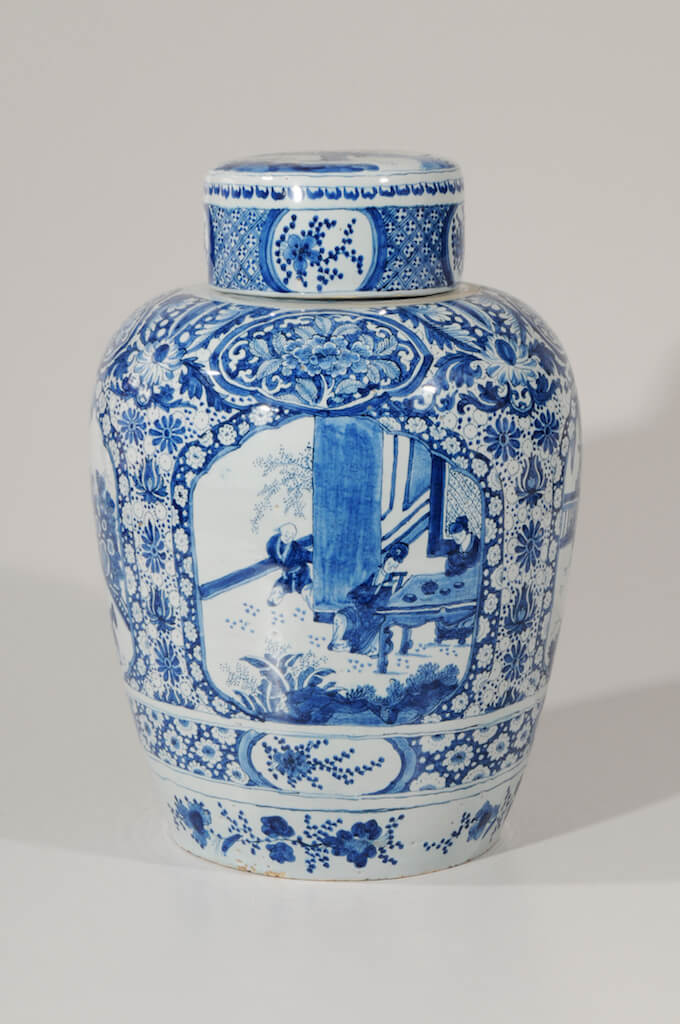 A third star-marked object also decorated with chinoiserie deserves to be mentioned. This elegantly decorated blue and white jar with cover is marked with a dotted DW monogram above 3*6, probably for Theodorus Witsenburgh. Four large floral-bordered panels of chinoiserie figures depict either a youthful attendant approaching a couple seated at a table set for tea, or a 'Long Eliza' standing between two playful boys in a fenced garden. Characteristically, the profusion of ornamentation between the chinoiserie scenes on these objects distinguishes the work of the famous factory.
Unfortunately, a comprehensive inventory of De Witte Ster was never produced. Nevertheless, a portion of inventory is known in the usual objects of plates, dishes and cows, as well as flower pyramids, whose records were included in subsequent sales of the pottery. Estate inventories show that in 1723 the entire purchase price for the pottery included two pyramids and two major (garniture sets). For more than fifty years, these pyramids were displayed in the front of the shop, probably as an example of the factory's laudable abilities.
At the beginning of the eighteenth century, the company encountered financial troubles. In order to pay back its creditors, the factory was sold in 1705 to Dammas Hoffdijck and Jacobus de Lange.[5] Dirck Witsenburgh moved to Bruxelles, where he partnered with Cornelis Mombaers. Ruined by the war of the Spanish Succession (1701-1714), he returned to Holland two years later. In 1709, he died in Rotterdam.[6]
Notes
[1]  W. Hoekstra-Klein, Geschiedenis van de Delftse Plateelbakkerijen, De Witte Starre 1660-1803, deel 14, 2007 p. 128.
[2]  M.S. Van Aken-Fehmers, Delfts aardewerk. Geschiedenis van een nationaal product, Volume II, Zwolle/Den Haag (Gemeentemuseum) 2001, p. 245.
[3] H. Havard, La Céramique Hollandaise, Histoire des Faïences de Delft, Haarlem, Rotterdam, Arnhem, Utrecht, etc. et des porcelaines de Weesp, Loosdrecht, Amsterdam et la Haye, Volumes I and II, Amsterdam 1909, p. 177.
[4] Hoekstra-Klein 2007 (note 1) p. 34.
[5] Hoekstra-Klein 2007 (note 1) p. 81.
[6] J. Helbig, Faïences Hollandaises, XVIIe- XVIIIe-début XIXe s., Volumes I and II, Musées Royaux d'Art et d'Histoire, Brussels (no date), p. 169.