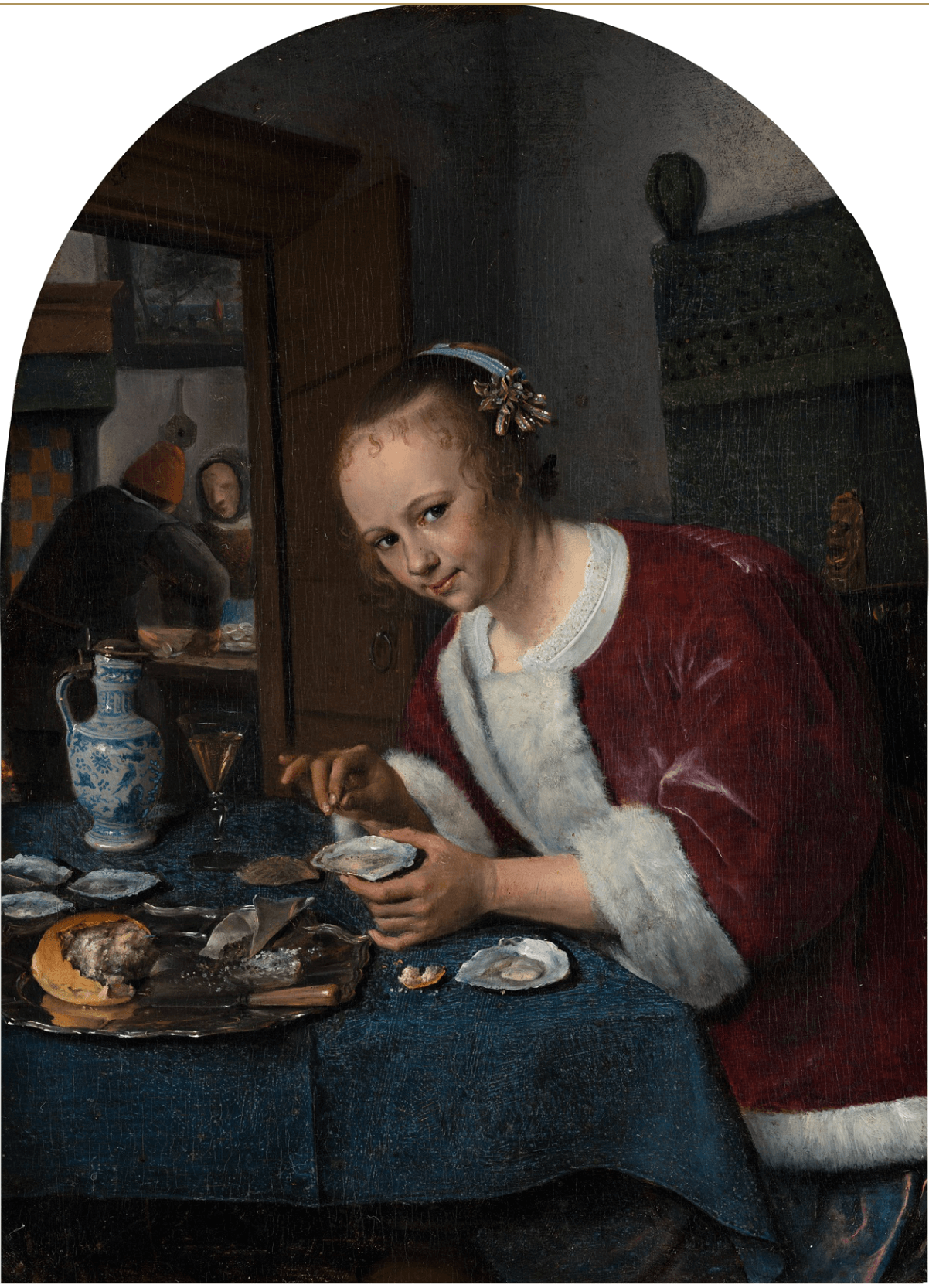 Delftware in Seventeenth-Century Paintings
Although porcelain features in hundreds of seventeenth century Dutch still life paintings, paintings portraying Dutch Delftware are more rare. During the seventeenth century Dutch artists had easier access to Chinese porcelain, which was imported to the Netherlands by the Dutch East India Company (VOC) at the beginning of the century. Meanwhile, the production of Delftware objects decorated in the Chinese style only began in the second half of the seventeenth century. However, in many cases the ceramic objects may have been included as no more than a fitting container for the flowers or foodstuffs that artists wanted to represent, but it was also a subject in its own right among silverware, glass and other precious goods.[1]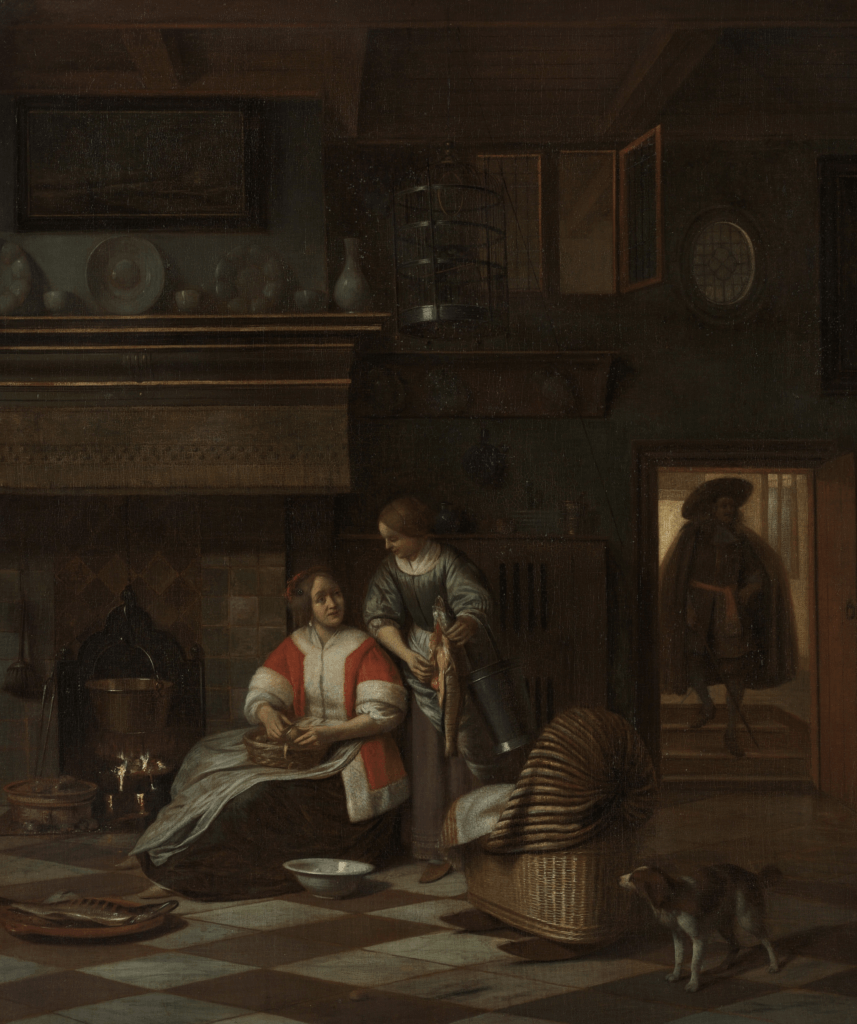 Porcelain became a standard domestic good in all layers of Dutch society, either the Chinese wares or the Dutch Delftware objects that were known as porcelain.[2] The ceramic objects were not only depicted in still lifes, but also in portraits of well-to-do people in their interior with exotic and luxurious objects on display, and genre paintings in a kitchen or bedstead. Delft tiles on the walls can be seen in many paintings of interior scenes, especially in Children in a Doorway with Kolf Sticks (Polesden Lacey – National Trust, Surrey) by the artist Pieter de Hooch. Also by De Hooch is Interior with Woman and Servant with Fish (Boijmans van Beuningen Museum, inv. no. 2500 (OK)), which shows a kitchen interior with a white Delftware object above the fireplace. Although paintings depicting Delftware are rare, the depiction of white Delftware is an exception. In contrast to the blue and white Chinese inspired Delftwares, the Dutch potteries began to manufacture the sought-after white faience around 1600. White Delftware objects like jugs and white gadrooned dishes were produced for the domestic market and were usually regarded as utilitarian.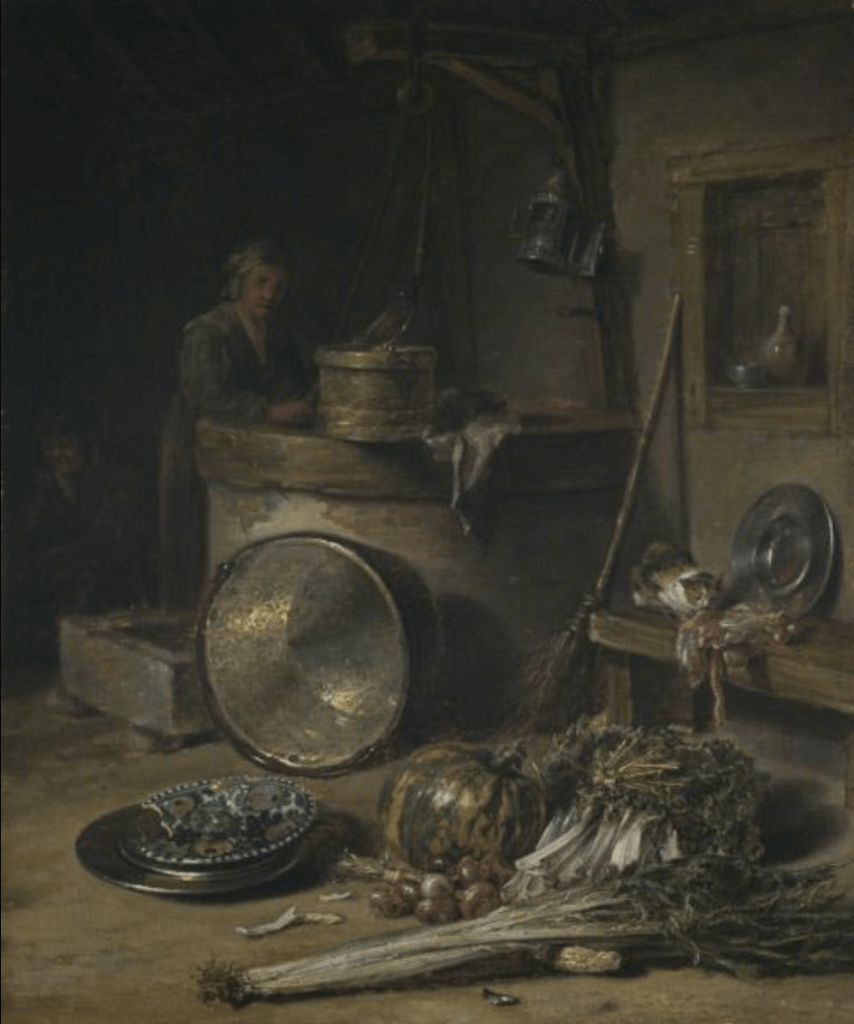 Another Dutch painter who often depicted ceramics in his still life paintings was Willem Kalf (1619-1693). Kalf was also an art dealer, and he included his collection of precious silver and gold vessels, marble tables, Turkish carpets and fine ceramics in his paintings. Before settling in Amsterdam in 1653, Kalf worked in Paris.[3] His early works mostly feature crowded interiors and farmyard scenes, which can be seen in Peasant Interior with Woman at a Well, from circa 1642-1643 (Saint Louis Art Museum, inv. no. 93:1947). Despite the activity in the background, the still life in the foreground forms the true focus of the composition. In the arrangement, a large, broken ceramic plate sits atop two pewter platters on the floor.[4]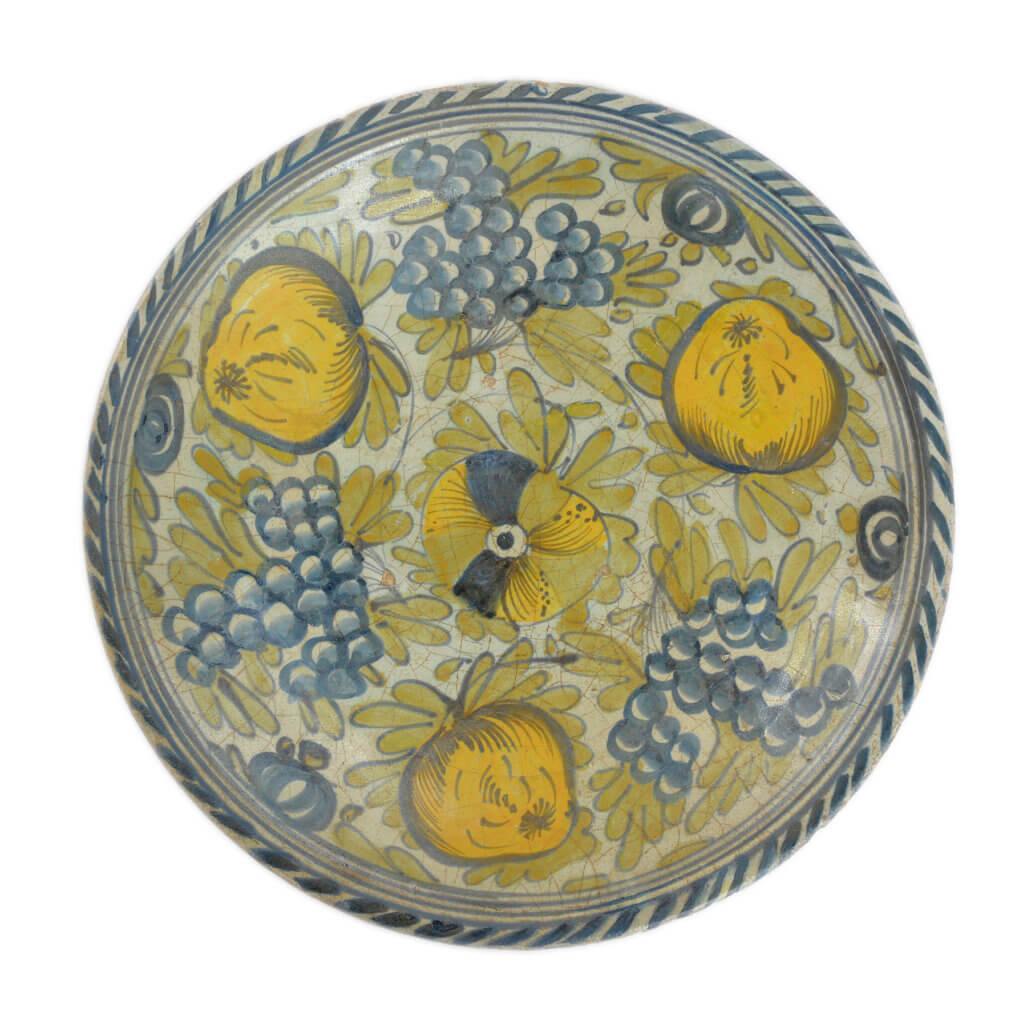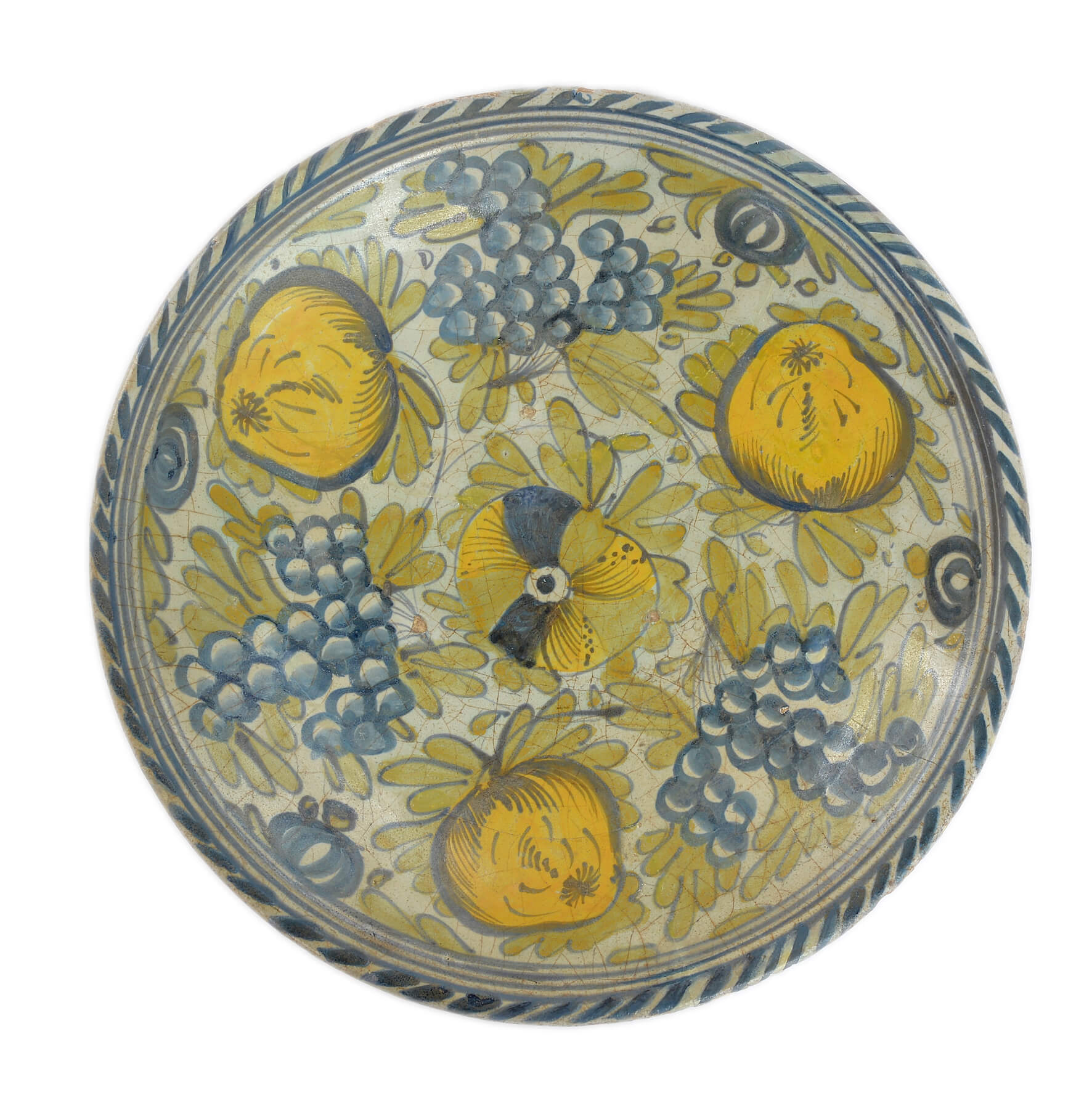 The broken charger has remarkable similarities to the present majolica polychrome charger: the blue dashed edge, the light blue background with green leaves and painted with grapes, pomegranate and apples or oranges. Made in the city of Haarlem around 1630, it is possible that Kalf depicted a Dutch majolica charger, and perhaps from his own collection of 'studio props.'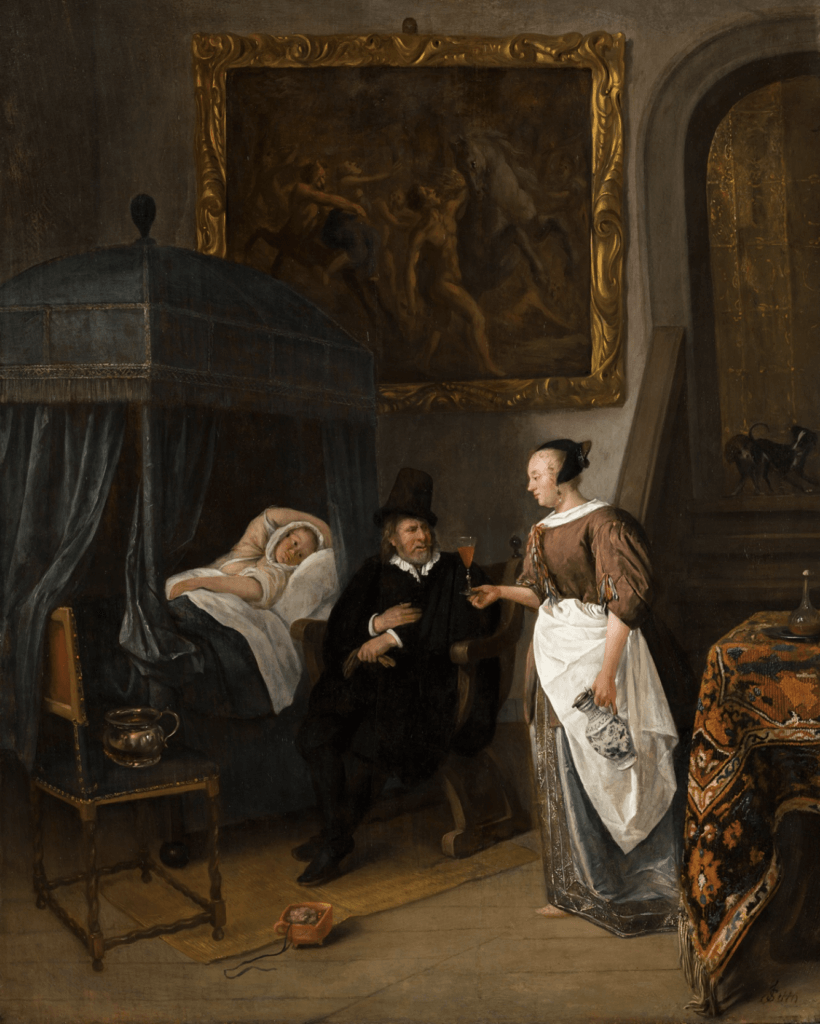 Paintings featuring blue and white Delftware inspired by Chinese porcelain first appear by the middle of the seventeenth century. Painted by Nicolaes Maes from circa 1655-1656, Woman Plucking a Duck (Philadelphia Museum of Art) shows an interior scene with various lead-glazed earthenware objects on the ground such as a dish decorated with a landscape and a white border derived from Chinese Wanli porcelain. Also, the famous Dutch painter Jan Steen (circa 1626-1679) incorporated early Delftware objects in several of his paintings. In contrast to Kalf, Steen did not depict still lifes, but was a genre painter. Everyday life was a popular subject in the seventeenth century and Steen is known for his humorous depictions of dissolute households, amusements at an inn and lovesick young women. In Girl Eating Oysters from circa 1658-1660 (Mauritshuis, The Hague, inv. no. 818) Steen depicted a young woman coquettishly looking at the viewer while preparing an oyster. Besides the pewter tray with the bread and salt, there is a blue and white jug on the table. The same jug reappears in Steen's painting The Doctor's Visit from circa 1665-1668 (Mauritshuis, The Hague, inv. no. 168). The scene shows a sick girl in bed, who may suffer from a 'wandering womb', an illness that mainly affected young virgins and was considered a serious medical condition. However, Steen found comedy in the situation, and depicts the dogs on the staircase as a remedy, which in an allegorical way mean that the girl must find a husband as soon as possible. Although the scene is centered around the girl and her doctor, Steen has painted the Delftware jug held by the servant with great detail.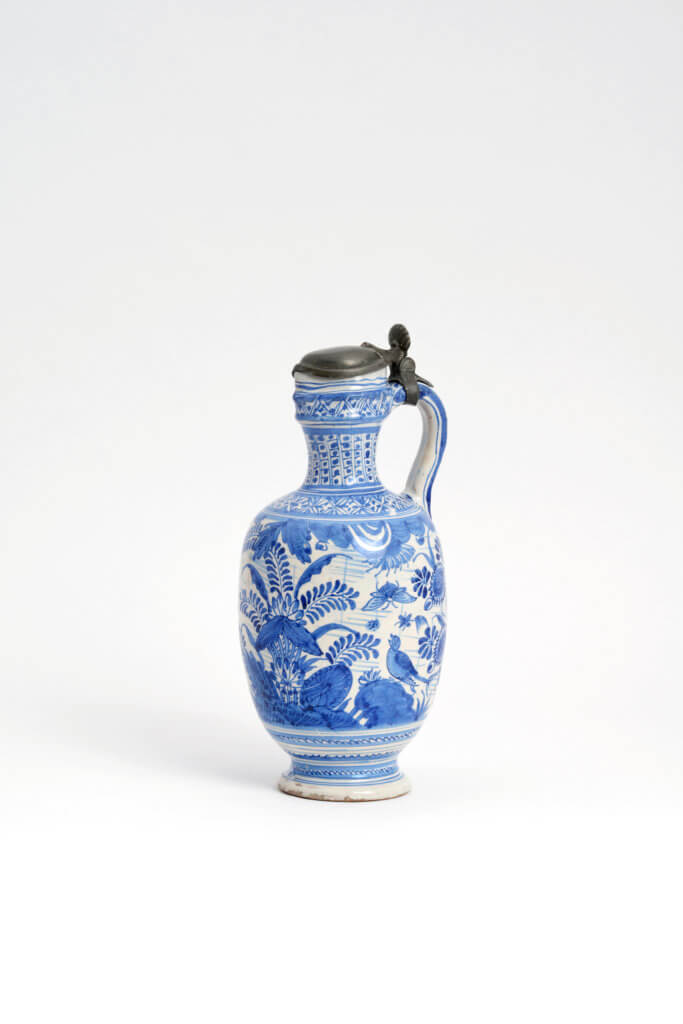 These jugs, attributed to De Porceleyne Schotel (The Porcelain Dish) factory in Delft, were decorated with Chinese scenes. The present jug is painted on the front with two stylized baskets of flowers and on the reverse with two flowering branches beneath the handle terminal. On either side is a bird in flight, and another one perched on a rock amidst flowering plants and two flitting insects. Steen must have had a small jug like the present as a studio prop.[5] A similar jug is depicted in Laurens Craen's (1620-1665) still life with a lobster on a pewter plate, a crayfish, a vine decorating a Delft earthenware jug and a façon-de-Venise wine glass on a draped table (Christie's Amsterdam, 7 November 2001, lot 77).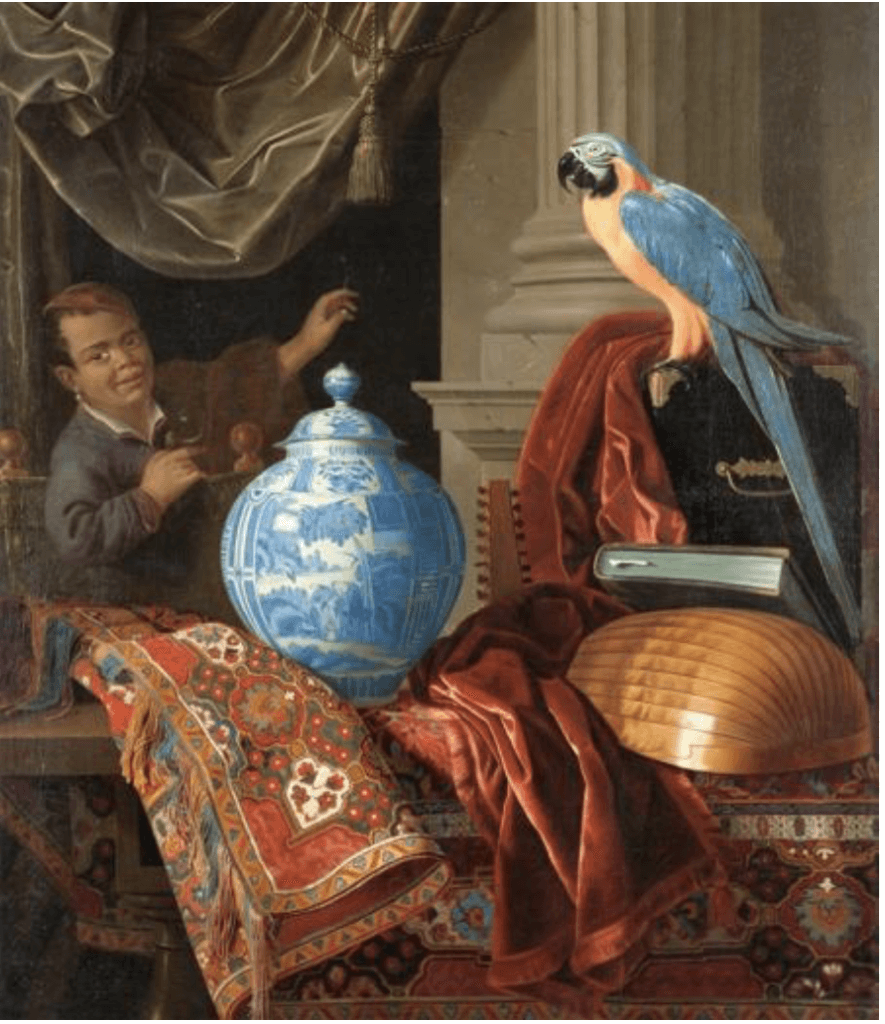 Delft Painters had easy access to the Delftware objects that were made by their fellow craftsmen and they naturally incorporated these objects in their paintings. For example, Cornelis de Man (1621-1706), worked the majority of his life in the city of Delft and frequently depicted Delftware in his compositions. The Sweepster (Museum Prinsenhof Delft, inv. no. PDS 273) shows a domestic scene that symbolized love and relationships. The turned bed, the second bedstead behind the sweeper and the playing cat refer to the physical side of an amorous relationship. The Delftware jug, which is on the edge of the table, reminds viewers that love is fragile and can only thrive with harmony. In Still life with a Delft Jar (Historisches Museum Frankfurt) a Delft jar with chinoiserie imagery is depicted on a table amidst other more exotic objects.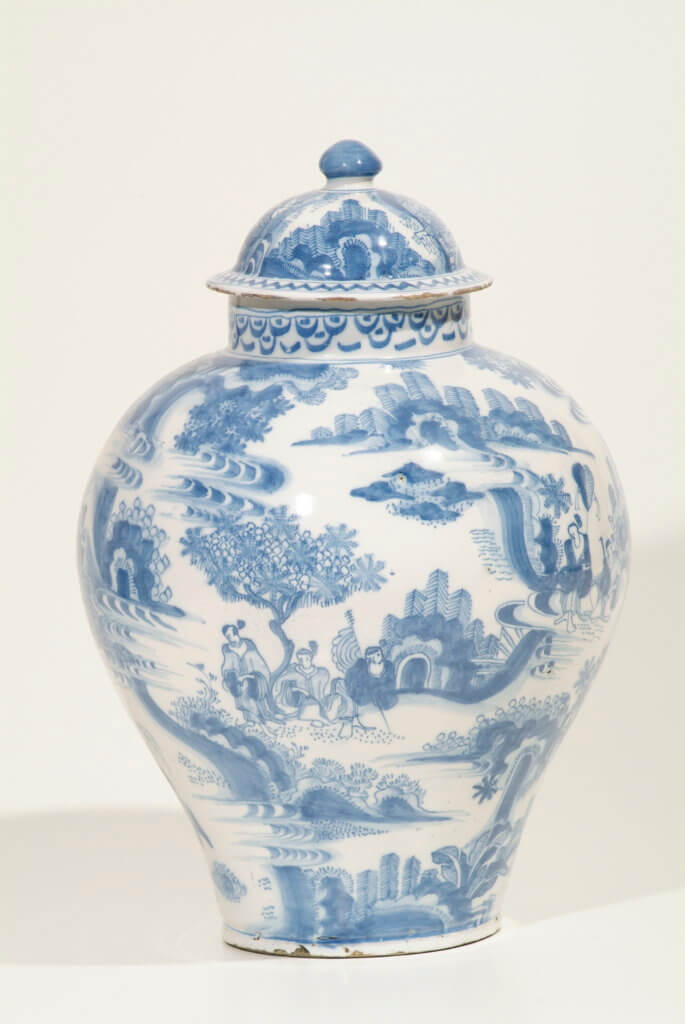 Rather similar of shape and decoration is this Delft blue and white baluster-form jar and cover, from circa 1680. Although the model and decoration is slightly later, the similarities are still striking. It is painted in hazy shades of blue with four groups of two or three Chinese men in a continuous stylized rocky landscape. The painting was previously known as Still life with a Frankfurter Faience Vase because in the early twentieth century German art historians incorrectly attributed much of the surviving Delftware in Germany to a pottery in Frankfurt. In reality, however, these objects were made in Delft, some as export items for the German royal houses. Further, such an enormous, technically accomplished and varied output would have been impossible in Frankfurt; one firm with a workforce of thirty or so could not have produced more than twenty factories employing some fifteen hundred workers.[6]
In the Golden Age, Dutch painters were inspired by the sensory delights that were brought to the Netherlands by the VOC and their paintings from the early seventeenth century especially showcase their admiration. This later changed when porcelain and Dutch Delftware became more widely available to all classes. The shifting focus of the paintings provide useful information about the use of ceramic objects in the interior and their owners. The paintings also give insight into what objects the artists considered important or beautiful, and what they could obtain. Therefore it is no wonder that seventeenth-century paintings seldom show Delftware, since it was not available for much of the century.
Notes
[1]  J. van Campen, a.o. Chinese and Japanese Porcelain for the Dutch Golden Age, 2014, p. 213.
[2]  Van Campen 2014 (note 1), p. 213.
[3] Willem Kalf; The J. Paul Getty Museum. http://www.getty.edu/art/collection/artists/196/willem-kalf-dutch-1619-1693/.
[4] Saint Louis Art Museum. http://emuseum.slam.org/objects/36913/peasant-interior-with-woman-at-a-well.
[5] J.D. van Dam, Delffse Porceleyne, Dutch Delftware 1620-1850, Zwolle/Amsterdam (Rijksmuseum), 2004, p. 16.
[6] Van Dam 2004 (note 5), p. 37.