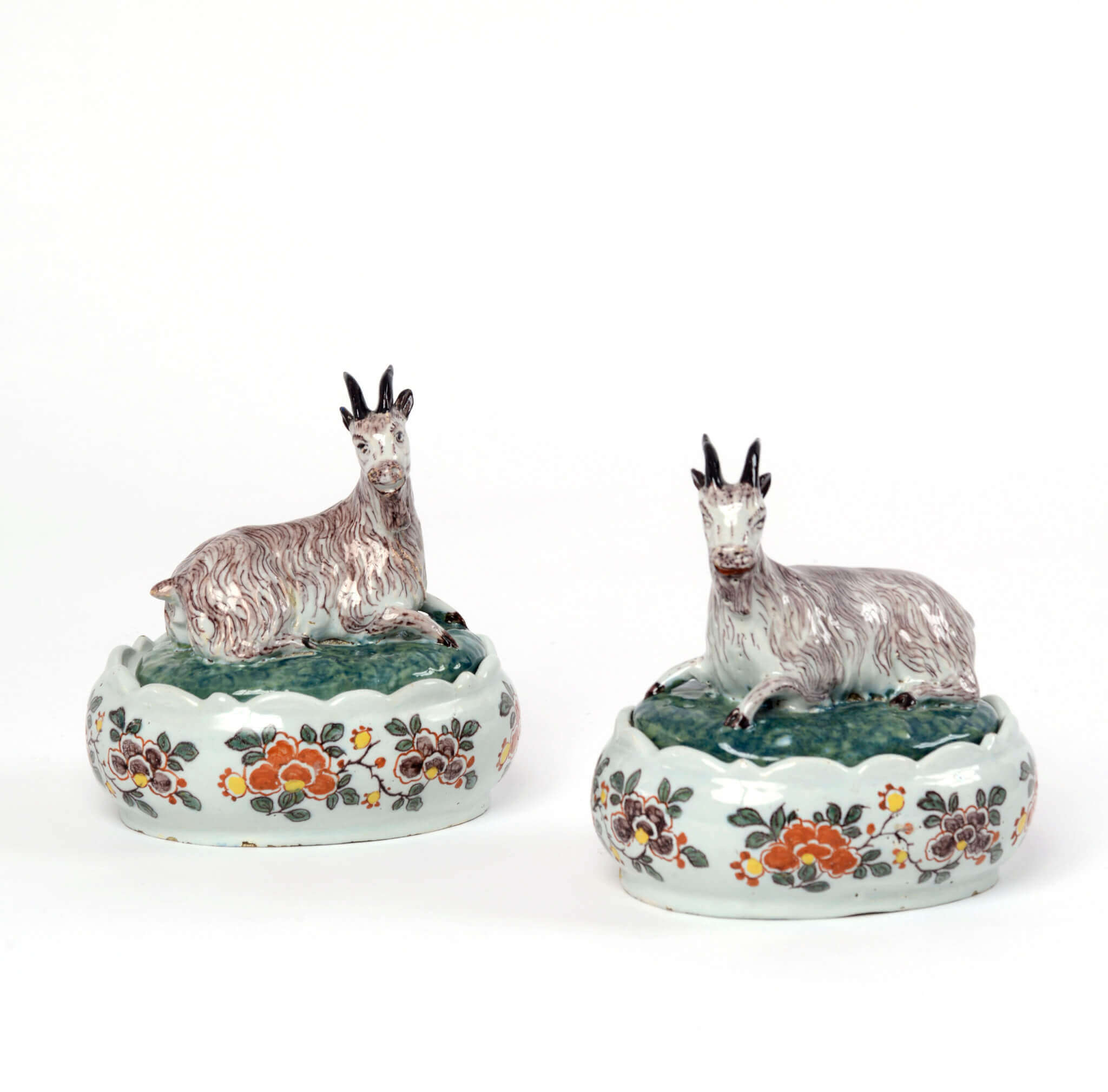 De Twee Scheepjes (The Two Little Ships) Factory
De Twee Scheepjes (The Two Little Ships) factory was active since 1619, and flourished especially in the eighteenth century. The factory was located on the south side of the Molslaan.1
In 1619, Adriaan Cornelisz. Kater purchased a house with a yard and a shed that may have already functioned as a pottery. This sale marks the beginning of De Twee Scheepjes. After some ownership changes in the seventeenth century, the factory was purchased by Adriaan Pijnacker and his wife Wilhelmina Keijser in 1689. The couple owned the factory until 1694. Initially, Imari-style objects with gold decoration and marked PAK were attributed to Pijnacker. However, further research revealed that this attribution is incorrect and these objects are marked for Pieter Adriaensz. Kocx of De Grieksche A (The Greek A) factory. 2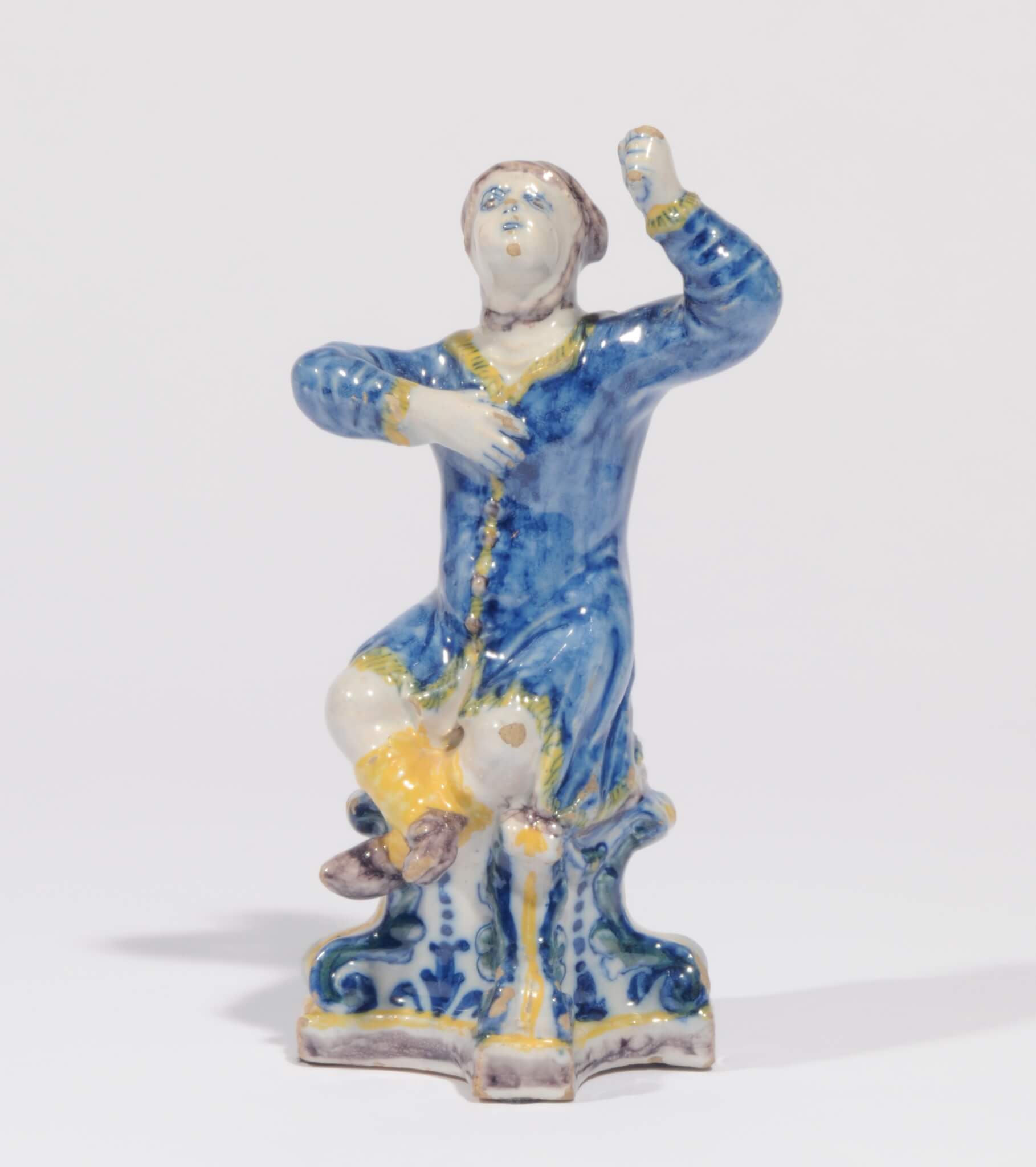 In 1707, the factory was purchased by Jan Gaal, who owned the factory for almost twenty years. During Gaal's ownership, the factory produced both blue and white and polychrome wares, and a range of objects from tableware to figural groups of people and animals. For example, this blue and white salt cellar from circa 1720 was made during Gaal's ownership. Its circular well is painted on the interior with a flowering branch and the octagonal foot is decorated with panels of trellis diaper work interrupted by foliate devices and alternating with blue-ground panels of demi-blossoms and leaves. Its model was probably taken from a silver model, as is the case with so many Delftware salt cellars. Also marked for Gaal is this polychrome figure of a singer, produced around 1720. The singer, wearing a manganese hood and yellow fringed coat, is modeled seated with his head tilted upward and his clenched left hand raised and his right hand touching his chest. Although this figure traditionally was referred to as a drinker or a toasting man, the costume indicates that he is a character from the Commedia dell'Arte􏰒.
In 1750, Jan Pennis, who was the owner of De Porceleyne Schotel (The Porcelain Dish) factory, purchased De Twee Scheepjes factory for his son Anthonij Pennis. That same year, Anthonij Pennis obtained his masters' title on December 23 and became the manager of the factory. In January 1758 Anthonij married Rachel Overgaauw, and together they had two sons: Jan Jr. (December 1758) and Cornelis (October 1765).3 In 1764, Anthonij officially took over the factory from his father and registered his AP factory mark.4 Anthonij Pennis was an active man; not only was he the head of the Guild of St. Luke several times, he was also the captain of a company gunmen.5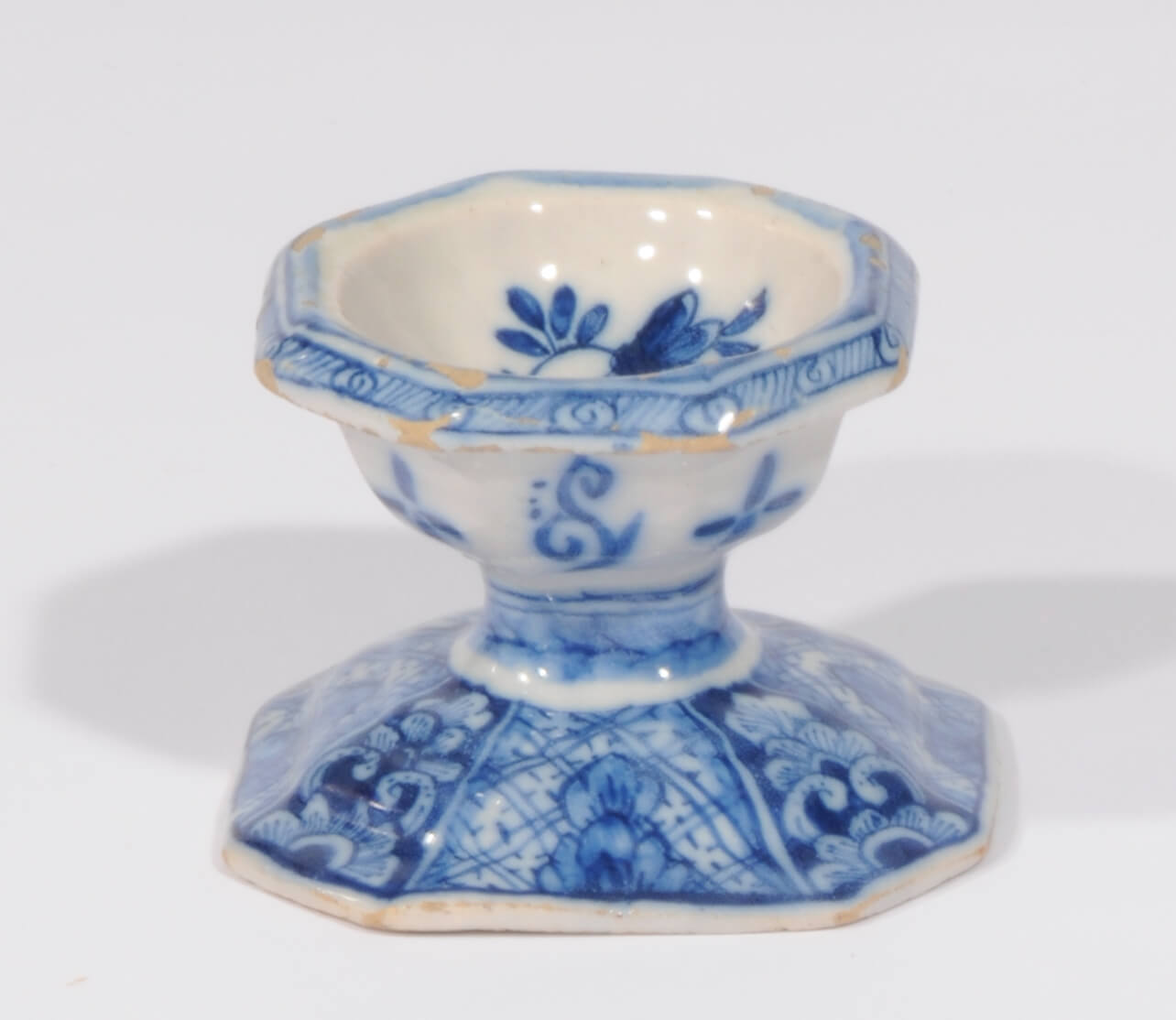 Objects produced during Anthonij's management and ownership are both blue and white and polychrome. The factory had a wide production range; from garniture sets and dishes to butter tubs and figures in many different forms. For example, this pair of butter tubs with the low domed covers surmounted by a recumbent goat with a manganese-delineated pale manganese coat, from circa 1765. That farm and domestic animals, such as cows, horses and goats, were among the most prolific animal figures in both white and polychrome Delftware, is also apparent from this pair of polychrome recumbent cow tureens with the original saucers, from circa 1765, marked for Anthonij Pennis. The covers of these tureens are modeled as a blue-spotted cow with yellow horns lying on a naturalistically molded grassy mound. Tureens like these must have made imaginative centerpieces on a dinner table. The varied output of De Twee Scheepjes factory during the ownership of Anthonij Pennis also included figural groups, such as this polychrome figural group of a lady playing a stringed instrument. However, looking at the model and the decoration it is likely that this is a slightly later group made around 1770, and was probably produced at the end of Anthonij's ownership or when his widow Rachel Overgaauw was the owner of the factory from 1770.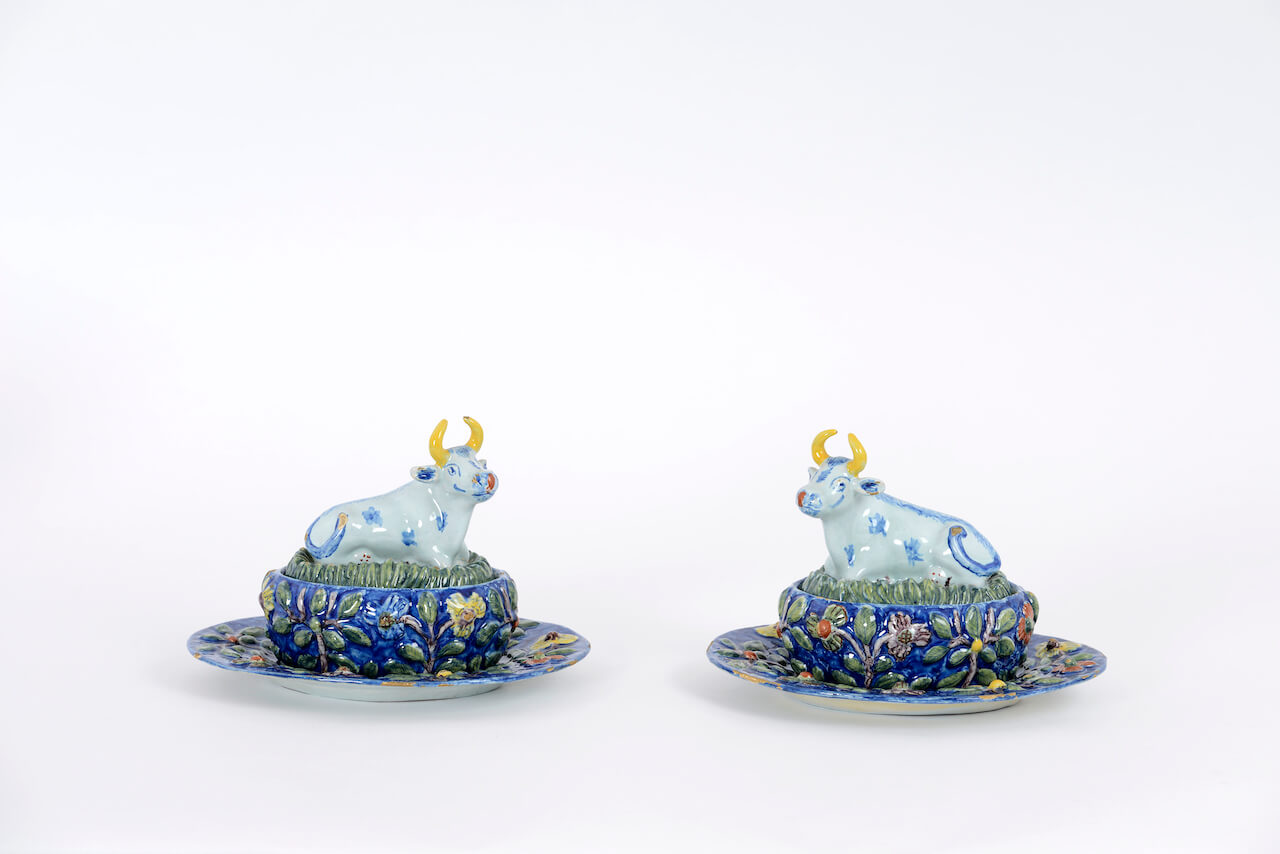 Anthonij Pennis was connected to the factory until his death in 1770, when his widow Rachel Overgaauw took over until 1782, after which her son Jan Pennis Jr. was in charge until 1789.6 In 1789, Rachel Overgaauw and 24 others jointly purchased the factory, forming a large partnership. This arrangement was short-lived; in 1794 the factory was sold on behalf of all the participants to Johannes Schoenmakers, who was the former owner of the Delftware factory called 'Het Scheepje'.7
1 M.S. van Aken-Fehmers, L.A. Schledorn, T.M. Eliëns, Delfts aardewerk. Geschiedenis van een nationaal product, Volume II, Zwolle/Den Haag (Gemeentemuseum) 2001, p. 149
2 Although wrongly, Pijnacker Delft has grown into a generic name of a certain type of mostly twentieth-century Delftware with gold painting.
3 Jan Pennis: 31/12/1758, Stadsarchief Delft, DTB dopen, inv. no 14.61, fol. 155; Cornelis Pennis 8/10/1765, Stadsarchief Delft, DTB dopen inv. no. 14.15, fol. 63v
4 W. Hoekstra-Klein, De Twee Scheepjes 1621-1794, Tegelbakkerij Delfshaven: Westzijde van de Oude Haven, uitkomend op de Schans: periode 1658-1676, 2013, p. 41
5 Hoekstra-Klein 2013 (note 4), p. 106
6 Hoekstra-Klein 2013 (note 4), p. 31
7 Van Aken-Fehmers 2001 (note 1), p. 91