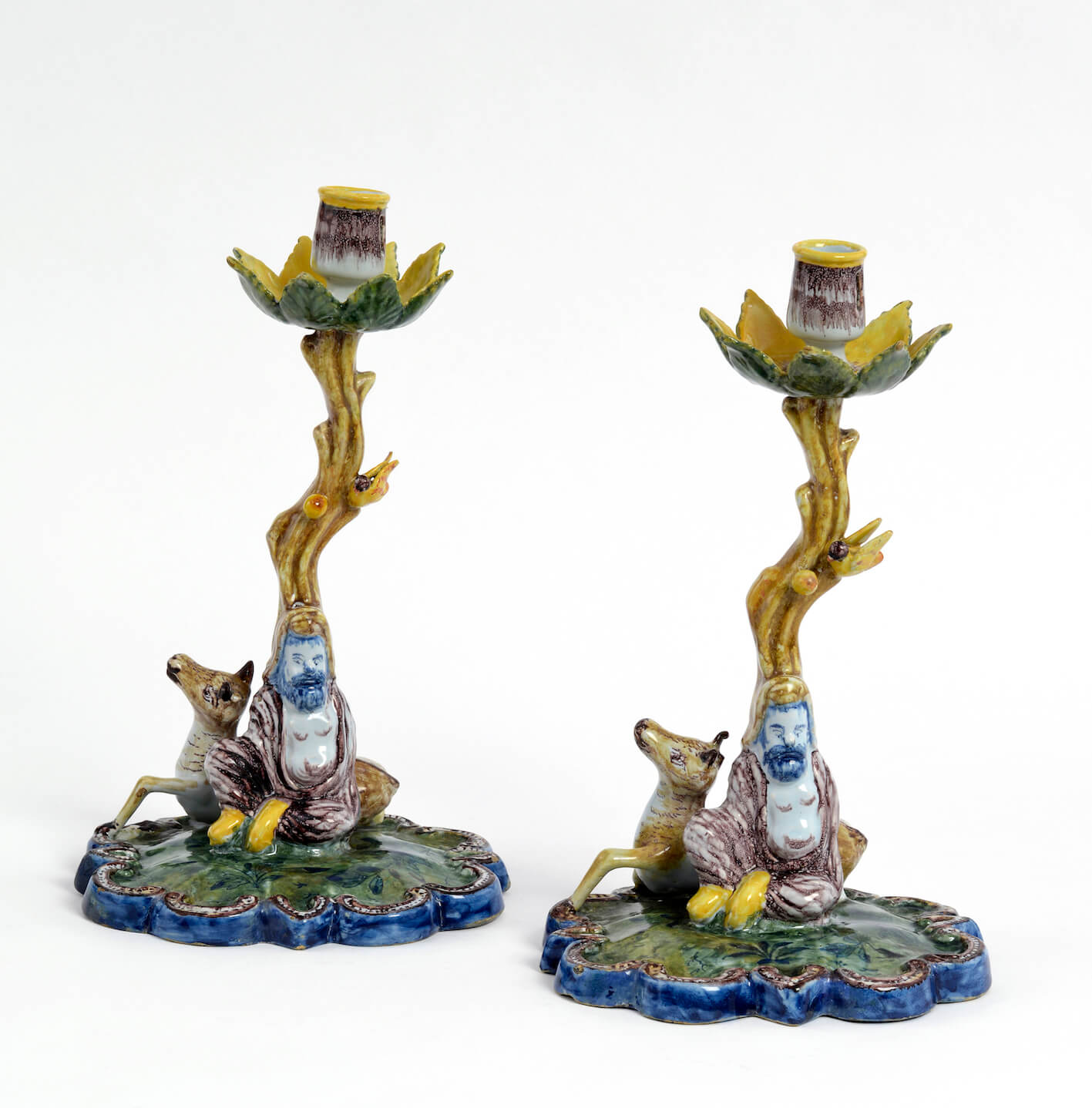 The Nijstad family has been deeply wedded to art and antiques for as long as anyone can remember. They channeled this passion into a successful business, decades before Hartog 'Harts' and Kitty Nijstad developed a magnificent collection of Dutch Delftware in the twentieth century. In 1862, Abraham Nijstad (1835-1903) began a humble antiques business in Diepenheim. He purchased objects owned by local farmers, such as cabinets, chests and tin. He then sold these wares to the owners of castles and manor houses in the area.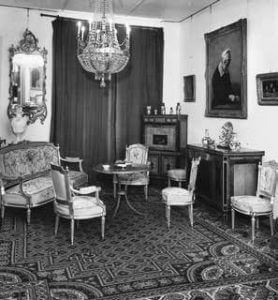 Abraham had two sons, Bernard and Hartog (1863 – 1925), the latter of whom succeeded his father as an antiques dealer. Hartog started an antiques shop in Lochem in 1893, and transitioned the business from selling old utensils to more refined antiques. The gallery earned national recognition from Hartog's amiable relationships with old noble families in the Dutch region the Achterhoek. Hartog's first successful transaction involved the entire contents of castle Ampsen, an estate owned by Baron Van Nagel. At first, Hartog was unable to pay the large sum, but was aided by a loan from burgomaster Meyer-Drees from the city of Laren (in the province of Gelderland). The sale resulted in two fully loaded farm wagons of objects that he brought to his antiques store in Lochem. Hartog repaid his loan in only two months, and immediately expanded the activities of his firm. In 1910, he started an auction house with J.H. Hammerman, who was the 'custodian' of De Spaarbank (The Savings Bank) in Lochem and thus was able to borrow larger amounts of money than Hartog could procure on his own. Hartog's son Abraham 'Bram' (1895-1960) joined the antiques store and greatly expanded the network of clients to include castle owners near Lochem. His role helped the business to quickly grow during the early twentieth century. This growth, however, was stalled with the German occupation during World War II. Unlike many other businesses, the Nijstad Antiquairs shop did not fall into occupied hands. In October 1940 all Jewish owned or operated firms had to be registered with the Wirtschaftsprüfstelle (corporate inspection service), after which they were assigned a Verwalter (caretaker) by the Nazi authorities. Every transaction by the firm had to be approved by this Verwalter from that point onward.
After Jewish business owners were deported, their firms were confiscated, liquidated or sold. However, Bram Nijstad had the foresight to sell his firm in time to a non jewish colleague, J.H. Borghouts in Amsterdam. His young assistant Willem van der Velden managed the business in Lochem through the war and stayed working together for and with the Nijstad family till his retirement. Although the shop was safe during these years, the war hit Bram and his family hard. In August 1943 they were taken by the Germans and transported to Westerbork. In late 1944, they were brought to Theresienstadt in former Czechoslovakia, where they were eventually liberated by Soviet troops on May 9, 1945.
With difficulty, Bram continued to operate the antiques trade. Despite the downturn in the market, he was involved in one of the most famous auctions in Lochem. Soon after the war, the estate of Baron De Smet in Switzerland came on the market. Bram catalogued every object and used his own railway wagon to transport everything to the Netherlands where the goods were auctioned by the Nijstad family. Another big event followed in 1951, when the collection of Mr. M. M. van Valkenburg was auctioned in Laren (Gld.). The collection consisted of seventeenth and some nineteenth-century paintings, drawings, furniture and several art books. The difficulty in resuming business after the war was eased by the support of Bram's two sons, Samuel 'Saam' (1922 – 2011) and Hartog 'Harts' (1925 – 2011). They joined the family business after the war and helped to carry the firm into its next successful phase.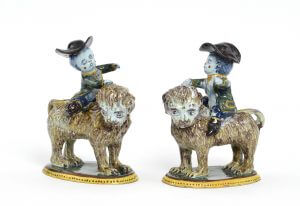 While Saam initially started working for the firm in Lochem, he was allowed to start a branch in The Hague after his marriage in 1948. He specialized in old master paintings in 1967. His father Bram and his brother Harts stayed in Lochem. Meanwhile, Harts visited many auctions and antique dealers in London to train himself in the antiques trade. He was often accompanied by the Dutch antiques dealer Lion Morpurgo. Harts became a generalist, which was reflected in the broad inventory of the store that included sculpture, furniture, silver, glass, Delftware and Chinese porcelain. In the 1950s and 1960s, Nijstad Antiquairs sold many masterpieces to individual collectors and museums. One exceptional transaction was a cabinet with walnut veneer, painted mirrors and silver fittings that was purchased by the Rijksmuseum in Amsterdam. The cabinet was offered to Jhr. D.C. Röell and Th.H. Lunsingh-Scheurleer respectively General Director and Head of the Sculpture and Applied Arts Departments of the museum – who did not hesitate to add this gem to the collection. The sale started a long relationship between the family and the museum.
In 1970, Harts decided to move the gallery from Lochem to the more accessible center ofAmsterdam. Initially he rented space at art dealer E.J. van Wisselingh & Co., and because of this success he moved his firm permanently to the Rokin in Amsterdam. When Harts became the director of Christie's Amsterdam in February 1980, the antiques gallery in Amsterdam closed, thus ending the family's long run business (Samuel 'Saam' Nijstad ended his gallery S. Nijstad Oude Kunst BV in 1990). Although the gallery has been closed for decades, the current generation of the Nijstad family has continued to influence the art and antiques field. Jacob 'Jaap' Nijstad is a well-respected art historian.
The collection, which was started by Harts' father Abraham Nijstad, includes many wonderful eighteenth-century objects. An absolute highlight is a pair of Delft polychrome groups of boys riding lions from around 1775. These groups can be seen as a result of an artistic syncretism, which characteristic was to adapt Chinese motifs to the Dutch taste and culture. Although they do not originate from China, lions were a very popular element in Chinese art. Often appearing in pairs in front of sacred buildings, they embody in Buddhism the role of protector or defender of the law. Although Chinese porcelain figures of animals were massively imported to the Netherlands, it is difficult to establish if Dutch people were familiar with such depictions of the buddhist divinity. Without probably knowing the symbolic meaning of the Chinese repertoire, the Delftware masters successfully created a hybrid aesthetics. In the Dutch iconography, the lion is also a significant symbol. Incarnation of power, wisdom, and justice, the Batavian lion is one of the emblems that signify the House of Orange. Together with the orange tree and royal portraits, these motifs often appear on objects contemporary to William III and his successors. These objects are known as 'Orangist Delft'. As Delft was a royalist bastion, the potters probably enjoyed very much making such pieces. It is therefore highly possible that this extremely rare pair of boys riding lions was exhibited as a symbol of love for the Dutch royal family.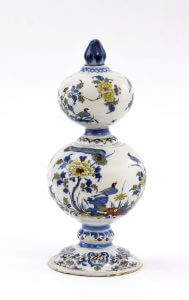 Another true highlight of the Nijstad collection is a pair of Delft polychrome figural candlesticks from circa 1780. They are marked for Jan van den Briel, who was the owner of De Grieksche A (The Greek A) factory from 1768 to 1783, or his widow Petronella van der Laan from 1783 to 1796. The Far East was a vivid source of inspiration throughout the seventeenth and eighteenth centuries. Artists and craftsmen created wonderful and intriguing pieces of art that imitated the Chinese, Japanese and Indian treasures, or that combined Eastern and Western shapes and patterns into chinoiserie designs. For this pair of candlesticks the Delft potters were probably inspired by chinoiserie figures. The bearded man seated against the tree trunk is probably the ancient Chinese philosopher and writer Lao Tzu, who is often portrayed with a deer or a buffalo in Chinese porcelain. Although candlesticks of various shapes have been produced in Dutch Delftware from the 1680s onwards, a brightly colored figural pair of candlesticks from the eighteenth century like these are highly uncommon. Blue and white candlesticks with traditional European forms are often decorated with chinoiserie designs that are borrowed from Chinese Transitional porcelain. It is however uncertain if figural candlesticks like these were also produced in Chinese porcelain. Most likely, they are unique objects born of the Delft potters' creativity and imagination.
Besides these eighteenth-century objects, a polychrome double-sphere money bank from circa 1685 is also part of the collection. Seventeenth century money banks rarely survive, because they were either shaken or broken to remove the contents. This large and unusually shaped bank is pierced with two slots in each sphere to hold different sized coins. Painted in blue, olive green, yellow and red with fluttering insects and birds perched on flowering branches, this money bank is stylistically characteristic for the objects made at Het Moriaanshooft (The Moor's Head) factory under the ownership of Jacob Wemmerszoon Hoppesteyn or his widow Jannetge van Straten. Although some of these objects bear the IW mark, which refers to Jacob Wemmerszoon Hoppesteyn, it is more likely that the majority of these wares were made under the ownership of Jannetge. The years when Het Moriaanshooft was run by Jannetge together with her son Rochus are among the most fascinating in the history of the Delft earthenware industry. Around 1680, this factory began to produce polychrome objects in response to the latest fashions. While most Delft factories only used blue, Het Moriaanshooft created a polychrome color palette of blue, olive green, a brownish-red, yellow, and gold. Further, the painted decoration was equally significant to the expansive color palette. The objects often bear distinctive borders of symmetrical stylized floral scroll work alternated with ruyi-heads. These sophisticated, colorful wares became a novelty, intended for the highest classes in Europe.
SOURCES:
Vier generaties Nijstad: 1862-1962, Nijstad Antiquairs, 1962.
J.F. Heijbroek, A. Griensven, Kunst, Kennis & Kwaliteit; De Vereeniging van Handelaren in Oude Kunst in Nederland, 1911-heden, Zwolle: WBOOKS, 2007, pp. 98- 113.