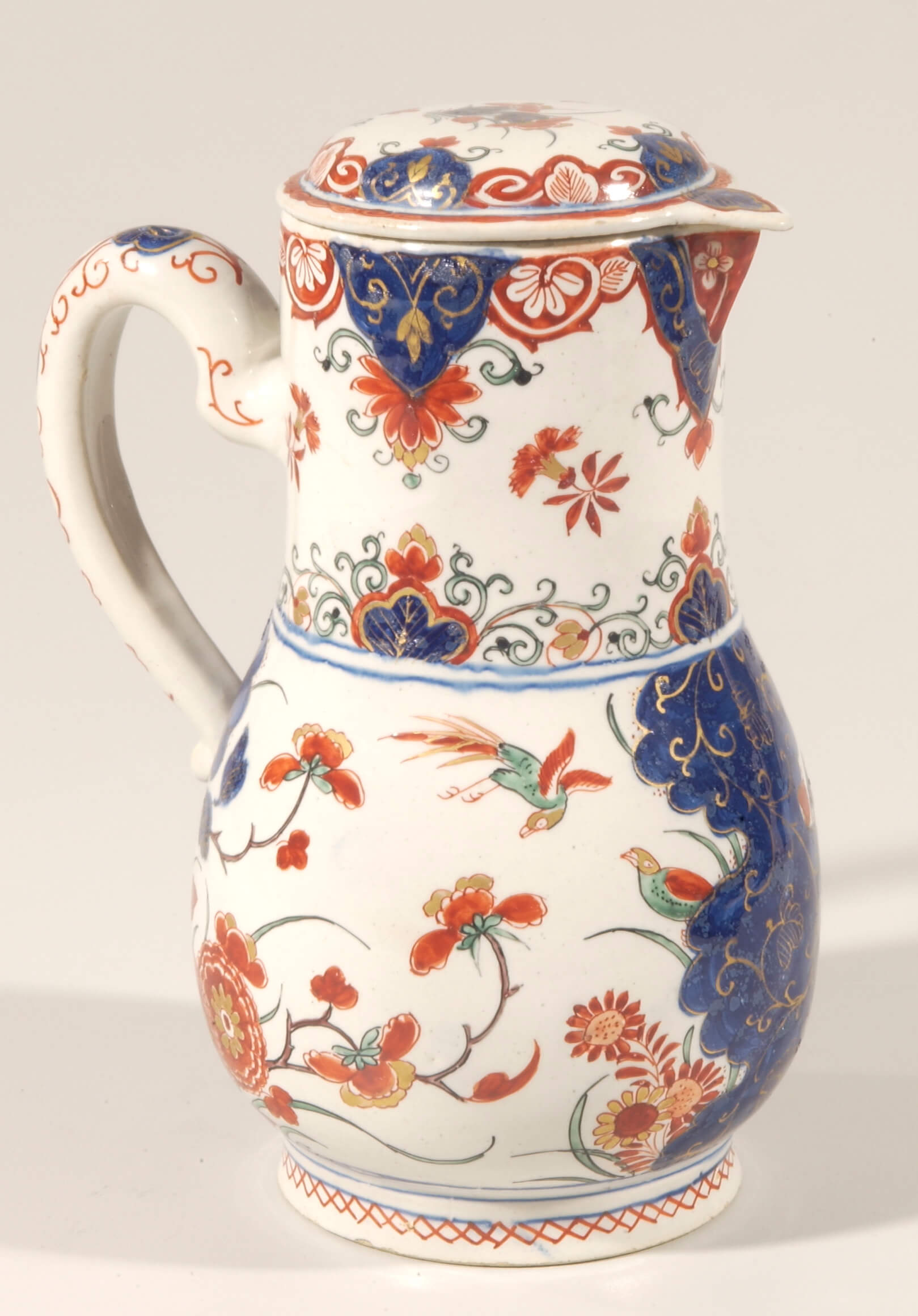 Polychrome and Gilded Jug and Cover
Every month we present you a special object from the Aronson Antiquairs' collection. Since this month's theme is the Imari-style objects made in Delft, we would like to show you a beautiful Imari-style jug. The decoration of this jug is a typical Dutch interpretation of the Japanese Imari. The asymmetry is formed by a blue section on the right and the open scenery with the depiction of a flowering plant and birds in flight. Furthermore the colour pattern of the Japanese Imari porcelain wares is extended with a light green colour. Often we see jugs with a silver or pewter hinge, but this jug has a separate faience cover. Since a jug without a hinge is not really much of a use, this can indicate that the jug was never used and possibly put away in a cupboard.[1]
As we take a closer look at the jug, we can see that the bottom bears the mark PAK. This reveals that the jug was made in De Grieksche A (The Greek A) factory, under the management of Pieter Kocx from 1701 to 1703 or when his widow Johanna van der Heul was the owner of the factory from 1703 to 1722. De Grieksche A factory under the management of Kocx, and even more, of Van der Heul was at the forefront when it comes to the Imari-style earthenware. The factory was able to supply complete dinner services, from dishes to jars and from teapots to jugs and even ewers and bowls, in this style to the European elite.[2] In the first twenty years of the 18th century many thousands of pieces must have been painted in the Imari-style at De Grieksche A factory.
Van der Heul must have regarded the Imari-style faience as an important and lucrative market, which she wanted to protect after the departure of two of her pottery assistants to another company.[3] On December 14th 1713 a contract was made in front of a notary in which four pottery assistants were named, among them Adriaa(e)n van Rijsselberg(h).[4] The document stated that the assistants had to continue to work and especially practice the art of painting and firing gold on the Dutch 'porcelain' for De Grieksche A factory as long as Van der Heul carried on the trade and manufacture in this factory. Furthermore it disallowed the assistants to leave the shop or to practice the aforesaid art of painting gold on Delft 'porcelain' at any other shop.[5] After Van der Heul sold the pottery in 1722, Van Rijsselberg, who was no longer contractually bound, set up his own business. Here he made many objects in the style of De Grieksche A, but with the AR monogram.[6]
Polychrome and Gilded Jug and Cover
Delft, circa 1710
Marked PAK no 6 in iron-red for Pieter Adriaensz. Kocx, the owner of De Grieksche A (The Greek A) Factory from 1701 until 1703 or his widow Johanna van der Heul
The lower half of the baluster-form body painted on either side with two or three birds in flight or perched amidst flowering branches issuing from cobalt-blue stylized rocks patterned with gilt flowering scrollwork on the front and back, the upper body with dianthus sprigs between borders of lappets, blossoms and foliate scrolls repeated on the cover around a central flowering plant, and the loop handle with a leafy vine border.
Height: 19.8 cm. (7 3/4 in.)
Similar example: A pair of Delft Doré covered jugs of this model and with quite similar decoration is illustrated by Van Dam, Delffse Porceleyne, p. 130, pl. 81, who attributes their particularly fine Japanese-style decoration to Van Rijsselberg.
Price: € 9.800 (appr. US$ 10,500 or GBP£ 7.300)
Notes
[1]  In the Rijksmuseum in Amsterdam is also a pair of Delft Imari-style jugs with separate covers, but in contrast to the jug in our collection these jugs have holes for a hinge in the handle and in the covers.
[2]  Van Dam, J.D. Delffse Porceleyne, Dutch Delftware 1620-1850, Zwolle / Amsterdam (Rijksmuseum), 2004, p. 124.
[3]  Van Aken-Fehmers, M.S, et al. Delfts Aardewerk; Geschiedenis van een nationaal product, deel 1, Zwolle/Den Haag (Gemeentemuseum) 1999, p. 69.
[4]  The other three assistants were Daniel Colier, Eduard de Kooningh en Jan Geleijsz. Bacchus. De Jonge, C.H, Oud-Nederlandsche Majolica en Delftsch Aardewerk; Een ontwikkelingsgeschiedenis van omstreeks 1550-1800, Amsterdam 1947, p. 303.
[5]  Ibidem.
[6]  Van Dam 2004 (note 2), p. 130. Possibly Van Rijsselberg painted his monogram already on several pieces while he was still employed by Van der Heul at De Grieksche A.[/vc_column_text][/vc_column][/vc_row]