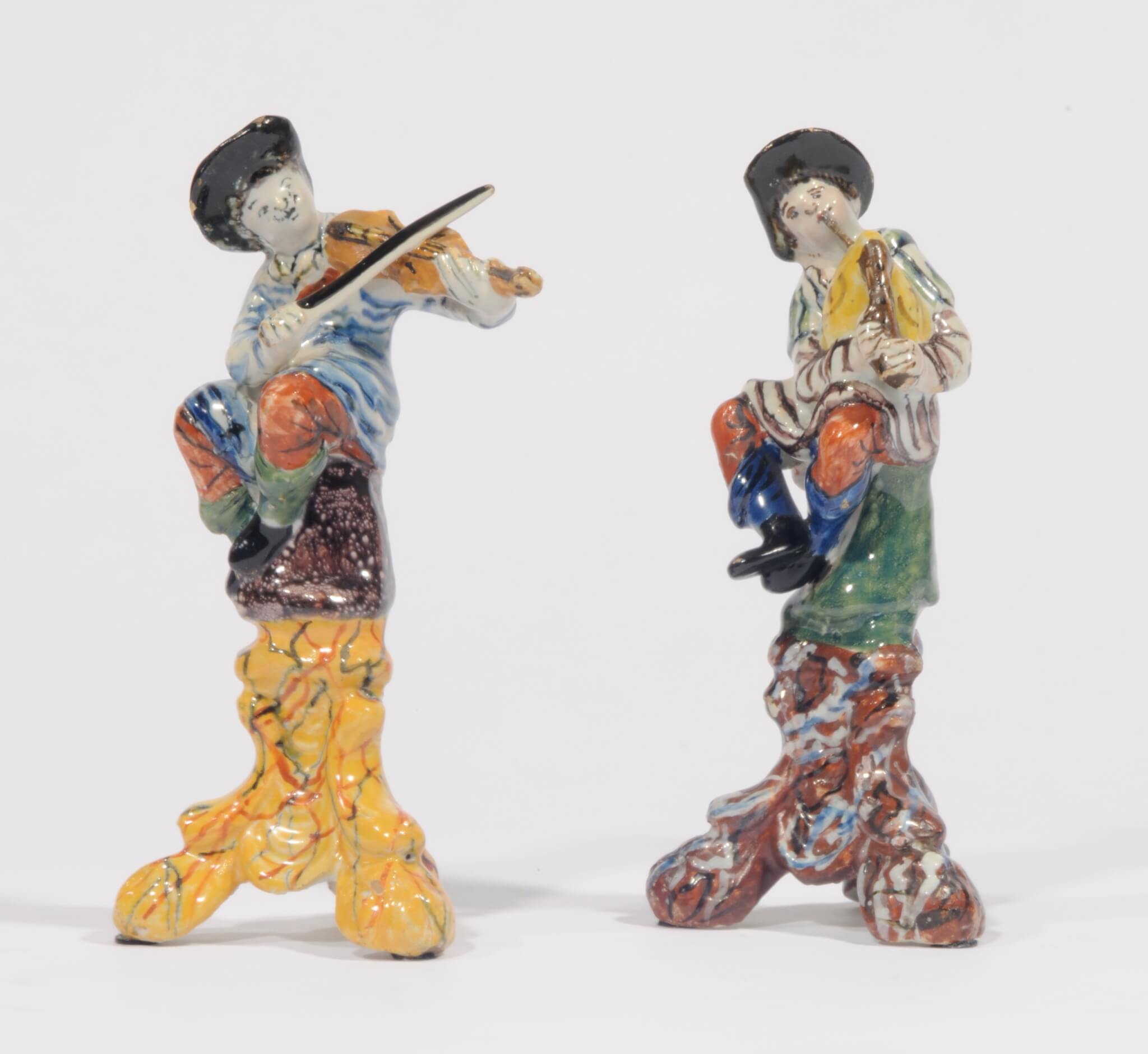 OBJECT
D9027. Two Polychrome Figures of Musicians: a Violinist and a Bagpiper
Delft, circa 1710
Each a youth wearing a black hat and shoes, the violinist also wearing a blue-delineated coat with a black satchel slung on an iron-red strap over his left shoulder, iron-red breeches and green stockings, modeled playing a tan violin and seated on a manganese mound above a yellow scroll-molded triangular base marbleized in iron-red and blue and raised on three paw feet; the bagpiper also wearing a green- and blue-striped doublet over a manganese-striped tunic, iron-red breeches and blue stockings, a manganese satchel slung at his right hip, modeled playing a yellow bagpipe and seated on a green mound above an identical triangular base but with an iron-red ground marbleized in black, white and blue.
Heights: 17.1 and 16.9 cm. (6.7 and 6.7 in.)
Provenance:
Aronson Antiquairs, Amsterdam, 2000;
A distinguished Manhattan Collector
Note:
This figure of a seated bagpiper is based on a bronze model by Giovanni da Bologna (1529-1608, called Giambologna), whose original inspiration may have been an engraving of "The Bagpiper" of 1514 by Albrecht Dürer (1471-1528). A gilt bronze of this model of the bagpiper, 12 cm. high, dating to circa 1580-1600 and probably executed by Antonio Susini, is in the Bargello Museum in Florence and illustrated by C. Avery, Giambologna, The Complete Sculpture, Oxford, 1987, p. 42, ill. 35 and p. 266, no. 110. This particular example, considered one of the first casts after a prime example in silver, and still has the second pipe of the instrument, omitted on later bronze versions and on the Delft figures as well. According to Avery the Seated Bagpiper was "initially produced in precious metal, probably for mounting on an ebony cabinet" (p. 47).