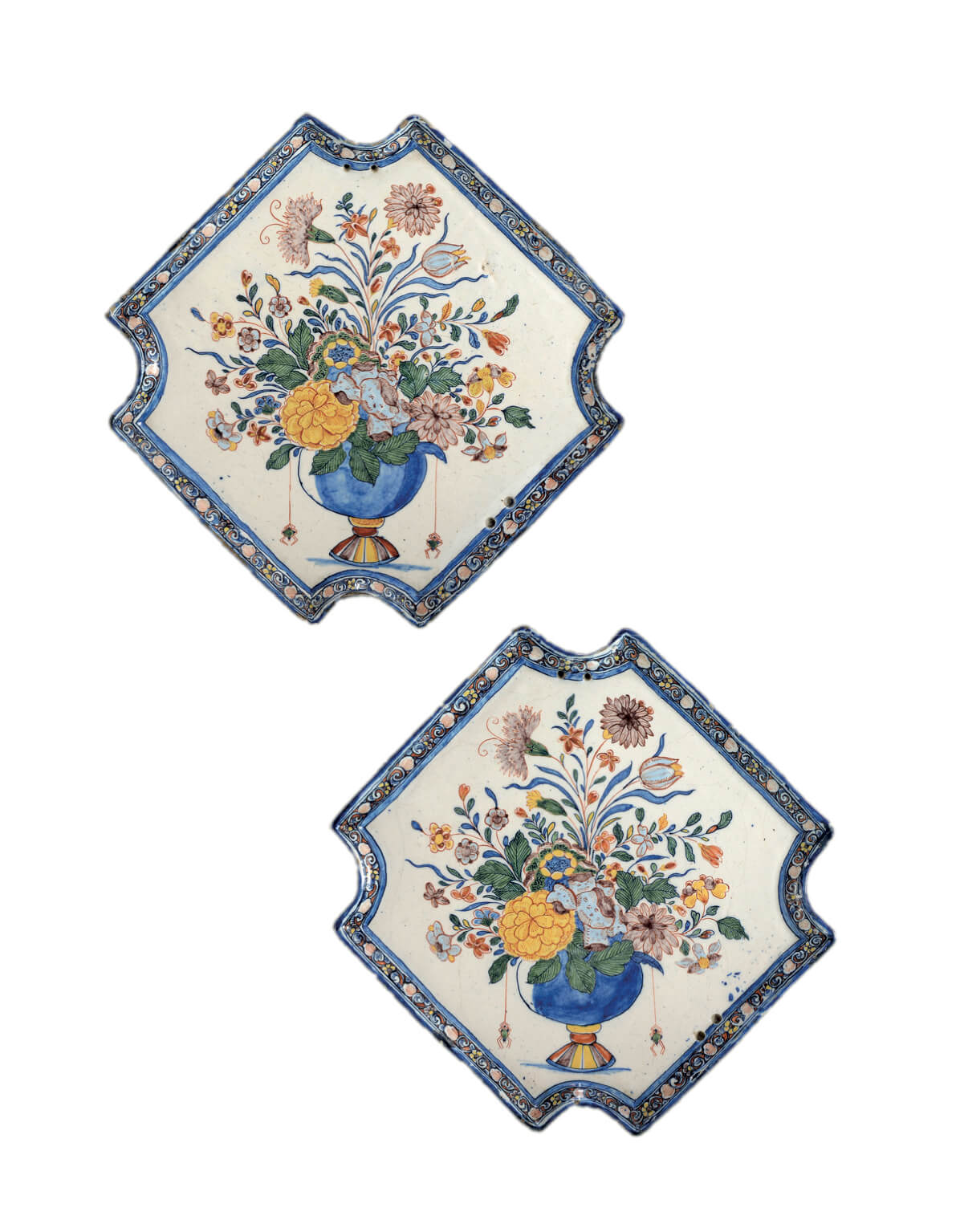 OBJECT
•D1931. Pair of Polychrome Octagonal Plaques
Delft, circa 1750
Each painted in blue, yellow, green, manganese and iron-red with a lush bouquet of tulips, roses, carnations and other flowers and foliage in a blue vase with a yellow, manganese and iron-red foot, flanked by an iron-red and green spider suspended from the bouquet, the molded self-frame with a floral scroll border; and each pierced at the top and lower right with two suspension holes; the reverse of each glazed.
Heights: 31 cm. (12.2 in.); Widths: 31 cm. (12.2 in.)
Provenance: Dutch Private Collection
Note: Plaques were known as "porcelain paintings" in household inventories, as they were intended to be admired like paintings on panel, canvas or copper. For these small objects, Delft potters depicted still life paintings of flowers and fruits, a source of imagery that was borrowed from the popular seventeenth-century Dutch floral still life paintings of the Golden Age. Although Delftware painters were influenced by these paintings, they rarely had access to them. Instead, seventeenth- and eighteenth-century Delft artists relied on woodcuts, etching or engravings as their source of imagery. The prints were available in the potteries' collections, or supplied by a client for a special commission. While the Delftware painters had some artistic license, the plaque compositions were almost entirely based on the print source. The pair of plaques are pierced at the top with two suspension holes, and also on the lower right. Since the holes are covered with a white glaze, the potter must have pierced the plaques for suspension before they were fired. After the initial firing, the painter must have decided to decorate the plaques using a diamond-shaped composition instead of a square shape. The extra pair of holes offers an interesting insight into the creative process of Delftware production.
Similar examples: A single plaque of this shape and similar decoration, only lacking the spiders and with a different border decoration is in the Victoria and Albert Museum, London (inv. no. 146-1887) and is illustrated in Neurdenburg 1923, ill. 89.