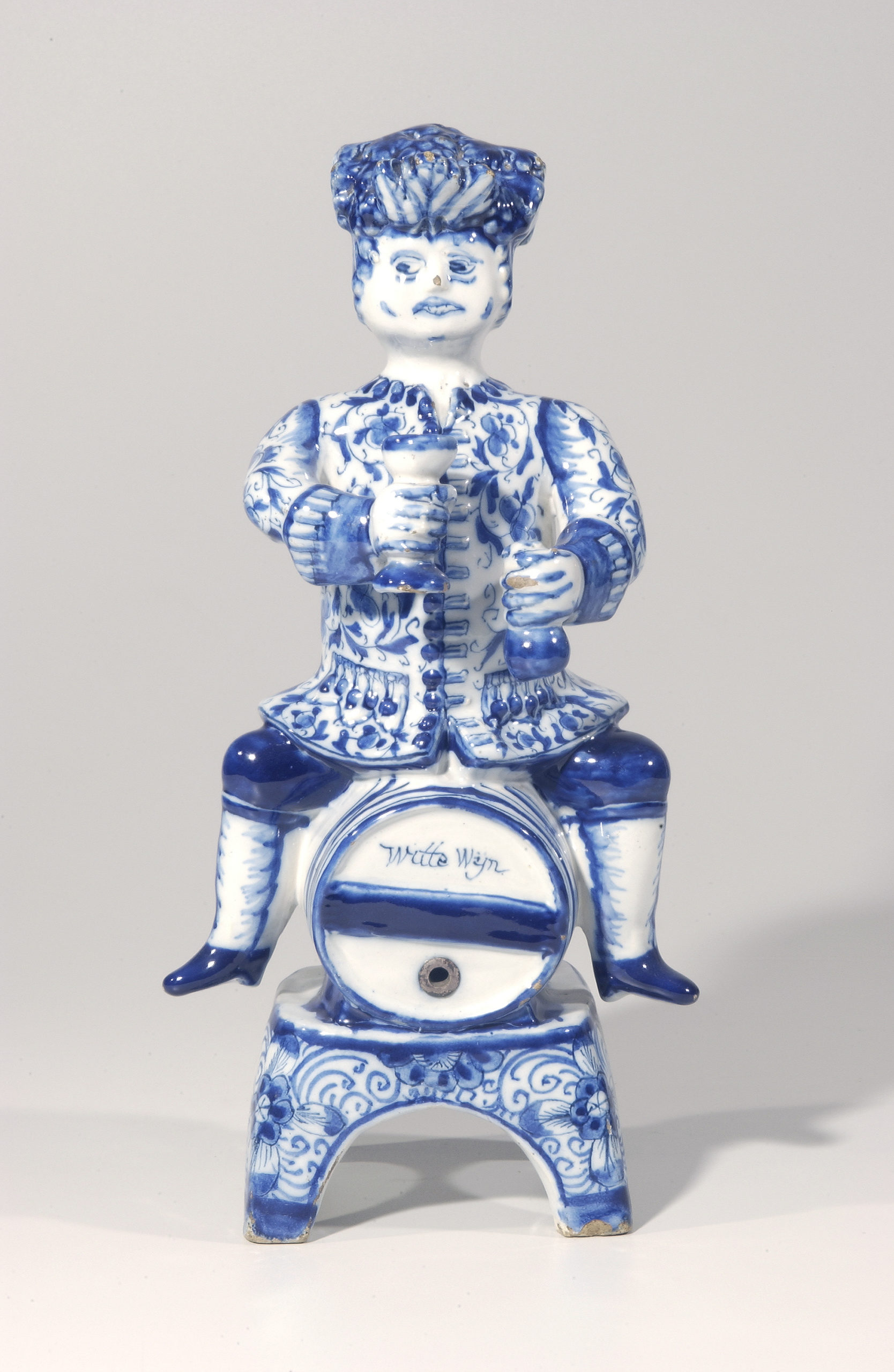 [popup_trigger id="13756″ tag="span"]

[/popup_trigger]
OBJECT
D541. Blue and White Figural Wine Cistern
Delft, circa 1755
Marked 5 / 8 in blue
Modeled as Bacchus wearing a cap of grapes and leaves on his pierced head, a buttoned jacket patterned with blossoms and scrolling foliage above knee breeches, clasping in his hands a wine goblet and a bottle, and seated astride a striped barrel inscribed on the front "Witte Wÿn" ("White Wine") above a hole pierced for a tap, on a table-form base decorated with blossoms, leaves and scrolls.
Height: 36 cm. (14.2 in.)
Similar Examples: A polychrome cistern of this model with a plume forming the stopper to the aperture pierced in the top of Bacchus's head, and inscribed on the barrel "No 5 Goeije Wÿn" and "Anno 1757 Witte Wÿn," is in the Evenepoel Collection at the Musées Royaux d'Art et d'Histoire, Brussels, illustrated by Helbig, Vol. I, p. 50, fig. 34. Another polychrome example of the model inscribed on the front "No 7 Witte Wÿn" and on the reverse "Anno 1757 Goeije Wÿn Den 2 Maant Den 1 Dag" ("Good Wine 1st of February 1757") is illustrated in Aronson, 2003, p. 33, ill. 30. A polychrome example with an elaborate grape headdress forming the cover and the date 1754 inscribed on the barrel is illustrated in Aronson, 1990, ill. 5; and two oth- ers similarly dated are illustrated in Aronson, 2000, ill. 33.