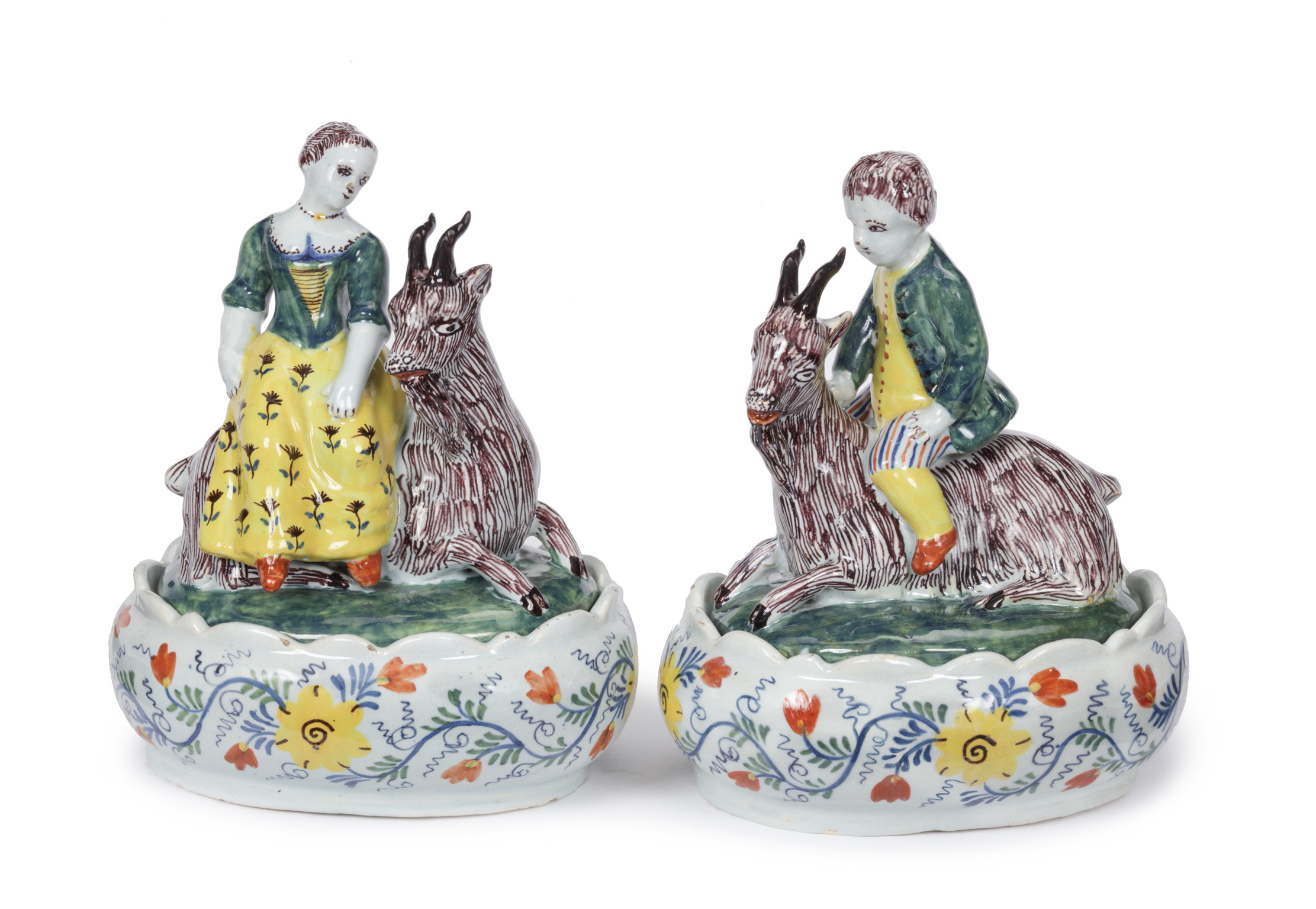 OBJECT
D2358. Pair of Oval Butter Tubs and Covers with a Girl and Boy Seated on a Goat
Delft, circa 1765
Marked LPK in blue for De Porceleyne Lampetkan (The Porcelain Ewer) factory and a circle in manganese on each tub, and each cover with an asterisk in manganese
Each tub painted around the exterior with a continuous flowering vine beneath the scalloped and barbed rim, the green slightly domed covers surmounted by a recumbent goat with a manganese-delineated coat, horns and hooves, one seated upon by a girl wearing a green bodice and flowered yellow skirt, and the other with a lad wearing a green jacket, a yellow waistcoat and stockings and blue- and iron-red-striped breeches, seated astride his back and touching his neck.
DIMENSIONS
Height: 14.9 cm. (5.9 in.)
PROVENANCE
Aronson Antiquairs, Amsterdam, 2007; Dutch Private Collection
LITERATURE
Described and illustrated in Aronson, Dutch Delftware, 2007, pp. 68-69, no. 52
NOTE
Butter tubs with goat covers are not uncommon in Delftware, but tubs with a goat accompanied by a seated boy and girl are rare. The Kunstmuseum, The Hague, houses a pair of smaller tureens modeled as a boy seated on a goat (inv. no. OC(D)138-1904). Boys on goats were modeled both as individual figure groups and on covers of tureens. Of this latter model, tureens are known in blue and white, in manganese, in reddish-orange, and in white versions. Figures of boys, similar to those climbing on the backs of the goats on the covers of the small trompe l'œil goat tureens, also can be found climbing on a sphinx, a lion or an eagle.