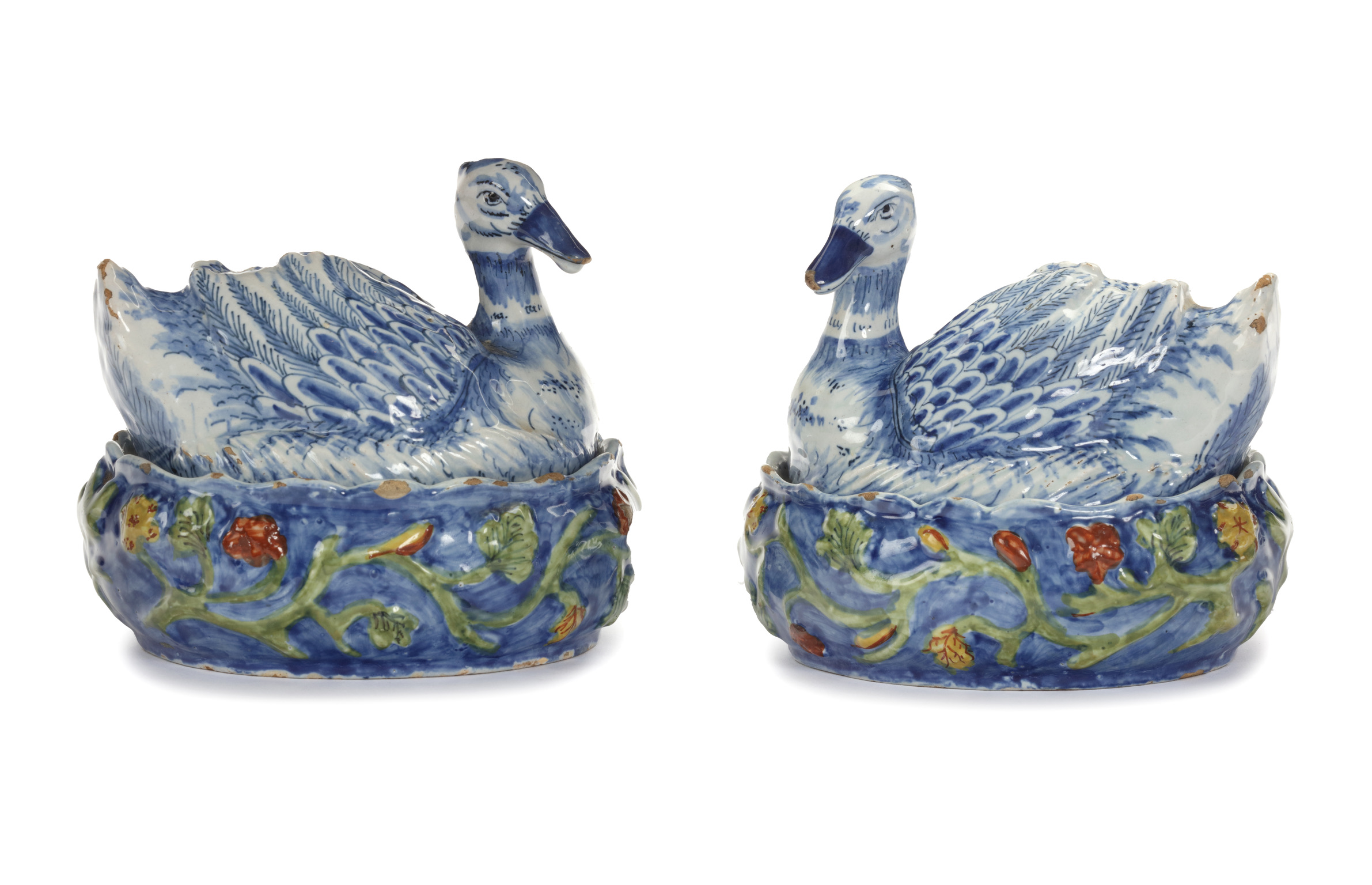 OBJECT
D2346. Pair of Polychrome Duck Tureens and Covers
Delft, circa 1760
Unidentifiably marked on the tubs J:vd:H in blue
Each cover modeled as a blue delineated swimming duck with upswept tail, the blue ground oval tureen molded in relief with colorful leaf branches in green, yellow and iron-red.
DIMENSIONS
Height: 10.2 cm. (4 in.)
PROVENANCE
A. Vromen Jr., Doetinchem, according to the original collector's label;
Christie's Laren, October 24, 1979, lot 2894 (according to family archive);
Dutch Private Collection, Amsterdam and hence by family descent
PROVENANCE+
The complete provenance of this entry has been registered by notarial deed with independent and secure registration agency Provenance+ Amsterdam.
NOTE
At the end of the seventeenth century, large tureens in silver, and later ceramic, were the centerpieces for grand services. However, smaller tureens in the form of animals and birds predate this practice. Early in the seventeenth century, these small, naturalistic forms acted as the serving ware for pies on festive occasions. The fancy and decorative pastry forms were even embellished with plumes and bird heads, which can be seen in period paintings. By the middle of the eighteenth century, naturalism reigned in ceramics with the increased interest in botanical and zoological subjects. The 'trompe l'œil' style was at its zenith in the faience of Strasbourg in France and the porcelain of Meissen in Germany and Chelsea in England. All of these centers of production served as the inspiration and models for Delft potters, who created their own unique versions of both domestic and exotic animals for their eager clientele.
SIMILAR EXAMPLES
Other duck tureens are illustrated in Aronson 2020, p. 55 no. 27 and pp. 56-57, no. 28.