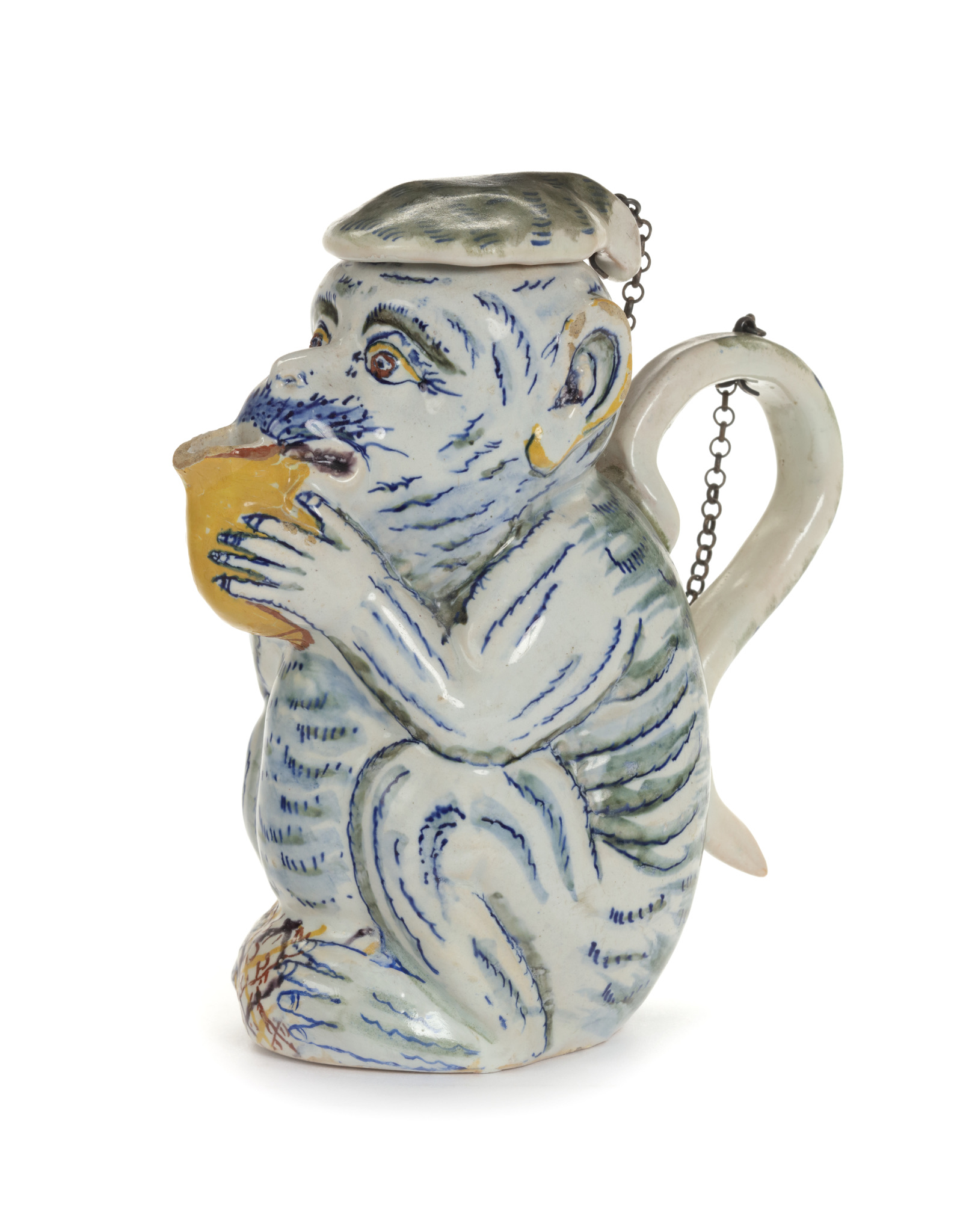 OBJECT
D2345. Polychrome Jug in the Form of a Seated Monkey
Delft, circa 1755
With fur, facial features and limbs finely delineated in blue and green, and modeled in a tucked position with his elbows resting on his raised knees, clutching in both forepaws a yellow jug inscribed and raising it to his mouth to form the spout, his tail looped to form a handle and connected by a chain to his hat.
DIMENSIONS
Height: 14.5 cm. (5.7 in.)
NOTE
Monkey jugs were popularly used as milk jugs in Dutch Delftware. The cheerful and often comical wares were designed with variations in coloring, decoration and inscriptions on the bellies. The exotic jugs were originally modeled after Chinese famille verte enameled biscuit porcelain wine ewers from the Kangxi period (1662-1722). In the Ming dynasty novel, The Journey to the West, the character Sun Wukong (Monkey) gains immortality by eating peaches that had ripened for three thousand years from the Peach Banquet intended for the Eight Daoist Immortals. The Delft potters, unaware of the allegorical meaning of the fruit, often replaced the peaches with a cup from which the monkey sips. They also often placed the animals on a rock work base and moved the opening from the back of the neck to the top of the head, adding either a tricorn hat with an elaborate stopper or just a simple flat cap. The present example is more closely related to the Chinese porcelain ewers and is thus more rare.
SIMILAR EXAMPLES
A similar blue and white monkey jug is illustrated in Aronson 2019, pp. 152-153, no. 77. A monkey shaped milk jug marked for Jan Pennis, the owner of De Porceleyne Schotel (The Porcelain Dish) factory (1724-1764), in the collection of the Kunstmuseum, The Hague, is illustrated by Van Aken-Fehmers 2001, p. 120, no. 4. Another unmarked but dated example is illustrated in Van Aken-Fehmers 1999, p. 260, no. 102; another similar jug is illustrated ibid., p. 265, no. 107. Eight further jugs in the Lavino Collection are illustrated in Lavino, pp. 27-28; and one in theRijksmuseum, Amsterdam is illustrated in Van Dam 2004, p. 176, ill. 120. Two further examples are illustrated in Aronson 2010, pp. 36-37, nos. 15 and 16.