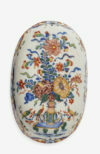 OBJECT
D2330. Polychrome Oval Brush Back
Delft, circa 1735
Painted with a lush bouquet of flowers in a vase on a low table before three birds perched on a flowering branch, all within a scroll border of shells and ruyi heads, the top of the rim pierced with one suspension hole, and the unglazed underside pierced with holes for the bristles.
DIMENSIONS
Length: 12.6 cm. (5 in.)
PROVENANCE
Gilbert Lévy, Paris, Porcelaines et Faiences anciennes, according to the original collector's label; Collection A.P. Voute, Baarn;
Frederik Muller & Cie, 17-25 April 1956;
Staal Antiquairs, Amsterdam, April 1956 (according to family archive);
Dutch Private Collection, Amsterdam and hence by family descent
PROVENANCE+
The complete provenance of this entry has been registered by notarial deed with independent and secure registration agency Provenance+ Amsterdam.
NOTE
The shape and dimensions of brush backs were determined mainly by its function. Most brushes were oval-shaped to accommodate the user's comfort and size, however, by varying the decoration, the factories were able to put very different products on the market. The shape of this polychrome oval brush back, from the late eighteenth century indicates its use as a clothes brush. Delftware potters also produced elongated brushes. As with the oval brushes, the unglazed underside is pierced with holes for the bristles.
Various oval brushes are visible in Jan Luyken's print of 'De Schuyermaaker' ('The Brush Maker') from the 1694 emblem book Het Menselyk Bedryf(The Book of Trades): one on the front corner of the display table, three suspended from cords below the table, and another two pinned above one another on the window frame to the right. The customer is shown trying out a rectangular brush on her clothes. The wide array of brushes displayed in the shop could be used for many different things. Brushes were used for scrubbing floors, washing the steps of the stoop, sweeping carpets, whisking rooms and cleaning pans. Although brooms are a form of brush, being made of straw or twigs, they were produced by other professionals, the broom makers, rather than the brush makers. The print is accompanied by a moralistic poem on the importance of a clean, 'pure' soul, and stresses the notion of "cleanliness being next to godliness" by incorporating a church in the background of the landscape.